Sensex Today Trades Higher | NTPC & UPL Top Gainers | Navin Fluorine Tumbles 13%, MCX 8%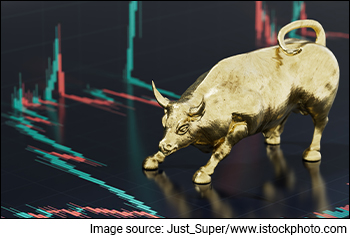 Asian shares eased away from their lowest levels in 10 months but were on course to clock their worst quarterly performance in a year as worries over elevated interest rates dragged on sentiment, while the dollar held strong.
The Nikkei is trading marginally lower while the Hang Seng index is up 2.7%. The Shanghai Composite is trading up by 0.1%.
US stocks rebounded after nearing oversold territory this week, Treasury yields fell while Federal Reserve Chair Jerome Powell sidestepped investor concerns over the outlook for interest rates at an event. Oil prices fell in early trade on Friday.
Here's a table showing how US stocks performed on Thursday:
| Stock/Index | LTP | Change ($) | Change (%) | Day High | Day Low | 52-Week High | 52-Week Low |
| --- | --- | --- | --- | --- | --- | --- | --- |
| Alphabet | 133.13 | 1.67 | 1.27 | 134.18 | 130.69 | 139.93 | 83.45 |
| Apple | 170.69 | 0.26 | 0.15 | 172.03 | 167.62 | 198.23 | 124.17 |
| Meta | 303.96 | 6.22 | 2.09 | 306.33 | 296.7 | 326.2 | 88.09 |
| Tesla | 241.94 | 1.44 | 0.6 | 247.55 | 238.65 | 299.29 | 101.81 |
| Netflix | 376.36 | -1.23 | -0.33 | 378.96 | 371.1 | 485 | 211.73 |
| Amazon | 125.98 | 0 | 0 | 126.58 | 123.04 | 145.86 | 81.43 |
| Microsoft | 313.64 | 0.85 | 0.27 | 315.48 | 309.45 | 366.78 | 213.43 |
| Dow Jones | 33666.34 | 116.07 | 0.35% | 33777.9 | 33473.5 | 35679.13 | 28660.94 |
| Nasdaq | 14702.77 | 122.61 | 0.84% | 14787.58 | 14510.17 | 15932.05 | 10440.64 |
Data Source: Equitymaster
Back home, Indian share markets are trading on positive note. At present, the BSE Sensex is trading 197 points up and NSE Nifty is trading 69 points lower.
NTPC and UPL are among the top gainers today.
--- Advertisement ---
Investment in securities market are subject to market risks. Read all the related documents carefully before investing

Nifty Scales 20K Again... Some of Our Top Picks are...

It seems like the bulls have completely taken over the market. Nifty50 index has scaled mount 20,000 again.

So, in this scenario which stocks should you consider buying?

Well, as per our research, the stage is perfectly set for a potential big rally in a few Lithium related stocks over the long term.

Get Full Details Here
Details of our SEBI Research Analyst registration are mentioned on our website - www.equitymaster.com
---------------------------------------------
Infosys and Wipro on the other hand are among the top losers today
Broader markets are trading on a positive note. The BSE Mid Cap index is trading 0.8% higher and the BSE Small Cap index is trading higher by 0.4%.
Sectoral indices are trading on a mixed note with stocks in the realty sector and metal sector are witnessing buying. While stocks in the media sector and IT sector witnessing selling pressure.
Shares of Coal India and L&T hit their 52-week high today.
The rupee is trading at Rs 83.11 against the US dollar.
In commodity markets, gold prices are trading marginally lower at Rs 57,900 per 10 grams today.
--- This is Third Party Advertisement ---
Mutual Fund investments are subject to market risks, read all scheme related documents carefully.

[MEGA] Webinar Invitation -

Navigating markets in 2024 - Fund Managers' Year End Perspective.

Date: Dec 6th Time: 6pm Venue: Your Computer

What's Next for equity, debt & gold asset classes?

Join Chirag Mehta, CIO and Fund Managers of Quantum AMC as they discuss asset class outlook & what one should expect from the markets in the new-year.

Register Free for this Exclusive Webinar
----------------------------------------
Meanwhile, silver prices are trading 1.2% higher at Rs 71,460 per 1 kg.
Now track the biggest movers of the stock market using stocks to watch today section. This should help you keep updated with the latest developments...
Speaking of stock markets, recently, something interesting has happened in the aviation space.
The country flew its first commercial flight from Pune to New Delhi. It was powered by Sustainable Aviation Fuel, or SAF blended Aviation turbine jet fuel.
You see, as India becomes signatory to CORSIA - or Carbon Offsetting and Reduction Scheme for International Aviation. It calls for compulsory blending of SAF from 2027.
Even at just 1% blending of SAF, the requirement for SAF will be 14 crores litres.
Now SAF is a second stage fuel, and it is produced from ethanol. This itself would create an additional requirement of 28 crore liters per annum of ethanol.
In the below video, Hidden Treasure, Richa Agarwal talks about a specific company in the biofuel economy that has enabled these feat and could be a big beneficiary of this mandate.
Happiest Minds Tech Stake Sell
Veteran entrepreneur and Happiest Minds Technologies Executive Chairman Ashok Soota has sold a 1.11% stake in the IT company.
Soota has offloaded about 17 lakh equity shares of the technology company through the NSE/BSE, which brings down his holding in the company from 51.2% to 50.1%.
This transaction was primarily done to fund the capital requirements of SKAN, the not-for-profit medical research firm and also to enhance the share capital of Happiest Health.
The share sale was in line with his strategy (design for perpetuity), which hinges on three pillars: ownership, leadership, and business strategy. Mr. Soota plans to maintain his shareholding in Happiest Minds at not less than 40%.
The company offers digital transformation services using disruptive technologies such as artificial intelligence (AI), IoT, blockchain, cloud, and digital process automation.
Claim your discount: Get your tickets to the Equitymaster Conference 2024
The increasing convenience of using smart devices in our daily lives and businesses is driving the growth of these IoT companies. Happiest Minds Tech is one such Top 5 Internet of Things (IoT) Stocks to Add to Your Watchlist.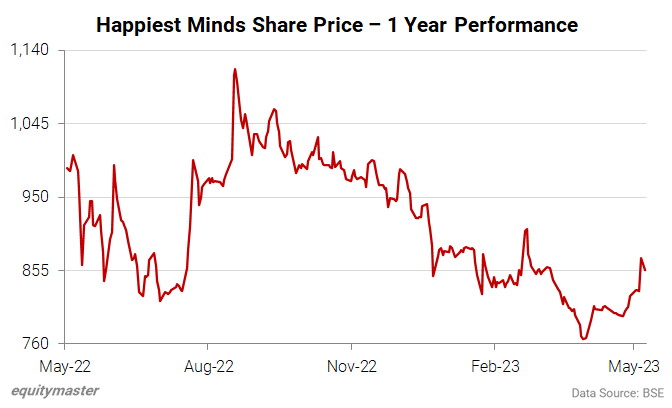 IHC To Sell Stake in Adani Green
Abu Dhabi conglomerate International Holding Company (IHC) said on Thursday it would sell its stake in India's Adani Green Energy and Adani Energy Solutions as part of its portfolio rebalancing strategy.
It did not disclose the name of the buyer or the extent of the investment it was selling.
IHC said its units, Green Energy Investment Holding and Green Transmission Investment Holding, have signed an agreement to sell their investments in the two Adani group companies.
Green Energy holds a 1.26% stake in Adani Green and Green Transmission has a 1.41% stake in Adani Energy Solutions.
Last year, the Adani group announced a US$ 2 billion investment from IHC as primary capital in three Adani group companies, which included investments of Rs 38.5 bn (US$ 463 m) each in Adani Green and Adani Energy Solutions.
Earlier this month, Adani Green Energy said French oil major TotalEnergies will invest US$ 300 m to form a joint venture with Adani Green Energy to build renewable capacity in India.
India's two richest men, Mukesh Ambani and Gautam Adani are locked in a race for the top spot. For more, check out Adani vs. Ambani - All Your Questions Answered.
For more details, check out Equitymaster's Indian stock screener, which shows all the Adani group companies' fundamental analysis on one screen.
Dig deeper into Adani group stocks.
Sun Pharma To Buyout Local Partner
Sun Pharmaceutical Industries on Thursday said it will buy out local partner Indi Pharma from its Mexican arm for MXN 161.85 million.
The company has signed a binding letter of intent to acquire the balance 25% outstanding shares of Sun Pharma de Mexico, SA de CV, a subsidiary where it currently holds 75% shares.
The balance of 25% is held by local partner Indi Pharma SAPI de CV, it added.
The cost of acquisition is MXN 161.85 m.
The acquisition enables Sun Pharma to acquire the balance 25% stake held by the local partner.
The acquisition is likely to be completed by 31 October 2023, and after that, Sun Pharma de Mexico SA de CV will become a wholly-owned subsidiary of the company.
Sun Pharma de Mexico is engaged in the marketing and distribution of pharmaceutical products in Mexico.
The Indian pharma industry is set for a 3x growth in the next decade. Sun Pharma could lead the charge in its fields. For more, 4 Pharma Stocks to Watch Out for Potential Multibagger Returns.
To know what's moving the Indian stock markets today, check out the most recent share market updates here.
For information on how to pick stocks that have the potential to deliver big returns,
Read the latest Market Commentary