Sensex Today Tanks 450 Points | Power & Realty Stocks Worst Hit | Axis Bank, NTPC Top Losers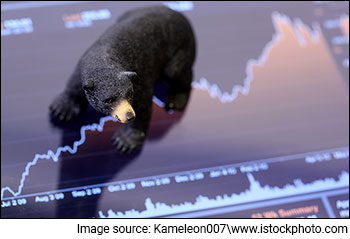 Asian stocks fell to a 11-month low on Wednesday after another piece of resilient US economic data sent Treasury yields to fresh highs.
The Nikkei is trading 1.9% lower while the Hang Seng index is down 0.7
The S&P 500 index closed at its lowest level since June 1 on Tuesday as economic data underscored the view the Federal Reserve may need to keep interest rates high.
Here's a table showing how US stocks performed on Tuesday:
| Stock/Index | LTP | Change ($) | Change (%) | Day High | Day Low | 52-Week High | 52-Week Low |
| --- | --- | --- | --- | --- | --- | --- | --- |
| Alphabet | 133.3 | -1.87 | -1.38% | 135.24 | 132.82 | 139.93 | 83.45 |
| Apple | 172.4 | -1.35 | -0.78% | 173.63 | 170.82 | 198.23 | 124.17 |
| Meta | 300.94 | -5.88 | -1.92% | 306.77 | 299.64 | 326.2 | 88.09 |
| Tesla | 245 | -6.6 | -2.62% | 250.02 | 244.45 | 299.29 | 101.81 |
| Netflix | 376.75 | -3.58 | -0.94% | 394.9 | 372.85 | 485 | 211.73 |
| Amazon | 124.72 | -4.74 | -3.66% | 128.52 | 124.25 | 145.86 | 81.43 |
| Microsoft | 313.39 | -8.41 | -2.61% | 321.39 | 311.21 | 366.78 | 213.43 |
| Dow Jones | 33,002.38 | -430.97 | -1.29% | 33,398.54 | 32,916.20 | 35,679.13 | 28,660.94 |
| Nasdaq | 14,565.62 | -271.95 | -1.83% | 14,819.87 | 14,504.14 | 15,932.05 | 10,440.64 |
Source: Equitymaster
Back home, Indian share markets are trading on a negative note following the trend on SGX Nifty.
At present, the BSE Sensex is trading lower by 453 points. Meanwhile, the NSE Nifty is trading down by 137 points.
HUL and Nestle are among the top gainers today.
Axis Bank and NTPC on the other hand are among the top losers today.
Broader markets are trading mixed. The BSE Mid Cap index is trading 0.9% lower and the BSE Small Cap index is trading higher by 0.3%.
Barring FMCG sector, other sectoral indices are trading on a negative note with stocks in the metal sector and banking sector are witnessing selling pressure.
Shares of Suzlon Energy and MRPL hit their 52-week high today.
--- Advertisement ---
Investment in securities market are subject to market risks. Read all the related documents carefully before investing

Our Big Prediction

India is set to take a giant leap in terms of prosperity.

If things play out as our research suggests, then this leap could potentially generate wealth at a scale we've probably never seen before.

This is one of the biggest opportunities for investors in the recent times.

The stock market rally that we're seeing right now is just a small glimpse of what's about to come.

See Details Here
Details of our SEBI Research Analyst registration are mentioned on our website - www.equitymaster.com
---------------------------------------------------
The rupee is trading at Rs 83.25 against the US dollar.
In commodity markets, gold prices are trading 0.1% at Rs 56,865 per 10 grams today.
Meanwhile, silver prices are trading 0.5%% lower at Rs 67,069 per 1 kg.
Now track the biggest movers of the stock market using stocks to watch today section. This should help you keep updated with the latest developments...
Speaking of stock markets, 5% seems to be the inflection point at which most technologies get ready for mass adoption.
The time it takes to get to that level varies widely by country. But once the universal challenges of car costs, charger availability and driver skepticism are solved for the few, the masses soon follow.
According to a Bloomberg analysis, in 2022, 19 countries had passed what's become a critical EV tipping point. Since then, five more countries have made the leap.
India is the third largest auto market after China and the US. EVs made up 3% of new car sales in the country in the June quarter of 2023, after doubling in just six months.
So, according to Research analyst, Tanushree Banerjee the country seems to be at a tipping point for EV adoption.
Maruti Suzuki Receives Income Tax Notice
Maruti Suzuki India Limited received a Draft Assessment Order for Rs 21.6 bn dated 3 October 2023 from the Income Tax Authority.
The draft assessment order is for the financial year 2019-20.
When the assessing officer finds any variance to the income or loss stated in the return filed by the assessee, he proposes a Draft Assessment Order to invite the assessee's objection or acceptance.
Maruti will file its objections before the Dispute Resolution Panel. However, this draft Assessment Order has no impact on the company's financial, operation or other activities.
For more, check out Why Are Hero MotoCorp and Maruti Suzuki Underperforming the Market?
--- This is Third Party Advertisement ---
Mutual Fund investments are subject to market risks, read all scheme related documents carefully.

[MEGA] Webinar Invitation -

Navigating markets in 2024 - Fund Managers' Year End Perspective.

Date: Dec 6th Time: 6pm Venue: Your Computer

What's Next for equity, debt & gold asset classes?

Join Chirag Mehta, CIO and Fund Managers of Quantum AMC as they discuss asset class outlook & what one should expect from the markets in the new-year.

Register Free for this Exclusive Webinar
----------------------------------------
HDFC Bank's Management Rejig
HDFC Bank has reshuffled the portfolios of its senior management team. This is the first major rejig after the amalgamation of HDFC on 1 July 2023.
This change is being done to bring in a very sharp focus on leveraging what we have built and for enhanced execution.
Last month, the Reserve Bank of India (RBI) approved a three-year extension for Jagdishan, who was appointed in October 2020.
Kaizad Bharucha, deputy MD in charge of wholesale banking, will have additional portfolios, which are inclusive banking initiatives group, corporate social responsibility (CSR), and environmental, social, and corporate governance (ESG).
Arvind Kapil, who is the group head for retail assets, will now handle the mortgage portfolio which was inherited following the merger with HDFC.
Both Kapil and Vohra will continue to report to the MD & CEO.
HDFC Bank, which has been rapidly expanding its branch presence, decided to have two branch banking heads instead of one.
Smita Bhagat and Sampath Kumar, both group heads, will be the new retail branch banking heads. The bank has over 8,000 branches.
Bhagat will lead branch banking for the north, central and east regions; Kumar will be responsible for the west and south areas.
HDFC stands among the Top 5 Indian Stocks with Consistently Rising Operating Margins.
--- Advertisement ---
Investment in securities market are subject to market risks. Read all the related documents carefully before investing

India's Lithium Megatrend is an Emerging Opportunity for Investors

We all know how oil producing countries made fortunes in the last century.

But now, the world is moving away from oil... and closer to Lithium.

Lithium is the new oil. That's the reason why India is focusing heavily on expanding its lithium reserves.

If you can tap into this opportunity, then there is a potential to make huge gains over the long term.

See Details Here
Details of our SEBI Research Analyst registration are mentioned on our website - www.equitymaster.com
---------------------------------------------
IHC Boosts Stake In Adani Enterprises
Abu Dhabi conglomerate International Holding Company (IHC) on Tuesday said it had increased its stake in Adani Enterprises (AEL) to more than 5%. The move comes barely a week after the UAE-based company exited Adani Green and Adani Transmission by selling its entire holding.
This strategic increase reflects IHC's conviction in the world-leading incubation model of AEL and we believe that the inherent strength of airports, data centres, green hydrogen, and various other verticals being incubated under AEL.
Gautam Adani's flagship firm was poised to uniquely capitalise on India's robust growth journey.
Adani Enterprises said Green Vitality RSC had acquired an additional 0.06% of the company from the open market.
With this, IHC's total holding in Adani Enterprises now stands at 5.04%.
A transition from grey to green hydrogen is happening at a faster pace than expected. Adani Enterprises is one among them. For more check out Full Update on India's Top Green Hydrogen Stocks and How They're Faring in 2023.
To know what's moving the Indian stock markets today, check out the most recent share market updates here.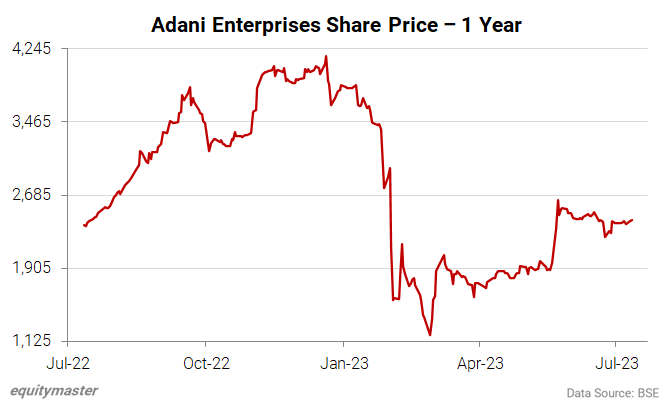 India's two richest men, Mukesh Ambani and Gautam Adani, are locked in a race for the top spot. For more, check out Adani vs Ambani - All Your Questions Answered.
For more details, check out Equitymaster's Indian stock screener, which shows all the Adani group companies' fundamental analysis on one screen.
Dig deeper into Adani group stocks.
For information on how to pick stocks that have the potential to deliver big returns,
Read the latest Market Commentary