Indian Stock Market News October 11, 2017
Sensex Reclaims 32,000-Mark; Bharti Airtel & Axis Bank Lead
Asian stock markets are higher today as Japanese and Hong Kong shares show gains. The Nikkei 225 is up 0.22% while the Hang Seng is up 0.11%. The Shanghai Composite is trading up by 0.20%. All main US stock indices closed in the positive terrain on Tuesday, with the Dow finishing at a record high.
Back home, share markets in India have opened the day on a firm note. The BSE Sensex is trading higher by 104 points while the NSE Nifty is trading higher by 30 points. The BSE Mid Cap and BSE Small Cap index both opened the day up by 0.6%.
All sectoral indices have opened the day in green with stocks from oil & gas sector and realty sector leading the pack of gainers. The rupee is trading at 65.27 to the US$.
Bharti Airtel share price surged in the early trade on the reports that the company is expanding its 4G VoLTE services to Madhya Pradesh and Chhattisgarh. Airtel launched its 4G VoLTE service last month and it went live first in Mumbai. The company plans to expand the service across India by the end of the current financial year.
Steel stocks have opened the day on a mixed note with Bhushan Steel and Maharashtra Seamless being the most active stocks. As per an article in The Economic Times, Steel demand in India is gathering speed amid an infrastructure building boom that's set to more than double capacity of the nation's mills.
According to the steel ministry, India's finished steel consumption rose 4.3% to 43 million tonnes in the six months to September, while output climbed 5% to 52 million tonnes.
In the financial year ended 31 March, usage grew 3% to 84 million tonnes, the slowest pace in three years, even as production gained 11% to a record 101 million tonnes.
Just Released: Multibagger Stocks Guide
(2017 Edition)
In this report, we reveal four proven strategies to picking multibagger stocks.
Well over a million copies of this report have already been claimed over the years.
Go ahead, grab your copy today. It's Free.
NO-SPAM PLEDGE
- We will NEVER rent, sell, or give away your e-mail address to anyone for any reason. You can unsubscribe from The 5 Minute WrapUp with a few clicks. Please read our
Privacy Policy
&
Terms Of Use
.
India is set to displace Japan as the world's second-largest steel producer, and by 2022 will churn out 146 million tons compared with 118 million tons from Japan, according to an April report from Australia's Department of Industry, Innovation and Science. That compares with an estimated 785 million tonnes of production in 2022 by industry leader China.
The optimistic outlook for the industry amid record volumes, a price recovery and higher demand has sparked a surge in shares of Indian mills.
Notably, Tata Steel Ltd has rallied 76% this year in Mumbai, the best performer on the benchmark S&P BSE Sensex Index, and JSW Steel Ltd is up 59%.
But does this mean a new megatrend in the making? Our research analyst, Sarvajeet Bodas doesn't think so. Here's an excerpt of what he wrote:
"Although it's a big opportunity, there is substantial capacity already in place or coming soon. Furthermore, the MIP is not WTO-compliant. This is a stop-gap arrangement until other measures are taken. Cheap imports are bound to hit the market in the coming year. This will hurt the demand-supply equation...and, in turn, steel prices.

Mind you, the steel industry is capital-intensive as well as cyclical. Most investors focus on future demand more than supply. But changes in supply often drive industry profitability."
So, what is key to identifying potential multibagger stocks? How does one pick them at the right time and ride them to their full potential? How many multibaggers do you really need to achieve the big riches that you desire?
Most importantly, are there any stocks right now that could turn out to be multibaggers? Click here to know everything that you need to know right now about mutlibagger stocks...
Moving on to the news from the economy. The International Monetary Fund (IMF) on Tuesday lowered India's growth forecast for 2017 to 6.7% from its earlier estimate of 7.2%, citing lingering impact of demonetisation and transition cost to the Goods & Services Tax (GST).
The IMF, however, raised its current year growth forecast for China to 6.8%, which is 0.1% more than its two previous projections in April and July, putting the Asian giant ahead of India as the world's fastest growing economy.
The World Economic Outlook report also lowered India's growth for 2018 to 7.4%, 0.3 percentage points less than its previous two projections in July and April. India's growth rate in 2016 was 7.1%, which saw an upward revision of 0.3 percentage points from its April report.
The report said strong government spending and data revisions in India led to an upward revision of 2016 growth to 7.1% (6.8% in April), with upward revisions of about 0.2 percentage point, on average, for 2014 and 2015, it said.
India had lost the tag of the fastest growing economy to China in the March quarter as GDP growth slowed to 6.1%.
But, India is expected to regain the fastest growing major economy tag next year when it is forecast to grow 7.4% (slower than earlier estimate of 7.7%), higher than China's 6.5%.
The GST, which promises the unification of India's vast domestic market, is among several key structural reforms under implementation that are expected to help push growth above 8% in the medium term, the report said.
In India, simplifying and easing labour market regulations and land acquisition procedures are long-standing requirements for improving the business climate, the report points out.
IMF forecast is the latest in the series of downgrades in India's growth prospects unveiled by other multilateral agencies such as World Bank, Asian Development Bank and OECD.
Earlier this month, RBI lowered its growth forecast for 2017-18 to 6.7% from 7.3% and put the onus of reviving the economy on the government. It called for structural reforms and expects growth to rebound in the quarters ahead.
While we have serious reservations about India's GDP numbers, we have no doubt that India is doing much better than other emerging economies. The above chart throws up a startling revelation. As per an article in Livemint, apart from China and India, the rest of the emerging economies have not done very well.
India's share grew from 3.9% to 7.2% of world GDP over the last twenty years. That's just a 3.3 percentage point increase.
China Way Ahead of All Emerging Markets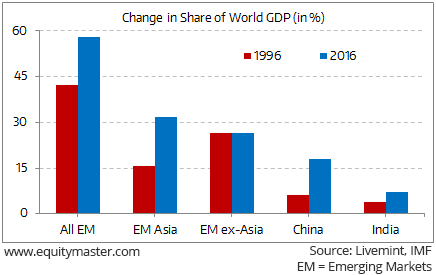 Just this one statistic tells us how much India needs to grow if we are to catch up with China. In fact, there's a strong argument which indiactes we may never catch up with China. However, we are confident that even if we don't match China, there will be many opportunities to create wealth in the Indian markets.
For those investing based on macro clues, these are times to be a little skeptical. What you see could be too good to be true. It could also be a very slippery premise for one's investment thesis. Ask superinvestors who have consistently beaten benchmark indices.
But who are these super investors? And more importantly, how do they pick stocks? Which stocks are they picking?
Our research analysts Kunal and Rohan have been working on a project to answer this. They have travelled the length and breadth of the country to interview a bunch of value-oriented investors who've had tremendous success with investing.
To get an insight, download your free copy of The Super Investors Of India today.
For information on how to pick stocks that have the potential to deliver big returns,
Read the latest Market Commentary
What else is happening in the markets today? Dig in...
Stock Market Updates
Feb 26, 2021 Closing
Indian share markets end deep in the red with the Sensex down by 1,939 points and the Nifty ending down by 568 points.
Feb 26, 2021 03:34 PM
ONGC share price is trading down by 7% and its current market price is Rs 118. The BSE OIL & GAS is down by 4.0%. The top gainers in the BSE OIL & GAS Index is CASTROL INDIA (up 1.3%). The top losers are ONGC (down 7.1%) and GAIL (down 6.3%).
Feb 26, 2021 03:30 PM
ULTRATECH CEMENT share price is trading down by 5% and its current market price is Rs 6,487. The BSE 500 is down by 3.4%. The top gainers in the BSE 500 Index are SOUTH IND.BANK (up 10.4%) and JAGRAN PRAKASHAN (up 10.0%). The top losers are ULTRATECH CEMENT (down 5.0%) and BAJAJ FINSERV (down 6.3%).
Feb 26, 2021 03:26 PM
JAGRAN PRAKASHAN share price is trading up by 10% and its current market price is Rs 60. The BSE 500 is down by 3.2%. The top gainers in the BSE 500 Index are JAGRAN PRAKASHAN (up 10.1%) and RCF (up 11.0%). The top losers are MAHINDRA CIE AUTO. and AJANTA PHARMA (down 0.1%).
Feb 26, 2021 03:26 PM
UPL share price is trading down by 5% and its current market price is Rs 589. The BSE 500 is down by 3.2%. The top gainers in the BSE 500 Index are RCF (up 11.0%) and SOUTH IND.BANK (up 10.4%). The top losers are UPL (down 5.4%) and BAJAJ FINSERV (down 6.2%).
Feb 26, 2021 03:26 PM
ICICI LOMBARD GENERAL INSURANCE share price is trading down by 5% and its current market price is Rs 1,479. The BSE 500 is down by 3.2%. The top gainers in the BSE 500 Index are RCF (up 11.0%) and SOUTH IND.BANK (up 10.4%). The top losers are ICICI LOMBARD GENERAL INSURANCE (down 5.2%) and BAJAJ FINSERV (down 6.2%).
View More Indian Share Market News
Most Popular
Feb 24, 2021
Last time the smallcap index crossed 19k a big correction followed. Here's what makes it different this time.
Feb 15, 2021
In this video, I'll cover your queries on intraday trading and also share my view on how to decide stop losses and target prices.
Feb 16, 2021
A look at what India's top equity mutual funds bought and sold in January 2021.
Feb 16, 2021
Do you enjoy reading Tesla and Bitcoin stories? Here's a not so famous small-cap stock to profit from the rise of EVs.
More