Indian Stock Market News October 15, 2019
Sensex Opens Higher; Consumer Durables and Energy Stocks Lead
Asian share markets are lower today as Japanese and Hong Kong shares fall. The Nikkei 225 is off 1.7% while the Hang Seng is down 0.1%. The Shanghai Composite is trading down by 0.6%. Wall Street edged lower on Monday as uncertainties following recent US-China trade negotiations clouded sentiment and investors turned their focus on the third-quarter earnings season, which begins today.
Back home, India share markets opened higher today. The BSE Sensex is trading up by 127 points while the NSE Nifty is trading up by 30 points. Both, the BSE Mid Cap index and BSE Small Cap index opened up by 0.2%.
Sectoral indices have opened the day on a mixed note with consumer durables stocks and oil & gas stocks witnessing maximum buying interest. IT stocks and telecom stocks are trading in red.
The rupee is currently trading at 70.91 against the US$.
Speaking of Indian stocks markets, the stock market has not been kind to investors of late.
There has been a sudden shift in market sentiment on the back of same major developments.
And investors across the rank and file - from institutional to retail - have been at the receiving end. The mayhem has spared no one.
--- Advertisement ---
You're missing out on a profit source that's up to 200X bigger than stocks

Stocks have been performing terribly over the last 2 years...And it's probably cost you a lot of money.

But what if we told you that instead of stocks - there's another profit source that you can tap into...

One that's up to 200 times bigger than stocks...

And has the potential to deliver explosive payouts like Rs 63,400 in 1 day, Rs 18,250 in 1 day, Rs 13,950 in less than 12 hours and a lot more.

When you can tap into a profit source like this, you won't need to rely on stocks to build a fortune.

Now over the last 30 years, India's #1 trader has been using a special Blueprint to trade these profit sources...And we've convinced him to share it with you.

All you need to do is register for a special summit we're holding on the 26th of November.

Register now – it's free.

*Past performance does not guarantee future results.
*Two lots of each trade have been assumed to calculate the returns of all the backtest examples used.
------------------------------
But if you look at the stock market returns over the years, you will see that the markets have never moved in a linear fashion.
What do I mean by that?
It has never been a one-way street - only up or down.
Stock markets have always moved in cycles.
The Time to Buy Stocks is Now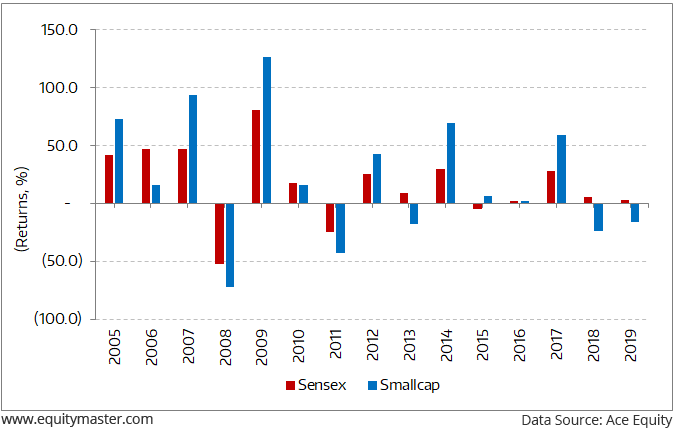 Here's what Radhika Pandit wrote about this in a recent edition of The 5 Minute WrapUp...
If you would have bought stocks when either the Sensex or the Smallcap index was in a downturn, you would have made big returns once the cycle turned and the bulls took over.

Sarvajeet and I believe we are seeing a similar situation currently.

The economic slowdown does not herald the end of the world or for that matter the end of India. It's a phase and like all phases - This too shall pass.
So, the real question is - Are you taking advantage of these price declines to buy quality stocks?
In the news from currencies space. The rupee declined by 21 paise to close at a three-week low of 71.23 against the US currency on Monday as investors rushed to safe haven bets on fading hopes of an initial trade deal between the US and China.
--- Advertisement ---
Our No. 1 Recommendation for 2020

This tiny company is Richa Agarwal's No. 1 Small Cap Stock for 2020…

It is a little-known company which trades around Rs 300, but is the backbone behind industry giants like Asian Paints, Vadilal and Heinz…

And has immense profit potential for early investors.

Get all the details here.
------------------------------
Weak Chinese trade data also weighed on the domestic currency.
At the forex market, the rupee opened higher at 70.83 and touched an intra-day high of 70.74 against the American currency.
However, later the local unit pared initial gains and finally settled at 71.23 against the US dollar, down 21 paise over its previous close.
On Friday, the domestic unit had closed at 71.02 against the US dollar.
President Donald Trump on Friday had said that the US had reached a very substantial Phase 1 trade deal with China.
However, the announcement came with a rider that the agreement was still to be put on to the paper, which will take somewhere between three to five weeks.
Rupee after opening on a stronger note came under pressure against the US dollar following reports that China wants more talks before signing Trump's 'Phase One Deal'.
Moving on to the news from the economy. India's retail inflation sharply accelerated in September to a 14-month high at 3.99%, almost touching the central bank's medium-term target of 4%, as food inflation nearly doubled to 5.1%.
The high retail inflation could limit the Reserve Bank of India's (RBI's) ability to further cut policy rates.
Data released by the industry department on Monday, however, showed that wholesale price inflation decelerated to a three-year low at 0.3% in September compared with 1.1% a month ago, as prices of manufactured items entered the deflationary territory, signalling the lack of pricing power of producers in the current economic downturn.
Inflation for manufactured items stood at -0.4% in September as against 0% a month ago. The WPI inflation rate declined in September despite onion prices rising 122% from a year ago.
The government has banned exports of onions and put stock limits on traders to cool prices.
As per the reports, the rise in retail inflation may impact the rate cut cycle of RBI.
The decline in core inflation provides some comfort, but the unexpectedly sharp jump in the September CPI inflation has pushed up the likelihood of a pause in the next MPC review, unless the headline retail inflation recedes sharply in this month.
Speaking of the macro picture of India, some recent economic numbers have confused investors.
In the video below, Tanushree Banerjee decodes a few economic myths and reveals three big trends of Rebirth of India.
Tune in...
To know what's moving the Indian stock markets today, check out the most recent share market updates here.
For information on how to pick stocks that have the potential to deliver big returns,
Read the latest Market Commentary
Stock Market Updates
Nov 15, 2019 12:36 PM
ASTER DM HEALTHCARE LTD share price has plunged by 6% and its current market price is Rs 158. The BSE HEALTHCARE is up by 0.6%. The top gainers in the BSE HEALTHCARE Index are GLENMARK PHARMA (up 5.2%) and SUN PHARMA ADV. RES. (up 3.7%). The top losers are ASTER DM HEALTHCARE LTD (down 5.7%) and FORTIS HEALTHCARE (down 7.2%).
Nov 15, 2019 12:31 PM
ICICI BANK share price has hit an all time high at Rs 510 (up 1.1%). The BSE BANKEX Index is up by 1.0%. Among the top gainers in the BSE BANKEX Index today are ICICI BANK (up 1.1%) and KOTAK MAHINDRA BANK (up 0.7%). The top losers include INDUSIND BANK (down 0.4%) and AXIS BANK (down 0.5%).
Nov 15, 2019 12:30 pm
Indian share markets are trading on a positive note with the BSE Sensex up by 227 points while NSE Nifty is trading higher by 62 points.
Nov 15, 2019 12:26 PM
SBI share price has surged by 5% and its current market price is Rs 322. The BSE BANKEX is up by 1.0%. The top gainers in the BSE BANKEX Index is SBI (up 5.1%). The top losers are INDUSIND BANK (down 0.3%) and AXIS BANK (down 0.5%).
Nov 15, 2019 11:56 AM
AU SMALL FINANCE BANK share price has plunged by 5% and its current market price is Rs 826. The BSE BANKEX is up by 0.9%. The top gainers in the BSE BANKEX Index are SBI (up 4.3%) and BANK OF BARODA (up 1.6%). The top losers is AU SMALL FINANCE BANK (down 5.3%).
Nov 15, 2019 10:59 AM
FORTIS HEALTHCARE share price has plunged by 11% and its current market price is Rs 161. The BSE 500 is up by 0.4%. The top gainers in the BSE 500 Index are CORPORATION BANK (up 17.2%) and CENTRAL BANK (up 9.8%). The top losers is FORTIS HEALTHCARE (down 10.9%).
View More Indian Share Market News
Most Popular
Nov 7, 2019
Is this the beginning of the end of multibagger gains in quality stocks like Nestle, HUL, and Asian Paints?
Nov 5, 2019
How to avoid the most common investing mistake and make the most of the smallcap rebound.
Nov 8, 2019
Investors who took cues from Moody's rating downgrade in 1992 and 2002 created some of the biggest wealth of their lifetime.
Nov 5, 2019
Charlie Munger's favorite fictional character, Mr Glotz, picks stocks using this metric.
Nov 4, 2019
Should you invest in high-quality, safe stocks or make some contrarian bets in the smallcap space?
More