Indian Stock Market News October 17, 2019
Sensex Opens Flat; HDFC and TCS Top Gainers
Asian share markets are higher today as Chinese and Hong Kong shares show gains. The Shanghai Composite is up 0.1% while the Hang Seng is up 0.9%. The Nikkei 225 is trading up by 0.1%. Wall Street lost ground on Wednesday as weak US economic data and simmering geopolitical tensions spooked buyers away from the equities market, despite a string of generally positive third-quarter earnings reports.
Back home, India share markets opened mildly higher today. The BSE Sensex is trading up by 59 points while the NSE Nifty is trading up by 13 points. Both, the BSE Mid Cap index and BSE Small Cap index opened up by 0.1%.
Sectoral indices have opened the day on a mixed note with consumer durables stocks and FMCG stocks witnessing maximum buying interest. Metal stocks and telecom stocks are trading in red.
The rupee is currently trading at 71.46 against the US$.
In the news from the banking sector. As per the latest Reserve Bank of India (RBI) data, credit growth at Indian banks has dropped to its lowest level in nearly two years, as slowing domestic consumption weighs on demand.
This adds to the challenges facing Narendra Modi as he begins his second term as prime minister with India's economy at its weakest levels in six years.
Lending growth by banks had nearly halved to 8.8% at the end-September from the start of the year.
--- Advertisement ---
You're missing out on a profit source that's up to 200X bigger than stocks

Stocks have been performing terribly over the last 2 years...And it's probably cost you a lot of money.

But what if we told you that instead of stocks - there's another profit source that you can tap into...

One that's up to 200 times bigger than stocks...

And has the potential to deliver explosive payouts like Rs 63,400 in 1 day, Rs 18,250 in 1 day, Rs 13,950 in less than 12 hours and a lot more.

When you can tap into a profit source like this, you won't need to rely on stocks to build a fortune.

Now over the last 30 years, India's #1 trader has been using a special Blueprint to trade these profit sources...And we've convinced him to share it with you.

All you need to do is register for a special summit we're holding on the 26th of November.

Register now – it's free.

*Past performance does not guarantee future results.
*Two lots of each trade have been assumed to calculate the returns of all the backtest examples used.
------------------------------
The RBI data includes all banks in India, which is dominated by state-run lenders Bank of Baroda, Punjab National Bank and Union Bank of India as well as private ones such as HDFC Bank and ICICI Bank.
While retail lending has driven growth, banks are taking a more cautious approach on some consumer loans.
India's lending problems have been compounded by a drying up of liquidity in the NBFC sector last year after the collapse of infrastructure lending group IL&FS.
While some major NBFCs have been going slow on lending, others stopped completely.
However, banks have not used this opportunity to win market share from NBFCs, which accounted for 30% of auto loans and more than 40% of home loans until the end of last year.
The weak growth in lending comes at a time when banks have been cutting interest rates and making it cheaper to borrow.
So far in 2019, the RBI has reduced the repo rate by 135 basis points. Even though banks have not matched this, the pace of cuts has picked up in the last few months.
A high credit-deposit ratio has been one of the key reasons why banks have struggled to cut interest rates. But with credit growth falling faster than deposit growth, banks may have a bit more room to transmit rate cuts, the report noted.
--- Advertisement ---
Our No. 1 Recommendation for 2020

This tiny company is Richa Agarwal's No. 1 Small Cap Stock for 2020…

It is a little-known company which trades around Rs 300, but is the backbone behind industry giants like Asian Paints, Vadilal and Heinz…

And has immense profit potential for early investors.

Get all the details here.
------------------------------
Speaking of banks, 2019 has been brutal for some banking stocks.
The market has severely punished them. This is due to issues such as worsening asset-quality, corporate governance, and inadequate capital.
Stocks such as Yes Bank and Lakshmi Vilas Bank are down more than 70%.
Surprisingly, RBL Bank is the latest victim added to the worst performers list of 2019. You see, RBL Bank is down 64% from its recent high in May 2019.
Falling Knives in the Banking Sector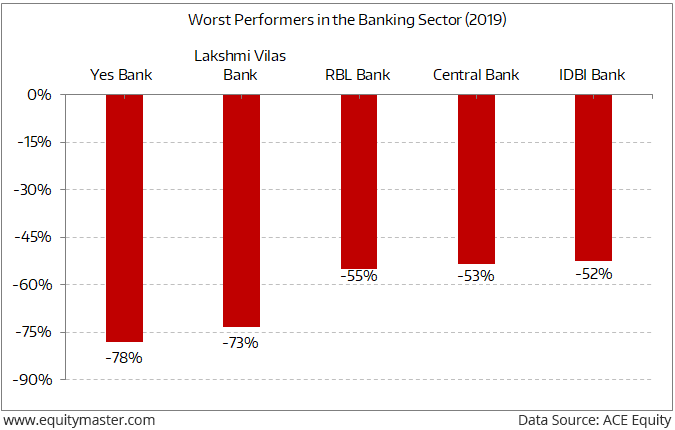 What's the issue here?
Well, the management expects to face challenges in recovering some loans in the near term.
They have guided for elevated stress in a few corporate accounts, rising non-performing assets, and higher provisioning. This could impact the earnings of the bank.
Does this situation seem familiar to you?
Falling stock prices could be enticing. After all, we love deep discounts and good bargains.
But if you're thinking of buying these stocks it's important to remember this point - If a stock is in a falling spree, there's probably a good reason behind it.
And realising this in a falling market is the first step towards correcting one's investing process.
Moving on to the news from the economy. Highlighting developments achieved by India, the World Bank has said that the country has halved its poverty rate since the 1990s and achieved a seven-plus growth rate over the last 15 years.
It also noted that India is both critical to the success of global development efforts, including eliminating extreme poverty, and as an influential leader for global goods such as addressing climate change.
World Bank is expecting India's growth to continue and elimination of extreme poverty in the decade is within reach and added that the country's development trajectory nonetheless faces considerable challenges.
It further said that India will need to achieve greater resource efficiency as it sustains growth, given its resource endowments and large population.
As per the World Bank, India's rapidly growing economy needs investment in infrastructure, an estimated 8.8% of GDP or US$343 billion a year until 2030.
Besides, sustained growth will also need to accelerate inclusion, especially to create more and better jobs.
Speaking of the macro picture of India, some recent economic numbers have confused investors.
In the video below, Tanushree Banerjee decodes a few economic myths and reveals three big trends of Rebirth of India.
Tune in...
To know what's moving the Indian stock markets today, check out the most recent share market updates here.
For information on how to pick stocks that have the potential to deliver big returns,
Read the latest Market Commentary
Stock Market Updates
Nov 15, 2019 12:36 PM
ASTER DM HEALTHCARE LTD share price has plunged by 6% and its current market price is Rs 158. The BSE HEALTHCARE is up by 0.6%. The top gainers in the BSE HEALTHCARE Index are GLENMARK PHARMA (up 5.2%) and SUN PHARMA ADV. RES. (up 3.7%). The top losers are ASTER DM HEALTHCARE LTD (down 5.7%) and FORTIS HEALTHCARE (down 7.2%).
Nov 15, 2019 12:31 PM
ICICI BANK share price has hit an all time high at Rs 510 (up 1.1%). The BSE BANKEX Index is up by 1.0%. Among the top gainers in the BSE BANKEX Index today are ICICI BANK (up 1.1%) and KOTAK MAHINDRA BANK (up 0.7%). The top losers include INDUSIND BANK (down 0.4%) and AXIS BANK (down 0.5%).
Nov 15, 2019 12:30 pm
Indian share markets are trading on a positive note with the BSE Sensex up by 227 points while NSE Nifty is trading higher by 62 points.
Nov 15, 2019 12:26 PM
SBI share price has surged by 5% and its current market price is Rs 322. The BSE BANKEX is up by 1.0%. The top gainers in the BSE BANKEX Index is SBI (up 5.1%). The top losers are INDUSIND BANK (down 0.3%) and AXIS BANK (down 0.5%).
Nov 15, 2019 11:56 AM
AU SMALL FINANCE BANK share price has plunged by 5% and its current market price is Rs 826. The BSE BANKEX is up by 0.9%. The top gainers in the BSE BANKEX Index are SBI (up 4.3%) and BANK OF BARODA (up 1.6%). The top losers is AU SMALL FINANCE BANK (down 5.3%).
Nov 15, 2019 10:59 AM
FORTIS HEALTHCARE share price has plunged by 11% and its current market price is Rs 161. The BSE 500 is up by 0.4%. The top gainers in the BSE 500 Index are CORPORATION BANK (up 17.2%) and CENTRAL BANK (up 9.8%). The top losers is FORTIS HEALTHCARE (down 10.9%).
View More Indian Share Market News
Most Popular
Nov 7, 2019
Is this the beginning of the end of multibagger gains in quality stocks like Nestle, HUL, and Asian Paints?
Nov 5, 2019
How to avoid the most common investing mistake and make the most of the smallcap rebound.
Nov 8, 2019
Investors who took cues from Moody's rating downgrade in 1992 and 2002 created some of the biggest wealth of their lifetime.
Nov 5, 2019
Charlie Munger's favorite fictional character, Mr Glotz, picks stocks using this metric.
Nov 4, 2019
Should you invest in high-quality, safe stocks or make some contrarian bets in the smallcap space?
More