Indian Stock Market News October 22, 2019
Sensex Opens Flat; Infosys Tanks 10%
Asian share markets are higher today as Chinese and Hong Kong shares show gains. The Shanghai Composite is up 0.1% while the Hang Seng is up 0.2%. The Nikkei 225 is trading up by 0.3%. World stock indices rose on Monday as signs of work to resolve the US-China trade war bolstered investor hopes, while the Canadian dollar strengthened in the hours before results of the election for prime minister.
Back home, India share markets opened flat. The BSE Sensex is trading up by 29 points while the NSE Nifty is trading up by 13 points. The BSE Mid Cap index and BSE Small Cap index opened up by 0.2% and 0.3% respectively.
Sectoral indices have opened the day on a mixed note with Energy stocks and telecom stocks witnessing maximum buying interest. IT stocks and realty stocks are trading in red.
The rupee is currently trading at 70.90 against the US$.
Infosys stock price plunged over 10% in the opening session after an alleged group of employees at Infosys who recognise themselves as 'Ethical employees' have levelled allegations for the first time against current CEO Salil Parekh and CFO Nilanjan Roy of 'wilful misstatement' and 'accounting irregularities' to make the company's performance look good.
They also claim to have the required evidence to prove their claim which they intend to submit during the course of investigation.
--- Advertisement ---
You're missing out on a profit source that's up to 200X bigger than stocks

Stocks have been performing terribly over the last 2 years...And it's probably cost you a lot of money.

But what if we told you that instead of stocks - there's another profit source that you can tap into...

One that's up to 200 times bigger than stocks...

And has the potential to deliver explosive payouts like Rs 63,400 in 1 day, Rs 18,250 in 1 day, Rs 13,950 in less than 12 hours and a lot more.

When you can tap into a profit source like this, you won't need to rely on stocks to build a fortune.

Now over the last 30 years, India's #1 trader has been using a special Blueprint to trade these profit sources...And we've convinced him to share it with you.

All you need to do is register for a special summit we're holding on the 26th of November.

Register now – it's free.

*Past performance does not guarantee future results.
*Two lots of each trade have been assumed to calculate the returns of all the backtest examples used.
------------------------------
In the news from the financial markets. Foreign portfolio investors (FPIs) have infused a net sum of Rs 50.7 billion into the Indian capital markets in October so far amid the government's efforts to revive domestic demand.
In the preceding month, FPIs had invested a net Rs 65.6 billion in the domestic capital markets (both equity and debt).
As per the latest depositories data, foreign investors put in a net sum of Rs 49.7 billion in equities and a net Rs 1 billion in the debt market during October 1-18, taking the cumulative net investment to Rs 50.7 billion.
Speaking of foreign money, let's have a look at the monthly foreign investor inflow trend over the last five years.
Will Foreign Investors Make a Comeback Now?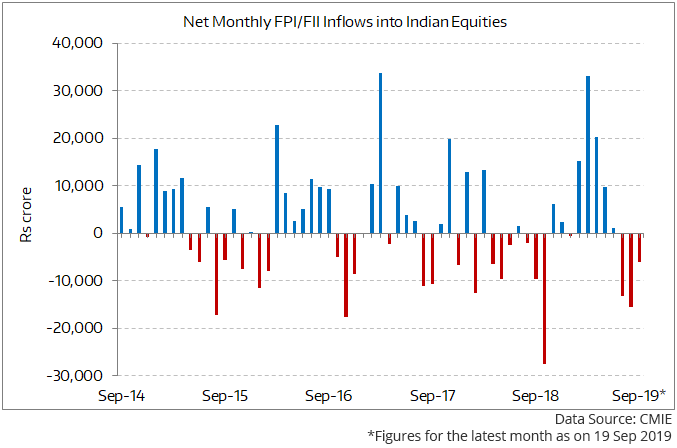 During the entire period, the net foreign investor inflows into Indian equities are worth Rs 1,182.8 billion. For a five-year period, that's not a significant amount at all. The reason being that, foreign investors have also done some heavy selling during this period.
Foreign investors have been net sellers in 27 out of the last 61 months. Even in the ongoing financial year, foreign investors have been net sellers.
--- Advertisement ---
Our No. 1 Recommendation for 2020

This tiny company is Richa Agarwal's No. 1 Small Cap Stock for 2020…

It is a little-known company which trades around Rs 300, but is the backbone behind industry giants like Asian Paints, Vadilal and Heinz…

And has immense profit potential for early investors.

Get all the details here.
------------------------------
Will that change after the latest announcement by the Finance Minister?
Research analyst at Equitymaster, Ankit Shah believes that corporate tax cuts have the potential to revive the business and investment climate in the economy.
In his premium newsletter Insider, Ankit focuses on cherry-picking the best investing opportunities. Even after the jump in stock prices on Friday, many stocks are still trading below their best buy prices.
He believes, the best strategy in the current market is to accumulate quality stocks in a staggered manner as and when prices are attractive.
Also, amid such volatile times in stock markets, Richa Agarwal reveals her investing strategy in the video below.
She also talks about the type of small cap stocks she is looking at during such times.
Tune in...
Moving on to another news. As per the data released by the Reserve Bank of India (RBI), the forex kitty continued to climb north, swelling by US$1.9 billion to a new life-time high of US$ 439.7 billion, in the week to October 11.
The forex reserves had increased by a higher US$4.2 billion to a new high of US$437.8 billion in the previous reporting week.
For the week under review, the foreign currency assets, which are the biggest part of the reserves, increased by US$ 2.3 billion to US$407.88 billion, the RBI said.
Expressed in US dollar terms, the foreign currency assets include the effect of appreciation or depreciation of non-US units like the euro, pound and the yen held in the foreign exchange reserves.
Further, the value of the gold reserves dipped by US$399 million to US$26.8 billion for the week.
The special drawing rights with the International Monetary Fund rose US$2 million to US$1.4 billion during the week.
The country's reserve position with the Fund also increased by US$7 million to US$3.6 billion, the data showed.
To know what's moving the Indian stock markets today, check out the most recent share market updates here.
For information on how to pick stocks that have the potential to deliver big returns,
Read the latest Market Commentary
Stock Market Updates
Nov 15, 2019 12:36 PM
ASTER DM HEALTHCARE LTD share price has plunged by 6% and its current market price is Rs 158. The BSE HEALTHCARE is up by 0.6%. The top gainers in the BSE HEALTHCARE Index are GLENMARK PHARMA (up 5.2%) and SUN PHARMA ADV. RES. (up 3.7%). The top losers are ASTER DM HEALTHCARE LTD (down 5.7%) and FORTIS HEALTHCARE (down 7.2%).
Nov 15, 2019 12:31 PM
ICICI BANK share price has hit an all time high at Rs 510 (up 1.1%). The BSE BANKEX Index is up by 1.0%. Among the top gainers in the BSE BANKEX Index today are ICICI BANK (up 1.1%) and KOTAK MAHINDRA BANK (up 0.7%). The top losers include INDUSIND BANK (down 0.4%) and AXIS BANK (down 0.5%).
Nov 15, 2019 12:30 pm
Indian share markets are trading on a positive note with the BSE Sensex up by 227 points while NSE Nifty is trading higher by 62 points.
Nov 15, 2019 12:26 PM
SBI share price has surged by 5% and its current market price is Rs 322. The BSE BANKEX is up by 1.0%. The top gainers in the BSE BANKEX Index is SBI (up 5.1%). The top losers are INDUSIND BANK (down 0.3%) and AXIS BANK (down 0.5%).
Nov 15, 2019 11:56 AM
AU SMALL FINANCE BANK share price has plunged by 5% and its current market price is Rs 826. The BSE BANKEX is up by 0.9%. The top gainers in the BSE BANKEX Index are SBI (up 4.3%) and BANK OF BARODA (up 1.6%). The top losers is AU SMALL FINANCE BANK (down 5.3%).
Nov 15, 2019 10:59 AM
FORTIS HEALTHCARE share price has plunged by 11% and its current market price is Rs 161. The BSE 500 is up by 0.4%. The top gainers in the BSE 500 Index are CORPORATION BANK (up 17.2%) and CENTRAL BANK (up 9.8%). The top losers is FORTIS HEALTHCARE (down 10.9%).
View More Indian Share Market News
Most Popular
Nov 7, 2019
Is this the beginning of the end of multibagger gains in quality stocks like Nestle, HUL, and Asian Paints?
Nov 5, 2019
How to avoid the most common investing mistake and make the most of the smallcap rebound.
Nov 8, 2019
Investors who took cues from Moody's rating downgrade in 1992 and 2002 created some of the biggest wealth of their lifetime.
Nov 5, 2019
Charlie Munger's favorite fictional character, Mr Glotz, picks stocks using this metric.
Nov 4, 2019
Should you invest in high-quality, safe stocks or make some contrarian bets in the smallcap space?
More