Indian Stock Market News November 18, 2017
World Stocks Mixed as Global Market Rally Loses Momentum
Global financial markets ended the week on a mixed note. In the US, the Dow industrials ended the week down 0.4%, while the S&P 500 declined 0.1%. It was their biggest two-week declines since mid-August, when worries about rising tensions between North Korea and the US weighed on stocks. Debate over the prospect of a significant tax overhaul in the US has swung stocks this week. On Thursday, the House of Representatives passed a bill that would reduce the corporate tax rate to 20% from 35%. Still, hurdles remain as the focus now shifts to the Senate, which is contending with debate over its own bill.
European equities ended the week lower on the back of disappointing corporate earnings and euro strengthening. Europe's major indexes began the week in the red, briefly rose midweek on the back of some encouraging economic data, but then receded again by the end of the week. UK and French markets were down by 0.7% and 1.1% respectively this week, while German indices were down by 1% over the week.
Japanese stocks declined for the week, ending a nine-week stretch of consecutive gains for the benchmark Nikkei 225 Stock Average. The Nikkei fell by 1.3% and closed at 22,397.
Key World Markets During the Week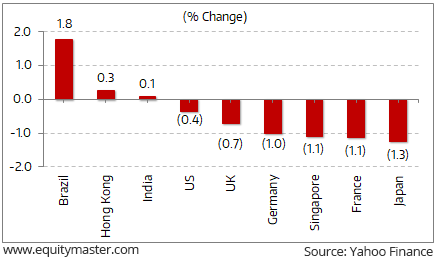 Back home, benchmark indices in India bounced back on Friday and ended the week on a positive note. This on the back of a sovereign ratings upgrade of the Indian government's bonds by the US credit rating agency Moody's. The BSE Sensex ended the week marginally higher by 0.1%.
BSE Indices During the Week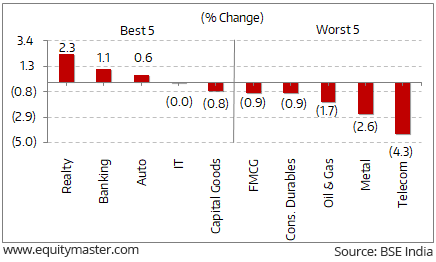 Now let us discuss some key economic and industry developments during the week gone by
In news from the economy, pointing that revival of infrastructure sector is in the primitive stages, credit rating agency, ICRA in its latest report has said that infrastructure companies with exposure to airport and highway sectors are doing well by showing improvement in their operational and financial performance. However, many infrastructure players are struggling with stressed balance sheet problem.
As per ICRA's report, aggregate debt of infra companies at a standalone level as of March 2017 rose only marginally from March 2016, while at the consolidated level, debt declined by 12% year-on-year to Rs 1.39 trillion from Rs 1.58 trillion, on account of stake disinvestment in subsidiaries or projects by the infra companies.
The report also found that the order book position of most construction companies has improved to over three times their last reported annual revenues, with the government's efforts to improve the country's infrastructure. ICRA, however, noted that the sector continues to face funding issues, as banks are still grappling with high Non-Performing Assets woes.
Just Released: Multibagger Stocks Guide
(2018 Edition)
In this report, we reveal four proven strategies to picking multibagger stocks.
Well over a million copies of this report have already been claimed over the years.
Go ahead, grab your copy today. It's Free.
NO-SPAM PLEDGE
- We will NEVER rent, sell, or give away your e-mail address to anyone for any reason. You can unsubscribe from The 5 Minute WrapUp with a few clicks. Please read our
Privacy Policy
&
Terms Of Use
.
According to data released by the Central Statistics Office (CSO), retail inflation as measured by the Wholesale Price Index (WPI) rose to 3.59% in October, a sharp rise from of 2.6% in September 2017. Wholesale inflation rate, measured by the wholesale price index (WPI), is a marker for price movements in bulk buys for traders and broadly mirrors trends in shop-end prices. The index portrays new series of WPI data released by the government earlier this fiscal, with 2011-12 as the base year, replacing existing the base year of 2004-05.
Food articles turned out to be major drivers as the data showed that prices of wholesale food articles rose by 3.2% in October, as against a 2% rise in the previous month. Vegetable index was up by 19.9% as compared to a rise of 15.5% in September. Primary articles, which accounts for more than a fifth of the entire wholesale price index grew 3.3% in October from 0.2% in September. Last month, the Reserve Bank of India's (RBI) Monetary Policy Committee (MPC) forecasted that retail inflation will hover around 4.2-4.6% between October-March this year, higher than the previous projection of 4-4.5%.
The RBI retained its neutral policy stance, citing uncertainty on the future trajectory of inflation because of several uncertainties, flagging possible return of inflationary pressures. However, it also kept the door ajar for a future rate cut if incoming data were conducive. While the government has been eyeing a sharp cut in interest rates, RBI has maintained its cautious stance.
Credit rating agency Moody's Investors Services upgraded India's sovereign ratings to Baa2 from its lowest investment grade (Baa3) giving credit to the Narendra Modi government for its "wide-ranging program of economic and institutional reforms". It has now changed the outlook for India's rating to stable from positive. Interestingly, the last time the global rating has revised the rating was when the BJP government led by Atal Bihari Vajpayee was in power. Moody's has also upgraded India's local currency senior unsecured rating to Baa2 from Baa3 and its short-term local currency rating to P-2 from P-3.
The decision to upgrade the ratings is underpinned by Moody's expectation that continued progress on economic and institutional reforms will, over time, enhance India's high growth potential. A rating upgrade for India comes at a time when rating agencies Standard and Poor's (S&P) and Moody's have cut China's sovereign rating. Moody's cut China's long-term local and foreign currency issuer ratings to A1 from Aa3 on 24 May on concerns that the country's financial strength would erode in the coming years.
Moving on to news from the GST space. Days after announcing a Goods and Service Tax (GST) rate cut for over 231 items, the Union Cabinet approved the setting up of the anti-profiteering authority under the GST regime in a bid to ensure that the benefit of lower rates is passed on to consumers. Anti-profiteering measures will provide an institutional framework to ensure that the full benefits of input tax credits and reduced GST rates on goods or services flow to consumers. This institutional framework comprises the National Anti-Profiteering Authority (NAA), a Standing Committee, a Screening Committee in every state and the Directorate General of Safeguards under the Central Board of Excise and Customs (CBEC).
Crucially, the authority has been granted wide-ranging powers, including to cancel the registration of offending firms in extreme cases. According to the rules, if the NAA confirms that there is a need to apply anti-profiteering measures, then it has the authority to order the supplier to reduce its prices or return the undue benefit availed by it along with interest to the recipient of the goods or services. If this can't be done, then the company can be ordered to deposit the amount in the Consumer Welfare Fund.
As we have been saying, GST is a much-needed economic reform, and measures such as setting up of the NAA in order to ensure its efficacy are a step in the right direction. It should eventually expand India's narrow tax base and increase government revenues.
Movers and Shakers During the Week
Source: Equitymaster
Some of the key corporate developments in the week gone by
In news from oil & gas sector. As per an article in The Livemint, Oil and Natural Gas Corp. Ltd (ONGC) and Vedanta Ltd on Wednesday emerged as the biggest bidders for oil and gas blocks, putting in 41 out of 56 bids received in India's maiden auction under the open acreage licensing regime. ONGC put in the expression of interest for 41 areas while Vedanta's oil unit, Cairn India sought rights over 15 areas. India in July opened 2.8 million sq. km of sedimentary basins for oil and gas exploration in a bid to raise domestic production and cut excessive dependence on imports. The open acreage licensing (OAL) allows companies to select blocks or areas after studying seismic data to explore and produce oil and gas.
Moving on to news from the telecom sector. As per an article in The Economic Times, the 57% cut in interconnect usage charges (IUC) will hit Idea Cellular's operating income by some Rs 3 billion over the next six months. However, the company still expects the impact to be partly offset by the growing popularity of its recently launched Rs 179 per month unlimited voice plan.
Interconnect charges are paid by a telco on whose network a call originates to the one on which it terminates. Top incumbent carriers - Airtel, Vodafone and Idea - will be the biggest revenue losers, post IUC cut from October 1, as they have the most number of subscribers and garner a majority share of IUC as most calls originate on their networks. Bharti Airtel, which recently said it would be shutting off its 3G services over 3-4 years, too reportedly stated that the steep cut in interconnect charges would hurt its consolidated Ebitda by as much as 4% in the December quarter.
Moving on to news from the mining sector. As per an article in The Economic Times, Coal India is in talks with the railways to increase rake loading from an average of 216 so far since April to 250 by the end of the fiscal year. This comes at a time when the company seeks to meet increased demand with both power and non-power sectors facing a short-supply of the dry fuel. As per the reports, reduction in generation from non-thermal sources like hydel and wind resulted in increased demand for thermal power over the past few months. This led thermal power generators, which were witnessing damp demand during April and May, to ask for additional coal since they were using up stocks at a faster pace.
Meanwhile, Coal India posted a 40% drop in net profit to Rs 3.69 billion for the quarter ended September 30 as compared with Rs 6.12 billion same period last year. A key factor that drove the miss was that CIL made a provision of Rs2,300 crore towards wage settlement in its employee costs.
And here's an update from our friends at Daily Profit Hunter...
The Nifty 50 Index traded on a negative note during the week. Opening higher on Monday, it slipped sharply to end the session 97 points down. The selling pressure dominated the index as it fell an additional 131 points over the next two days. But, on Thursday, it opened gap up and rallied 97 points. The bullish momentum continued on the final day of the week as well where the index opened 110 points gap up after Moody's upgrades India's rating. But, it finally ended its weekly session 0.37% down.
Last week, we observed that the index formed a hanging man candlestick pattern and a bearish engulfing pattern on the daily chart. Both of which were an indication of a short-term reversal. We also observed a negative divergence in the RSI indicator, another sign of correction. As a result, it corrected 228 points during the week to hit a low of 10,094.
But the index found a strong support there from 50 day exponential moving average (EMA), and horizontal support level (previous resistance now support).
Does this indicate a resumption of the uptrend or can we see some more correction? We'll get back next week. So, stay tuned... You can read the detailed market update here...
Nifty 50 Index Ends in the Red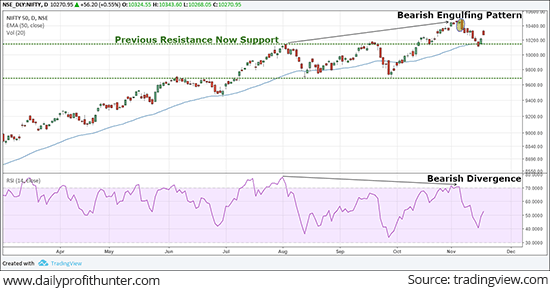 For information on how to pick stocks that have the potential to deliver big returns,
Read the latest Market Commentary
What else is happening in the markets today? Dig in...
Stock Market Updates
Mar 1, 2021 03:34 PM
MRPL share price has hit a 52-week high. It is presently trading at Rs 45. BSE 500 Index is up by 1.7% at 19,713. Within the BSE 500, MRPL (up 8.3%) and RCF (up 20.0%) are among the top gainers, while top losers are HIMADRI SPECIALITY CHEMICAL and BHARTI AIRTEL.
Mar 1, 2021 03:26 PM
KEC INTERNATIONAL share price is trading up by 5% and its current market price is Rs 454. The BSE CAPITAL GOODS is up by 1.6%. The top gainers in the BSE CAPITAL GOODS Index are KEC INTERNATIONAL (up 5.2%) and BHARAT ELECTRONICS (up 6.5%). The top losers are SCHAEFFLER INDIA (down 0.2%) and HINDUSTAN AERO. (down 0.3%).
Mar 1, 2021 03:24 PM
GUJARAT ALKALIES share price is trading up by 10% and its current market price is Rs 346. The BSE 500 is up by 1.6%. The top gainers in the BSE 500 Index are GUJARAT ALKALIES (up 10.2%) and DEEPAK NITRITE (up 14.5%). The top losers are COLGATE and HDFC AMC .
Mar 1, 2021 03:10 PM
DEEPAK NITRITE share price is trading up by 13% and its current market price is Rs 1,553. The BSE 500 is up by 1.4%. The top gainers in the BSE 500 Index are DEEPAK NITRITE (up 12.8%) and JUST DIAL (up 14.2%). The top losers are BAJAJ HOLDINGS & INVESTMENT and CADILA HEALTHCARE .
Mar 1, 2021 03:08 PM
HIMADRI SPECIALITY CHEMICAL share price is trading down by 11% and its current market price is Rs 55. The BSE 500 is up by 1.4%. The top gainers in the BSE 500 Index are RCF (up 20.0%) and MMTC (up 20.0%). The top losers is HIMADRI SPECIALITY CHEMICAL (down 11.3%).
Mar 1, 2021 12:30 pm
BSE Sensex is trading up by 378 points, while the NSE Nifty is trading up by 165 points.
View More Indian Share Market News
Most Popular
Feb 24, 2021
Last time the smallcap index crossed 19k a big correction followed. Here's what makes it different this time.
Feb 16, 2021
A look at what India's top equity mutual funds bought and sold in January 2021.
Feb 16, 2021
Do you enjoy reading Tesla and Bitcoin stories? Here's a not so famous small-cap stock to profit from the rise of EVs.
Feb 25, 2021
In this video, I'll show you how to get started on the path to daily trading profits.
More