Sensex Today Trades Higher | Adani Wilmar Surges 4% | Nifty Midcap Index Hits Record High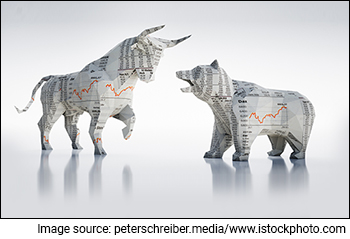 Asain shares rose on Tuesday as countries awaken to another solid advance on Wall Street amid evidence of easing US inflation supported bets that the Fed was done raising interest rates.
The Nikkei is trading flat while the Hang Seng index surged 1.6%. The Shanghai Composite is trading 0.6% higher.
US stocks closed higher on Monday, with Nasdaq's 1% rally leading the charge, as heavyweight Microsoft hit a record high after it hired prominent artificial intelligence executives.
Here's a table showing how US stocks performed on Monday:
| Stock/Index | LTP | Change ($) | Change (%) | Day High | Day Low | 52-Week High | 52-Week Low |
| --- | --- | --- | --- | --- | --- | --- | --- |
| Alphabet | 137.92 | 0.98 | 0.72% | 138.43 | 135.49 | 142.38 | 85.57 |
| Apple | 191.45 | 1.76 | 0.93% | 191.91 | 189.88 | 198.23 | 124.17 |
| Meta | 339.97 | 4.93 | 1.47% | 341.87 | 334.19 | 341.87 | 108.32 |
| Tesla | 235.6 | 1.3 | 0.55% | 237.1 | 231.02 | 299.29 | 101.81 |
| Netflix | 474.47 | 8.56 | 1.84% | 476.76 | 465.4 | 485 | 273.41 |
| Amazon | 146.13 | 0.95 | 0.65% | 146.63 | 144.73 | 147.29 | 81.43 |
| Microsoft | 377.44 | 7.59 | 2.05% | 378.87 | 371 | 378.87 | 219.35 |
| Dow Jones | 35151.04 | 203.76 | 0.58% | 35227.48 | 34907.98 | 35679.13 | 31429.82 |
| Nasdaq | 16027.06 | 189.07 | 1.19% | 16056.76 | 15844.83 | 16056.76 | 10671.19 |
Data Source: Equitymaster
Back home, Indian share markets are trading on a positive note.
At present, the BSE Sensex is trading higher by 300 points. Meanwhile, the NSE Nifty is trading up by 93 points.
--- Advertisement ---
Investment in securities market are subject to market risks. Read all the related documents carefully before investing

An Investment Opportunity at a Very Nascent Stage

Recently, our co-head of research, Tanushree Banerjee has found an excellent investment opportunity in the EV space that is still at a very nascent stage.

This is your best chance to get on the ground floor of this opportunity before the broader market catches up.

Full Details Here
Details of our SEBI Research Analyst registration are mentioned on our website - www.equitymaster.com
---------------------------------------------
Hindalco and Tata Steel are among the top gainers today.
Coal India and ONGC on the other hand are among the top losers today.
Broader markets are trading on positive note. The BSE Mid Cap index and the BSE Small Cap index is trading 0.5% higher.
Sectoral indices are trading mixed with stocks in realty sector and IT sector witness buying. Meanwhile, stocks in energy and oil & gas sector is witnessing selling pressure.
Shares of Bajaj Auto and Titan hit their 52-week high today.
The rupee is trading at Rs 83.35 against the US dollar.
In commodity markets, gold prices are trading 0.7% higher at Rs 61,050 per 10 grams today.
Meanwhile, silver prices are trading 0.9% higher at Rs 73,282 per 1 kg.
Now track the biggest movers of the stock market using stocks to watch today section. This should help you keep updated with the latest developments...
Speaking of stock markets, Co-head of Research at Equitymaster Rahul Shah talks about taking more exposure to stocks right now or waiting for the markets to correct, in his latest video.
Tune in for more.
--- Advertisement ---
Investment in securities market are subject to market risks. Read all the related documents carefully before investing

Value for Money Stocks?

You see, most stocks are either trading at super-expensive valuations... or they are trading way below their true worth because they are actually worthless stocks...

There are very few stocks in the market that you can call 'value for money' stocks.

But these 'value for money' stocks are some of the safest stocks available in the market... that you can buy at bargain prices.

If you're interested in these stocks where your downside is limited... but upside potential is huge... then it is highly recommended that you check out our 'value for money' stocks research...

Read More
Details of our SEBI Research Analyst registration are mentioned on our website - www.equitymaster.com
--------------------------------------------
L&T's Mega Order Win
Engineering and infrastructure conglomerate Larsen & Toubro (L&T) on Monday won a mega contract for its hydrocarbon business from a client in the Middle East. A letter of intent was issued to its hydrocarbon business unit, L&T Energy Hydrocarbon (LTEH).
While the company did not divulge the exact size of the contract, a mega contract for L&T is valued at about Rs 100- Rs 150 bn. The company also did not disclose the name of the client.
The scope of work comprises engineering, procurement, construction and installation of a new large offshore platform and brownfield work of integration with existing facilities.
L&T's hydrocarbon business is executing various domestic and international offshore projects.
In October, LTEH won an ultra-mega contract from another Middle East client. The firm terms a contract of value of more than Rs 150 bn ultra-mega.
L&T did not disclose the name of this client either.
Note that L&T has rewarded investors with 10 bonuses over the last 7 decades and the CAGR over the last 20 years stands at an impressive 25.6%.
L&T has been an investor's favourite stock for a long time and also a stock that makes it to the top 5 infrastructure stocks.
From September 2022 to September 2023, the stocks has increased by 48%.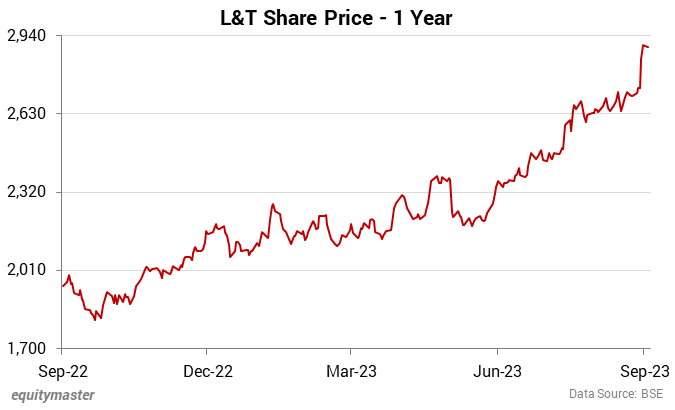 In Discussion at Conference 2024: The Role of AI in Investing
In line with its commitment to a sustainable future, L&T is poised to make significant strides in the green hydrogen landscape. For more details, check out L&T's next big leap in the green hydrogen space.
How sticky is L&T's business? And will it be successful in becoming the next wealth creator like HDFC? Read on to find out Does L&T have what it Takes to Become India's Next Favourite Stock?
Tata Power Renewable Energy's Capacity Milestone
Tata Power Renewable Energy, a subsidiary of Tata Power company, crossed the 1.4-GW capacity across group captive projects in the last seven months.
This achievement is the result of the signing of power delivery agreements with various industries across segments.
Some of the prominent group captive projects that TPREL has signed in the last six months include collaborations with Tata Steel, Tata Motors, Mukand, Supreme Petrochem, and Xpro India, to name a few.
It is also set to construct a 41-MW captive solar plant for Tata Power's upcoming 4.3-GW solar cell and module manufacturing facility in Tamil Nadu.
With these group captive projects, its overall renewables capacity as of October 2023 has reached 7,961 MW.
As you're interested in Tata group stocks, check out the new section in our Stock Screener, where you can view the fundamentals of companies within a business group in one screen, including the Top Tata group stocks.
kirloskar Electric ends lockout in Bengaluru Unit
Bengaluru-based Kirloskar Electric Company on Monday officially lifted the lockout at its Unit No. 15 located in Bhudihal, Nelamangala taluk, Bengaluru.
The decision comes after a period of uncertainty and disruption, during which the company engaged in regular interactions with the labour union and relevant authorities to address the issues leading to the lockout.
On 16 October 2023, Kirloskar Electric Company announced the lockout at its Unit No. 15 due to alleged non-cooperation by the workers at the facility.
Kirloskar Electric holds a significant position in the thriving data centre market of India, representing a lucrative opportunity for investors.
And to know what's moving the Indian stock markets today, check out the most recent share market updates here.
For information on how to pick stocks that have the potential to deliver big returns,
Read the latest Market Commentary