Can a monkey beat a great investor?
What's really going on inside China?
The latest The India Letter recommendation
Please don't take offense at today's headline. I'm not calling you a monkey!
But did you know that a monkey could have made more money than you in the markets?
Yes, really!
Imagine a monkey holding twenty darts in its hand. There's a dartboard in front of it. On the board, are names of random mid and small-cap stocks.
The monkey throws all twenty darts and hits twenty stocks. Let's imagine we buy all the stocks the darts land on.
Now repeat this five times.
In yesterday's The 5 Minute WrapUp, I wrote to you about the results of a study I conducted.
No monkeys were involved, just Microsoft Excel. I created five portfolios of twenty random stocks.
The result?
How a Dart-Throwing Monkey Beat the Sensex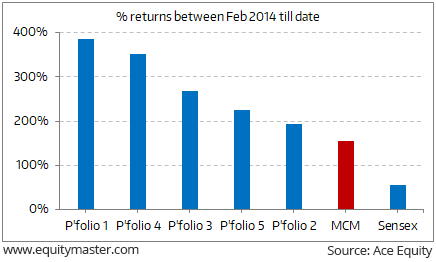 All five random portfolios not only beat the Sensex, they beat Microcap Millionaires (MCM) too!
Microcap Millionaires is based on the teachings of Benjamin Graham - the 'Father of Value Investing', the 'Dean of Wall Street', and the guru of none other than Warren Buffett himself.
How could this have happened?
As I explained yesterday, the crazy bull market in small caps is to blame. Random small caps with a story to tell have become multibaggers.
Fundamentals and valuations be damned. There are small caps trading at more than 100 times earnings.
So should you forget about Microcap Millionaires and just buy random stocks like a dart-throwing monkey?
No.
As I wrote to you yesterday...
Small and mid-caps have done so well over the past three to four years that it was almost impossible not to make lots of money betting on small caps.

It's been a one-way street for these stocks. The BSE Small-Cap Index itself is up 150% since February 2014.

Now, before you throw the Microcap Millionaires rulebook into the dustbin, a couple of very important points...

First, the random portfolios have no sell rules. So when markets or individual stocks correct, chances are the portfolios will give up all their gains.

You need to sell before the gains disappear. And a definite sell rule ensures those huge paper profits turn into real portfolio gains.

Point number two: The random portfolios assume a 100% exposure to equities from start to finish. However, a portfolio's equity exposure could be anything from 0% to 100%.

Unless you know how much equity exposure to take and when, you could well miss a bull market of a lifetime. Market sentiment in 2014 was so negative that many investors would have been entirely out of equities.

Microcap Millionaires takes care of these issues. It has a definite sell rule, and it tells you exactly how much stock exposure to take at any given point.

A bonus point: Unlike the random portfolios, Microcap Millionaires' profits are already booked. Our subscribers have already converted much of their paper profits into real wealth.
Monkeys can make money on paper, but Microcap Millionaires has made real profits.
What kind of profits?
We launched Microcap Millionaires in February 2014.
Since then, nearly nine out of ten recommendations are up. At last count, the total corpus, including the fixed income component, was up a 152.4%. The Sensex was up 51.2% during the same period.
Interestingly, this outperformance has steadily increased over time. And we have closed recommendations with gains of 150%, 170%, and even 545%!
Last week, I wrote to you about our special offer for Microcap Millionaires. You can get one year of Microcap Millionaires...FREE!
However, my marketing team informed me the special offer ends tomorrow.
Naturally, we want as many readers as possible to benefit. A one-year subscription of Microcap Millionaires would usually cost Rs 100,000.
But Research Digest readers can claim one year of Microcap Millionaires FREE!
If you act on the offer today, you will get a Rs 50,500 discount on the membership fee! That's more than HALF OFF.
What's more, if you act today, you will get a second year of Microcap Millionaires absolutely FREE!
That's 24-months of uninterrupted access to Microcap Millionaires...
Do not miss out on this rare opportunity.
What's really going on inside China?
I'll be honest.
I did not expect the border stand-off with China to last so long. But the end seems nowhere in sight. Markets are keeping a close watch on this.
As Ankit wrote in the latest edition of the Inner Circle...
Nearly 55 years have passed since India and China went to war over a disputed Himalayan border and other political tensions.

And since 1967, there has been no exchange of bullets between the border armies of the two countries.
Is it different now? Will there be another war?
Ankit believes the chances of escalation are high.
Why?
Economics.
China is India's largest trading partner. There's a little bit of China in practically everything we use today.
Ankit peeked inside the dragon economy - its internal political challenges as well as it global ambitions. He has put together a fascinating edition of the Inner Circle to bring you a perspective you won't find in the mainstream media.
The India Letter: Tanushree's latest recommendation
The report is out later today.
It's a private sector bank. I can't name it here, but I can confirm that its fundamentals are strong and the long-term growth prospects are good. Just the type of stock The India Letter team goes for.
But is it an outright buy? The recommendation will reach subscribers' inboxes in a few hours.
Watch out for it...