Sensex PE at 23.5 - Taha's one line e-mail says the market is getting frothy
How close are we to Sensex 40,000?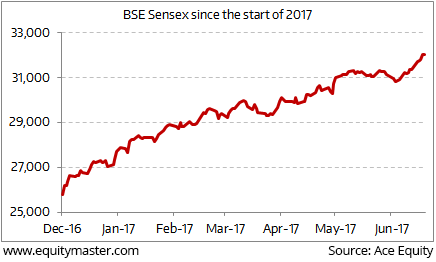 An impressive chart, isn't it?
The markets are on a roll. I can't be the only one talking about Sensex 40,000!
Two months ago, in the Research Digest, I wrote about fellow research analyst Taha Merchant and his simple way to keep track of the market.
Once every month, Taha sends an email to the entire research team.

The email contains only a few words - 'Sensex PE at x times'.

'X' is the Sensex PE on that date.

That's it.

What's the purpose of this?

Well, we are in a bull market. And in every bull market, people tend to get carried away by easy profits.

This is completely natural. Easy money is intoxicating.

And dangerous.

Analysts start justifying high valuations based on future growth.

Growth that may or may not come to pass.

Taha's updates on the absolute market valuation help keep us grounded and humble.
At that time, the Sensex PE was 22.36. Taha sent the mail again, yesterday.
Sensex PE at 23.5
Why is this concept of PE so important? Here is the short and simple explanation.
The Price to Earnings ratio or PE, tells you how expensive a stock or the entire market is.
How?
Just divide the price with the earnings per share. If the price of a stock is 100 and its earnings per share (EPS) is 5, then the PE of that stock is 20 (100 divided by 5).
Similarly, as Taha informed us yesterday, the PE of the Sensex is 23.5.
This is important because it tells us the market is expensive.
Why?
Because the average PE of the Sensex going back many years, is about 18. In other words, the market is trading more than 30% above its historical average.
Does this mean the market will fall?
No.
It means from these levels, it will be difficult for the Sensex to give very high returns in the long run.
Of course, you can still make good money in individual stocks. But that doesn't mean you should ignore the market PE.
You see, the PE is not just a number. It can tell you how much you may earn in the future.
How?
Just flip the PE on its head and you get the 'earnings yield'. This is the amount of the profits you get at the current stock price.
The earnings yield of the Sensex is 4.3% (i.e. 1 divided by 23.5).
If you think 4.3% is a low return on your investment, you're right. It is.
In fact, it has been going lower over the last four years.
Here's what Taha wrote in The 5 Minute WrapUp two days back.
The dark truth of these rising markets is this: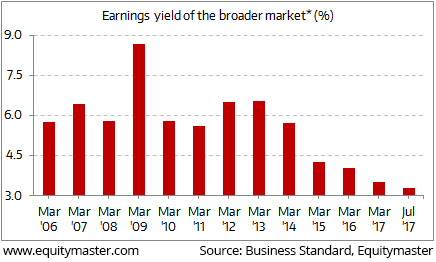 *Based on a common sample of 802 companies from the BSE Large, Mid, and Small-Cap Indices
The chart pegs the amount of profits the underlying business earns per rupee of price you pay for the stock.

So for every Rs 100 you paid for the average stock in 2009, you became owner of Rs 8.7 of profits the underlying business earned.

You got Rs 6.5 of profits for that same amount in 2012-2013.

That figure is now down to only Rs 3.3.

It's quite simple actually. The amount of profit in the business represented by one share is finite. As the share price goes up, that profit relative to your buying price becomes smaller. You get less and less bang for your buck.

To be sure, rising stock prices are not the only culprit. It's also falling profits due to a cyclical down-cycle that has resulted in most companies earning less. For example, Business Standard reports that in the past three years (since March 2014), rather than grow, the combined net profit of all listed companies has actually fallen 1.5%.

However, their market capitalisation is up 71% over this same time!

So you see, less profits to go around haven't stopped stock prices from going higher.

Net-net, this means investors entering now are getting a very raw deal.
If the yield is so low, why do I think the Sensex will go to 40,000?
Because you, dear reader, are among the few people who are even interested in asking this question!
Imagine if a lot of people were worried that the Sensex PE was 23.5. Would they aggressively buy stocks?
Probably not and without buyers, the market can't go up.
But that's not a problem these days. Stock prices are rising because buyers far outnumber sellers. Earnings yield be damned!
Our Sensex 40,000 call was a three to four year view. I explained it in this edition of the Research Digest.
But today, the Sensex is only about 25% away from this landmark. In fact, it's up almost 25% since last December.
Is Sensex 40,000 really close? Can it happen this year? If everyone keeps ignoring the PE, then who knows.
Here's something to think about. If the Sensex was at 40,000 today, its PE would be almost 30! That's 67% above its historical average.
Clearly, it would be insane if the Sensex were to rise sharply to 40,000. But then again, crazier things have happened in the market.
Watch this space...
Apurva's Challenge
I'm pleased to announce that Apurva Sheth has decided to put out an Open Trading Challenge for all his readers.
This is something he has never done before. It's a challenge that will be available exclusively all who read his free-for-life e-newsletter - Profit Hunter.
Apurva believes, everyone who takes up this challenge on 26th July could Become a Master Trader in Just 87 Days.
To participate...
You don't need to be a professional trader
You don't need any sophisticated software or program
You don't need a financial background
If you ever wanted to know how some traders keep booking solid profits irrespective of the market movement, this is one challenge you should not miss!