SBI Focused Equity Fund: Gaining Domestic and Global Advantage
SBI Focused Equity Fund: Gaining Domestic and Global Advantage
Jan 1, 2021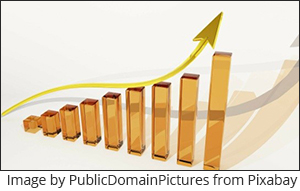 The trend of domestic mutual funds investing in global securities gained popularity in the year 2020. Many newly launched funds during the year in various themes and categories such as Fund of Fund, ESG, Special Situations, Value, Multicap, and Largecap had a mandate to invest a portion of their assets in international equities. Some existing funds too increased their exposure in offshore securities.
Investing in overseas equities enables funds to benefit from diversification and reduce the impact of volatility on the portfolio. Moreover, it helps the funds to take advantage of a particular opportunity only available in offshore markets.
However, to be considered as an equity fund in India and gain the tax benefit accorded to such funds, these schemes are required to invest at least 65% of its assets in domestic equities.
SBI Focused Equity Fund (SFEF) is a focused fund that invests across market capitalisation and sectors along with some exposure to overseas equities.
--- Advertisement ---
[Alert] Sell These 3 Stocks Immediately

These 3 stocks are ticking time bombs in your portfolio.

It is very likely that you could be owning these 3 overvalued... fundamentally weak... ready to crash stocks... in your portfolio today.

Because many stock brokers have painted rosy pictures of these stocks.

But the reality is starkly different.

If the market crashes, then these stocks could wipe out your wealth.

You should get rid of these stocks as soon as possible.

We are going to reveal details of these 3 landmines at our upcoming special event.

You can click here to sign-up in 1-click. It's free.
------------------------------
Graph 1: Growth of Rs 10,000 if invested in SBI Focused Equity Fund 5 years ago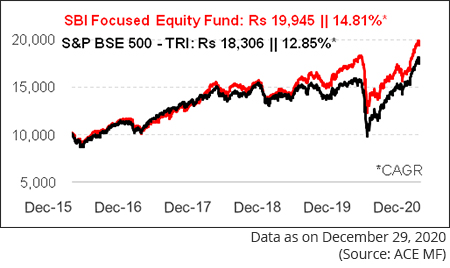 Launched way back in September 2004, SFEF was earlier known as SBI Emerging Businesses Fund having a mandate to invest in high growth-oriented mid and small cap stocks. However, post implementation of SEBI recategorisation norms in 2018, the scheme was classified as Focused Fund and renamed as SBI Focused Equity Fund (SFEF). While its historical performance prior to CY 2018 is backed by a small and mid cap mandate, the fund has shown outstanding performance in its current focused fund mandate. While its ability to restrict losses stands out when compared to its peers and the benchmark, the fund has done well during market rallies too. By generating a compounded annualised return of around 14.8% over the past 5 years, SFEF has outpaced its benchmark S&P BSE 500 - TRI index by a CAGR of around 2 percentage points. An investment of Rs 10,000 in the fund, 5 years back, would have grown to Rs 19,945. A simultaneous investment in the benchmark would now be worth Rs 18,306 over the same time period.
India's Revival: A Once-in-a-Generation Wealth Making Opportunity
Table: SBI Focused Equity Fund's performance vis-a-vis category peers
Returns are point to point and in %, calculated using Direct Plan - Growth option. Those depicted over 1-Yr are compounded annualized
Data as on December 29, 2020
(Source: ACE MF)
*Please note, this table only represents the best performing funds based solely on past returns and is NOT a recommendation. Mutual Fund investments are subject to market risks. Read all scheme related documents carefully. Past performance is not an indicator for future returns. The percentage returns shown are only for indicative purposes.
SFEF is a top quartile performer among focused equity funds and has consistently maintained its spot among top category performers. The fund has distinctly outperformed its benchmark - S&P BSE 500 - TRI across periods, except in the last one year. Over the long term horizon of 5-year and 7-year periods, SFEF has managed to generate an alpha of 2 to 4.5 percentage points over the benchmark index and also outpaced many of its peers. On a shorter 2-year to 3-year return period, the fund has managed to outpace the index and the category average by a decent margin.
With a standard deviation of 20.85%, SFEF has shown reasonable volatility compared to the benchmark of 22.61%. The fund has generated superior risk-adjusted returns for its investors. Its Sharpe Ratio of 0.08 is much ahead of the benchmark and the category average, indicating its ability to generate decent premium for the level of risk taken.
--- Advertisement ---
[Watch Now] 3 Little-known Stocks We are Super Bullish On




Click Here to Watch Now
------------------------------
Investment strategy of SBI Focused Equity Fund
Being a focused fund, SBI Focused Equity Fund is mandated to take high conviction bets, where the total number of securities in the portfolio would be equal to or under 30. It can invest minimum 65% of its assets in equity and equity related instruments, while it has the flexibility to invest up to 35% of its assets in debt and money market instruments. However, the fund has avoided investing a huge chunk in debt and money market instruments.
The fund also has the flexibility to invest up to 35% of its assets in foreign securities. SFEF follows the bottom-up approach to stock picking and takes high conviction bets in high-growth oriented companies with portfolio spread across market capitalisation and sectors. Aiming to benefit from high-growth oriented opportunities, the fund manager churns a significant portion of the portfolio at times. The turnover ratio of the fund in the last one year ranged 85% to 105%, signifying moderate churning in the portfolio.
As on November 30, 2020, the fund invested about 54% in large caps, 26.5% in midcaps, 3.4% in smallcaps, 9.4% in overseas equities, and 6.8% in cash and equivalents.
Graph 2: Top portfolio holdings in SBI Focused Equity Fund

As on November 30, 2020, SFEF held a compact portfolio of 22 stocks diversified across various sectors. The top 10 stocks constitute 58% of its portfolio and include majorly some of the known large cap names like HDFC Bank, Divi's laboratories, Kotak Mahindra Bank, Bajaj Finance, and P&G Hygiene & Healthcare. In the last one year it has increased its exposure to overseas equity by including stocks like Alphabet Inc and Microsoft in its portfolio. Alphabet Inc now forms part of its top portfolio holding having an allocation of about 6.4%.
In the last one year, stocks like Divi's Laboratories, Hatsun Agro Products, Tube Investments of India, Bajaj Finance, HDFC Bank, Relaxo Footwears, Fine Organic Industries, Kotak Mahindra Bank, etc. contributed the most to the fund's gain.
SFEF's portfolio is currently diversified across host of cyclical and defensive sectors. Around one-fourth of SFEF's portfolio is allocated to stocks in the Banking and Financial sector, followed by Consumption with an allocation of 11.4%. Pharma, Retail, Telecom, Power, Engineering, and Consumer Durables stood among other prominent sectors, with exposure around 4% or more in each. The top 10 sectors together account for around 80% of its assets.
Suitability
SFEF has proven its ability to identify fundamentally sound high conviction bets across market caps and has gained a spot among category outperformers. Having a portfolio with significant allocation to mid and small caps, SFEF is bound to witness extreme volatility in conditions when the mid and small cap stocks are under pressure or see a sharp correction. Nonetheless, SFEF has put up a decent show even in the recent mid cap crash and managed to limit the downside risk for its. Its fund manager, Mr R Srinivasan has been managing SFEF for over a decade now and has done well to steer the fund through various market phases.
The aggressive investment mandate along with significant allocation to mid and small caps makes SFEF suitable only for investors having a higher risk appetite and a long term investment horizon of 5-7 years.
PS: If you wish to select worthy mutual fund schemes, I recommend that you subscribe to PersonalFN's unbiased premium research service, FundSelect.
Additionally, as a bonus, you get access to PersonalFN's popular debt mutual fund service, DebtSelect.
PersonalFN recommendations go through our stringent process that assesses both quantitative and qualitative parameters, providing you with Buy, Hold, and Sell recommendations on equity and debt mutual fund schemes.
If you are serious about investing in a rewarding mutual fund scheme, Subscribe now!
Note: This write up is for information purpose and does not constitute any kind of investment advice or a recommendation to Buy / Hold / Sell a fund. Returns mentioned herein are in no way a guarantee or promise of future returns. As an investor, you need to pick the right fund to meet your financial goals. If you are not sure about your risk appetite, do consult your investment consultant/advisor. Mutual Fund Investments are subject to market risks, read all scheme related documents carefully.
Author: Divya Grover
This article first appeared on PersonalFN here.
Join Now: PersonalFN is now on Telegram. Join FREE Today to get 'Daily Wealth Letter' and Exclusive Updates on Mutual Funds
PersonalFN is a Mumbai based personal finance firm offering Financial Planning and Mutual Fund Research services.
Disclaimer:
The views mentioned above are of the author only. Data and charts, if used, in the article have been sourced from available information and have not been authenticated by any statutory authority. The author and Equitymaster do not claim it to be accurate nor accept any responsibility for the same. The views constitute only the opinions and do not constitute any guidelines or recommendation on any course of action to be followed by the reader. Please read the detailed Terms of Use of the web site.
More Views on News
Apr 13, 2021
PersonalFN explains the outlook for Banking & PSU Debt funds and the best Banking & PSU Debt funds that can be considered for investment in 2021.
Apr 13, 2021
Ajit Dayal on how India's vaccine strategy will impact the markets.
Apr 13, 2021
In this video, I'll you what I think is the real reason behind yesterday's market crash.
Apr 13, 2021
Price is the only due diligence one might require to buy this business.
Apr 12, 2021
PersonalFN explains whether the second wave of COVID-19 infections impact your mutual fund investments.
More Views on News
Most Popular
Mar 31, 2021
A tiny chemical company, started in the Licence Raj era, is a great example of a new wealth creating opportunity.
Mar 31, 2021
In this video I'll show you exactly how I go about picking stocks for trading.
Apr 6, 2021
Rather than predicting the market, successful investing is more about preparing well and placing your bets accordingly.
Apr 1, 2021
What should you do if the market falls? In this video, I'll tell you what I will do.
Apr 13, 2021
Ajit Dayal on how India's vaccine strategy will impact the markets.
More