8 New Year Resolutions To Keep You Financially Fit in 2018
8 New Year Resolutions To Keep You Financially Fit in 2018
Jan 2, 2018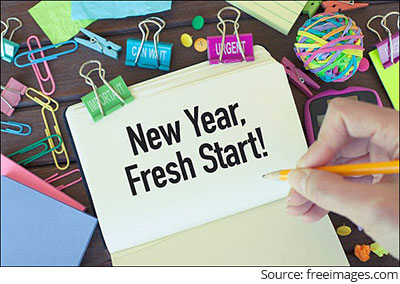 Many of us begin our new year with new hope and new start.
It's that time of the year when you realise that you need to look after your health or lose or gain weight to stay fit.
Is hitting the Gym early morning or adopting keto diet your way to lose your weight...on the list of your 2018 New Year Resolution?
But what about your financial health?
Do you feel you did not save much in 2017? Or You eventually landed up in a debt trap?
Then along with your physical health goals, you need to resolve to adopt financial discipline and invest sensibly to keep your financial health in the pink.
So, here are 8 New Year Resolutions we insist you keep and follow to lead a healthy financial life:
Resolution #1: I will increase my savings every month
The best way to figure out how much more you can save every month is to look at your avoidable expenses and see what can be rationalised.
You can classify each of your expenses as avoidable and unavoidable.
Unavoidable expenses are your daily expenses such as your rent, utility bills, house maintenance charges, food, etc. Loan obligations and healthcare expenses (regular health check-ups, doctor's fees, hospital fees, etc.) can also be counted under unavoidable expenses.
Avoidable expenses on the other hand are your leisure & lifestyle expenses which includes - dining out more often, movies on weekends, shopping beyond basics, holidays, etc.
Take a close look at both categories, and see how you can best save your hard-earned money.
A prudent budgeting exercise can help you save more.
Ideally, as Warren Buffett says, "Don't save what is left after spending, but spend what is left after savings".
Resolution #2: I will set a financial plan
If a wish fulfilling Jinni asked you to wish for an ideal life you always dream of, what would it be like?
Would it be like buying 4bhk house in next 3 years, a car, providing the best education to your children, getting them married in pomp and style, going abroad on a leisure trip, and live the golden years of life in bliss.
Or would it be about you settling in a peaceful small town and retiring early at the age of 40 years?
Whatever you dream off, rationally, may be possible - if you have a proper financial plan in place.
A financial plan provides a roadmap to achieve these financial goals. And to make your dreams come true, investing your hard-earned money in accordance to your financial plan is imperative.
Our Certified Financial Planners have helped many individuals customise their Financial Plan. Click here to book a call with our investment consultant now.
Resolution #3: I will start SIPs to achieve my financial goal(s)
Just like healthy lifestyle, your investments require discipline. You cannot build a fortune in a day's time.
Hence, for systematic wealth creation over the long-term, Systematic Investment Plans (or SIPs) offered by mutual funds are a good mode. Like recurring deposits, SIPs too work on the simple principle of investing regularly.
With SIPs your money gets invested either daily, monthly, quarterly in mutual funds.
You can calculate the value of your monthly SIP with our SIP Calculator by just entering a few details such as the monthly SIP amount, the SIP tenure and the compounded rate of return you expect.
Here are 5 key benefits of investing via SIPs: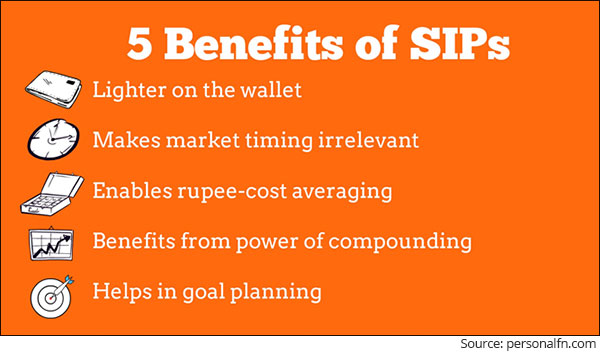 Resolution #4: I will 'protect' my family's financial future
Life insurance is fundamental to financial planning and financial health. As a bread winner of the family, ensure you are optimally insured and safeguard the financial future of your family.
To optimally safeguard the interest of your loved ones and dependents, you need to properly assess your 'Life Value'. Insurers call it 'Human Life Value' (HLV). Use PersonalFN's HLV Calculator to assess the amount that your family would require to retain the same standard of living in the absence of the earning member.
A pure term insurance plan is by far the best to indemnify risk to life, given the core objective of insurance.
Likewise, as the cost of healthcare is getting dearer, make sure you have sufficient health insurance (commonly known as Mediclaim) even if you may be in pink of health today. Buying a Mediclaim policy also offers tax saving benefits on premiums paid under Section 80D.
Resolution #5: I will maintain enough contingency reserve
Contingency Reserve is the amount you should keep aside in your savings bank account and/or liquid funds for an emergency. Exigencies such as loss of job, medical emergencies, etc can easily impact your personal finances.
It is best to maintain a minimum 6-24 months of regular monthly expenses, including EMIs as a contingency reserve. This will enable you to be prepared and cover expenses during hard times.
Resolution #6: I will attempt to maximize tax saving
Tax planning is a holistic exercise that you, the tax payer, engages in by accounting for all payables, permissible exemptions, deductions, and reliefs available under the provisions of the Income-Tax Act. Hence, adopt a prudent tax plan since the beginning of the financial year and avoid procrastination.
And mind you, there's more to tax planning under Section 80C of the Income-Tax Act, 1961. So, take assistance of a tax expert and legitimately use the provisions of the Income-Tax Act.
Download PersonalFN's latest Tax Planning Guide (2018 Edition) now. It's Free!
Resolution #7: I will minimise debt
All of us avail of loans at some time or another in our lifespan. Some of these loans such as home loans are considered good, because it leads to creation of an appreciating asset and you also enjoy tax benefit on it.
But over time you should aim to lower your debt burden as far as possible. Reducing debt can aid you to save more and invest wisely towards your key financial goals.
And if you are planning to take a loan in 2018. Use this simple EMI calculator to estimate your monthly instalment payable.
Resolution #8: I will consult an expert
Often, it pays to seek the opinion of experts, be it any facet of life - including personal finance. The "I know all" approach could prove detrimental in the absence of correct know-how and resources.
Experts possess sharp insights and thus can guide you astutely and correct you. Don't get dithered by the fees, as long as it is in the interest of your wellbeing. Remember, that it won't do you any good to be penny wise and pound foolish.
Do not forget, every investor needs a guardian today, so make sure you hire your Certified Financial Guardian today!
To conclude...
"No one's ever achieved financial fitness with a January resolution that's abandoned by February", says Suze Orman an American author, financial advisor, motivational speaker, and television host.
This year pledge towards fitness of your Financial Goals and lead a healthy financial life.
Wish you A Very Happy & Prosperous New Year!
This article first appeared on PersonalFN here.
PersonalFN is a Mumbai based personal finance firm offering Financial Planning and Mutual Fund Research services.
Disclaimer:
The views mentioned above are of the author only. Data and charts, if used, in the article have been sourced from available information and have not been authenticated by any statutory authority. The author and Equitymaster do not claim it to be accurate nor accept any responsibility for the same. The views constitute only the opinions and do not constitute any guidelines or recommendation on any course of action to be followed by the reader. Please read the detailed Terms of Use of the web site.
More Views on News
Mar 22, 2018
Certain blue chips hold the potential of delivering returns comparable to small-cap stocks. With these stocks, you can get the best of both worlds.
Nov 29, 2017
Stocks that could beat Sensex returns in the long term.
Jul 20, 2018
PersonalFN brings to you a real-life case of how husband and wife engaged in a sensible money-talk post-marriage to build a solid mutual fund portfolio.
Jul 20, 2018
Bill Bonner talks in detail about US president been accused of treason, biggest debt default in China, the problem of growing inflation and the trade war.
Jul 20, 2018
Here's is a business in small cap space that is asset-light and yet profitable - A serious contender for the list of future blue chips.
More Views on News
Most Popular
Jul 20, 2018
While the attack on the bad corporate governance is an overhang in the near term...this can be a game-changer in the years to come.
Jul 10, 2018
If you're worried about the markets - you are on the wrong track. This is opportunity - put your wealth-building hat on, instead - Richa shows you how...
Jul 11, 2018
The price signals that MSP sends out, creates its own set of problems.
Jul 11, 2018
PersonalFN explains how ICICI Prudential Mutual Fund flouted the norms of related party transactions while subscribing to the IPO of ICICI Securities.
Jul 10, 2018
PersonalFN highlights the key points of distinction between PPF and mutual funds.
More