Best ELSS Funds In 2018: Don't Blindly Chase Top Performers
Best ELSS Funds In 2018: Don't Blindly Chase Top Performers
Jan 10, 2018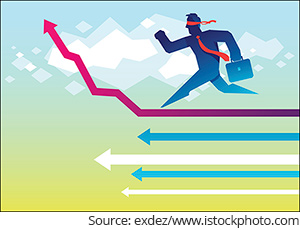 It is officially tax-saving season - a time to look back over the current financial year with an eye on maximising deductions and tax credits and lowering the tax burden.
Public and private sector employees have already started receiving emails from their human resources (HR) or accounts department to submit proof of tax-saving investments. Taxpayers are probably scurrying to invest in tax-saving products to avoid that dreaded salary cut in the months of January to March 2018.
Under Section 80C of the Income Tax Act, you can claim a deduction of up to Rs 1.50 lakh. There is a wide range of investments that qualify for a deduction, such as, Public Provident Fund (PPF), 5-year Tax-saving Bank Fixed Deposit, Equity Linked Saving Schemes (ELSS) of mutual funds, National Savings Certificate (NSC), etc. You can claim an additional deduction of up to Rs 50,000, if you have invested in the National Pension Scheme (NPS).
Thus between holiday parties, marathons, and long weekend breaks, you should set aside some time in this last quarter of the financial year for tax planning. It may be a bit too late, but it is better late than never.
As on March 31, 2018, almost everything for the financial year 2017-18 is set in stone. And then, there is little you can do to earn extra tax deductions or rebates.
ELSS funds for long-term wealth creation
Those who do not mind the high risk of equity investments, prefer to invest in ELSSs among all the other tax-saving products. Especially now, as shares of companies present in the S&P BSE Sensex and Nifty 50 are hitting new all-time highs. Due to the massive gains over the past few years, the attractiveness of equity mutual funds has increased.
Thus, in the last quarter of 2018, the interest to know the best ELSS funds is growing.
Among the tax-saving products, ELSSs are the most liquid with the shortest lock-in period of three years. They are also among the riskiest. When investing in ELSSs, you should keep a long-term investment horizon of five years or more. By keeping a long-term investment horizon, you can benefit from compounding and multiply your wealth.
There is no dearth of choices in the ELSS mutual fund category. Hence, you need to analyse the fund performance minutely before investing. Remember, that under ELSS, the lock-in is three years. Thus, if you pick the wrong fund, you will have to bear the cost of underperformance for the entire period.
The performance of ELSS funds can vary wildly over the years. A top ELSS fund in one period may not necessarily be the best ELSS fund for the next period. Thus, you need to pick the right ELSS fund, one that has performed consistently and one that has generated a superior risk-adjusted performance.
Let us have a look at the three-year return of the top ELSS funds from three years ago (as on December 31, 2014). We will then compare these funds to the top performing ELSSs over three years, as on December 31, 2017.
Top Performing ELSS Funds as on December 2014
Data as on December 31, 2014
Returns are compounded
(Source ACE MF, PersonalFN Research)
PersonalFN ranked the performance of 36 tax-savings schemes that were launched on or before December 31, 2011. In the table above, Reliance Tax Saver and Axis Long Term Equity Fund lead the list of the top ELSS funds for the three-year period that ended December 31, 2014.
Principal Tax Savings Fund, Aditya Birla Sun Life Tax Relief'96, ICICI Prudential Long Term Equity Fund, and DSP BlackRock Tax Saver Fund followed closely behind.
But among these five funds, just two- Principal Tax Savings Fund and Aditya Birla Sun Life Tax Relief'96 continued their top ranking performance. The others featured lower down the order when ranked as per their performance in the following three-year period (2014-17).
Which were the top ranking ELSS funds in the past three years? Take a look below:
Top Performing ELSS Funds as on December 2017
Data as on December 31, 2017
Returns are compounded
(Source ACE MF, PersonalFN Research)
There were some unexpected performers over the past three years. Among the top five performing ELSSs were Escorts Tax, Tata India Tax Savings Fund, IDFC Tax Advantage Fund, Principal Tax Savings Fund, and L&T Tax Saver Fund. Among these, just Principal Tax Savings Fund was present among the top 5 in the earlier period as well.
Just seven funds were present among the top 15 funds in both the periods. This is concerning because there were just 34 ELSS funds on the list. Thus, if you select ELSS funds solely by the basis of past performance, you may end up disappointed. So before locking-in your investment for three years, think again,
How to pick the best ELSSs in 2018?
When selecting ELSSs or any mutual fund for that matter, you need to choose wisely and look for consistency in performance. Escorts Tax, for example, ranked at the bottom of the list in the 2011-14 period, but shot up to the top of the list in 2014-17. And, a scheme like ICICI Prudential Long Term Equity Fund, which as among the top 5 in 2011-14, featured at the bottom of the list in 2014-17.
You also need to pay heed to tax planning. While there are a host of provisions under the Income Tax Act and numerous investment avenues; in this video tutorial, we will take you through how to use mutual funds in your tax planning exercise. Also, the aspects you must consider while investing in them, so as to save tax through this investment instrument the prudent way.
Tax Planning With ELSS Funds
Source: PersonalFN
While we acknowledge that, even the best systems and processes cannot predict the top ELSS funds of the future, as an investor, you need to pick the right and suitable ELSS funds to meet your financial goals.
Hence, a process that combines both quantitative and qualitative factors has a good chance of picking funds that can deliver decent market-beating returns. The quantitative factors will cover the fund's performance across multiple periods and market cycles, as well as the fund's ability to manage risk among other factors.
The qualitative factors will take into account the fund manager's experience, the performance of the fund house across multiple schemes, as well as the quality of assets in the portfolio, to name a few. Thus, when analysing a fund across both quantitative and qualitative parameters, you will be able to pick a fund that has a promising future.
PersonalFN adopts such a process to shortlist the potentially best mutual funds for its subscribers.
If you are looking for the top ELSS funds, subscribe to PersonalFN's Exclusive Report - 3 Tax-Saving Mutual Funds For 2018.
In this report, you will find the Top 3 ELSS that are geared to grow your investment multi-fold over long term while saving your taxes. These Top 3 ELSS are handpicked through our special 7-point Selection Matrix methodology, and are considered to be potentially the best tax-saving mutual funds in the Indian market.
PersonalFN is a Mumbai based personal finance firm offering Financial Planning and Mutual Fund Research services.
Disclaimer:
The views mentioned above are of the author only. Data and charts, if used, in the article have been sourced from available information and have not been authenticated by any statutory authority. The author and Equitymaster do not claim it to be accurate nor accept any responsibility for the same. The views constitute only the opinions and do not constitute any guidelines or recommendation on any course of action to be followed by the reader. Please read the detailed Terms of Use of the web site.
More Views on News
Nov 29, 2017
Stocks that could beat Sensex returns in the long term.
Jun 10, 2017
Forty Indian investing gurus, as worthy of imitation as the legendary Peter Lynch, can help you get rich in the stock market.
Feb 21, 2018
The South American nation of Venezuela just launched its own cryptocurrency. Is this the beginning of a revolution? Read on to find out more...
Feb 21, 2018
The 5 Minute WrapUp will now come to you every weekday.
Feb 21, 2018
Corporate bad loans constituted nearly 70% of the total bad loans of public sector banks in India, in 2016-2017.
More Views on News
Most Popular
Feb 8, 2018
Has the sell-off in the markets left India's super investors unduly worried?
Feb 9, 2018
The easy money policy of the Federal Reserve of the United States, which drove up stock markets all over the world, is ending, with the Federal Reserve looking to shrink its balance sheet.
Feb 9, 2018
MFs are having a gala time taking money from over-eager investors and funneling it into equities. Smart investors, though, know better than to do that.
Feb 15, 2018
Once you accept the fact that elections are round the corner and that this budget is geared to reach a 40% target, everything makes sense.
Feb 8, 2018
Domestic money flow into Indian equities surpassed foreign fund flows in the recent years. But will it continue in volatile market?
More