Thinking About Adding International Funds to Your Portfolio? Here's What You Need to Know
Thinking About Adding International Funds to Your Portfolio? Here's What You Need to Know
Jan 12, 2021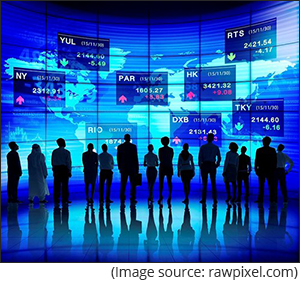 Equity markets across the globe are enjoying their dream run--thanks to the liquidity gush available in the global financial system.
The 'emergency use' approvals received for COVID-19 vaccine and its equitable distribution in the foreseeable future has significantly boosted investors' confidence.
Foreign Portfolio Investors (FPIs) have been pouring money into the Indian equity markets and exuding confidence in the Modi-led-NDA government. In the calendar year 2020, FPIs net bought over Rs 1.7 trillion worth Indian equities.
On the other hand, Domestic mutual funds, perhaps being wary of the fact that markets have scaled new all-time highs and valuations are expensive, have turned net sellers in recent times. Investors in the equity-oriented mutual funds have preferred to take money off the table after a rapid rally since March 2020 lows. According to the latest data released by the Association of Mutual Funds in India (AMFI), equity and hybrid funds put together reported net outflows of a little over Rs 16,000 crore.
That being said, the excitement among Indian investors to invest in the overseas markets is quite palpable. The 'Fund of Fund Investing Overseas' category witnessed positive participation and their Asset Under Management (AUM) has grown from Rs 2,635 crore as of December 31 2019, to Rs 9,062 crore as of December 31 2020. Note that this does not include actively managed domestic equity-oriented mutual funds that hold the mandate to invest overseas.
Watch Now: 3 Little-known Stocks We are Super Bullish On
What has made the international investing so popular in India?
Many equity markets overseas have been generating wealth for investors. In the calendar year 2020, the United States, Japan, and China registered double-digits returns despite the COVID-19 pandemic.
Table: Performance of global equity markets
| Index | % Change in 2020* |
| --- | --- |
| RTS Index (Russia) | -10.42 |
| Sao Paulo Bovespa (Brazil) | 3.17 |
| Hang Seng (Hong Kong) | -3.4 |
| FTSE 100 (U.K.) | -14.34 |
| S&P BSE Sensex (India) | 15.75 |
| CAC 40 (France) | -7.14 |
| DAX (Germany) | 3.55 |
| S&P 500 Index (U.S.) | 16.26 |
| Jakarta Composite (Indonesia) | -5.09 |
| Nikkei 225 (Japan) | 16.01 |
| Shanghai Composite (China) | 13.87 |
*Data as of December 31, 2020
(Source: ACE MF, PersonalFN Research)
However, it is not just the returns, but also the idea of gaining exposure to companies abroad that is attracting investors. They are looking to tap investment opportunities abroad and diversify the portfolio geographically.
New generation investors are rightly assessing that some global companies could be beneficiaries of the proliferation of a 'digital economy' amidst the pandemic as many of us continue to Work-From-Home (WFH) in the New Year. Plus, the new mutated highly transmissible coronavirus poses a risk. Perhaps it is the new normal, a new way of work-life, where we are reaching out to colleagues and business associates via video conferencing, exchange emails, etc. more than meeting in person.
People, in general, are spending more time on their smartphones, laptops, tablets, smart TVs, etc. which would potentially benefit the likes of companies such as Google, Apple, Microsoft, Amazon, Facebook, Netflix among others. Many of these companies have become household names today, in India (and across the world) and are among the largest. A sizeable demographic of Indians are not only buying their products and services but also investing their hard-earned money into these companies (via mutual funds) to make a fortune.
Did you read about Tesla Inc. lately? It recently got included in S&P 500 and its market capitalization is now higher than the combined market cap of some of the largest automakers of the world-Volkswagen, Toyota, Hyundai, GM, Ford, Nissan, Honda, Fiat, and Peugeot. It added US$ 500 billion to its market-cap in 2020 alone.
In fact, the tech boom has captivated investors across the world and making headlines in India too.
To capture this shift in the investor sentiment, an increasing number of mutual fund advisors have been recommending international schemes or the ones investing a part of their assets in foreign securities.
Mutual fund houses aren't letting this opportunity go to waste, launching New Fund Offers (NFOs) to capitalize on the popularity of international equities after the capital market regulator, SEBI, enhanced the overseas investment limits applicable to mutual funds from US$ 300 million to US$ 600 million per mutual fund in November 2020 (while the industry-level limit of US$ 7 billion was kept unchanged).
In December 2020, Axis Mutual Fund launched the Axis Special Situations Fund with a mandate to invest up to 35% of its net assets in foreign securities.
Then, Aditya Birla Sun Life Mutual Fund under the Environmental, Social and Governance (ESG) theme floated the Aditya Birla Sun Life ESG Fund which holds the mandate to invest up to 35% in global companies.
Then Kotak Mahindra Mutual Fund launched Kotak International REIT Fund of Funds, India's first diversified Real Estate Investment Trust (REIT) mutual fund with a mandate to invest in overseas REIT funds.
There were many other NFOs launched in 2020 providing specific international exposure...
There could be many more fund houses to offer international funds to domestic investors in future.
Should you invest?
Well, you may invest in international funds only if...
You have a well-diversified exposure to domestic equities
You have a very high-risk appetite
You don't mind riding on the investment opportunities in certain parts of the globe or across the globe
Your investment time horizon is at least 5 years
In such a case, you may consider holding around 5-10% of your equity mutual fund portfolio in International Fund/s as a part of your Satellite portfolio (and not hold it as part of the core portfolio).
Here are six advantages of investing in International Funds:
You, the investor, gain from the expertise of professional fund managers and teams who do the difficult task of selecting securities and portfolio monitoring.
International funds offer a hedge against local events such as political instability, policy changes, and other socio-economic issues.
Offers access to some unique propositions-stocks/brands/sector which may not be available in the domestic markets.
Enhances the liquidity aspect of the portfolio.
Offers geographical diversification.
Provides a hedge against currency fluctuations. This could prove useful particularly when you are planning for your child's higher education overseas and your home currency is depreciating against the greenback.
But remember, following a prudent approach to investing in global equity markets is important. Consider a host of the quantitative and qualitative parameter to choose the schemes, and do not forget to assess the overall investment philosophy, the process & systems the fund house follows.
For instance, Parag Parikh Long Term Equity Fund takes the value-approach to invest in international equities. Late Shri Parag Parikh, the founder of Parag Parikh Mutual Fund, often spotted the stark difference in valuations of global MNCs and their Indian arms. He believed that from the diversification and valuation point of view, sometimes it's better to invest in a parent company listed overseas rather than buying its India business at very high valuations.
Unless you are convinced with the investment philosophy of a fund house, do not invest in international funds because they are in limelight and neither if your next-door neighbour, friend, colleague, or relative is investing in it. Evaluate if the fund house has the necessary expertise in managing foreign securities and the investment strategy that will be followed to achieve the stated investment objectives.
Keep in mind that while there are advantages of investing in International Funds, the fortune of the scheme would closely be linked to how the underlying companies in those economies fare, the overall economic scenario, political scenario, and will be subject to exchange rate fluctuation risk. Hence, make the right choice very carefully and closely monitor such schemes once you invest.
Happy Investing!
Editor's note
At present, there's absolute frenzy in the market with every alternate stock rising. Under such circumstances, curbing one's greed is crucial. When markets are firing on all cylinders as they have been for the last 8-9 months, you should become more careful about schemes you hold in your portfolio. Because even weaker schemes tend to do better on the way up but tough market conditions separate men from boys.
Markets are trading at extremely expensive valuations and if you want to create a robust mutual fund portfolio, I suggest subscribing to PersonalFN's FundSelect Plus --a premium mutual fund research service that has a proven track record of 13 years to its credit.
As a FundSelect Plus subscriber, you will get access to 7 ready-to-invest premium mutual fund solutions with high-performance potential.
FundSelect Plus is a perfectly suitable unbiased research service for all mutual fund investors who can't spare time to do thorough research required to shortlist schemes or don't have the expertise to understand the nitty-gritty of mutual fund research. Subscribe now!
Author: Rounaq Neroy
This article first appeared on PersonalFN here.
Join Now: PersonalFN is now on Telegram. Join FREE Today to get 'Daily Wealth Letter' and Exclusive Updates on Mutual Funds
PersonalFN is a Mumbai based personal finance firm offering Financial Planning and Mutual Fund Research services.
Disclaimer:
The views mentioned above are of the author only. Data and charts, if used, in the article have been sourced from available information and have not been authenticated by any statutory authority. The author and Equitymaster do not claim it to be accurate nor accept any responsibility for the same. The views constitute only the opinions and do not constitute any guidelines or recommendation on any course of action to be followed by the reader. Please read the detailed Terms of Use of the web site.
More Views on News
Mar 1, 2021
The month of March is usually difficult for traders. This time it will be even more so. Find out why in this video.
Mar 1, 2021
PersonalFN analyses the features of UTI Nifty200 Momentum 30 Index Fund and explains the potential this fund has to offer to its investors.
Mar 1, 2021
How can someone witness a 2,000 point decline on the Sensex and still stay perfectly calm.
Feb 26, 2021
PersonalFN analyses the features of ITI Mid-Cap Fund and explains the potential this fund has to offer to its investors.
Feb 26, 2021
In today's video, I'll discuss why thew stock market went up on Wednesday, 24 February 2021, when the NSE had to shut trading due to a technical glitch.
More Views on News
Most Popular
Feb 24, 2021
Last time the smallcap index crossed 19k a big correction followed. Here's what makes it different this time.
Feb 16, 2021
A look at what India's top equity mutual funds bought and sold in January 2021.
Feb 16, 2021
Do you enjoy reading Tesla and Bitcoin stories? Here's a not so famous small-cap stock to profit from the rise of EVs.
Feb 25, 2021
In this video, I'll show you how to get started on the path to daily trading profits.
More