How to Scale Up Your Financial Wellbeing This Makar Sankranti?
Jan 14, 2019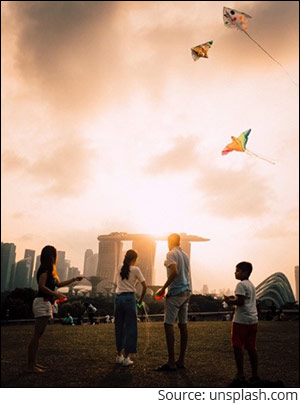 Makar Sankranti is one of the most auspicious and revered festivals celebrated with great zest and fervour across the Indian subcontinent. Whenever I hear about Makar Sankranti, to me, it is synonymous with Kite flying day. But, there is more to it.
Makar Sankranti is one of the only few ancient Indian festivals that has been observed according to solar cycles. Every year, it is celebrated on 14th January to mark the end of a month and the winter solstice and the onset of longer days or the sun's transit into the Makara (Capricorn).
On this day it is observed in many parts of the country that there is a change in wind direction. Hence people celebrate this directional change by flying kites.
I grew up amidst people screaming, 'kaipoche', 'dheel de', 'firki pakad' and 'manja' in excitement to win kite wars. Now it makes me feel nostalgic whenever I watch the colourful sky filled with multiple kites of different shapes and sizes. It's indeed a feast for the eyes.
While watching such a sight, I keenly observed that there's a thing or two we can learn about controlling our finances. If we want to achieve financial success, we need to treat it like flying a kite.
To fly a kite high up in the air, it has to be done by controlling the string steadily to continuously ensure stability and balance. But most importantly, it is connected to the person holding the string who controls the kite's flight, so it doesn't fly away or crash when the winds change.
Today, I would like to share what I think we all can learn from flying a kite for our financial well-being.
[Read: 6 Symptoms of Bad Financial Health]
Kite shape - Set goals



To ensure that your kite flies well it needs to have a proper aerodynamic shape so that the kite can lift off.

Likewise, if you want to achieve financial freedom, you should set SMART financial goals (as a well-shaped kite). You must include realistic short term and long-term financial goals.

Tying of kani - Create a financial plan



The point where the kite string is fastened (kani) to the kite should be firmly attached so that you can control your kite against the wind current efficiently. Once you are aware of your time-bound financial realistic goals, the next step is to create a financial plan so that you are well focussed and can work towards it.

Length of manja (string) - Amount of investment required



The length of the string must be proportionate to how high you want to fly your kite. Evaluate the amount of money needed to fulfil each of your financial goals, as it carries a future value. Depending on the time you have before the goals befall, you can understand your financial standing and the number of years you must work so that you achieve that goal.

Using a proper manja - Personalised asset allocation



Considering the right combination of various assets to invest to achieve is like choosing the right kind of manja (string) that will help you reach your goal faster. To ensure that happens, consider a personalised asset allocation investment strategy that is based on your risk profile and offers diversification to your portfolio.

Flying in the right direction - Choose the right investment avenue



Just like a kite can lift off gently with the slightest breeze if held in the proper direction.  Saving and investing in the right manner or in the appropriate investment instrument can work wonders in growing your wealth.

Hence, it is imperative to save and invest your hard-earned money in productive investment avenues. This way, you will be able to counter inflation effectively.

Giving the dheel - Budgeting exercise



Flow of the kite string (dheel) as per how high you want to take your kite. When to let loose and when to hold it tight. This relates to how you handle your expenses. Be mindful about your expenses. Don't go overboard and be a spendthrift. Inculcate in the financial-healthy habit of budgeting to save more and invest more for a blissful life.

Avoid kaipoche scenario - Review your plan periodically



Keep an eye out for any threat that can cut (kaipoche) your kite or destabilise its course. Periodic reviewing of the portfolio will ensure that you are still on track and not getting deterred from it. Plus, if things don't go as planned, it offers flexibility to alter your investment strategy and achieve your financial objective.

Want to fly kite solo steadily for long - Start sooner



I'm sure you want to enjoy flying your kite higher, steadily for a longer duration. Then, start early.

Similarly, the earlier you start investing, the faster you create a bigger corpus because the power of compounding will work in your favour. Hence it would be wise to start investing right away.
Summing up
If you want to fly your financial KITE OF LIFE, control your string with proper wisdom and good & ethical firki holder (financial planner). No matter how potentially well-designed the kite is aerodynamically, if you fail to balance your kite with the steady 'tug and release' action, your kite is at risk and won't soar the heights you desire.
PersonalFn can help you fly your financial kite soar up high so that you can enjoy flying a real Kite this Makar Sankranti!
Happy Makar Sankranti!
PS: If you need superlative guidance to select mutual fund schemes that have the potential to provide BIG gains, want to do tax planning with ELSS, and want to know which ones are worthy to start a SIP in, PersonalFN has come up with an exclusive three-in-one combo offer. Click here to know more.

Author: Aditi Murkute
This article first appeared on PersonalFN here.
PersonalFN is a Mumbai based personal finance firm offering Financial Planning and Mutual Fund Research services.
Disclaimer:
The views mentioned above are of the author only. Data and charts, if used, in the article have been sourced from available information and have not been authenticated by any statutory authority. The author and Equitymaster do not claim it to be accurate nor accept any responsibility for the same. The views constitute only the opinions and do not constitute any guidelines or recommendation on any course of action to be followed by the reader. Please read the detailed Terms of Use of the web site.
More Views on News
Jun 25, 2022
These penny stocks are helping investors get stable returns in a volatile market.
Jun 25, 2022
Global markets have become volatile, sending chills through the crude oil market.
Jun 22, 2022
Here's how Tata Group stocks have performed amid the volatility in the market.
Jun 25, 2022
Rahul Shah on whether one should move significantly into cash right now.
Jun 25, 2022
The stock market has bounced back a little bit. Can it sustain the nascent momentum?
More Views on News
Most Popular
Jun 17, 2022
With India's economic recovery accelerating, these sectors are likely to give multibagger returns in the future.
Jun 14, 2022
Here's why shares of Tata Power have fallen in recent days.
Jun 16, 2022
Some sectors have corrected by 50%. Do they merit a look?
Jun 18, 2022
Constant product innovation, latest technology, strong supply chain etc can all help companies enjoy monopoly like fortunes.
Jun 15, 2022
This is how you can tell the market is going to recover.
More