How Qasem Soleimani's Killing Will Impact Gold Prices?
How Qasem Soleimani's Killing Will Impact Gold Prices?
Jan 14, 2020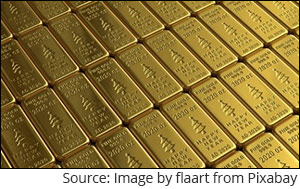 On January 3, 2020, Friday, Iran's Major General, Qasem Soleimani's killing [commanding officer of the elite unit of Quds Force of the Islamic Revolutionary Guard Corp] by a US drone airstrike at the Baghdad International Airport, stunned and shook the world.
Under Soleimani's leadership, Iran had bolstered Hezbollah in Lebanon and other pro-Iranian militant groups, expanded its military presence in Iraq and Syria, and orchestrated Syria's offensive against rebel groups in the country's long civil war.
The Backdrop...
The US had sought diplomatic relations with the Quds to deal with Tehran crisis and the ISIS. The dramatic deterioration in relations between Washington and Tehran came to an end by the US president's decision in 2018 to withdraw from the 2015 nuclear accord Iran signed with world powers and impose crippling sanctions on the Islamic republic, cementing the long-held belief among Iran's leaders that the US wants a regime-change in Tehran.
Iran, being the second-largest producer of oil in the OPEC (Organisation of Petroleum Exporting Countries) pack plus a major supplier, was the worst hit and its economy crippled. The US continued to impose the sanctions on Iran's oil exports which instigated a counter-reaction that led to the attacks on Saudi oil assets and shoot down a US military drone over the Strait of Hormuz.
Most of the Gulf region is a predominant oil exporter to Asian and Western countries via the Strait of Hormuz- a vital shipping route for global oil trade. Now after the attack, there is a fair probability of Iran blocking the Strait route in order to retaliate and avenge the death of their General.
--- Advertisement ---
The Top 8 'Double Income' Stocks...

Since we launched Double Income, Rahul Shah's latest recommendation service – we've had nearly 2,000 people pay to join in.

Double Income, is a way for our readers to potentially generate an additional source of income – to add to your regular income.

And we believe this service could end up being Rahul Shah's most successful offering yet.

He has already recommended 8 stocks that are a 'BUY' right now.

And today, you could get access to these stocks right away – along with FREE 12-month access to Double Income.

Just click here to claim your free access.
------------------------------
The implications...
Since the news of the attack broke out, the price of Brent crude surged. This has an impact on India since it is one of the largest importers of oil in the world. A supply disruption would push oil prices northwards and make India vulnerable.
Graph 1: Assassination of Iran's Major General, Qasem Soleimani,
triggers a risk for international oil prices.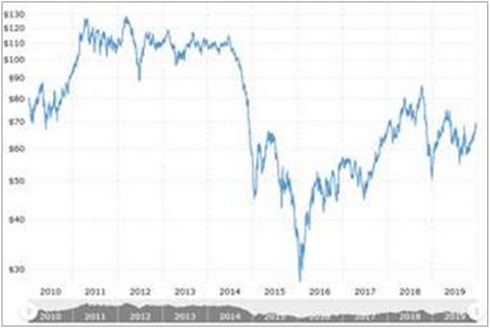 Data as of December 26, 2019
(Source: www.macrotrends.net;)
Higher international oil prices could inflict the risk of 'imported inflation' for India (amidst time when the Indian rupee (INR) is trading over 70 against the US Dollar (USD)), upset the Current Account Deficit (CAD), offer only a limit room for the Modi government to increase spending, and depress consumer sentiments. It is vital to note that nearly two-thirds of India oil imports comes from Strait between Iran and Oman.
The Medium-term outlook seems uncertain. To avenge their leader's death, the Iranian government would counterattack, and matters could escalate between the two nations. Some of the other nations are trying to avoid the escalating tensions, but some have taken sides. Iran may control oil supplies and even shut down the Strait of Hormuz (which it has repeatedly threatened in the past). This could cause international oil to flare.
The spiked fuel prices would add another worry for the Modi government, who is already grappling with various causes of an economic slowdown ...and not just that but heading into a phase of stagflation with CPI inflation inching up and India's GDP growth rate deteriorating.
Taking a sense of the above developments and the uncertainty it brings about, the price of Gold has breached the Rs 40,000 per 10-gram mark.
Graph 2: Gold gaining momentum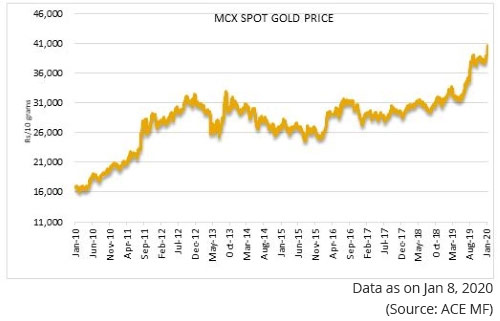 Gold as an asset class has a negative correlation with other assets and usually helps to protect wealth in times of geopolitical tension, depressed global economic growth, heightened volatility in financial markets and when the future looks uncertain. Moreover, when oil flares and central banks practice accommodative monetary to address growth, the precious yellow metal -- gold -- shines.
Gold is considered to be a store of value in times of economic uncertainties ...and that's why allocate some portion of your total investment portfolio in gold.
Graph 3: Central banks of top-10 countries stacking up gold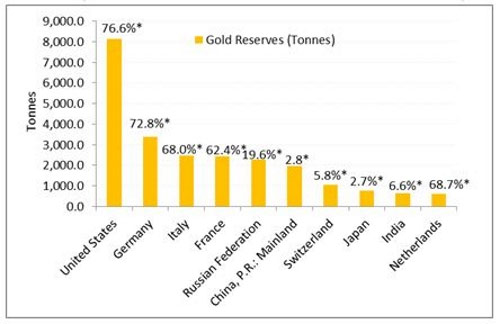 Data as of January 2020
International Financial Statistic data of the IMF as of January 2020 edition and other sources where applicable. IFS data are two months in arrears,
so holdings are as of November 2019 for most countries, October 2019 or earlier for late reporters.
*The percentage share held in gold of total foreign reserves, as calculated by the World Gold Council.
(Source: World Gold Council)
Gold, as you may know, plays an important role in central bank's reserve management. The World Gold Council (WGC) data reveals that central banks across the world aren't taking any chance---they are maintaining healthy gold reserves amidst times when global uncertainty has heightened.
Table: How is the world approaching Gold ETFs?
Region Name
Total AUM (bn)
Holdings (tonnes)
Flows (US$mn)
Flows
(% AUM)
North America
70.5
1,440.70
10,124.80
14.40%
Europe
64.7
1,322.10
8,800.00
13.60%
Asia
3.9
79.4
-11.9
-0.30%
Other
1.9
39
311.2
16.30%
Total
141.1
2,811.20
19,244.10
13.60%
YTD data as of December 31, 2019
(Source: World Gold Council)
In many parts of the world as well, gold ETFs are witnessing positive participation. In the year 2019, the WGC data shows that global gold-backed ETF holdings grew 14%, reaching an all-time high of ~2,900 tonnes (t) on the heels of uncertainty surrounding most parts of the world.
Going forward, the following factors are expected to prove supportive for gold:
Easy monetary policy stance adopted by central banks in the developed economies.
A vulnerable rupee against the USD.
Subdued economic growth in many parts of the world and fears of a recession.
A record-high global debt-to-GDP of US$ 250.9 trillion in the first half of the year 2019 (mainly led by the US and China) according to the Institute of International Finance (IIF) report released in November 2019. And the IIF estimates it to exceed US$ 255 trillion by the end of 2019.
Trade war tensions looming between US-China and other economies.
Heightened geopolitical risk.
Increased stock market volatility.
Rise in food prices and international oil.
And the potential upside risk to retail inflation.
Even the IMF Global Financial Stability report highlights an increase in the level of risk among multiple global metrics and therefore the importance of owning gold in one's portfolio.
The precious yellow metal as an asset class is an effective portfolio diversifier and serves as a store of value, a lender of last resort during economic uncertainties/crisis.
The long-term secular uptrend exhibited by gold is something that invites attention and highlights the importance of owning gold in the portfolio with a longer investment horizon. So, consider allocating upto 10-15% of your entire investment portfolio to gold via gold ETFs and/or gold savings fund and hold it with a long-term investment horizon.
PS: If you are serious about investing in rewarding mutual fund schemes, consider PersonalFN's flagship Unbiased Mutual Fund Research service- Fundselect.
It is a credible research service that provides insightful guidance and recommendations on equity funds and debt schemes every month --- the ones to Buy, Hold, or Sell.

Click here to subscribe to Fundselect!
Author: Aditi Murkute
This article first appeared on PersonalFN here.
PersonalFN is a Mumbai based personal finance firm offering Financial Planning and Mutual Fund Research services.
Disclaimer:
The views mentioned above are of the author only. Data and charts, if used, in the article have been sourced from available information and have not been authenticated by any statutory authority. The author and Equitymaster do not claim it to be accurate nor accept any responsibility for the same. The views constitute only the opinions and do not constitute any guidelines or recommendation on any course of action to be followed by the reader. Please read the detailed Terms of Use of the web site.
More Views on News
Jan 24, 2020
PersonalFN outlines its views about ESG theme of investment and its outlook after analysing the Quantum India ESG Equity Fund.
Jan 24, 2020
If the budget adds to the disappointment then Bank Nifty could be the first fatality. What does this mean for us - read here to see.
Jan 24, 2020
Why options writing is so profitable?
Jan 24, 2020
Why I'm most bullish on this asset class above all else in 2020.
Jan 23, 2020
PersonalFN explains how AMFI's budget proposals benefit retail investors.
More Views on News
Most Popular
Jan 14, 2020
The smallcap rebound finally seems to here... Make sure you aren't too late to make the most of the biggest wealth making opportunity in a decade.
Jan 15, 2020
These stocks can move twice as fast as the Sensex - to take advantage of their money multiplying power get in now as the rally is still just taking shape.. read more to not miss out.
Jan 17, 2020
This is how the biggest trading profits are made.
Jan 15, 2020
If you're interested in the next Infosys, I'll tell you where to look.
Jan 17, 2020
Don't fall for the safe stocks narrative going around in the stock market these days.
More