Franklin Templeton Gets Consent from Investors for Winding up of Six Debt Schemes. Know the Details Here...
Franklin Templeton Gets Consent from Investors for Winding up of Six Debt Schemes. Know the Details Here...
Jan 20, 2021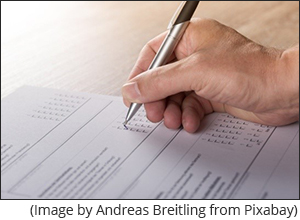 As the adage goes, "Patience is a virtue"; after waiting months, investors in the Franklin Templeton Mutual Fund's (FTMF) six debt schemes that were wound up last year finally have reason to be optimistic.
As stipulated by the courts, FTMF recently conducted a three-day voting process between December 26 and December 29 to seek investors consent to wind up these schemes. Consent by simple majority was necessary to allow the mutual fund house to proceed with the winding up process of the schemes in an orderly manner.
The result of the e-voting process, made public yesterday by the Supreme Court, revealed that an overwhelming majority of more than 90% unitholders in each of the six schemes voted in favour of winding up. This can be seen as a positive sign. It will now pave the way for the mutual fund house to initiate the steps to monetise the assets.
Notably, it was feared that if the fund house did not receive the consent, the schemes would have to be reopened, which could have resulted in a high volume of redemption requests. The fund house had forewarned unitholders that it may have to undertake distressed sale of assets to meet the redemptions request, which would result in a reduction in the net asset value (NAV) of the schemes and substantial losses for the unitholders.
Watch Now: 3 Little-known Stocks We are Super Bullish On
It could have also resulted in a disproportionate distribution of any cash generated to unitholders depending on the time of redemption. Furthermore, there could have been a longer delay in the recovery timeline for unitholders.
Now that the distressed sale of assets can be ruled out, FTMF will start the winding up process for these six schemes in an orderly manner and repay unitholders.
When will the unitholders start receiving funds?
The next Supreme Court hearing is scheduled for January 25 where the court will decide on how the funds should be repaid.
FTMF in a press release said, "We are thankful to our unitholders for voting overwhelmingly in favour of the orderly winding up in all six schemes. We hope to commence distribution of investment proceeds at the earliest, subject to the directions of the Supreme Court in the next hearing."
It is expected that there will another round of voting to appoint a liquidator. After this, the liquidator will start the monetisation of assets to fetch the best value for the underlying securities of respective schemes which can then be returned to the unitholders. The process of appointment and initiation of asset monetisation could take a couple of weeks.
As per the latest update from FTMF, the six wound-up schemes have received Rs 13,789 crore so far (till January 15, 2021) from maturities, pre-payments, and coupons.
Five out of the six schemes have now turned positive, these are Franklin India Ultra Short Bond Fund (FIUBF), Franklin India Dynamic Accrual Fund (FIDA), Franklin India Low Duration Fund (FILDF), Franklin India Credit Risk Fund (FICRF), and Franklin India Short Term Income Plan (FISTIP). Moreover, the borrowing level in Franklin India Income Opportunities Fund (FIIOF) has reduced.
FTMF has stated that close to Rs 9,190 crore is available for distribution to unitholders. The expected timeline of the pay-out from these six schemes is as follows:
Table: Expected timeline of payout from wound-up schemes of FTMF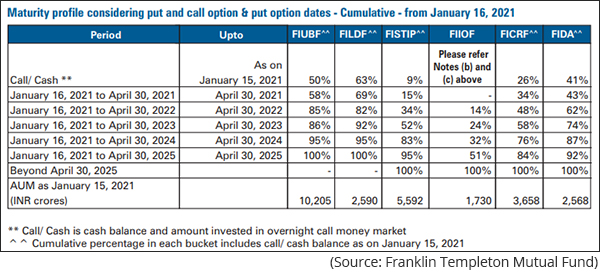 Since the debt market conditions have improved substantially after facing illiquidity amid the pandemic, it will be possible for the fund house to derive maximum value from the underlying securities of the schemes. Fortunately, unitholders are likely to receive most of their money back.
Editor's note: If you are looking for ready-to-invest debt mutual fund strategies, I suggest subscribing to PersonalFN's FundSelect Plus --a premium mutual fund research service that has a proven track record of 13 years to its credit.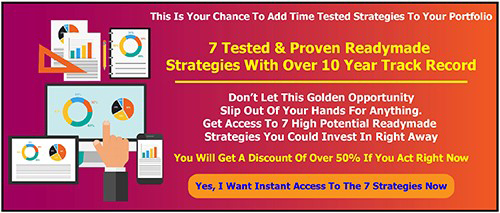 As a FundSelect Plus subscriber, you will get access to 7 ready-to-invest premium mutual fund solutions with high-performance potential that caters to both equity and debt investors.
FundSelect Plus is a perfectly suitable unbiased research service for all mutual fund investors who can't spare time to do thorough research required to shortlist schemes or don't have the expertise to understand the nitty-gritty of mutual fund research. Subscribe now!
Author: Divya Grover
This article first appeared on PersonalFN here.
Join Now: PersonalFN is now on Telegram. Join FREE Today to get 'Daily Wealth Letter' and Exclusive Updates on Mutual Funds
PersonalFN is a Mumbai based personal finance firm offering Financial Planning and Mutual Fund Research services.
Disclaimer:
The views mentioned above are of the author only. Data and charts, if used, in the article have been sourced from available information and have not been authenticated by any statutory authority. The author and Equitymaster do not claim it to be accurate nor accept any responsibility for the same. The views constitute only the opinions and do not constitute any guidelines or recommendation on any course of action to be followed by the reader. Please read the detailed Terms of Use of the web site.
More Views on News
Feb 26, 2021
PersonalFN analyses the features of ITI Mid-Cap Fund and explains the potential this fund has to offer to its investors.
Feb 26, 2021
In today's video, I'll discuss why thew stock market went up on Wednesday, 24 February 2021, when the NSE had to shut trading due to a technical glitch.
Feb 26, 2021
You my personal trading checklist and you will be well on your way to making it big as a trader.
Feb 25, 2021
In this video, I'll show you how to get started on the path to daily trading profits.
Feb 25, 2021
Timely review of your investment portfolio is the key, to enable stable returns and work towards your envisioned financial goals during various market phases.
More Views on News
Most Popular
Feb 24, 2021
Last time the smallcap index crossed 19k a big correction followed. Here's what makes it different this time.
Feb 15, 2021
In this video, I'll cover your queries on intraday trading and also share my view on how to decide stop losses and target prices.
Feb 16, 2021
A look at what India's top equity mutual funds bought and sold in January 2021.
Feb 16, 2021
Do you enjoy reading Tesla and Bitcoin stories? Here's a not so famous small-cap stock to profit from the rise of EVs.
More