SBI Small Cap Fund: Sailing through Volatility
SBI Small Cap Fund: Sailing through Volatility
Jan 21, 2020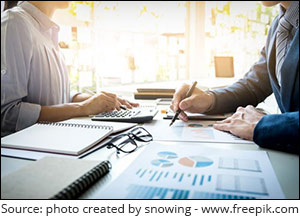 Crash in small cap space in the past couple of years has made mutual fund investors anxious. Many small cap funds generated poor returns after riding the bull phase of 2017. But investors have reason to cheer as the current low valuation in small cap space provides comfort for its future growth.
Even though many small cap stocks are beaten down right now, only a few stocks with strong fundamentals can be expected to bounce back. Thus, if you invest in small cap fund that lays emphasis on quality stock picking and risk management it can potentially reward you over the long term despite being volatile in the short term. Investment in small caps in not for investors who cannot bear market volatility.
SBI Small Cap Fund (SSCF) is one such small cap fund that looks to invest in companies that have potential to be a part of big league.
The fund was launched in September 2009 and currently has a corpus of 3,156 crore under management. SSCF is managed by Mr R Srinivasan (since November 2013) who has total experience of over 26 years.
--- Advertisement ---

The Real Reason Trump is Visiting India

India is going to witness a massive surge in wealth in this decade.

No wonder President Trump wants to get in on the action.

The important question however is this – What do you want to do today?

Stand on the sidelines and watch as India catches up with world, throwing up a massive wealth creating opportunity?

Or, get in on the action, like President Trump, and grab your share of this wealth pie?

In fact you can get started on this right now by Click here to join our FREE MEGA Summit...
------------------------------
Graph 1: Growth of Rs 10,000 if invested in SBI Small Cap Fund 5 years ago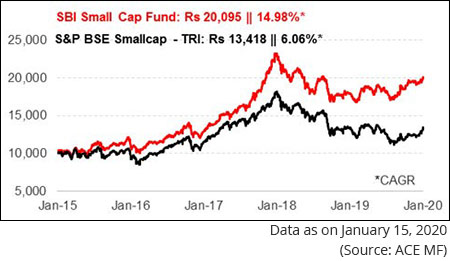 SSCF exhibited extra-ordinary performance in the last five years generating significant alpha for its investors. If you had invested Rs 10,000 in SSCF five years back on January 15, 2015, it would have doubled to Rs 20,095 (as calculated on January 15, 2020). This translates into compounded annualised growth rate of 15%. In comparison, a simultaneous investment of Rs 10,000 in its benchmark S&P BSE Smallcap - TRI would have grown to just Rs 13,418 (a CAGR of 6.1%). SSCF's lead over the benchmark in the past couple of years is commendable as many small cap stocks corrected sharply during this period.
Graph 2: SBI Small Cap Fund's year-on-year performance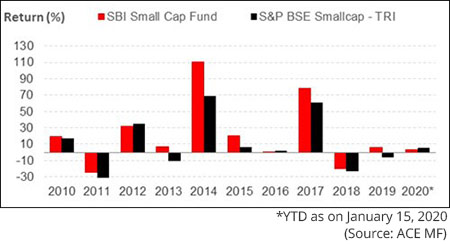 Launched in September 2009, SSCF has a track record of little over a decade. The year-on-year performance comparison of the fund with respect to its benchmark S&P BSE Smallcap - TRI shows that fund outperformed the benchmark in 8 out of last 10 calendar years. SSCF trailed the benchmark only in CY 2012 and CY 2016. In other years, the fund not only actively participated in the bull rallies but also efficiently managed the downside risk during bear phases. During the small and mid-cap correction phase of 2018-19, the fund fared noticeably better than the benchmark. In the current year, though the fund has trailed the index till now, going forward it has the potential to improve its performance.
Table: SBI Small Cap Fund's performance vis-a-vis category peers
| Scheme Name | Corpus (Cr.) | 1 Year (%) | 2 Year (%) | 3 Year (%) | 5 Year (%) | Std Dev | Sharpe |
| --- | --- | --- | --- | --- | --- | --- | --- |
| SBI Small Cap Fund | 3,156 | -3.99 | 5.77 | 15.61 | 22.63 | 18.77 | 0.15 |
| HDFC Small Cap Fund | 9,232 | -7.22 | 5.87 | 14.99 | 15.69 | 16.23 | 0.09 |
| L&T Emerging Businesses Fund | 5,941 | -11.02 | -0.15 | 13.95 | 13.7 | 16.76 | 0.07 |
| Nippon India Small Cap Fund | 8,525 | -9.28 | 1.09 | 13.23 | 18.01 | 18.88 | 0.07 |
| Axis Small Cap Fund | 1,542 | 8.39 | 7.87 | 13.09 | 16.56 | 13.09 | 0.18 |
| Kotak Small Cap Fund | 1,360 | -5.23 | -1.16 | 8.55 | 14.48 | 16.23 | 0.05 |
| Franklin India Smaller Cos Fund | 6,929 | -9.32 | -2.49 | 7.33 | 14.76 | 15.24 | -0.02 |
| ICICI Pru Smallcap Fund | 799 | -3.61 | -2.4 | 7.05 | 8.92 | 17.51 | 0.03 |
| Aditya Birla SL Small Cap Fund | 2,255 | -15.08 | -6.58 | 6.54 | 13.29 | 19.64 | -0.03 |
| HSBC Small Cap Equity Fund | 371 | -14.9 | -6.54 | 5.04 | 11.16 | 20.94 | -0.03 |
| DSP Small Cap Fund | 4,918 | -10.29 | -6.45 | 4.93 | 15.68 | 18.64 | -0.04 |
| Union Small Cap Fund | 327 | -10.39 | -4.04 | 4.11 | 4.78 | 17.16 | -0.01 |
| Sundaram Small Cap Fund | 1,057 | -14.29 | -9.17 | 3.34 | 11.21 | 21.1 | -0.05 |
| Quant Small Cap Fund | 2 | -13.57 | -6.06 | -1.73 | 2.78 | 13.67 | -0.26 |
| S&P BSE Small-Cap - TRI | | -14.5 | -5.95 | 6.58 | 9.34 | 19.87 | -0.01 |
Returns are on a rolling basis and in %, calculated using Direct Plan - Growth option. Those depicted over 1-Yr are compounded annualised.
Data as on January 15, 2020
(Source: ACE MF)
*Please note, this table only represents the best performing funds based solely on past returns and is NOT a recommendation. Mutual Fund investments are subject to market risks. Read all scheme related documents carefully. Past performance is not an indicator for future returns. The percentage returns shown are only for indicative purposes.
SSCF outpaced the benchmark and category average across rolling period with substantial margin. The funds outperformance over the category average has been in the range of 5-10 percentage points while when compared to the benchmark the outperformance has been in the range of 10-13 percentage points.
The fund stood among category toppers across rolling periods. HDFC Small Cap Fund, Nippon India Small Cap Fund, and Axis Small Cap Fund were the other top performers in the small cap fund category during the period.
In terms of risk-return profile, the fund registered higher volatility than the category average though slightly lower than the benchmark. Despite this, its risk-adjusted returns were far better than most of its category peers as well as the benchmark.
Investment strategy of SBI Small Cap Fund
Categorised as smallcap fund, SSCF is mandated to invest minimum 65% of its assets in equity and equity related instruments of small cap companies. It can also invest up to 35% of its assets in other equities, debt and money market instruments. Accordingly, the fund invests predominantly in a well-diversified basket of equity stocks of small cap companies.
The fund adopts a blend of growth and value style of investing following bottom-up investment strategy to select stocks for investment. SSCF seeks opportunities in niche businesses with focus on scalability.
Graph 3: Portfolio allocation and market capitalisation trend in SBI Small Cap Fund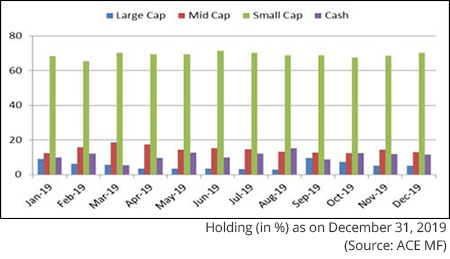 SSCF looks to identify companies with high-growth potential in small cap space with minimum allocation of at least 65% in the category. In the last one year, the fund invested 65-70% of assets in equity and equity related instruments of small cap companies. The fund also seeks opportunities in the mid cap space where it has exposure of 12-18%. It allocates a small portion of its assets (in the range of 2-10%) towards large caps. SSCF does not resist from taking high cash calls where its holding has been between 5-15%.
Graph 4: Top portfolio holdings in SBI Small Cap Fund

As on December 31, 2019, SSCF held a well-diversified portfolio of 48 stocks. The top 10 stocks constitute 36.7% of its portfolio with no individual stock having exposure of more than 5%. Dixon Technologies (India) has the highest stock allocation of 4.5%, followed by Hawkins Cookers at 4.1%, JK Cement at 4%. Rest of the stocks in the top 10 holding have allocation in the range of 3-4%.
In terms of sector, SSCF has highest exposure to Consumer goods which includes allocation of 18.9% to Consumption and 13.9% to Consumer Durables. It also has major allocation of 19.3% to Engineering. Banks and Finance together form another 11% of the portfolio. The other prominent sectors in the portfolio include Pharma, Hotels, Cement, Chemicals, among others.
Top contributors
In the last one year the fund gained significantly from its top holdings like JK Cement, Relaxo Footwear, Dixon Technologies (India), Blue Star and Hawkins Cookers which together contributed weighted return of close to 8%. The fund also gained from its holdings in HDFC Bank, Alembic, Galaxy Surfactants, Fairchem Speciality, among others.
On the other hand stocks like Bharat Heavy Electricals, Indostar Capital Finance, Tamil Nadu Newsprint & Papers, V2 Retail, Kirloskar Oil Engines, etc. eroded some of its gains.
Suitability of SBI Small Cap Fund
SSCF has superior long-term track record at reasonable level of risk which shows its ability to pick quality stocks at the right time. The fund maintains a well-diversified portfolio of stocks and sectors to avoid concentration risk. Small caps are high-risk high-return investment proposition. Given the fund's small cap bias the fund is prone to high volatility it is only suitable for investors with high risk appetite and investment horizon of at least 5-7 years
Note: This write up is for information purpose and does not constitute any kind of investment advice or a recommendation to Buy / Hold / Sell a fund. Returns mentioned herein are in no way a guarantee or promise of future returns. As an investor, you need to pick the right fund to meet your financial goals. If you are not sure about your risk appetite, do consult your investment consultant/advisor. Mutual Fund Investments are subject to market risks, read all scheme related documents carefully.
Editor's note: The last few years have not been among the best for equity mutual funds. While most funds have underperformed or are struggling to match the returns of the benchmark, there are few funds that have the potential to constantly generate alpha for its investors. And we have identified five such high alpha generating funds, in our latest report 'The Alpha Funds Report 2020'. Do not miss our latest research finding. Get your access to this exclusive report, right here!
Author: Divya Grover
This article first appeared on PersonalFN here.
PersonalFN is a Mumbai based personal finance firm offering Financial Planning and Mutual Fund Research services.
Disclaimer:
The views mentioned above are of the author only. Data and charts, if used, in the article have been sourced from available information and have not been authenticated by any statutory authority. The author and Equitymaster do not claim it to be accurate nor accept any responsibility for the same. The views constitute only the opinions and do not constitute any guidelines or recommendation on any course of action to be followed by the reader. Please read the detailed Terms of Use of the web site.
More Views on News
Feb 20, 2020
Ajit Dayal on the safety of fixed deposits.
Feb 20, 2020
PersonalFN explains the best value funds to invest in 2020 that can prove to be worthy long-term bets.
Feb 20, 2020
India is taking small steps that will have a huge impact in the long run.
Feb 20, 2020
A company which benefits from crude oil and coronavirus - if you would like to know more about it read this.
Feb 20, 2020
How I expect the markets to move if the coronavirus fear does not go away soon.
More Views on News
Most Popular
Feb 11, 2020
A blueprint to latch on to the next 'Crorepati' stock - and an event I hope you won't miss on any account.
Feb 14, 2020
This proven strategy can give big returns in quick time.
Feb 7, 2020
Even as the experts come to grips with impact of Coronavirus contagion on Indian stocks and economy, here's a stock not just immune to macro threats, but with the potential to offer crores in the long term.
Feb 11, 2020
How to fight back against algo trading systems.
Feb 12, 2020
Recent events have put climate change into the spotlight. Here's how you should play this megatrend...
More