You Too Can Retire Rich! Here's How...
You Too Can Retire Rich! Here's How...
Jan 23, 2019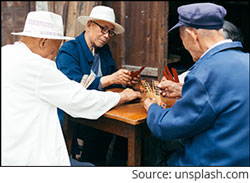 Our regular readers might recall and probably know of the brouhaha cricket creates in my family.
[Read: Sachin Tendulkar, Rahul Dravid, or Virat Kohli - Who Are You When It Comes to Your Retirement?]
So naturally, when India won the ODI series in Australia, thanks to MS Dhoni and his signature helicopter shot, a discussion on cricket and finance transpired.
Let me explain the funny thing about cricket...
Absolute retirement from the game doesn't exist. For instance, you can retire and then a couple of years later come back and still play for the team. Kevin Pieterson did this for England, as did Shahid Afridi for Pakistan.
The role of spectators/fans is interesting. For instance, after a classic Dhoni shot, the stadium resounded with chants "Dhoni Zindabad" by the very spectators who, ironically, a couple of months ago wanted him to retire!
'Well, these cricketers have no retirement life. They earn even more after retirement through endorsements, so retirement is just a formality for these people', remarked Mr Sharma (45), my father's best friend.
'True that', nodded Mr Gupta (45). 'These fellas have nothing to worry about. Their retirement is guaranteed and blissful', he continued.
'I wish I was a cricketer', chipped in my father, Mr Khude (45). 'I would have retired at 35, and lived a blissful life, toured the world, earned crores in endorsements and lived happily ever after'. 'No 9-5 job for me', he added.
'Wouldn't that be great, Deepika?', enquired Mr Sharma.
'Yeah, all of you being cricketers would have been great, but it's no bed of roses you know. Some would say, you guys have the better life. No injuries, no touring, no missing important events of life', I remarked.
'Hmmmm, the grass is always greener on the other side', quoted Mr Gupta.
'Indeed, so tell me, what's your ideal retirement?' I enquired.
'I want a guaranteed monthly income, say Rs 50,000 and one domestic vacation every year', that's my ideal retirement,' replied Mr Sharma.
'Same, but I want a guaranteed monthly Income of Rs 1,00,000 and one international vacation every year', stated Mr Gupta smugly.
My father, trying to one-up both of them, stated,' I want a guaranteed monthly income of Rs 1,50,000 plus two vacations every year'.
'Wow, it's good that you have big dreams, now tell me what you have done to achieve these gigantic goals?' the financial planner in me questioned.
They looked at each other with inquisitive eyes, like small kids trying to copy each other's answers in a Viva.
The truth was, they all wanted great things from their retirement, but when it came to planning this retirement life, they were lost'. Their investments were in traditional investments like Real Estate, EPF, PPF, VPF, Bank RD, and Insurance policies. They had absolutely zero investment in equity.
'Your attitude towards equity will cost you all a great deal in retirement', I remarked.
But mere words wouldn't work and to ensure that the three took me seriously, out came my laptop with my excel files, and I began explaining to them the reality.
Table 1: Retirement corpus calculations
Name
Current Age
Retirement Age
Life Expectancy
Monthly Income
(In Rs)
Vacation Cost
(In Rs)
Retirement Corpus
(In Rs)
Mr Sharma
45
60
80
50,000
2,00,000
547,80,182
Mr Gupta
45
60
80
1,00,000
5,00,000
1204,28,202
Mr Khude
45
60
80
1,50,000
7,00,000
1752,03,753
Inflation on household post-retirement - 7% p.a. Inflation on vacation post retirement - 10% p.a.
'What! 17 Crores! You must be kidding, Deepika, my father exclaimed in horror.
'Nope, this is the truth, to maintain your lavish lifestyle, you will need Rs 17.52 Crore', I explained.
'Khude Ji, it looks like, we will have to work in retirement also!', remarked Mr Gupta.
'Surely, there has to be a way out, right beta?', enquired Mr Sharma.
'There sure is, but the way out is not for the weak, it requires persistence, discipline, and a head-strong attitude', I explained.
'Ok, so what is it?', asked my father.
"Equities", I announced gleamingly.
'Is there no other way?', asked Mr Gupta.
'Of course, there is, there is your traditional investments which will fetch you 6-8% post tax, but the catch is you will have to double your savings if you were to invest in debt instruments for retirement, let's have a look'.
Table 2: Creating retirement corpus through debt
Name
Monthly Savings
(In Rs)
Future Value in Debt
(In Rs)
Retirement Corpus
(In Rs)
Surplus
(In Rs)
Mr Sharma
1,58,000
550,38,533
547,80,182
2,58,351
Mr Gupta
4,00,000
1220,75,587
1204,28,202
16,47,385
Mr Khude
5,80,000
1770,09,601
1752,03,753
18,05,848
*Return on debt - 8% p.a.
'I don't have Rs 5,80,000 monthly Surplus!', declared my father and his friends nodded in agreement.
'Well then, welcome to Equities', I declared.
'But equities are too risky,' Mr Gupta chipped in.
'Agreed, but I meant equity mutual funds'. Equity mutual funds is essentially owning stakes in hundreds of companies alongside lakhs of investors, so that even if 45 stocks come down and 55 go up, your risk gets managed and you come out in profits. Here's how equity mutual funds can help you achieve your retirement.' I explained.
[Read: Thinking Of A Blissful Retirement? Here's Why You Can't Ignore Investing In Mutual Funds]
Table 3: Creating retirement corpus through equity mutual funds
Name
Monthly Savings
(In Rs)
Future Value in Equity
(In Rs)
Retirement Corpus
(In Rs)
Surplus
(In Rs)
Mr Sharma
1,10,000
555,03,360
547,80,182
7,23,178
Mr Gupta
2,40,000
1210,98,240
1204,28,202
6,70,038
Mr Khude
3,50,000
1766,01,600
1752,03,753
13,97,847
Return on equity mutual funds - 12% p.a.
As you can see, by shifting from debt to equity, the investment amount drastically reduces from Rs 5.80 Lakh per month to Rs 3.50 Lakh. An immediate savings of Rs 2.30 Lakhs per month.
'Now that seems doable', remarked Mr Sharma while the other two nodded in agreement.
'Thanks Deepika, if not for you, we would have not achieved our ideal retirement,' said Mr Gupta. 'This evening has indeed been an eye-opener and now we all need to be persistent, disciplined and strong headed and we too can retire rich', he joyfully declared.
[Read: 7 Investment Avenues for Your Post-Retirement Portfolio]
'So, when do we get started?', my father enquired.
'There's no time like today, right dad', I replied.
In his wonderful book, The Joy of Not Working, Ernie J. Zelinski remarks, "Retirement is supposed to be the great escape from the stresses inherent in most jobs, a time to experience a fulfilling life derived from many enjoyable and rewarding activities."
PS: So, is your plan to retire rich underway? Or like my father and his friends, are you building castles in air without committing anything in reality to retiring rich? Well, don't worry; PersonalFN is about to launch a dedicated service to cater to your dreams of retiring rich.
Author: Deepika Khude
PersonalFN is a Mumbai based personal finance firm offering Financial Planning and Mutual Fund Research services.
Disclaimer:
The views mentioned above are of the author only. Data and charts, if used, in the article have been sourced from available information and have not been authenticated by any statutory authority. The author and Equitymaster do not claim it to be accurate nor accept any responsibility for the same. The views constitute only the opinions and do not constitute any guidelines or recommendation on any course of action to be followed by the reader. Please read the detailed Terms of Use of the web site.
More Views on News
Apr 9, 2021
PersonalFN's analysis on the features and performance of Mirae Asset Tax Saver Fund.
Apr 9, 2021
The Indian government recently announced cut backs on crude oil imports from Saudi Arabia. Does this change our crude oil trading blueprint. Find out...
Apr 9, 2021
This could take India to the position of 3rd largest economy.
Apr 8, 2021
Domestic mutual funds have turned net buyers worth Rs 2,476 crore in the Indian equity markets in March 2021 for the first time in the last 10 months.
Apr 8, 2021
In this video, I'll tell you why the Indian consumer has started to take the price of gold and silver higher.
More Views on News
Most Popular
Mar 30, 2021
In this video, I'll tell you why I am recommending caution in the market at this time.
Mar 31, 2021
A tiny chemical company, started in the Licence Raj era, is a great example of a new wealth creating opportunity.
Mar 31, 2021
In this video I'll show you exactly how I go about picking stocks for trading.
Mar 30, 2021
100 baggers of the last decade share this common trait. Here's how to use it to nail future multibaggers.
More