Make Money While You Sleep
Make Money While You Sleep
Jan 25, 2017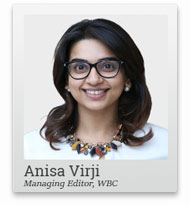 What is your primary source of wealth?
If you are like most people, your answer will be your job. Or profession. Or career. Call it what you will.
It's what you do more-or-less all day, every day, and at the end of each week or month or year you have a certain amount of money to show for it.
Then here's what you do with that income: You put bits and pieces of it in different places. You've got your living expenses, your occasional splurges, your vacations or other travels, your hobbies...and so on.
Another bit goes to your savings, where you make sure you have a full pot of wealth stored away for emergencies.
Finally, whatever is left, you invest, most likely in stocks. What you invest gets bigger, little by little, and that becomes your ONLY wealth-building activity.
Am I right?
And then, if you are anything like a person from my office (who shall remain unnamed), you wait for your father-in-law to die and leave you and your wife the small business he has built up so you can sell it and finally get some real financial independence.
Now, even though that last part is a joke, there is a real problem with the 'wealth-building' technique I outlined above...
The problem: You cannot get wealthy this way.
Investing your savings in the stock market - even if you are intelligent about it - is not going to make you wealthy.
The markets will make you money - but not build you wealth. Because to build wealth, you have to either invest a lot of money to begin with...or wait a very long time.
And honestly, how long can you wait before your life starts closing down? What is the point of having money after the shop is closed?
So, if you're not willing to wait a lifetime, you must start putting more money into your investment bucket.
This means you must grow your net investible income - the portion of your income that goes directly into investments.
But how can you grow your net investible income?
I am a doctor, you say. (Or lawyer. Sales head. IT professional. Banker. __________ Insert your profession here)
And I make what I make. I work hard, earn good bonuses, get promotions every few years. Increments every year if I'm lucky. But that only increases my income by so much.
This is what I do. What else can I do?
I'm always surprised at this question.
Because you can do so much.
Being a doctor (or whatever) is your career.
But your career is not the ONLY way you should be making money.
To build wealth, you should be making more money outside your career than inside it.
While you are at work, or asleep, or at a conference...you should have extra streams of income that keep making you money.
That, ladies and gentlemen, is the real secret to building wealth. Make money while you sleep.
I met someone like you at the Equitymaster Conference last week. At least, I thought he was like you.
He was a professional, Mr L. He introduced himself and asked me about the Wealth Builders Club.
I launched into my little lecture about how you should build extra streams of income that are making you money even when you are not working. How you should start or invest in a business because owning your own business, or a part of a business, is the best way to build wealth. How your job alone cannot make you wealthy...blah blah.
No, no, he said. I do my job because I love it. And I invest in stocks to grow my money.

But most of my wealth comes from elsewhere.

I have a small business I run in my hometown. I have some parcels of land. I have a partnership in some restaurants in USA. (His list went on...)
I am very interested in trying to do something with email marketing, writing and photography - that is my passion. Can I do something with it that will also add to my wealth?
I looked at him. I was terribly impressed. He actually did look like a calm, happy, worry-free person.
He sounded exactly like a member of the Wealth Builders Club.
A Serious Conversation About Wealth: Anisa with a Wealth Builders Club member at the Equitymaster Conference 2017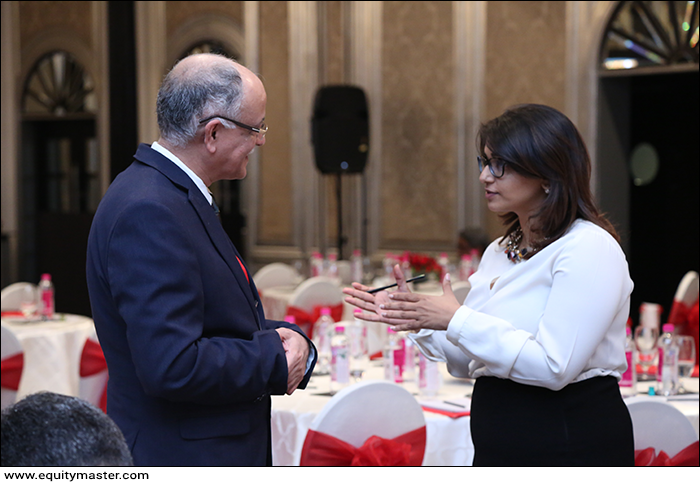 A sharp-eyed hunter of opportunities. Brave investor in those opportunities. Using his knowledge, passion, and interest to build wealth. And giving up financial worries forever.
Yes! You absolutely can, Mr L, I said. And we can show you exactly how.
And thus began a fruitful relationship between Mr L and me.
Now, if he can do it, and so many other members of the Club are doing it, why can't you?
And please don't tell me you can't, because, I know, and you should know, that you can.
But if you tell me you don't know how, that's okay. It's a much easier question, because it has an easier answer.
Here's the answer: a journey the Wealth Builders Club will take you on. The only investment that has no risk. The only one you will ever need to build real wealth...and live liberated from your career.
And with that, I wish you this: May all your extra streams of income turn into rivers and seas and oceans....and bring you an abundance of riches.
Anisa Virji is the Managing Editor for Common Sense Living, and the Wealth Builders Club India, a Club where you will find all you need to generate a fortune outside of the traditional financial markets.
Disclaimer:
The views mentioned above are of the author only. Data and charts, if used, in the article have been sourced from available information and have not been authenticated by any statutory authority. The author and Equitymaster do not claim it to be accurate nor accept any responsibility for the same. The views constitute only the opinions and do not constitute any guidelines or recommendation on any course of action to be followed by the reader. Please read the detailed Terms of Use of the web site.
More Views on News
Mar 22, 2018
Certain blue chips hold the potential of delivering returns comparable to small-cap stocks. With these stocks, you can get the best of both worlds.
Nov 29, 2017
Stocks that could beat Sensex returns in the long term.
Jul 18, 2018
PersonalFN explains why a mutual fund portfolio review is necessary, particularly after the regulator's mutual fund categorisation norms.
Jul 18, 2018
...
Jul 18, 2018
You are missing out big gains if you don't own these 8 stocks.
More Views on News
Most Popular
Jul 12, 2018
Blindly following super investors is a dangerous game to play. Here's how you can avoid such mistakes.
Jul 10, 2018
If you're worried about the markets - you are on the wrong track. This is opportunity - put your wealth-building hat on, instead - Richa shows you how...
Jul 11, 2018
The price signals that MSP sends out, creates its own set of problems.
Jul 6, 2018
ICICI AMC launches an open -ended equity fund following Pharma, Healthcare, Diagnostic and allied theme.
Jul 6, 2018
Buy Companies that can fight all kinds of Pandas and Bears in the long run.
More