HDFC TaxSaver: Is This Still A Top ELSS Fund?
HDFC TaxSaver: Is This Still A Top ELSS Fund?
Jan 25, 2018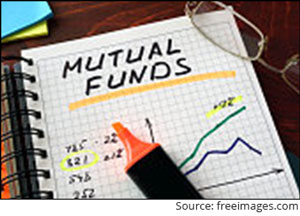 HDFC TaxSaver is an open-ended equity linked savings scheme (ELSS), offered by HDFC Mutual Fund, with an objective of wealth creation in the long term. Like all ELSS funds, it has a lock-in period of three years. Launched in 1996 is one of the oldest funds in the ELSS category and has generated whopping 26.94% CAGR returns since its inception for its investors.
However, HDFC TaxSaver has trailed other peers when looking at its overall performance compared to other ELSS funds. Its passive fund management strategy helped in controlling its downside market risk. At times, HDFC TaxSaver has failed in taking advantage of opportunities available in the market at different times. Though the fund has outperformed its benchmark index Nifty 500 across several time frames it has failed to stay upbeat and compete with its peers in the ELSS category.
The Average Assets Under Management (AAUM) of HDFC TaxSaver has been steadily on the rise since March 2016. This is an outcome of the market rally witnessed since February 2016 and steady inflows from retail investors who have been flocking to equity investments over the past few years. As a result of this, HDFC TaxSaver has enjoyed a steady growth in assets.
PersonalFN takes a detailed look at the features and performance of HDFC TaxSaver Fund
Investment Objective of HDFC TaxSaver:
The investment objective of HDFC Tax Saver is "to achieve long term growth of capital." Though every endeavour will be made to achieve the objective of the HDFC TaxSaver, the AMC / Sponsors / Trustee do not guarantee that the investment objective of the scheme will be achieved. No guaranteed returns are being offered under the HDFC TaxSaver.
HDFC TaxSaver Fund Details...
Fund Facts
| Category | ELSS | Style | Blend |
| --- | --- | --- | --- |
| Type | Open ended | Market Cap Bias | Multi-cap |
| Launch Date | 31-Mar-96 | SI Return (CAGR) | 26.94% |
| Corpus (Cr) | Rs 7,397 | Min./Add. Inv. | Rs 500 / Rs 500 |
| Expense Ratio (Dir/Reg) | 1.47% / 2.28% | Exit Load | 0% |
Data as on December 31, 2017
(Source: ACE MF)
Under normal circumstances, the HDFC TaxSaver will allocate upto 80% of its assets in equity and upto 20% in debt and money market instruments.
HDFC TaxSaver 5-year Performance:
Growth Of Rs 10,0000 If Invested In HDFC Taxsaver 5 Year Ago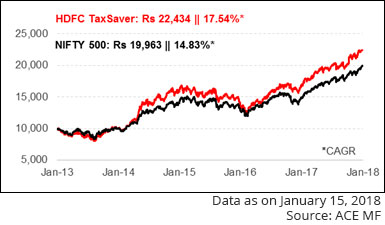 Had you invested Rs 10,000 in HDFC TaxSaver five years ago in January 2013, it would have more than doubled to Rs 22,434. This translates in to a compounded annualised growth rate of 17.54%. In comparison, a similar investment in the benchmark Nifty 500 would have resulted in a compounded return of 14.83%. Thus the investment of Rs 10,000 would now be worth Rs 19,963.
The performance over the past five years has hugged the benchmark for most of the period. Bulk of the outperformance came in the period post February 2016.
HDFC TaxSaver: 3-year Rolling Performance:
3-Year Compounded Annualised Return At End Of Each Year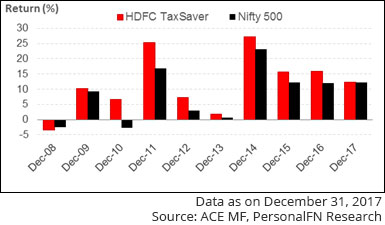 If we break up the decade long performance in to three year period, it can be seen that HDFC TaxSaver has been successful in beating the benchmark on most occasions. Among the best periods of the fund was over the 3-year period ended December 2011, where it outperformed the benchmark by nearly 10
percentage points in compounded returns.
HDFC TaxSaver Performance Vis-a-vis Category Peers:
Rolling Period Returns
Returns are on a rolling basis and those depicted over 1-Yr are compounded annualised.
Data as on January 15, 2018
(Source: ACE MF, PersonalFN Research)
The performance of HDFC TaxSaver over the past 1-year and 2-year rolling periods has been decent. The fund did better than the benchmark and most other peers. In the longer term periods of 3-years and 5-years, though the scheme has outscored the benchmark, the returns have trailed several other peers in the category.
HDFC TaxSaver's Investment Strategy:
The funds collected under HDFC TaxSaver shall be invested in equities, cumulative convertible preference shares and fully convertible debentures and bonds of companies. It shall be ensured that funds of HDFC TaxSaver shall remain invested to the extent of at least 80% in securities specified above.
The ELSS guidelines, as applicable, would be adhered to in the management of HDFC TaxSaver. If the investment in equities and related instruments falls below 80% of the portfolio at any point in time, it would be endeavoured to review and rebalance the composition. The scheme will retain the flexibility to invest in the entire range of debt instruments and money market instruments.
In order to provide long-term capital appreciation, the scheme will invest mainly in growth companies. The companies selected under this portfolio would generally consist of medium to large sized companies which:
Are likely to achieve above average growth than the industry
Enjoy distinct competitive advantages; and
Have superior financial strengths
The aim will be to create a portfolio, which represents a cross-section of strong growth companies in the prevailing market. In order to reduce the risk, the portfolio will target reasonable diversification.
HDFC TaxSaver Portfolio Allocation:
Market Capitalisation Trends
HDFC TaxSaver is heavily weighted to large-caps as seen the market-cap allocation chart. However, does maintain an opportunistic allocation to mid-caps as well. Over the past 12 months, the large-cap exposure has stayed around 70%, before gradually increasing to nearly 80% of the portfolio. As on December 31, 2017 the large-cap allocation stands at 76%.
In the past year, the allocation to mid-caps has ranged between 16%-23% of the portfolio. The mid-cap weightage of HDFC TaxSaver is currently 19% of the portfolio. The cash levels have fluctuated wildly over the year. It has moved from a low of 3% to a high of 11%. The cash exposure is at present 4.75% of the portfolio.
HDFC TaxSaver Top-10 Holdings
| Stocks | % of Assets |
| --- | --- |
| State Bank Of India | 7.48 |
| HDFC Bank Ltd. | 6.74 |
| ICICI Bank Ltd. | 6.33 |
| NTPC Ltd. | 5.55 |
| GAIL (India) Ltd. | 5.26 |
| Larsen & Toubro Ltd. | 5.02 |
| Reliance Industries Ltd. | 4.96 |
| Tata Steel Ltd. | 3.56 |
| Infosys Ltd. | 3.37 |
| Bharat Electronics Ltd. | 3.19 |
Holdings (in %) as on December 31, 2017
(Source: ACEMF, PersonalFN Research)
As on December 31, 2017, HDFC TaxSaver held a portfolio of 50 stocks. The allocation is skewed to the top holdings. The top 10 stocks accounted for over half the assets of the portfolio. Three banks-SBI, HDFC Bank and ICICI Bank alone account for one-fifth of the portfolio.
HDFC TaxSaver Top Sectors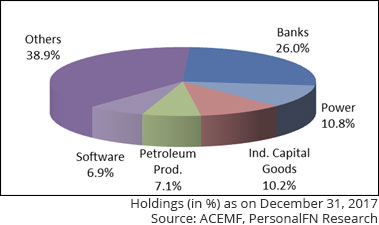 Banks lead the list of sectors with a total allocation of 26%. Stocks related to the energy sector and industrial capital good sector follow behind with an exposure of around 10%. Petroleum products and software stocks command an allocation of about 7% each. In all, the top 5 sectors make up for 60% of the total assets.
Suitability of HDFC TaxSaver:
When you invest in ELSS or a tax saving mutual fund, the amount invested is eligible for tax exemption under section 80C, but only up to Rs 1.5 lakhs will be eligible for tax exemptions (as per the current tax laws). Moreover, these mutual funds come with a lock in period of 3 years, which means your investment in these funds cannot be withdrawn before completion of 3 years from the date of your investment.
ELSS funds are an ideal investment avenue for high risk investors to park their long term fund and earn a tax rebate as well. Being equity oriented, only investors with a high-risk appetite should consider investing in such funds.
In terms of investment style, ELSS may be of any genre. They may follow growth or value style or even a combination of both. Moreover, they may restrict themselves to a particular market-cap or may invest without any market-cap bias.
If you are not sure about how to align these schemes with your tax planning or financial goals, do consult your investment consultant/advisor.
As an investor, you need to pick the right and suitable ELSS funds to meet your financial goals.
Hence, a process that combines both quantitative and qualitative factors has a good chance of picking funds that can deliver decent market-beating returns. The quantitative factors will cover the fund's performance across multiple periods and market cycles, as well as the fund's ability to manage risk among other factors.
The qualitative factors will take into account the fund manager's experience, the performance of the fund house across multiple schemes, as well as the quality of assets in the portfolio, to name a few. Thus, when analysing a fund across both quantitative and qualitative parameters, you will be able to pick a fund that has a promising future.
PersonalFN adopts such a process to shortlist the potentially best mutual funds for its subscribers.
If you are looking for the top ELSS funds to invest in 2018, subscribe to PersonalFN's Exclusive Report - 3 Tax-Saving Mutual Funds For 2018.
In this report, you will find the Top 3 ELSS (also known as tax saving funds) that are geared to grow your investment multi-fold over long term while saving your taxes. These Top 3 ELSS are handpicked through our special 7-point Selection Matrix methodology, and are considered to be potentially the best tax-saving mutual funds in the Indian market.
This article first appeared on PersonalFN here.
PersonalFN is a Mumbai based personal finance firm offering Financial Planning and Mutual Fund Research services.
Disclaimer:
The views mentioned above are of the author only. Data and charts, if used, in the article have been sourced from available information and have not been authenticated by any statutory authority. The author and Equitymaster do not claim it to be accurate nor accept any responsibility for the same. The views constitute only the opinions and do not constitute any guidelines or recommendation on any course of action to be followed by the reader. Please read the detailed Terms of Use of the web site.
More Views on News
Mar 22, 2018
Certain blue chips hold the potential of delivering returns comparable to small-cap stocks. With these stocks, you can get the best of both worlds.
Nov 29, 2017
Stocks that could beat Sensex returns in the long term.
Jul 16, 2018
How I side-stepped a big mistake made by a super investor.
Jul 13, 2018
Don't define quality by market capitalisation. Look for quality stocks across market caps instead.
Jul 13, 2018
PersonalFN explains how to go about building a contingency fund and the investment avenues for it.
More Views on News
Most Popular
Jul 3, 2018
Left on their own, the banks would possibly have to mark down the value of deposits by 90% to 100%.
Jul 4, 2018
The FDI numbers do not look very impressive once we adjust for repatriations as well as the overall growth in the economy.
Jul 10, 2018
If you're worried about the markets - you are on the wrong track. This is opportunity - put your wealth-building hat on, instead - Richa shows you how...
Jul 6, 2018
ICICI AMC launches an open -ended equity fund following Pharma, Healthcare, Diagnostic and allied theme.
Jul 6, 2018
Buy Companies that can fight all kinds of Pandas and Bears in the long run.
More