How Will 2018 Be For Investors In Debt Mutual Funds And Fixed Deposits
How Will 2018 Be For Investors In Debt Mutual Funds And Fixed Deposits
Jan 25, 2018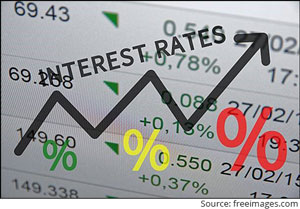 On account of falling inflation and declining interest rates, debt fund investors in India earned attractive returns between 2013 and 2017. As these factors are now turning unfavourable, the celebratory mood seems to be dimming. How should you approach fixed income investments in 2018? That's what we're discussing here...
So, what decides the fate of investors investing in debt funds and fixed deposits?
Primarily, the movement of interest rates in the economy When the interest rates drop lower, debt fund investors tend to make more money. Hence, bond prices and interest rates are inversely related.
However, this doesn't mean falling interest rate put fixed deposits at a disadvantage.
Falling interest rates may not erode your returns on fixed deposits if inflation is falling as well. Until recently, the interest rates were falling and so was the inflation rate.
But now the scenario has changed. Inflation is creeping up and interest rates offered on deposits are still going downhill.
In the absence of a higher credit off-take, the banks are discouraging fresh deposits. They are achieving this through two means -
Slashing interest rates; and
Promoting mutual funds to boost their fee income.
Unless the demand for credit picks up and the banking system (which is witnessing a rise in liquidity post demonetisation) feels the cash crunch, the interest rates on fixed deposits may remain low.
The 10-year benchmark has yield hardened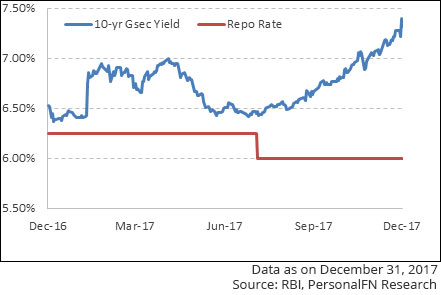 Factors to watch out for in 2018:
The Federal Reserve (Fed) seems to be determined to hike rates at least thrice in 2018. In turn, this will make emerging market bonds unattractive at current yields, unless the risk profile of a country significantly improves. While ratings upgrade by Moody's might help India to some extent, it won't be good enough to avert the global trend of rising bond yields.
The decline in farm-produce output may become a matter of concern, if the agriculture sector fails to revive in the Financial Year (FY) 2018-19. This poses a risk of higher food inflation.
The stability of the Indian Rupee is crucial for bond yields to remain stable. If the Indian currency depreciates sharply, Indian bonds may become unattractive at the current yields.
Moreover, the debt markets would closely track the government's approach to fiscal deficit. If the government goes on a spending spree, bond markets may react negatively.
Given the factors at play, now it looks like the RBI will maintain its neutral stance on policy for a while- i.e. it will neither favour accommodative nor the tight monetary policy.
During such times, selecting the category of debt mutual funds first becomes crucial.
PersonalFN is of the view that, investing aggressively at the longer end of the yield curve could prove imprudent. To put it simply, investing in long-term debt fund (holding longer maturity debt papers) can be perilous, since most of the rally has been already captured at the longer end of the yield curve.
In fact, short-term maturity papers are turning attractive and fund houses are aligning their portfolio accordingly too.
Ideally, you'll be better-off if you deployed your hard-earned money to short-term debt funds. But ensure you're giving due importance to your investment time horizon, asset allocation, and diversification. Consider investing in short-term debt funds for an investment horizon of upto two years.
If you have an investment horizon of 3 to 6 months, ultra-short term funds (also known as liquid plus funds) would be the most suitable.
And if you have an extreme short-term time horizon (of less than 3 months), you would be better-off investing in liquid funds.
Don't forget that investing in debt funds is not risk-free. Therefore consider the 5-facets while investing in debt funds.
Some other options to invest in debt instruments are tax-free bonds, especially, if you are in the highest tax-bracket.
A few highly rated corporate deposits and bonds may also yield better returns than bank FDs. Ensure you study the company's financials before investing, as the risk of default can't be ignored. This will buffer you from any financial shock.
Sensible and astute investment strategy serves the path to wealth creation and it's always beneficial for your long-term financial wellbeing.
This article first appeared on PersonalFN here.
PersonalFN is a Mumbai based personal finance firm offering Financial Planning and Mutual Fund Research services.
Disclaimer:
The views mentioned above are of the author only. Data and charts, if used, in the article have been sourced from available information and have not been authenticated by any statutory authority. The author and Equitymaster do not claim it to be accurate nor accept any responsibility for the same. The views constitute only the opinions and do not constitute any guidelines or recommendation on any course of action to be followed by the reader. Please read the detailed Terms of Use of the web site.
More Views on News
Mar 22, 2018
Certain blue chips hold the potential of delivering returns comparable to small-cap stocks. With these stocks, you can get the best of both worlds.
Nov 29, 2017
Stocks that could beat Sensex returns in the long term.
Jul 19, 2018
PersonalFN takes a look at Kotak Balanced Advantage Fund, a New Fund Offer (NFO) from Kotak Mahindra Mutual Fund.
Jul 19, 2018
Rajiv Talwar, the CEO of DLF, makes a few interesting points in a recent interview.
Jul 19, 2018
The start-up eco-system is disrupting each and every sector that we know of. How can Indian investors benefit from this?
More Views on News
Most Popular
Jul 12, 2018
Blindly following super investors is a dangerous game to play. Here's how you can avoid such mistakes.
Jul 10, 2018
If you're worried about the markets - you are on the wrong track. This is opportunity - put your wealth-building hat on, instead - Richa shows you how...
Jul 11, 2018
The price signals that MSP sends out, creates its own set of problems.
Jul 6, 2018
ICICI AMC launches an open -ended equity fund following Pharma, Healthcare, Diagnostic and allied theme.
Jul 6, 2018
Buy Companies that can fight all kinds of Pandas and Bears in the long run.
More