Can Debt ETFs Be A Better Alternative To Bank FDs And SSS
Can Debt ETFs Be A Better Alternative To Bank FDs And SSS
Feb 1, 2019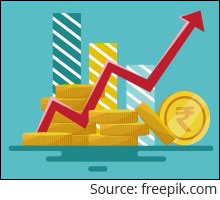 After the success of Bharat-22 ETF, an equity-oriented Central Public Sector Enterprises (CPSEs) Exchange Traded Fund (ETF), the government is set to launch a CPSE debt ETF.
As reported by the Economic Times dated January 28, 2019, Edelweiss Asset Management Company (AMC) recently received the government's approval to manage the CPSE debt ETF.
Ms Radhika Gupta, the CEO of Edelweiss AMC sounded extremely optimistic about this achievement. "We are very excited about this opportunity to launch India's maiden Debt ETF focused on CPSEs and PSUs. Our endeavour is to launch an innovative product that will help retail and institutional investors increase their participation in the bond market, particularly retail investors whose participation is relatively small in debt mutual funds. Our focus will be to bring to market a product that is easy to understand, has the liquidity of ETFs and is tax efficient", she highlighted.
Are you wondering why the government wants to launch debt ETF now?
Should you invest in it?
Let's find out.
The credit environment in India isn't very encouraging these days. Numerous instances of scams and bad lending decisions at Public Sector Banks (PSBs) and high-profile defaults in the corporate bond market have made investors apprehensive about investing in fixed income assets.
By now investors have realised that investing in debt funds isn't risk-free. As a result, many of them feel they have very limited investment options when it comes to investing in fixed income instruments. Despite all adverse conditions, PSBs haven't defaulted on their commitments to depositors so far.
Does that mean, investors, don't have many options beyond public sector bank Fixed Deposits (FDs) and government-run Small Savings Schemes (SSS) such as Public Provident Fund (PPF) and National Savings Certificate (NSC)?
Fortunately, the CPSE debt ETF would offer you another investment option.
What is CPSE debt ETF?
It will be a passive debt fund mimicking the underlying index comprised of securities issued by CPSEs and other PSUs. It will work on similar lines as equity ETFs, except that it will invest in debt securities.
[Read: Are Debt Mutual Funds Worthwhile To Build A Retirement Corpus?]
Why does the government want to launch CPSE debt ETF now?
It will help CPSEs raise money directly from the market at a rate lower than many of them are paying at present. This will also help to deepen the Indian bond market. As a result, banks will have more funds to lend to other borrowers.
Will CPSE debt ETF be safe for retail investors?
Although the targeted investors for CPSE debt ETF are long term institutional investors such as pension funds, the government also wants to encourage retail participation. As the securities forming a part of CPSE Debt ETF would be "AAA" and "AA" rated, the default risk would be negligible. Since the government is the major stakeholder in companies issuing credit securities; so practically, a default is highly unlikely, going by the record until now.
Would CPSE debt ETF be rewarding proposition for retail investors?
The government is yet to finalise the proportion of "AAA" and "AA" rated securities in the index, it's difficult to gauge the return potential of the ETF. However, typically high-quality securities issues by PSUs fetch a notch higher than G-secs. CPSEs are likely to raise money tapping this route to fund business expansion plans. In other words, short-tenure issuances are highly unlikely.
CPSE debt ETF is an ideal investment avenue for long-term investors, i.e. for those having the time horizon of at least three years.
[Read: Where Should You Invest - Fixed Deposits Or Debt Mutual Funds?]
Planning to invest in CPSE debt ETFs? Here are some tips:
Although CPSE debt ETF would offer you liquidity at exchanges, you should treat them more as accrual funds and shouldn't try to time your entry and exit based on assumptions about the interest rate scenario.
CPSE debt ETF can be a good alternative to corporate bond funds and dynamic bond funds and medium duration funds. CPSE debt ETF would be not only more tax efficient but would also have a lower expense ratio as compared to most of the offerings in these categories.
You shouldn't consider CPSE debt ETFs as an alternative to bank FDs or SSS. On the contrary, depending on your financial goals, time horizon, and risk appetite determine your exposure to CPSE debt ETF.
Happy Investing!
PS: If you wish to make your retirement blissful, don't miss out on PersonalFN's Retire Rich service. This is a new and exclusive service with the sole motive of securing your retirement.
It is a DIY (Do It Yourself) retirement solution, whereby you can start planning for your retirement and potentially build a substantial corpus that could sustain you in the best days of your life.
It is not merely a list of funds or a particular investment idea. It is a complete all-around solution to guide you with almost ALL the necessary essentials of retirement planning.
You will receive a monthly series of reports and articles presenting the potentially best investment ideas and opportunities most suitable for a happy and blissful retirement. Subscribe now!

Author: PersonalFN Content & Research Team
This article first appeared on PersonalFN here.
PersonalFN is a Mumbai based personal finance firm offering Financial Planning and Mutual Fund Research services.
Disclaimer:
The views mentioned above are of the author only. Data and charts, if used, in the article have been sourced from available information and have not been authenticated by any statutory authority. The author and Equitymaster do not claim it to be accurate nor accept any responsibility for the same. The views constitute only the opinions and do not constitute any guidelines or recommendation on any course of action to be followed by the reader. Please read the detailed Terms of Use of the web site.
More Views on News
Mar 22, 2018
Certain blue chips hold the potential of delivering returns comparable to small-cap stocks. With these stocks, you can get the best of both worlds.
Feb 22, 2019
With global markets rallying, what's stopping Indian indices?
Feb 22, 2019
These are the winning bets from which super investors have raked in the moolah.
Feb 21, 2019
Personalfn highlights investment objective, investment strategy, asset allocation of the Invesco India Equity Savings fund and its outlook.
Feb 21, 2019
Vern Gowdie talks about the the classic 'click and treat' technique.
More Views on News
Most Popular
Feb 13, 2019
The real estate sector is ready to make a comeback. This is the stock to consider buying.
Feb 14, 2019
During this tough period in the market, a contrarian approach holds huge potential upside for this Smart Money Secrets stock.
Feb 14, 2019
Don't let the dark clouds hovering over small caps scare you into hiding; it will rain gold as sentiments recover. Indeed, there is a blood bath. And if you are a first time investor, the correction is deep enough to scare you out of markets.
Feb 12, 2019
Two questions I have been eagerly waiting to ask you ever since Budget 2019 was announced.
Feb 15, 2019
Why its great news that prices for small caps over the last few days have been falling like there's no tomorrow.
More