My Six Rules for Stock Picking
My Six Rules for Stock Picking
Feb 11, 2017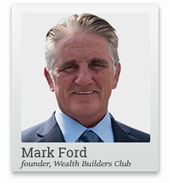 The whole time I spent getting rich, only a small portion of my net investable wealth was in stocks. Maybe 2% to 3%. And almost all of that was in no-load index funds.
Then I read Mary Buffett and David Clark's The Warren Buffett Stock Portfolio and I became a convert to Buffett's philosophy of stock investing.
What Buffett has been doing with Berkshire Hathaway for the past 10 years or so, I'm told, differs in some ways from the stock investing strategy explained in David Clark's book. I based my strategy on that original concept. I've been doing it now for five years and so far it's produced very good results.
The strategy comprises six simple rules:
Invest only in big, simple businesses that dominate their industry because of some advantage they have that others lack.
Don't worry about year-by-year profits. Invest for the long term. (And by that I mean 10 years or more.)
Don't invest in companies you don't understand. You don't need to know the company inside and out, but you at least need to understand how they sell to their customers, why their customers prefer them, and why it is that they're likely to continue dominating their industries.
Whenever possible, invest in 'investor-friendly' businesses-companies with a long-term history of paying dividends to their investors year in and year out.
It's also nice if the company has lots of cash and an easy debt load.
Never overpay. Even the world's best companies can be overpriced. And if you buy them when they are, it may take you a long, long time to make up for your overpayment.
As I said, I used to put my stock money in no-load index funds. The idea there was to have some of my wealth in the stock market and expect, over time, that the return I would get would be equal to the market, plus or minus a percent.
I still think that's a pretty good strategy for beginners or people that have zero interest in managing their own stocks. But I do think that the portfolio of stocks I have now, based on the six rules above, will give me more power and endurance than an index fund with equal or greater safety over time.
Now, regular Equitymaster readers are no strangers to this stock-picking philosophy. But this strategy is successful in building wealth, ONLY if you have a large 'net investable income' - the income that you can directly invest in stocks.
So my wealth-building strategy goes beyond just picking world-dominating stocks!
It's a holistic blueprint of income-producing ideas I've refined from 30 years of experience. These include multiple income streams from rental real estate, dividend-producing stocks, non-traditional assets, and off-Wall Street investments.
If you don't have a strategy to build your 'net investable income' - it doesn't matter how brilliant you are at picking stocks - great wealth will remain out of your reach.
Editor's Note: Mark and his team are packaging their best wealth building strategies into one service. It's the simplest - and cheapest - way to have a world of wealth-building ideas at your fingertips. And as an Equitymaster reader, of course, you have priority access to this research. Keep an eye out for these ideas - it could be the best thing that ever happened to your wealth.
Mark Ford is a globally renowned author, entrepreneur, millionaire wealth coach. He founded the Wealth Builders Club which has helped hundreds of people around the world achieve a financial success most people only dream of.
Disclaimer:
The views mentioned above are of the author only. Data and charts, if used, in the article have been sourced from available information and have not been authenticated by any statutory authority. The author and Equitymaster do not claim it to be accurate nor accept any responsibility for the same. The views constitute only the opinions and do not constitute any guidelines or recommendation on any course of action to be followed by the reader. Please read the detailed Terms of Use of the web site.
More Views on News
Jun 10, 2017
Forty Indian investing gurus, as worthy of imitation as the legendary Peter Lynch, can help you get rich in the stock market.
Aug 17, 2017
PersonalFN simplifies the mutual fund account statement for you.
Aug 17, 2017
A small-cap Indian company with high-return potential and blue-chip-like stability is set to supplant the Chinese players in this niche segment.
Aug 17, 2017
Mr Trump is in the White House and the gods are in their heavens; what's not to like?
Aug 16, 2017
All across the country, the old gods become devils. New, gluten-free gods take their places...
More Views on News
Most Popular
Aug 7, 2017
The data tells us quite a different story from the one the government is trying to project.
Aug 10, 2017
Don't miss these proxy bets on growing companies or in a few years you will be looking back with regret.
Aug 8, 2017
Bharat-22 is one of the most diverse ETFs offered so far by the Government. Know here if you should invest...
Aug 12, 2017
The India VIX is up 36% in the last week. Fear has gone up but is still low by historical standards.
Aug 7, 2017
Raksha Bandhan signifies the brother-sister bond. Here are 7 thoughtful financial gifts for sisters...
More