IDBI Healthcare Fund: A Healthy Proposition For Your Investment Portfolio?
IDBI Healthcare Fund: A Healthy Proposition For Your Investment Portfolio?
Feb 15, 2019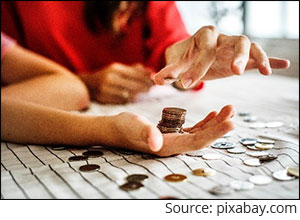 IDBI Mutual fund launches an open-ended sectoral fund, IDBI Healthcare Fund (IDBIHF) that will invest mostly into stocks of companies of healthcare and its allied sector.
A sectoral fund is a sub-category of equity mutual fund that invests in companies of one particular sector of the market. Sector funds are a very-high-risk very-high-return investment proposition, as the fortune of the fund is closely linked to the undercurrents of a specific sector, although it could invest across the market capitalization spectrum.
Last year two new initiatives were announced under Ayushman Bharat by the government to improve health care system holistically. The overall healthcare industry is showing signs of improvement and Indian Pharma companies are faring well globally too. Plus, there is an increase in number of companies that are serving directly or indirectly to form a part of healthcare and its allied sectors.
IDBIHF wants to tap the growth opportunity due to the improvements in the healthcare and allied sectors.
IDBIHF will mainly aim to invest predominantly in companies that are part of healthcare and allied sector but may take a smaller exposure to equity and equity-related securities of other companies, debt and money market Securities, and Units issued by REITs & InvITs as well for risk mitigation and diversification purposes.
Table 1: NFO Details of IDBIHF
Type
An open-ended equity scheme investing in Healthcare and Allied sectors
Category
Sectoral Fund
Investment Objective
To achieve long term capital appreciation by predominantly investing in equity and equity related instruments of companies engaged in the Healthcare and Allied sectors.

However, there can be no assurance that the investment objective of the scheme will be realized.
Min Investment
Rs 5,000 and in multiples of Re. 1 thereafter.
Face Value
Rs 10 per unit
Plans
Options

Growth *
Dividend

Pay-out Dividend
Reinvest Dividend
Sweep-of Dividend

* default option
Entry Load
Nil
Exit Load
(Repurchase/Switch-out/Transfer/SWP) - 1% for exit within 12 months from the date of allotment
Fund Manager
Ms Uma Venkatraman
Benchmark Index
S&P BSE Healthcare - Total Return Index (TRI)
Issue Opens
8th February 2019
Issue Closes
22nd February 2019
(Source: Scheme Information Document)
What is the Asset Allocation of IDBI Healthcare Fund?
Under normal circumstances, the scheme's asset allocation or asset distribution weight will be as under.
Table 2: IDBIHF's Asset Allocation
Instruments
Indicative Allocation
(% of Total Assets)
Risk Profile
Minimum
Maximum
Equity & Equity related instruments of companies engaged in the Healthcare and Allied Sectors
80
100
High
Equity and Equity related instruments of companies engaged in other than Healthcare and Allied Sectors
0
20
High
Debt and Money Market instruments including Mutual Fund Liquid Schemes
0
20
Low to Medium
Units issued by Real Estate Investment Trusts (REITs) & Infrastructure Investment Trusts (InvITs)
0
10
Medium to High
(Source: Scheme Information Document)
The scheme may invest up to 50% of Net Assets of Scheme into equity derivatives instruments. Investment in derivatives shall be for hedging, portfolio balancing and such other purposes as may be permitted from time to time.
The Scheme will not invest in Securitized Debt/ ADRs/GDRs, foreign securities.
The scheme may also enter into repurchase (repo) agreement and reverse repurchase agreement in government securities held by it as per the guidelines and regulations applicable to such transactions. The scheme will not invest in Repo in Corporate Debt Securities.
[Read: Why You Should Not Ignore Personalized Asset Allocation While Investing]
What is the Investment Strategy of the Scheme?
The Scheme will invest predominantly in the companies engaged in Healthcare and Allied Sectors. The Portfolio will primarily comprise of the stocks of the companies which are likely to benefit either directly or indirectly from the Healthcare and Allied sectors. Fund Manager may select the stocks of companies engaged in following-
Pharmaceutical,
Healthcare,
Hospitals & Diagnostics,
Insurance,
Wellness,
Nutrition,
Health IT services,
Research and/or Manufacturing Services,
Distribution,
Chemicals (Bulk, Specialty, Agrochemicals, Others),
Medical Equipment,
Hygiene,
And any other services that directly or indirectly forming part of the healthcare and allied sectors
To achieve the diversification, Fund Manager may also invest up to 20% of the net assets of the Scheme in equities and equity-related securities of companies engaged in other than Healthcare and Allied sectors. The Scheme will invest across the market capitalization predominantly in healthcare and allied sector space.
The Scheme also may invest in IPOs of companies which could be classified under Healthcare and Allied sector on listing.
Every stock which will eventually form part of the Portfolio will be analysed by in-house Equity Research Team and will be monitored on an ongoing basis for its merits and fundamentals like-
Competitive position,
Earning growth,
Future plans,
Sustainable cash flow etc.
In addition to in-house research, external research like newspapers, database, magazine, reports etc. may be used as an additional source of information.
The Scheme will retain the flexibility to invest in the entire range of debt instruments and money market instruments. Investment in Debt securities and Money Market Instruments will be as per the limits in the asset allocation table of the Scheme, subject to permissible limits laid under SEBI (MF) Regulations.
The portfolio would be structured to incorporate reasonable liquidity using cash and cash equivalents. In-depth credit evaluation of the securities proposed to be invested in will be carried out by the investment team of the AMC for its fixed-income investments.
Who will manage the IDBI Healthcare Fund?
Ms Uma Venkatraman will manage the IDBI Healthcare Fund.
Ms Venkatraman has done her MBA and MS (Finance). She has over 15 years of work experience in the financial services industry, with a focus on equities. Prior to becoming a fund manager, she was heading the Research function in IDBI Mutual Fund. Prior to joining IDBI Mutual Fund, she has worked with B&K Securities; ASK Raymond James, Morgan Keegan and UTI Mutual Fund.
At the IDBI Mutual Fund, some of the other equity mutual fund schemes she manages are: IDBI Banking & Financial Services Fund, IDBI Long Term Value Fund, IDBI India Top 100 Equity Fund, IDBI Small Cap Fund, IDBI Equity Savings Fund, IDBI Equity Advantage Fund and IDBI Hybrid Equity Fund
The outlook for IDBI Healthcare Fund:
The fortune of the fund will be closely associated with the healthcare and allied sectors, which are defensive sectors.
To achieve the stated objective IDBIHF will construct the portfolio as illustrated below:
Pick stocks based on Qualitative and quantitative factors
Thorough research of the sector and the company using a bottom-up approach
Mitigate risk by active management of the sector outlook and select stocks from across market cap
Follow a logical and disciplined investment process to invest in a blend of quality stocks.
Diagram 1: Portfolio construction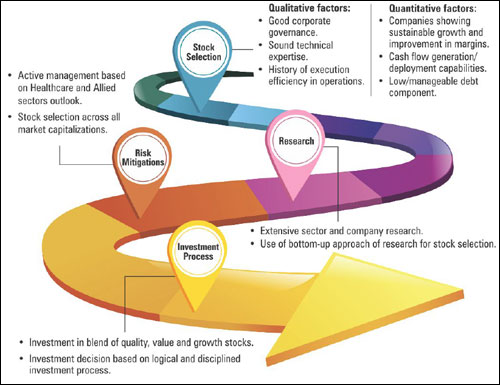 (Source: IDBI Healthcare Fund Leaflet)
The fund house believes that the healthcare sector is poised to grow due to the favourable environment for it. In its leaflet the scheme mentions the reasons behind the potential growth in healthcare space:
India pharma companies continue to be the preferred supplier of generic pharmaceuticals products to the US to boost exports.
Within the healthcare care domain there are many new branches spreading like the Diagnostic, Speciality Hospitals and Insurance - are in the nascent stage.
Conducive policy environment - Ayushman Bharat to be an instrument for creating growth in volume domestically
Growing awareness within the health industry and rise in disposable incomes has increased the lifespan of individuals has fuelled the demand for healthcare
Due to affordability and the quality of care in the country, medical tourism to witness a boost in its revenues.
Post the market corrections the stocks of the Pharma sector are reasonably valued
PersonalFN believes that although the markets are correcting with reduced valuations offering good times to invest, one should not ignore the risk involved before investing in a sector fund.
If markets remain volatile in the run-up to 2019 Lok Sabha elections, even healthcare and pharma companies may not be spared. It is also linked to the fund manager's ability to steer from the risk emanating from the wave of Trump policies, US-China Trade War, and going forward even India's relation with the US and rest of the world.
Therefore, although there may be good opportunities, in the long run, the risk also is very high.
[Read: Why Comparing Returns to Risk Is More Meaningful!]
Hence IDBI Healthcare Fund is suitable for the ones, willing to take extremely high risk and have a long investment horizon. It would be wise to assess your own risk appetite and investment horizon before investing in such a fund.
Editor's note: If you're unsure where to invest fresh investible surplus currently, and you're looking for "high investment gains at relatively moderate risk" this ready-made portfolio would be suitable for you.
In this 2019 Edition of PersonalFN's Premium Report, "The Strategic Funds Portfolio For 2025", you will get a ready-made portfolio of its top equity mutual funds schemes for 2025 that have the ability to generate lucrative returns over the long term.

PersonalFN's "The Strategic Funds Portfolio for 2025" is geared to potentially multiply your wealth in the years to come. Subscribe now!
Author: Aditi Murkute
This article first appeared on PersonalFN here
PersonalFN is a Mumbai based personal finance firm offering Financial Planning and Mutual Fund Research services.
Disclaimer:
The views mentioned above are of the author only. Data and charts, if used, in the article have been sourced from available information and have not been authenticated by any statutory authority. The author and Equitymaster do not claim it to be accurate nor accept any responsibility for the same. The views constitute only the opinions and do not constitute any guidelines or recommendation on any course of action to be followed by the reader. Please read the detailed Terms of Use of the web site.
More Views on News
Apr 20, 2021
Here's the rundown on the company's latest quarterly results.
May 7, 2021
PersonalFN analyses the features of Tata Dividend Yield Fund and explains the potential this fund has to offer to its investors.
May 7, 2021
I've used this trading technique for many years with great success. I'm sharing it with you today.
May 7, 2021
Stocks you must consider investing in before buying your first electric vehicle.
May 6, 2021
PersonalFN analyses the features of Axis Healthcare ETF and explains the potential this fund has to offer to its investors.
More Views on News
Most Popular
Apr 30, 2021
In this video, I'll show you why I favour smallcaps over the Nifty.
Apr 30, 2021
Price is the only due diligence one might require to buy this business.
Apr 28, 2021
Does the concept of selling stocks in the month of May, work in the Indian market?
Apr 26, 2021
Should you invest with this Rockstar fund manager who has outperformed in a big way?
More