Being Rich Is Not Just About Having Money in the Bank
Being Rich Is Not Just About Having Money in the Bank
Feb 17, 2017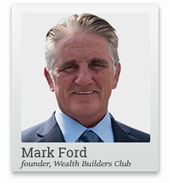 "What is wealth?"
As a writer about money and wealth, I've asked myself this question hundreds of times. My readers have also discussed this question in online forums.
It prompts a flood of interesting answers, from the mundane to the pragmatic, to the philosophically problematic. Answers like these:
$1 million in the bank
Having everything you want
Possessing the power to command results
Being loved by your family and friends
Having tangible assets sufficient to meet the physical needs of yourself and your loved ones
Having a balanced life
Attaining inner peace and spiritual enlightenment
Having excellent health and immunity from disease.
This is just a small sampling of what people have to say, but it gives you an idea about how varied and sometimes vague our thinking about wealth can be. And although I recognize the sense in many of these definitions, I find it impossible to talk to people about wealth unless I can get them to agree on some basic terms. So let's do that now.
I suggest that we start with this definition: Wealth is a store of something valuable.
I like that definition because it is simple and because, no matter what it is that you value, it emphasizes something essential about wealth: the idea of storage. Having the things that you desire - say, a big house and fancy cars-does not make you materially wealthy if you don't have the wherewithal to keep those goods over a protracted period of time. Nor are you wealthy in friendship if the many friends you have now would abandon you if your fortune changed.
The point I'm making here may be too obvious to mention: Wealth is only sometimes about money. Understanding wealth in a broader sense, with implications that go beyond dollars and rupees, is essential.
Yes, the main purpose of our club is to help you become financially independent. But you want financial independence for specific reasons:
You want more freedom in your life. You want more choices about where you live, how you live, how much you work, and so on.
You want more leisure in your life. You don't want to feel compelled to work eight or 10 hours every day for five or six days every week.
You want more tranquility in your life. You would like an end to the stress that the lack of money sometimes causes. You want to be able to sleep easily at night and enjoy your days without worry.
These goals are wrapped up very tightly in your desire for wealth - and as a result, they are a fundamental part of every step in our club program.
Let's push a little further along this path and delve a little deeper into the way you think about your life and the things you value.
I'm hoping that money is not the most important thing in your life.
Nevertheless, material wealth does matter. It gives you the ability to help your friends, provide for your family, pursue intellectual and artistic interests, and become an inspirational role model for members of your community.
Plus, if you don't have an income sufficient to meet your needs, you'll spend a good deal of time fretting about it-and when you spend time fretting about money, you can't enjoy the things you truly care about.
This is a truth that more and more people are discovering late in their lives (including a few of my friends and family members). Stumbling into middle age with lifetimes of educational, social, and recreational experiences, people entering their 50s are waking up to depressing realization that they are working harder than ever to maintain a lifestyle that is not much better than the one they had when they were young.
I've had the good fortune to be able to help dozens of such people work themselves out of this sort of pothole, regain solid ground, and go on to achieve financial independence. It took some time and it wasn't always easy, but it always began with a revelation - a revelation that was especially bracing for some of the smartest of them - that becoming financially independent is a good thing, something all good people should aspire to.
Having enough money can liberate you from an unrewarding job, free you to follow your dreams, and allow you to take care of your loved ones.
But never forget that the desire for money can also corrupt you. If, in pursuing wealth, you begin to believe that the accumulation of money is an end in itself - well, that's a bad thing. You are going to get good advice from now on. And if you follow my suggestions faithfully for a reasonable period of time, you'll someday - probably sooner than any of your friends or colleagues - discover that you are wealthy. But when that day comes, I'm hoping the greed virus will not have infected you. I hope you won't have become addicted to the idea of making the money pile grow. I hope you won't have forgotten what you know now - that there are many things more important than money.
PS: I know that you are getting anxious for specific instructions you can start working on to build your wealth right away. Don't worry. They're coming. But this stuff is important. I want to be sure that you have done the right thinking. I want to be sure that you have accepted responsibility for your current financial situation. I want to be sure that you are committed to making a change. If you can do that, everything else will be easy. If you are nodding in agreement with me, then you are ready for my Wealth Building Blueprint. And Anisa promises me that you will have it soon... Just keep your eyes trained on your inbox for the blueprint.
Mark Ford is a globally renowned author, entrepreneur, millionaire wealth coach. He founded the Wealth Builders Club which has helped hundreds of people around the world achieve a financial success most people only dream of.
Disclaimer:
The views mentioned above are of the author only. Data and charts, if used, in the article have been sourced from available information and have not been authenticated by any statutory authority. The author and Equitymaster do not claim it to be accurate nor accept any responsibility for the same. The views constitute only the opinions and do not constitute any guidelines or recommendation on any course of action to be followed by the reader. Please read the detailed Terms of Use of the web site.
More Views on News
Nov 29, 2017
Stocks that could beat Sensex returns in the long term.
Jun 10, 2017
Forty Indian investing gurus, as worthy of imitation as the legendary Peter Lynch, can help you get rich in the stock market.
Feb 21, 2018
The South American nation of Venezuela just launched its own cryptocurrency. Is this the beginning of a revolution? Read on to find out more...
Feb 21, 2018
The 5 Minute WrapUp will now come to you every weekday.
Feb 21, 2018
Corporate bad loans constituted nearly 70% of the total bad loans of public sector banks in India, in 2016-2017.
More Views on News
Most Popular
Feb 8, 2018
Has the sell-off in the markets left India's super investors unduly worried?
Feb 9, 2018
The easy money policy of the Federal Reserve of the United States, which drove up stock markets all over the world, is ending, with the Federal Reserve looking to shrink its balance sheet.
Feb 9, 2018
MFs are having a gala time taking money from over-eager investors and funneling it into equities. Smart investors, though, know better than to do that.
Feb 15, 2018
Once you accept the fact that elections are round the corner and that this budget is geared to reach a 40% target, everything makes sense.
Feb 8, 2018
Domestic money flow into Indian equities surpassed foreign fund flows in the recent years. But will it continue in volatile market?
More