How CFGs Strike A Correct Chord With Clients
How CFGs Strike A Correct Chord With Clients
Feb 17, 2017
According to Karvy Private Wealth's India Wealth Report 2016, the total wealth held by individuals in India grew by 8.5% to Rs 304.2 lakh crore in the year 2016 (see table below).
Investments in financial assets also grew, but at a slower pace: 7.14%; mainly due to subdued performance of equity. Among financial assets, there was reasonable growth in fixed deposits, bonds, provident funds and Small Savings Schemes (SSS); the last mainly due to the success of the Jan Dhan Yojana. Individual wealth in physical assets (such as gold and real estate) too grew sharply at 10.32% vis-a-vis a 2% fall in FY15.
Proclivity: Financial Assets vs. Physical Assets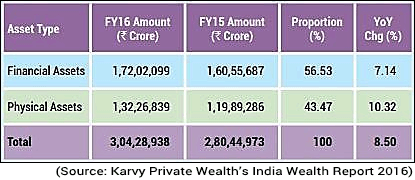 However, the economy is in for a rocky road after demonetisation, which potentially is a risk to the economic growth clocked. After the World Bank's downward revision of growth estimates for India, the IMF too has reduced growth estimates for India to 6.6% (from 7.6% projected in October 2016) for the current fiscal year 2016-17 citing the impact of demonetisation. "Temporary negative consumption shock induced by cash shortages and payment disruptions associated with the recent currency note withdrawal and exchange initiative," were the primary reasons said the report released recently.
Besides, there are global factors in play such as: 'Trumponomics'; the Federal Reserve's endeavour to normalise interest (as market expectations for inflation have advanced); the onset of the process for 'Brexit' taking pace from end-March 2017; economic slowdown in China; and morose economic conditions in Japan (although there's some optimism reported of late).
In such uncertain times, where the path to wealth creation is full of challenges, it is important to seek the help of a Certified Financial Guardian (CFG) who will advise you with enough care and prudence, much as he would adopt while managing his own money.
There is no dearth of financial advisors in the country. Every one flaunts a certification or two and suffixes his/her name with an acronym. But your financial advisor should be a 'Financial Guardian' who is able to recognise the financial and emotional side of the client / prospect using these simple (yet important) principles:
Transparent and Ethical advice: The advisors who have undergone the CFG certification vouch to strongly abide by the principles of ethics. The major bane among clients/prospects is the lack of transparency - disclosures on the part of financial advisors; for instance their compensation structure. CFGs disclose it upfront thus building trust and putting the clients' interest first. CFGs go a step further. They cement the relationship with their clients by understanding their financial health as well as their investment objectives before recommending any financial products.
Thorough research before recommendation: CFGs conduct thorough research and in-depth analysis of the financial products before recommending it to their clients. Clients can be rest assure that the recommendation would help them achieve their financial goals.
Service oriented approach: CFGs build a team of professionals and experts who address the queries of the clients prudently and effectively in a time-bound approach. CFGs explain the rationale of their recommendation to their clients. The idea is to be in sync with the clients' money outlook and avoid confusion. They are open to queries and patiently invest time to resolve them.
Do not believe in one size fits all approach: CFGs are known to offer personalised and customised solutions. They offer financial recommendations after analysing the risk profile of clients. They take into consideration age, financial goals, income, expenses, etc. before suggesting a solution.
Adopt agile investment strategies: At times, there could be stressful situations such as stock market crashes, economic or political uncertainties, and personal emergencies etc. that could create a lot of anxiety and stress in the mind of the client. A CFG provides a sound coping strategy and mental comfort during such times.
Regular review and support: A CFG regularly reviews the client's portfolio to see if it is in sync with the investment objective. A course correction, if required, is proactively done in consultation with the client. Besides, there's operational support. This hands-on approach helps them earn loyalty and trust of clients.
Ask for an honest feedback: A CFG won't hesitate to ask for honest feedback. He/she would proactively seek it and make necessary changes in his/her approach. The idea is to make the client feel appreciated, respected, and at home.
So hope you recognise the need for a financial guardian, who can handhold you professionally and prudently in the journey of wealth creation. Irrespective of where you stand in your finances, it would be wise to seek a second opinion of CFG.
A CFG commits to adhering to these steps and places the client's best interest ahead of his/her, at all times. It is time to search for one nearest to you and take an appointment.
PersonalFN is a Mumbai based personal finance firm offering Financial Planning and Mutual Fund Research services.
Disclaimer:
The views mentioned above are of the author only. Data and charts, if used, in the article have been sourced from available information and have not been authenticated by any statutory authority. The author and Equitymaster do not claim it to be accurate nor accept any responsibility for the same. The views constitute only the opinions and do not constitute any guidelines or recommendation on any course of action to be followed by the reader. Please read the detailed Terms of Use of the web site.
More Views on News
Apr 13, 2021
PersonalFN explains the outlook for Banking & PSU Debt funds and the best Banking & PSU Debt funds that can be considered for investment in 2021.
Apr 13, 2021
Ajit Dayal on how India's vaccine strategy will impact the markets.
Apr 13, 2021
In this video, I'll you what I think is the real reason behind yesterday's market crash.
Apr 13, 2021
Price is the only due diligence one might require to buy this business.
Apr 12, 2021
PersonalFN explains whether the second wave of COVID-19 infections impact your mutual fund investments.
More Views on News
Most Popular
Mar 31, 2021
A tiny chemical company, started in the Licence Raj era, is a great example of a new wealth creating opportunity.
Mar 31, 2021
In this video I'll show you exactly how I go about picking stocks for trading.
Apr 6, 2021
Rather than predicting the market, successful investing is more about preparing well and placing your bets accordingly.
Apr 1, 2021
What should you do if the market falls? In this video, I'll tell you what I will do.
Apr 13, 2021
Ajit Dayal on how India's vaccine strategy will impact the markets.
More