Kotak Equity Opportunities Fund: Capturing Opportunities across Sectors
Kotak Equity Opportunities Fund: Capturing Opportunities across Sectors
Feb 19, 2021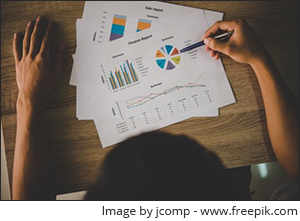 The equity market at an all-time high has raised concerns that valuations have run ahead of the fundamentals and some consolidation in the near term may be imminent. However, I believe that unless the financial goal for which you are investing is due in the next 2-3 years, there is no reason to be worried about the high market levels or consider booking profits.
That said, even if you have a long-term goal, it is important to not go overboard with risky investments and diversify as per your asset allocation plan.
If you are looking for opportunities to create wealth across the market capitalisation range, you can consider investing in large and mid cap funds, a category of equity mutual funds that invests in an optimum mix of large-cap and mid-cap stocks along with minor allocation towards small-caps. By investing in large and mid cap funds, you can benefit from the stability of large cap stocks as well as high return potential of mid cap stocks.
Kotak Equity Opportunities Fund (KEOF) is a large and mid cap fund that has proven its ability to timely identify and capture available opportunities to reward its long-term investors.
--- Advertisement ---
3 Stocks for Potentially Massive Gains

COVID-19 has triggered a fundamental shift in the global economic and geopolitical map.

This reshuffling of the geopolitical map is just ONE of the forces fuelling the great Indian revival.

A revival that will restore the power, wealth, and influence we once enjoyed.

And, those who invest in the companies at the heart of this revival could turn a small stake into generational wealth.

Our co-head of research, Tanushree Banerjee, has narrowed down on 3 specific stocks.

She strongly believes, these 3 "revival stocks" could potentially offer massive gains.

Click here to learn more about this mega opportunity
------------------------------
Graph 1: Growth of Rs 10,000 if invested in Kotak Equity Opportunities Fund 5 years ago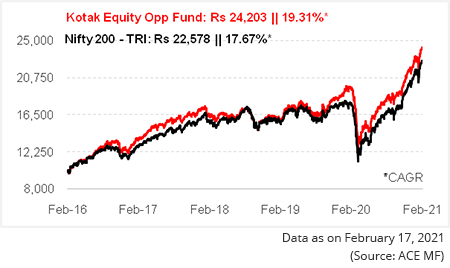 KEOF is primarily an opportunities style fund that looks for growth opportunities across various sectors based on performance and potential of companies within the sectors. While KEOF has been able to generate market-beating returns across bull and bear market phases, it has marginally trailed the category average on multiple occasions in the past. By generating a compounded annualised return of around 19.3% over the past 5 years, KEOF has outpaced its benchmark Nifty 200 - TRI index by a CAGR of close to 2 percentage points. An investment of Rs 10,000 in the fund, 5 years back, would have grown to Rs 24,203. A simultaneous investment in the benchmark would now be worth Rs 22,578 over the same time period. The fund has proven its ability to timely identify and capture available opportunities and create significant wealth for long term investors.
Revealed: 3 "Revival Stocks" for Potentially Massive Gains
Table: Kotak Equity Opportunities Fund's performance vis-a-vis category peers
Returns are point to point and in %, calculated using Direct Plan - Growth option. Those depicted over 1-Yr are compounded annualized
Data as on February 17, 2021
(Source: ACE MF)
*Please note, this table only represents the best performing funds based solely on past returns and is NOT a recommendation. Mutual Fund investments are subject to market risks. Read all scheme related documents carefully. Past performance is not an indicator for future returns. The percentage returns shown are only for indicative purposes.
KEOF has outperformed the benchmark and the category average across most time horizons. It has consistently maintained a lead of around 1-3 percentage points CAGR over the benchmark, except in the last one year. At the same time, it has outpaced many of its category peers. Its outperformance in the last couple of years has positioned it among the top quartile performers and has managed to scale up its performance across time periods.
KEOF has shown a fair level of stability as well. Its standard deviation of 21.89% signifies that the fund's volatility has been slightly lower than the category average though nearly in line with the benchmark, whereas its risk-adjusted return (Sharpe Ratio) that denotes the funds ability to reward investors for the level of risk taken is among the best in the category.
Investment strategy of Kotak Equity Opportunities Fund
Classified under Large & Mid Cap Funds, KEOF is mandated to invest at least 35% of its assets in large caps with a simultaneous investment of at least 35% in mid-caps. Accordingly the fund intends to hold a portfolio diversified across market caps. The newly defined investment mandate still allows the fund to continue with its opportunistic investment style where it looks for growth opportunities across sectors by investing in high potential companies in the large and mid-cap segment.
While selecting stocks for KEOF's portfolio, the fund manager follows a combination of top down and bottom up approach to stock picking. The focus is on finding opportunities in certain sectors that the fund manager believes will perform better in the economy, and applies bottom up approach to pick high potential stocks within those sectors. The fund manager has the flexibility to invest in a mix of large and mid cap stocks from various sectors.
The allocation between large caps & mid-caps broadly depends on the choice of sectors, business environment & valuations. The fund's core portfolio comprises of 5-6 sectors together totalling to around 50-60% of its assets. The fund follows buy and hold strategy for most of its core holdings with many stocks being in the portfolio for well over 2 to 3 years.
Graph 2: Top portfolio holdings in Kotak Equity Opportunities Fund

KEOF usually holds a well-diversified portfolio of around 50 to 55 stocks. As on January 31, 2021, the fund held as many as 52 stocks in its portfolio, with top 10 stocks together constituting around 38.6% of its assets. Top large cap names like Infosys, TCS, ICICI Bank, HDFC Bank, Reliance Industries, L&T, and Dr Reddy' Lab currently appear among its top portfolio holdings. SRF, Coromandel International, and Jindal Power & Steel, are the top mid cap holdings in the fund's portfolio.
In the last one year the fund stocks from both large and mid-cap space like Infosys, Reliance Industries, TCS, SRF, Coromandel International, and Jindal Power & Steel, among others turned out to be the major gainers in the portfolio.
KEOF's portfolio is skewed towards Banking & Financial, Engineering and Infotech sector that together account for around 44% of the portfolio. Consumption, Pharma, Oil & Gas, Auto ancillaries, Petroleum products, and Fertilisers are among the other core sectors in the fund's portfolio. The top 10 sectors combined account for around 80% of its assets. KEOF's portfolio is fairly diversified across cyclical, sensitive as well as defensive sectors.
Suitability
KEOF has rewarded its investors with superior risk-adjusted returns in the past few years, and has the ability to do so in the future as well. KEOF carries an impressive track record under the supervision of Mr Harsha Upadhyaya whose smart sector and stock selection strategy have worked in the fund's favour.
The portfolio of KEOF is diversified across range of stocks. However on the broader level, the portfolio is skewed towards a few sectors. Although they have together helped the fund drive through the past market rallies, the fund may feel the pressure resulting in short term underperformance if one or more sector moves out of favour. Moreover, with significant allocation mid caps, the portfolio could be prone to bouts of high volatility.
This makes KEOF suitable for aggressive investors with a long term wealth creation objective.
PS: If you wish to select worthy mutual fund schemes, I recommend that you subscribe to PersonalFN's unbiased premium research service, FundSelect.
Additionally, as a bonus, you get access to PersonalFN's popular Debt mutual fund research service, DebtSelect.
PersonalFN recommendations go through our stringent process that assesses both quantitative and qualitative parameters, providing you with Buy, Hold, and Sell recommendations on equity and debt mutual fund schemes.
If you are serious about investing in a rewarding mutual fund scheme, Subscribe now!
Note: This write up is for information purpose and does not constitute any kind of investment advice or a recommendation to Buy / Hold / Sell a fund. Returns mentioned herein are in no way a guarantee or promise of future returns. As an investor, you need to pick the right fund to meet your financial goals. If you are not sure about your risk appetite, do consult your investment consultant/advisor. Mutual Fund Investments are subject to market risks, read all scheme related documents carefully.
Author: Divya Grover
This article first appeared on PersonalFN here.
Join Now: PersonalFN is now on Telegram. Join FREE Today to get 'Daily Wealth Letter' and Exclusive Updates on Mutual Funds
PersonalFN is a Mumbai based personal finance firm offering Financial Planning and Mutual Fund Research services.
Disclaimer:
The views mentioned above are of the author only. Data and charts, if used, in the article have been sourced from available information and have not been authenticated by any statutory authority. The author and Equitymaster do not claim it to be accurate nor accept any responsibility for the same. The views constitute only the opinions and do not constitute any guidelines or recommendation on any course of action to be followed by the reader. Please read the detailed Terms of Use of the web site.
More Views on News
Apr 9, 2021
PersonalFN's analysis on the features and performance of Mirae Asset Tax Saver Fund.
Apr 9, 2021
The Indian government recently announced cut backs on crude oil imports from Saudi Arabia. Does this change our crude oil trading blueprint. Find out...
Apr 9, 2021
This could take India to the position of 3rd largest economy.
Apr 8, 2021
Domestic mutual funds have turned net buyers worth Rs 2,476 crore in the Indian equity markets in March 2021 for the first time in the last 10 months.
Apr 8, 2021
In this video, I'll tell you why the Indian consumer has started to take the price of gold and silver higher.
More Views on News
Most Popular
Mar 30, 2021
In this video, I'll tell you why I am recommending caution in the market at this time.
Mar 31, 2021
A tiny chemical company, started in the Licence Raj era, is a great example of a new wealth creating opportunity.
Mar 31, 2021
In this video I'll show you exactly how I go about picking stocks for trading.
Mar 30, 2021
100 baggers of the last decade share this common trait. Here's how to use it to nail future multibaggers.
More