What If Your Mutual Fund Scheme Stops Accepting Fresh Investments?
What If Your Mutual Fund Scheme Stops Accepting Fresh Investments?
Feb 20, 2017
Why would any company abruptly discontinue selling a high-value product?
Sounds bizarre.
However, a few mutual fund houses have been cautiously refraining from promoting some of their best-performing schemes.
Why?
They believe that it's in the best interest of existing investors.
Here's more on this story...
DSP BlackRock Micro Cap Fund (DBRMCF) will stop accepting fresh investments from February 20, 2017. And, this won't be the first instance of any mutual fund house discouraging the growth in Assets Under Management (AUM). In October 2016, another well-performing scheme, Mirae Asset Emerging Bluechip Fund (MAEBF) closed its doors to new investments. Among other popular schemes that have been on a diet are SBI Small & Midcap Fund (SSMF) and IDFC Premier Equity Fund (IPEF). Reliance Growth Fund (RGF) and Franklin India Prima Fund (FIPF) pioneered this trend.
Mr Vinit Sambre, Senior Vice President and Fund Manager, DSP BlackRock Mutual Fund, justified the latest move of the fund house saying, "While we continue to find interesting investment opportunities for the fund to invest in, its current size poses the bigger challenge of liquidity. It is challenging to incrementally build positions, i.e. to increase stock weightage of companies to a meaningful size in the portfolio."
AUM Growth over last 5 years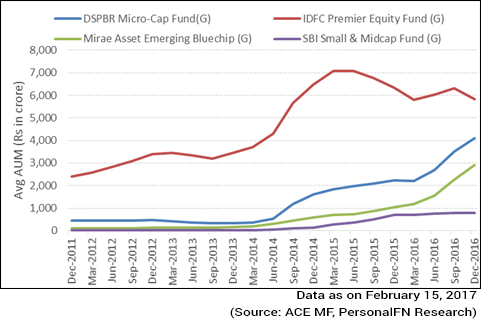 As compared to the rest of three funds, IPEF had a huge asset base in December 2011 quarter. The AUM of SSMF, DBRMCF, and MAEBF picked up only after the June 2014 quarter. The last 3-4 quarters have been fabulous for these funds. Contrary to this, IPEF has witnessed a dip in the AUM.
Has success become an enemy?
Data as on February 15, 2017
Rolling returns, upto 1-year, absolute for all other time periods, compounded annualised
(Source: ACE MF, PersonalFN Research)
The table above suggests that DBRMCF, SSMF, and MAEBF have outperformed S&P BSE 500 and Nifty Free Float Midcap 100 by a large margin across time periods. Despite the growing AUM over the last 5 years, these funds have generated attractive returns-thanks to astute stock selection and competent risk management systems. IPEF's relative underperformance vis-a-vis DBRMCF, SSMF, and MAEBF suggests how does the growing popularity of the fund can drag its performance in future. You would be surprised to know, once, even IPEF was as fervid and as popular as DBRMCF, SSMF, and MAEBF have been over the last few years. IPEF is a well-managed fund even today, but its size seems to have worked against it over time.
Why does the high AUM work against an outperforming fund?
Small and microcap funds invest in companies which are small but have a tremendous growth potential
Smaller the size of the company, more illiquid would be the stock. Meaning, buying and selling large quantity of shares at a single price becomes difficult
To address liquidity concerns and curb the downside risk to the portfolio, schemes with higher AUM start diversifying into larger midcaps, and sometimes largecaps
As the average market cap of the portfolio goes up, it tends to become more stable and thus generates less lucrative returns in the subsequent times
Are mutual fund houses following the right path?
The nature and structure of a small and microcap funds are flawed. For the purpose of the record, more than 5,000 companies are listed in India, but there are only a few hundred companies that might be considered fit for investing. This significantly reduces the universe of stocks a fund can handpick from. As the asset base grows, problems of small and microcap funds amplify.
What makes things tougher at present?
Expensive valuations;
Lack of earnings growth;
Tough economic conditions; and
Huge appetite among domestic investors for risky stocks
Investors get quickly carried away by the recent performance of a fund. Since the markets got re-rated after Modi Government came to power, small and microcap funds have generated phenomenal returns.
However, if the current situation prevails for long, the funds might find it difficult to repeat their historical performance. Whenever that happens, those who invest in small and microcap funds with the aim of generating unparalleled returns, exit disappointed. Before this situation arises, some mutual fund houses voluntarily stop accepting fresh investments.
It seems, restricting the new investments is a prudent way for small and microcap funds at this juncture.
What should be your approach under current scenario?
A flexicap fund that invests across market caps can serve your investment objective as you vie to take exposure astutely across market capitalisation. A 'focused' strategy may generate extremely pleasing returns so adopt it in the interest of your long-term financial wellbeing.
If you are looking for financial advice about the funds you should invest in, try out unbiased mutual fund research services offered by PersonalFN.
PersonalFN is a Mumbai based personal finance firm offering Financial Planning and Mutual Fund Research services.
Disclaimer:
The views mentioned above are of the author only. Data and charts, if used, in the article have been sourced from available information and have not been authenticated by any statutory authority. The author and Equitymaster do not claim it to be accurate nor accept any responsibility for the same. The views constitute only the opinions and do not constitute any guidelines or recommendation on any course of action to be followed by the reader. Please read the detailed Terms of Use of the web site.
More Views on News
Mar 22, 2018
Certain blue chips hold the potential of delivering returns comparable to small-cap stocks. With these stocks, you can get the best of both worlds.
Nov 29, 2017
Stocks that could beat Sensex returns in the long term.
Jul 20, 2018
Bill Bonner talks in detail about US president been accused of treason, biggest debt default in China, the problem of growing inflation and the trade war.
Jul 20, 2018
Here's is a business in small cap space that is asset-light and yet profitable - A serious contender for the list of future blue chips.
Jul 20, 2018
While the attack on the bad corporate governance is an overhang in the near term...this can be a game-changer in the years to come.
More Views on News
Most Popular
Jul 12, 2018
Blindly following super investors is a dangerous game to play. Here's how you can avoid such mistakes.
Jul 10, 2018
If you're worried about the markets - you are on the wrong track. This is opportunity - put your wealth-building hat on, instead - Richa shows you how...
Jul 11, 2018
The price signals that MSP sends out, creates its own set of problems.
Jul 11, 2018
PersonalFN explains how ICICI Prudential Mutual Fund flouted the norms of related party transactions while subscribing to the IPO of ICICI Securities.
Jul 10, 2018
PersonalFN highlights the key points of distinction between PPF and mutual funds.
More