Looking for Best Value Funds to Invest in 2020?
Looking for Best Value Funds to Invest in 2020?
Feb 20, 2020
Value investing is all about finding the 'hidden gems' of the equity market. Investors often look at the price of the stock while ignoring the value that it commands.
The fact is, it's important to pay the right price for the right stocks. This is exactly what Value funds endeavour to achieve. These funds seek to pick undervalued stocks, i.e. the stocks' current market price is lower than its intrinsic/fair value, but with strong fundamentals and high growth potential.
Fundamentally strong companies available at attractive valuations are more likely to overcome hurdles over time which will then be reflected in their stock price. This makes Value funds a sound proposition for long term wealth creation.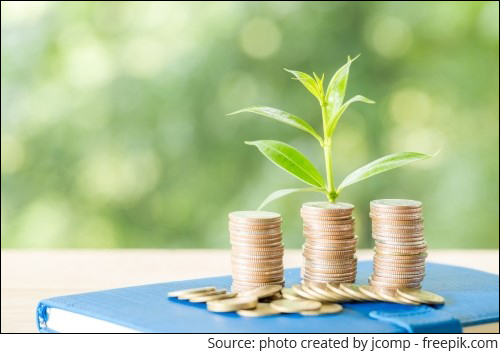 What are Value Funds?
Value funds are equity-oriented mutual funds that follow the value-investment strategy, investing minimum 65% of its assets in equity and equity related instruments across market capitalisation. These funds aim to invest in stocks that are trading below their intrinsic value but have the potential to grow over time due to strong business fundamentals. When the stocks in the portfolio realise their true worth, investors are rewarded with higher gains.
To select rewarding mutual fund schemes to add to your mutual fund portfolio.
Subscribe to FundSelect, PersonalFN's unbiased premium research service, will provide insightful and practical guidance on equity and debt mutual funds schemes - the ones to Buy, Hold, or Sell.
Don't lose this investment opportunity in the interest of your financial wellbeing.
Value funds can offer a better risk-reward potential because they are better positioned to manage the downside risk during a market fall, but they may not participate well during a bull run.
Graph 1: Placement of value funds on risk-return spectrum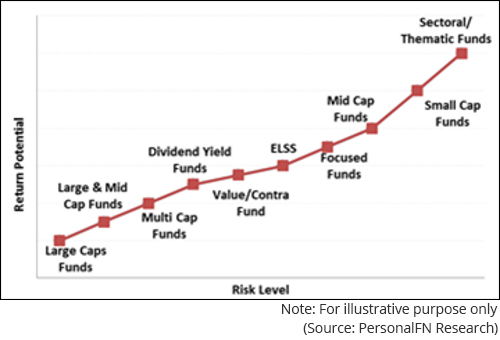 On the risk-return spectrum, Value Funds are placed between ELSS and Divided Yield Funds. As the fund managers of value funds invest in undervalued stocks, some of their bets may not pay-off immediately. Thus, value funds can underperform over the short to medium term. This makes value funds high-risk high-return investment proposition.
Value funds can form a part of your core portfolio if you can handle an extended period of underperformance and if your investment horizon is more than 5 years.
--- Advertisement ---
No crash, correction, or pandemic can STOP This..

At last, it's happening...

Right here in India...three hidden mega-trends are converging for the first time ever to trigger an economic boom of unparalleled proportions.

A boom so powerful - no crash, no correction, and no pandemic can STOP India from becoming the next economic superpower...

And those who take advantage of this mega shift could potentially generate massive wealth for themselves and their families in the long run.

We are talking about  potential 1,000% gains...and perhaps even more over the long term.

But trust me, people who pass this opportunity will regret their decision in the years and decades to come...

So, if you want to save yourself from potential downsides of this mega shift...

...and instead, leverage on it for potential windfall gains...

Join us on 15th April at my special event...

We'll reveal the full details there.

Here's Your Free Pass to Our Special Event
------------------------------
Table: Will value funds make a comeback in 2020?
Data as on February 17, 2020
(Source: ACE MF)
Value funds have been largely out favour in the last couple of years due to the lack of value-buying opportunities. Due to the prolonged economic slowdown, investors shunned mid and small caps where value funds have substantial exposure. On the other hand, growth stocks continued to rise despite high valuations making it more attractive for investors. This led to a sharp underperformance in most of the schemes in the category.
[Read: Growth v/s Value Investing: Which Is Better Of The Two In Current Times?]
The extended underperformance in the last couple of years has dragged down the returns for longer investment horizon of 5 years as well. However, in the last one year, some of the funds witnessed significant improvement in performance which could be due to tweak in orientation to growth stocks.
While investing in value funds it is important to invest in a fund that sticks to the guiding principles of 'Value Investing' for its portfolio construction activity. Also assess the following while selecting a value fund:
Does it follow a bottom-up approach to stock-picking, wherein the company's fundamentals and competitiveness, business model, management quality are deeply evaluated; and then the sector, the prospects of the industry it operates in, and lastly, the overall macroeconomic environment.
The fund manager should hold each stock with conviction and not churn the portfolio too often. Ideally, a fund manager should be following a buy-and-hold investment strategy to derive the full potential of the stocks in the portfolio and maintain a low portfolio turnover ratio.
How responsive is the fund manager to the developments that affect the companies he/she holds in the portfolio, and the efficient use of cash to safeguard the portfolio?
And the expense ratio of a Value Fund should be one of the least in its category.
Graph 2: Crash in mid and small caps has provided opportunity to value-pick quality stocks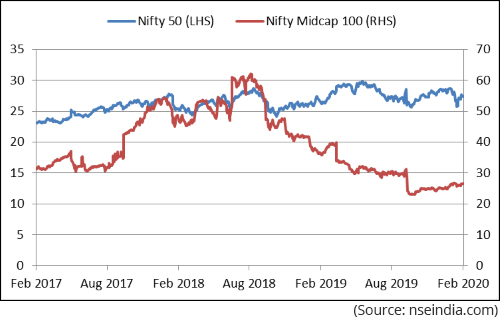 Outlook for Value Funds in 2020
India's macro-indicators continue to be weak despite several measures undertaken by the government and RBI. However, some green shoots point towards gradual economic recovery. As the economy recovers, investments in value funds may pay off, though a timeline of expected recovery cannot be ascertained.
Furthermore, at some point stocks trading at high valuations may begin to slip, but strong businesses helmed by a well-built management team available at attractive valuations might hold firm. In such a scenario, value funds can be a good portfolio diversifier.
Value investing requires patience; this category has been known to generate attractive returns in the past. While value funds may not generate chart topping returns, it may do well to protect the downside risk, thus providing improved returns over the long term.
If you wish to invest in value funds, opt for the systematic investment plan (SIP) route, given the volatile nature of equity market, while you endeavour to compound your wealth in leaps and bounds.
Editor's Note: If you wish to select worthy mutual fund schemes, I recommend you to subscribe to PersonalFN's unbiased premium research service, FundSelect.
Each fund recommended under FundSelect goes through our stringent process, where they are tested on both quantitative as well as qualitative parameters.
If you are serious about investing in a rewarding mutual fund scheme, Subscribe now!
Author: Divya Grover
This article first appeared on PersonalFN here.
PersonalFN is a Mumbai based personal finance firm offering Financial Planning and Mutual Fund Research services.
Disclaimer:
The views mentioned above are of the author only. Data and charts, if used, in the article have been sourced from available information and have not been authenticated by any statutory authority. The author and Equitymaster do not claim it to be accurate nor accept any responsibility for the same. The views constitute only the opinions and do not constitute any guidelines or recommendation on any course of action to be followed by the reader. Please read the detailed Terms of Use of the web site.
More Views on News
Apr 14, 2021
In this video, I'll tell you how the RBI's new quantitative easing program could affect the stock market.
Apr 14, 2021
Will apps like Netflix deal a death blow to theatres? Find out here...
Apr 13, 2021
PersonalFN explains the outlook for Banking & PSU Debt funds and the best Banking & PSU Debt funds that can be considered for investment in 2021.
Apr 13, 2021
Ajit Dayal on how India's vaccine strategy will impact the markets.
Apr 13, 2021
In this video, I'll you what I think is the real reason behind yesterday's market crash.
More Views on News
Most Popular
Apr 6, 2021
Rather than predicting the market, successful investing is more about preparing well and placing your bets accordingly.
Apr 1, 2021
What should you do if the market falls? In this video, I'll tell you what I will do.
Apr 1, 2021
A favourable demand supply scenario makes a strong case for real estate prices.
Apr 13, 2021
Ajit Dayal on how India's vaccine strategy will impact the markets.
Apr 1, 2021
Rahul Shah on whether Bharti Airtel will emerge as the next big thing in the Indian stock market
More