Don't Believe These Lies About Creating Wealth
Don't Believe These Lies About Creating Wealth
Feb 21, 2017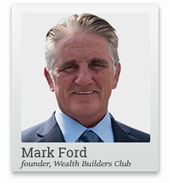 When I decided to get rich, I didn't know the first thing about creating wealth.
I was an editor. I wanted to be a novelist. I'd never taken a course in finance or economics. Plus, I was broke.
But I had a great advantage. I was working for a human wealth machine - a man who, at 43, had already created three hugely profitable businesses.
He adopted me as his surrogate son and taught me everything he knew.
I retired 12 years later, with a net worth well in excess of $10 million.
After two years, I went to work as a business consultant at Agora (Equitymaster's partner company), one of the largest and most successful consumer newsletter publishers in the world. Agora's founder, Bill Bonner, taught me everything he knew. As a result, my wealth has multiplied many times over.
I wrote about entrepreneurship for 10 years. I wrote close to a dozen books and thousands of essays. I adopted my readers as surrogate siblings, teaching them everything I knew about starting businesses.
At 60, I started Common Sense Publishing. Since then, I've tried to tell you everything I know about creating wealth - which is a bigger and more complicated subject than entrepreneurship.
Let's begin with some of the lies about creating wealth...
Don't believe these so-called "facts"
I've learned not to believe them, but they're still perpetuated by the great, mainstream financial complex made up of the government, bankers, brokers, and the press:
Wealthy people are stingy for a reason. The secret to becoming wealthy is to scrimp and save.
The stock market is the most efficient way to invest. You can't become wealthy unless you understand and master the stock market.
There's an inverse relationship between risk and reward. If you aren't willing to take big risks, you'll never enjoy big profits.
Do any of these "facts" sound familiar? If so, pay attention.
I'm not the only person in the world who went from broke to rich. There are many, many people who've done so. Some have written books about it.
I don't read all of the popular books on wealth building. I'm comfortable with the system I've developed myself - through my own experience. I don't follow the advice of others, except when it dovetails with my own experience.
That's not to say my system is the only one that works. Nor is it the right system for you.
But you're my surrogate sibling. I want you to succeed. The only way I can help you is to tell you what I know to be true.
And this is what I know - from my own experience - to be the truth about creating wealth:
Fact #1
You'll never get rich unless you understand some fundamentals about saving, spending, and investing.
Fact #2
The most important factor in wealth building is your net investible assets - the amount of money you're able to invest. It's what you have left over each month after you've taken care of your regular expenses - your car, home, debts, and loans.
Fact #3
Stock and bond investing is an inadequate strategy for building wealth. It won't make you rich.
The best investment you can make is to acquire equity in a start-up business. There are many ways to do this. The most common ways are downright foolish. But there are smart ways to do it, even if you're a novice.
Next to entrepreneurship, investing in real estate can provide the highest return you can get from any financial endeavour... if you do it right.
Fact #4
The most important factor in avoiding the spending spiral that kills wealth is to stay in the house you have now. Or downsize. Nobody else I know has made this simple point.
But I can - and will - prove to you it's true.
Fact #5
The biggest mistake retirees make is giving up their active income.
Yes, I know that's exactly what you hope to do. But to keep your wealth for a lifetime, you need multiple streams of passive income. Your goal should be to build each stream of income to a level where you can live on that and that alone.
Do these statements make sense to you? If so, how are you doing?
Helping the "not yet wealthy"
Most of our new members aren't wealthy. They're worried they don't have enough money to follow the advice they're being given.
It's difficult to create wealth when you're essentially broke, burnt out by following the "lies" I mentioned before.
That's the reason I started the Wealth Builders Club.
The goal was very simple: I wanted a program that could help club members generate an eight-figure net worth in eight years or less.
That may seem like an impossible goal. But I assure you, it's not. I've seen motivated, driven individuals do it time and again during the past 30 years of my career.
Some of our own team members are following my advice and documenting their journeys for readers.
Now, the Wealth Builders Club is a work in progress. We have so much more planned for it. But already, it's much better - and much more comprehensive - than anything else I've seen.
Look at what some Wealth Builders members are saying:
It gives me great pleasure to inform you that my first major project of tripling my income has been achieved!!! ...Mark Ford brought in the fundamental shift in my approach by making me go for increased cash flows. - Club member Akshat T.
I quit my day job last week to work full time at [my new online business]. Your newsletter inspired me. My sales are growing monthly. Thanks for the common sense you put out there. It's made a big difference in my life. - Club member MB.
I've never seen anything like the Wealth Builders Club. It goes into so many aspects of wealth, and does so in a very thorough manner. Thanks for your help and the help of all the others who've made this possible.  - Club member BT.
What now?
If you're not yet wealthy, then don't sit there and be complacent. The right plan get you out of this somewhat-comfortable place, to a confident, wealthy, never-have-to-worry-about-money place.
A place where everyone should be.
Please - don't be another serial reader or thinker. Things only change when you take action.
The best time to take action is always right now.
Do you have a plan?
If not, I urge you to take a look at my wealth-building blueprint.
Anyone - with the proper mindset and the right plan - can become a millionaire in seven years or less. The blueprint details the exact way to do it in the Wealth Builders Club.
Note: I've been told Anisa is putting together a never-seen-before wealth-building blueprint report. If you want to choose a larger life, I suggest you keep your eyes open for it.
Mark Ford is a globally renowned author, entrepreneur, millionaire wealth coach. He founded the Wealth Builders Club which has helped hundreds of people around the world achieve a financial success most people only dream of.
Disclaimer:
The views mentioned above are of the author only. Data and charts, if used, in the article have been sourced from available information and have not been authenticated by any statutory authority. The author and Equitymaster do not claim it to be accurate nor accept any responsibility for the same. The views constitute only the opinions and do not constitute any guidelines or recommendation on any course of action to be followed by the reader. Please read the detailed Terms of Use of the web site.
More Views on News
Apr 25, 2019
PersonalFN emphasizes on the importance of reviewing your mutual fund portfolio.
Apr 25, 2019
Meet an astute trader who trades anything that moves...right from potato and wheat to gold and US Dollar and makes big money from it.
Apr 25, 2019
Financial planning does not stop after retirement. Here is how retirees can build their mutual fund portfolio.
Apr 24, 2019
PersonalFN analyses if investing in the New Fund Offer: Principal Small Cap Fund will be worthy proposition based on its investment objective, asset allocation, investment strategy and the outlook.
Apr 24, 2019
When IL&FS debt conundrum came to light about 6 months ago, the western media termed it as India's Lehman moment.
More Views on News
Most Popular
Apr 12, 2019
This critical business strategy has enabled companies to scale their operations faster.
Apr 12, 2019
Here's how one could have generated gains of Rs 59,250 in 10 days by trading HDFC and HDFC Bank with a capital of Rs 4 lakh.
Apr 16, 2019
For 30 years he has watched how elections impact the markets, and practiced how to profit from it. Now he is here...telling you everything. Read on...
Apr 17, 2019
20% of all the traders bring in 80% of the money. Watch these 20% and you get a working idea of which way the wind is blowing.
Apr 15, 2019
It's our great pleasure to introduce Vijay Bhambwani to our readers - we consider Vijay to be India's best trader. Read on to find out why...
More