A 7-Step Approach Followed By Financial Guardians To Build Wealth
A 7-Step Approach Followed By Financial Guardians To Build Wealth
Feb 23, 2017
In today's article, we take a step forward and evaluate 7 steps followed by practicing financial guardians to build their clients wealth.
Yes, that's right! Your wealth...
But before we share the 7 steps, here is what you should know-The government does not regulate financial planners as financial planners. Instead they regulate planners by the services they provide.
As a result, the term 'Financial Planner' may be used inaccurately by some financial advisors. To add to the confusion, many financial advisors like accountants, insurance agents, and other investment advisors (such as post office agents) offer financial planning services too. To be sure that you are getting the right financial planning advice, ensure your financial guardian/advisor/planner follows the 7 step approach.
7 step approach in wealth building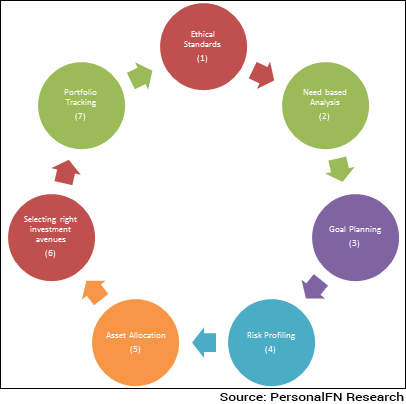 Ethical Standards: Whether you choose a doctor or a financial guardian, the one parameter that ranks at the top is his/her fiduciary standards. There are countless stories of financial advisors taking advantage of a client's ignorance and siphoning off their hard earned money. Advisors with loose ethical standards recommend financial products that pay them more (i.e. they recommend financial products that earn high commission) often at a client's expense.

Although it is very difficult to judge the ethical standards of an advisor in the first meeting, his remuneration model can tell you a lot about him/her.

Primarily, there are 3 ways in which a financial advisor/guardian is being compensated today in India:

Purely fee based model: These advisors, though scarce, offer advice based on a fee (just like doctors, chartered accountants, lawyers, architects etc.). They don't sell any financial product and may direct you to a product distributor, if you wish to implement their suggestions. Although, there is high probability of securing honest advice, the fees are steep and middle class families find it difficult to afford their service. These advisors/guardians/planners principally cater to the elite segment of HNIs and Ultra HNIs.
Fee + commission model: Most financial planners/advisors/guardians in India follow this model. Because the advisor is getting compensated through commissions, he lowers his fees vis-a-vis a fee-based advisor. The fees range between Rs 5,000 to Rs 20,000 depending upon the complexity of the case. Although the chances of advisors 'beneficial interest' creeping up in the advice cannot be ruled out, the advice will be beneficial to middle class families who cannot afford the advice of a fee-based advisor/planner/guardian.
Purely commission model: These financial advisors/planners/guardians should be avoided at all costs. Don't fall for their smooth talk and RUN when you hear they have your best interest in mind. They are agents of product manufacturers in the guise of planners. They often recommend financial products that cater to their best interest (read: high commissions). Most insurance agents, bank relationship managers, post office agents, etc. fall into this category.

Need-based analysis: Need Analysis is the process of identifying and evaluating needs. The identification of needs is a process of describing "problems" and possible solutions to these problems. A certified financial guardian (CFG) recommends a solution to you only after understanding your concerns. He is like a doctor who recommends a cure after diagnosing your problem.
Goal Planning: Many people feel as if they're adrift in the world. They work hard, but they don't seem to get anywhere worthwhile. A key reason that they feel this way is: not having spent enough time thinking about what they want from life, and haven't set themselves formal goals. After all, would you set out on a major journey with no real idea of your destination? Probably not! CFGs work along with their clients to build S.M.A.R.T financial goals. These goals have milestones which not only keep the clients on track but also keep them motivated.
Risk Profiling: A wise old saying reads--"All five fingers are not identical". A strategy that worked for your neighbour may not work for you. What is required is to assess your risk profile before choosing the financial product. A risk profiler are a list of questions that will help you know exactly how you feel if an unforeseen event had to happen (say a sudden stock market crash) or what matters to you most-capital protection or capital appreciation with high returns, etc. These questions will make you look deeper within yourself and touch upon the qualitative factors of decision making. A CFG would, at all times, connect the quantitative factors with the qualitative before proceeding to recommend the financial products.
Asset Allocation: The earliest note of the famous saying "Don't put all your eggs in one basket" is in 1710, in the Oxford dictionary of English proverbs. And that is exactly what asset allocation is all about! Asset allocation talks about wisely distributing your income across equity, debt, and gold based on your financial goals, risk profile, and the time horizon to meet these goals.
Selecting the right investment avenues: Contrary to popular belief, selecting an investment avenue falls almost at the last stage of decision making. At the same time, there are complex and confusing financial products that can intimidate most individuals. An expert CFG will recommend a product to his clients after taking all of the steps above into consideration.
Portfolio tracking, review and revision: No one knows what the future holds. The financial instruments that may be performing well today may not do so tomorrow. Similarly, the financial goals may change with time. The portfolio that you have developed today not only needs monitoring but also revision. This is what a CFG would do. He/she will monitor the progress of your portfolio to see if it is in-sync with your goals and suggest revisions wherever necessary.
These 7 step approach helps a client build his wealth. A Certified Financial Guardian (CFG) commits to adhering these steps and place the client's best interest ahead of his/her, at all times. It is time to search for one nearest to you and seek an appointment.
PersonalFN is a Mumbai based personal finance firm offering Financial Planning and Mutual Fund Research services.
Disclaimer:
The views mentioned above are of the author only. Data and charts, if used, in the article have been sourced from available information and have not been authenticated by any statutory authority. The author and Equitymaster do not claim it to be accurate nor accept any responsibility for the same. The views constitute only the opinions and do not constitute any guidelines or recommendation on any course of action to be followed by the reader. Please read the detailed Terms of Use of the web site.
More Views on News
Mar 22, 2018
Certain blue chips hold the potential of delivering returns comparable to small-cap stocks. With these stocks, you can get the best of both worlds.
Nov 29, 2017
Stocks that could beat Sensex returns in the long term.
Jul 17, 2018
Tanushree Banerjee bets you would not want to leave your money with these unsafe banks...
Jul 17, 2018
And there will be no getting trapped with Amtek, Vakrangee, or Manpasand like stocks.
Jul 17, 2018
Evidence from around the world shows that populism can only lead to more populism and this is clearly not good news for the Indian economy.
More Views on News
Most Popular
Jul 4, 2018
The FDI numbers do not look very impressive once we adjust for repatriations as well as the overall growth in the economy.
Jul 12, 2018
Blindly following super investors is a dangerous game to play. Here's how you can avoid such mistakes.
Jul 10, 2018
If you're worried about the markets - you are on the wrong track. This is opportunity - put your wealth-building hat on, instead - Richa shows you how...
Jul 6, 2018
ICICI AMC launches an open -ended equity fund following Pharma, Healthcare, Diagnostic and allied theme.
Jul 6, 2018
Buy Companies that can fight all kinds of Pandas and Bears in the long run.
More