Bond Yields At Multi-Year Low. Here Is How It Will Impact Your Debt Mutual Fund
Bond Yields At Multi-Year Low. Here Is How It Will Impact Your Debt Mutual Fund
Mar 13, 2020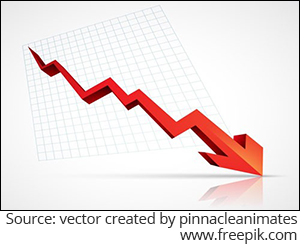 Lakhs of crores of investors' wealth have been wiped out in just few days. Equity markets are on a free fall with no end in sight, succumbing to the double whammy of slowing economy and coronavirus.
To add to it, price wars between major oil producing countries and financial instability caused by the Yes Bank debacle is keeping equity markets on its toes.
Last week I covered an article which explained how a strategic portfolio of equity mutual funds can protect your long-term wealth from such market mayhem.
But what about investment in debt mutual funds?
Can it provide solace from the carnage in equity markets?
If you are an investor in debt mutual funds, recent developments in the bond market provide a reason to cheer.
India's 10-year benchmark yield has fallen below the demonetisation level, leading to a rally in bonds; as you know, bond yield and prices are inversely related.
The benchmark yield fell by 1.92%, highest single day decline, to a record low of 6.07% on Monday, March 09. Along with it yields of securities with shorter maturities are declining as well.
Reasons for falling bond yields:
RBI's liquidity operations through unconventional steps
In 2019 RBI cut policy rates by a cumulative 135 bps to boost liquidity in an ailing economy. But as the transmission of this cut to customers proved to be slow, the central bank sought other measures.
The first step in this was Operation Twist conducted on December 23, 2019 through which RBI bought 10-year government bonds worth Rs 10,000 crore while selling four short-term government bonds of equal value. The aim of this was to moderate the rates of medium to long term securities.
Next, RBI conducted four Long-term Repo Operation (LTRO) worth Rs 25,000 crore each to provide liquidity to banks for their 1-3-year needs at the prevailing repo rate. This helped bring down yields for short-term securities.
Graph: India's 10-year bond yield declined sharply in the past few months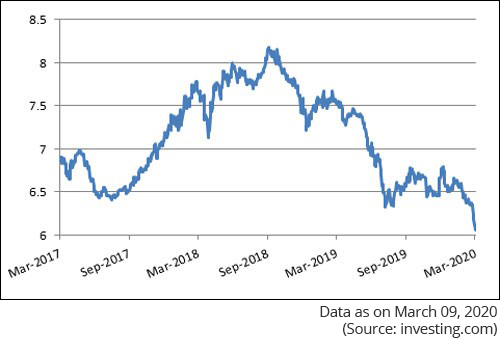 Virus fears fuel rate cut expectation
In an unexpected move, the US Fed cut interest rate by 50 bps to combat the risk of coronavirus on US economy. Following the US, Malaysia and Australia also reduced policy rates. It is expected that RBI may follow suit to support growth through rate cuts and other liquidity measures.
Last week RBI announced that it is closely monitoring the impact of coronavirus on financial market and is ready to take necessary action, including rate cut, to ensure orderly functioning of financial markets. The expectation of rate cut pushed bond yields lower.
Falling crude prices a positive for fiscal balance
Crude oil prices have been plunging ever since coronavirus and its impact on global economic activity raised concerns over demand for fuel. Oil prices reached below $30 a barrel on March 09, after OPEC failed to strike a deal with ally Russia on production cuts to support prices, causing Saudi Arabia to slash prices. India a net importer of crude is likely to benefit from lower crude prices as it will bring down concerns regarding fiscal deficit.
In addition to fuel prices, correction in vegetable prices would also contribute to lower inflation rate, providing more room for rate cut.
What it means for debt mutual funds
The falling yields have made debt mutual funds attractive for investors. According to Mr N Venkatesh, Chief Executive, AMFI, inflows in debt mutual funds may start improving with the falling yields.
Just like equity funds, debt mutual funds too must be selected based on your risk appetite and investment horizon.
Debt mutual funds with longer maturities provide better returns and they tend to perform well when interest rates are falling. However, they are more sensitive to changes in prices. Therefore, they may prove to be riskier in uncertain times such as now.
Thus, you may consider sticking to shorter duration funds such as short-term, ultra-short term, liquid, and overnight funds. However, if you are willing to take extra risk, consider allocating a portion of your debt portfolio in dynamic bond funds so as to take advantage of changing rates.
Ensure that you select even short duration funds carefully. In the past, some fund houses have proved to be habitual risk takers, taking investors for granted. The latest example being the Yes Bank crisis, where some shorter duration funds had exposed its investors to higher risk.
So when in doubt, prefer the safety of principal over returns. Choose debt mutual funds where the fund house has a robust investment process and risk management strategy in place and where the fund manager does not chase returns by taking higher credit risk.
At PersonalFN, we select and recommend mutual funds on quantitative and qualitative parameters using our S.M.A.R.T Score Matrix:
S - Systems and Processes
M - Market Cycle Performance
A - Asset Management Style
R - Risk-Reward Ratios
T - Performance Track Record
If you wish to select worthy mutual fund schemes, I recommend you to subscribe to PersonalFN's unbiased premium research service, FundSelect.
Each fund recommended under FundSelect goes through our stringent process, where they are tested on both quantitative as well as qualitative parameters.
Every month, PersonalFN's FundSelect service will provide you with insightful and practical guidance on equity mutual funds and debt schemes - the ones to Buy, Hold, or Sell.
If you are serious about investing in a rewarding mutual fund scheme, Subscribe now!
Author: Divya Grover
This article first appeared on PersonalFN here.
PersonalFN is a Mumbai based personal finance firm offering Financial Planning and Mutual Fund Research services.
Disclaimer:
The views mentioned above are of the author only. Data and charts, if used, in the article have been sourced from available information and have not been authenticated by any statutory authority. The author and Equitymaster do not claim it to be accurate nor accept any responsibility for the same. The views constitute only the opinions and do not constitute any guidelines or recommendation on any course of action to be followed by the reader. Please read the detailed Terms of Use of the web site.
More Views on News
Apr 16, 2021
A look at what India's top equity mutual funds bought and sold in March 2021.
Apr 16, 2021
PersonalFN's analysis on the features and performance of Kotak India EQ Contra Fund.
Apr 16, 2021
Those who don't learn from financial history are doomed to lose their money.
Apr 16, 2021
There is no stopping this 11-bagger stock from significant upside.
Apr 15, 2021
Rahul Shah on whether another big crash is likely and the ideal strategy to counter it.
More Views on News
Most Popular
Apr 13, 2021
Ajit Dayal on how India's vaccine strategy will impact the markets.
Apr 6, 2021
Rather than predicting the market, successful investing is more about preparing well and placing your bets accordingly.
Apr 9, 2021
This could take India to the position of 3rd largest economy.
Apr 13, 2021
In this video, I'll you what I think is the real reason behind yesterday's market crash.
Apr 12, 2021
This ignored sector could deliver big short-term profits.
More