Why A Mere Financial Plan Cannot Ensure Your Financial Wellbeing...
Why A Mere Financial Plan Cannot Ensure Your Financial Wellbeing...
Mar 14, 2017
Most financially savvy individuals understand the need to set financial goals and put a financial plan in place. However, only a few prudently draw a financial plan and actually execute it. The attention often is on picking mutual fund schemes in the limelight for their luring performance, rather than how these schemes or products will fit in to their financial plan.
There is no doubt that choosing the right equity fund or debt fund is important, but, it is equally important to understand, how much of your savings need to be direct towards these schemes to meet your financial goals and ensure long-term financial wellbeing.
This is only possible when you have a prudently drawn a financial plan in place; where you define financial goals SMARTly, i.e. make sure they're Specific, Measurable, Adjustable, Realistic, and Time-based. Moreover, as mentioned earlier, the key to its success lies in execution.
Financial planning may not be a cumbersome process, if you understand a few basic concepts, follow a great deal of discipline; in addition to getting the math right to set your financial plan in motion. And once you're on the path of achieving financial goals, you need to drown out the noise and remain focused.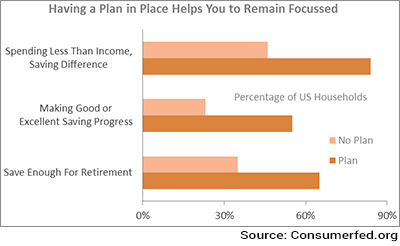 In the US, a study by the Consumer Federation of America found that those with a specific plan to reach their financial goals were far more likely to meet their financial needs, spend less, have emergency savings, and save enough for retirement. As many as 65% of individuals with a plan managed to save enough for retirement as compared to 31% of individuals who did not have a plan in place.
As mentioned before, to draw a prudent financial plan, it is necessary to understand a few basic concepts. But unfortunately in India, just 24% of adults are "financially literate" (as per a survey by Standard & Poor's Ratings Services). Even the affluent are not completely "financially literate". The survey found that just 26% of adults in the richest 60% of households understood financial basics, compared to 20% of adults in the poorest 40% of households.
In the survey, four basic questions were asked relating to: risk diversification, inflation, simple interest, and compound interest.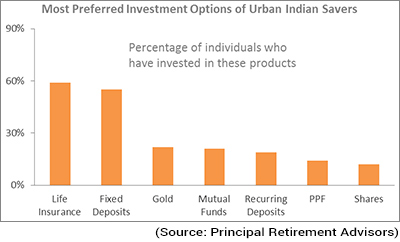 A person who answered three out of the four questions correctly was considered financially literate.
Of the questions asked, only 14% answered the one on risk diversification correctly, and just 51% understood the effect of compounding. Inflation eats wealth was astutely understood, as 56% answered the question on inflation correctly.
Lack of understanding of these concepts leads you to make poor financial decisions.
Not surprisingly, as per a survey of urban households by Principal Retirement Advisors, life insurance, and bank fixed deposits were the most preferred investment options. Over half the respondents have invested in both these products. However, just 21% are investing through mutual funds. Many individuals mentioned that safety is the most important criteria for their selection followed by returns.
It is unfortunate that financial instruments have been "push" products. Meaning, they are often sold than bought prudently recognising are utility. Thus unscrupulous financial distributors / agents / relationship manager have been taking many of you investors for a ride, (mis)selling products without undertaking a thorough need-based analysis. They've made merry earning high commissions, offering combination of insurance plans and few other guaranteed return products in the name of 'financial planning'. Therefore, it is not surprising that these products dominate many portfolios. Hence you ought to be wary amidst an environment which is turning rather unscrupulous and self-centred.
Key Action Points
Channelise your savings towards SMART financial goals.
Maintain the right asset allocation
Remain focused on your financial goals
Use Insurance only as a risk cover
Align Your Savings towards Your Financial Goals
If you've been investing randomly without being goal-centric, you first need to align your current investments towards your financial goals viz. buying a dream home, a car, funding for children's education need, their marriage, your retirement, amongst a host of others.
Ad hoc investments lead to improper asset allocation. So, ensure all your future investments are done keeping in mind your financial goals.
Ideally allocate your investible surplus into various asset classes, with due consideration to your age, income & expenses, assets & liabilities, risk profile, investment objectives, and nearness to financial goals; whereby investments can be done optimally while managing the risk involved. This will provide a clear course for your investments, rather than investing in an ad-hoc manner and/or in the endeavour to save tax during the financial year by exploring investment avenues under section 80C of the Income-tax Act, 1961.
Define your long term goals and invest accordingly. For example, if you are planning to live a blissful retired life, first calculate how much you need to save on a monthly basis. (Use PersonalFN's Retirement Calculator). Though retirement may be a long way off, it is best to start saving as early as possible to benefit from the power of compounding.
Choose the Right Products
Next, decide an investment mix which includes tax-saving investments as well to meet this vital life goal. So, don't spend time chasing the best performing mutual fund schemes, recognise the nitty-gritties of your financial plan, and choose the investment avenues beneficial to your investment portfolio.
Based on the ideal asset allocation for you, investment horizon of your goals, select the investment avenues. So say, if you have a long term investment horizon of 5-10 years or more, maintain a higher allocation towards equity. To have a fair idea of what your asset allocation should be, use PersonalFN's Asset Allocator.
Remain Focused on Your Goals
Once you have created your investment plan, keep it on track. Don't get swayed by the exuberance or feared by the short-term aberrations. Stay focused; don't panic as long as the long-term funds are in place.
Mr Jason Zweig, the author of several best-selling books on finance, has aptly said, "The right time to buy is whenever you have cash to spare. The right time to sell is when you have an urgent and legitimate need for cash. If you buy because the market has gone up, or sell because it has gone down, you are letting 90 million strangers rule your life with their greed and fear"
Thus, if you have long-term investment goals you should continue your investments irrespective of the short-term movement of the market, because historically, over the long term, equity has delivered inflation-beating returns on an average.
Use Insurance Solely as a Risk Cover
Don't look to get returns out of your insurance policies. Don't go by the claims often made by insurance agents, saying they are "risk-free" and at par with other financial products such as fixed deposits and other Small Saving Schemes.
The very purpose of insurance is indemnification of risk from an untoward event. And opting for a pure term plan is the most effective way to address your insurance needs, for a greater cost-to-benefit it offers. But when buying term insurance, make sure you have a sufficient cover to protect your dependents. To calculate your insurance needs, use PersonalFN's Human Life Value (HLV) calculator .
If you need handholding on the road to your financial wellbeing, don't hesitate to take services of Certified Financial Guardian (CFG), who stands as symbol of Trust and Respect. A CFG can make your dreams come true.
PersonalFN is a Mumbai based personal finance firm offering Financial Planning and Mutual Fund Research services.
Disclaimer:
The views mentioned above are of the author only. Data and charts, if used, in the article have been sourced from available information and have not been authenticated by any statutory authority. The author and Equitymaster do not claim it to be accurate nor accept any responsibility for the same. The views constitute only the opinions and do not constitute any guidelines or recommendation on any course of action to be followed by the reader. Please read the detailed Terms of Use of the web site.
More Views on News
Nov 29, 2017
Stocks that could beat Sensex returns in the long term.
Jun 10, 2017
Forty Indian investing gurus, as worthy of imitation as the legendary Peter Lynch, can help you get rich in the stock market.
Feb 23, 2018
Have you been wondering what the hoopla about Ethereum is? It commands the second highest value among virtual currencies and its popularity is rivalled only by bitcoin. Let's break it down.
Feb 23, 2018
If you want to receive the best ideas in the Indian stick markets...you need to heed this important announcement.
Feb 23, 2018
This IT Company can be a huge wealth Creator for Smart Money Secret's Subscribers.
More Views on News
Most Popular
Feb 17, 2018
Top three reasons for Tanushree's presentation at Equitymaster Conference to be centered around a possible 30% correction.
Feb 15, 2018
That's the loss, the government owned public sector enterprises are expected to make this year.
Feb 15, 2018
Once you accept the fact that elections are round the corner and that this budget is geared to reach a 40% target, everything makes sense.
Feb 12, 2018
Will Microcap Millionaires be able to replicate its past performance of beating the index by 2x?
Feb 15, 2018
The RBI overhauls bad loan framework. Banks may come under additional pressure due to rising NPAs and increased provisioning.
More