Liquid Funds v/s Overnight Funds: Where To Park Your Short-Term Money?
Liquid Funds v/s Overnight Funds: Where To Park Your Short-Term Money?
Mar 14, 2019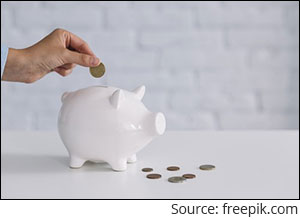 Have liquid funds started to go to seed?
With some of these funds losing as much as 5% in a day after the fallout episodes of DHFL and IL&FS, investors might have become slightly apprehensive about them.
[Read: Why Your Money In Liquid Funds Is At Risk?]
Will liquid funds be able to come up smelling of roses?
Only time can tell.
For now, investors seem to have turned more defensive and are searching for safer alternatives to liquid funds. In fact, Overnight funds have become their preferred alternative these days.
What's the difference between liquid funds and overnight funds?
Mandate and asset allocation
Overnight funds
According to SEBI's categorisation norms, overnight funds are open-ended debt schemes investing in overnight securities with a maturity of one day. They primarily invest in Tri-Party Repo (TREP).
According to The Clearing Corporation of India Limited (CCIL) a TREP is an alternate repo arrangement which seeks to provide borrowers control over their unencumbered collateral, with minimal settlement costs to the lender and independent confirmation that their lending is fully collateralised.
Liquid funds
On the other hand, liquid funds invest in debt and money market instrument papers with a maturity profile of upto 91 days. The investment basket of liquid funds is quite diverse. So they invest in a variety of money market instruments such as Certificate of Deposits (CDs) and Commercial Papers (CPs), which also carry higher credit risk as compared to other overnight instruments.
Risk involved
Overnight funds
Overnight funds have little chances of default risk since they mainly invest in collateralised securities. Since overnight funds invest in securities with a residual maturity of just a day, the interest rate risk involved therein is near zero. However, there can be a reinvestment risk, i.e. overnight funds may not be able to reinvest their proceeds at the same rate of return, but at least that doesn't cause any capital erosion.
Liquid funds
In comparison, unlike overnight funds, liquid funds don't restrict themselves to collateralised securities.
They invest in a range of securities which might involve credit risk like some mutual funds experienced in the case of Amtek Auto, Ballarpur Industries and IL&FS. SEBI has recently introduced marked-to-market norms for all securities held by liquid funds having a residual maturity of more than 30 days.
While mark-to-market risk can cause capital erosion, liquid funds tend to suffer losses on mark-to-market basis only when they take either excessive credit risks or interest rate risks.
Graph: Indicative Risk-Return Matrix -Debt Categories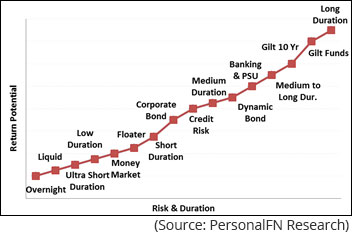 While selecting between liquid funds and overnight funds or any other debt mutual funds for that matter, you need to evaluate the risk return trade-off they have to offer.
Transparency
Overnight funds
They are more transparent as compared to liquid funds since the Net Asset Value of an overnight fund reflects the true value of the portfolio holdings as on a particular day.
Liquid funds
Since not all securities are valued at mark-to-market basis, any unforeseen drop in the value of any security in the portfolio can affect the total value of a portfolio.
Return potential
Since overnight funds tend to generate repos in line with RBI's policy rate, i.e. repo rate. Overnight funds are more sensitive to systemic liquidity conditions than liquid funds are. Excess liquidity drags potential return down and vice-versa.
Table: Overnight funds v/s Liquid funds...
Category average returns
Absolute returns (%)
1 Month
3 Months
6 Months
1 Year
Liquid funds
0.53
1.77
3.30
7.08
Overnight funds
0.48
1.57
3.15
6.31
Crisil Liquid Fund Index
0.54
1.83
3.75
7.69
Nifty 1D Rate Index
0.48
1.60
3.17
6.27
Data as on March 01, 2019
(Source: ACE MF)
Past performance is not an indicator for future returns. The percentage returns shown are only for an indicative purpose.
Mutual Fund investments are subject to market risks. Read all scheme related documents carefully. Speak to your investment advisor for further assistance before investing.
Liquid funds
Against this, liquid funds have a wide range of investment options and can hold securities with relatively longer residual maturity, as compared to that in overnight funds. Liquid funds have a high return potential, although at a slightly higher risk.
Verdict
Liquid funds are supposed to be an ideal alternative to one's savings bank account. That's the reason their primary objective is to keep your money safe and offer high liquidity. Remember, returns come secondary. But many fund managers seem to be neglecting the rule and aim for a higher yield on liquid funds instead. Primarily, most of them are in a race to attract more investors with the higher returns on liquid funds.
However, you shouldn't blindly select overnight funds over liquid funds. Rather, you should select a fund category depending on your time horizon and risk appetite. If you have a time horizon of less than a month and want to keep your money safe, it's better to go with overnight funds. On the other hand, if you are willing to take a slightly higher credit risk for a better yield and can stay invested for at least three months, liquid funds are still a place to be.
Please don't forget, IL&FS and DHFL fiascos aren't routine incidents. Mutual fund houses, hopefully, have learnt from their blunders. But it is still better to be cautious and do a risk-reward assessment before parking your money in liquid funds. Otherwise overnight funds are worth considering if you want safety of invested capital.
PS: Are you looking for "high investment gains at relatively moderate risk"? We have a ready solution that may be suitable for you.

In the 2019 Edition of PersonalFN's Premium Report, "The Strategic Funds Portfolio For 2025", you will get access to a ready-made portfolio of its top recommended equity mutual funds for 2025 that have the ability to generate lucrative returns over the next 5 to 6 years.
Author: PersonalFN Content & Research Team
This article first appeared on PersonalFN here.
PersonalFN is a Mumbai based personal finance firm offering Financial Planning and Mutual Fund Research services.
Disclaimer:
The views mentioned above are of the author only. Data and charts, if used, in the article have been sourced from available information and have not been authenticated by any statutory authority. The author and Equitymaster do not claim it to be accurate nor accept any responsibility for the same. The views constitute only the opinions and do not constitute any guidelines or recommendation on any course of action to be followed by the reader. Please read the detailed Terms of Use of the web site.
More Views on News
Apr 12, 2021
This ignored sector could deliver big short-term profits.
Apr 12, 2021
A tiny chemical company, started in the Licence Raj era, is a great example of a new wealth creating opportunity.
Apr 9, 2021
PersonalFN's analysis on the features and performance of Mirae Asset Tax Saver Fund.
Apr 9, 2021
The Indian government recently announced cut backs on crude oil imports from Saudi Arabia. Does this change our crude oil trading blueprint. Find out...
Apr 9, 2021
This could take India to the position of 3rd largest economy.
More Views on News
Most Popular
Mar 30, 2021
In this video, I'll tell you why I am recommending caution in the market at this time.
Mar 31, 2021
A tiny chemical company, started in the Licence Raj era, is a great example of a new wealth creating opportunity.
Mar 31, 2021
In this video I'll show you exactly how I go about picking stocks for trading.
Mar 30, 2021
100 baggers of the last decade share this common trait. Here's how to use it to nail future multibaggers.
More