Can Retirement Funds Help You Build A Respectable Retirement Corpus?
Can Retirement Funds Help You Build A Respectable Retirement Corpus?
Mar 14, 2019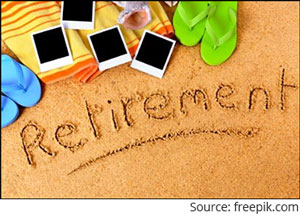 Imagine you are on a holiday, basking in the sun with your spouse along the coastline of pristine turquoise never ending expanse of water. Being in the moment of tranquillity and listening to the sound of the waves on the rocks. An aspiration suddenly surfs up, to own a house at such a beautiful place or spend the post retired life holidaying often on such coasts without having to worry about anything.
But the question is, how to achieve it? To own a beachfront property or to travel to beautiful places frequently is expensive.
Implement, retirement planning!
Retirement planning will ensure that your aspirations are achieved, and you enjoy a blissful rich retirement.
Why is it so important to do retirement planning?
Foremost, retirement - a phase where you stop working, income stops, and expenses continue. It is a phase you start living your life comfortably (the way you want) - whether it is stress-free or stressful is dependent on how well you plan for it.
[Read: Avoid These Mistakes While Planning For Your Blissful Retirement]
In my view, if you've planned well, it will definitely be stress-free, and you can have a steady flow of income till your demise.
"Life is full of uncertainties. Future investment earnings and interest and inflation rates are not known to anybody. However, I can guarantee you one thing... those who put an investment program in place will have a lot more money when they come to retire than those who never get around to it." -- Noel Whittaker.
But, are you following a prudent approach to retirement? Are you saving and investing enough appropriately in wealth-creating investment avenues to fulfil your aspirations?
A retirement plan takes care of:
Your daily expenses for your post-retirement life,
Your medical emergencies and can handle other contingencies (that could drain you emotionally and financially),
Maintaining your purchasing power by minimizing the erosion of inflation on your household budgets,
Your financial independence and enjoy financial freedom,
Your passion to pursue your hobbies during retirement.
However, before you start investing towards your retirement, you should be aware of the following points:
Time of your retirement (early or later)
The amount you will require for your survival to maintain your current lifestyle during retirement
Your risk profile (knowing your risk appetite and risk ability)
An optimum asset allocation strategy that will help you invest for your retirement (based on the above three points)
Current assets and liabilities
Adequate insurance
Contingency reserves
Current inflation
A number of years you have in hand to build your retirement corpus while you are working.
Where should one invest for retirement?
Saving and investing for your retirement is imperative and choosing the right asset class mix will help in building your adequate retirement corpus. In fact, a plethora of investment options are available and understand that each of them has a risk associated with it. So, assess the risk-return relationship before investing.
Table 1: Various assets and their nature
| | Equity | Debt | Gold |
| --- | --- | --- | --- |
| Return | High [Capital Appreciation & Dividend Income] | Low [Interest Income] | Medium [Capital Appreciation] |
| Risk | High | Moderate to Low | Moderate |
| Liquidity | High | Medium | Medium |
| Suitability | For long term Investors having high-risk appetite | For short term Investors having low-risk appetite | For long term Investors having the moderate risk appetite |
It must be noted that there are various plans offered by insurance companies too like the Unit-linked insurance plans, annuity plans, etc., that are being marketed/presented as good avenues for retirement needs. But, in my view, insurance and investments should be kept separate because combining the two is detrimental to your financial freedom.
And then there are government-backed schemes like pension plans, PPF, EPF, NSC along with the option to create bank Fixed deposits. Although the returns earned are fixed, these are unable to provide inflation-adjusted returns (known as real rate of returns).
Besides, interest earned on bank FDs and pension plans are taxable. While PPF and EPF are great retirement saving options that offer 8% compounded annualised tax-free returns. The downside is these cannot beat inflation.
[Read: 7 Investment Avenues for Your Post-Retirement Portfolio]
Hence you can include some portion to these avenues, but do not solely rely on them to grow your retirement corpus.
The best approach would be....
To invest in mutual funds, as you may know, enables you to diversify the investment portfolio to minimise risk, which is the basic principle of investing.
[Read: Thinking Of A Blissful Retirement? Here's Why You Can't Ignore Investing In Mutual Funds]
As you might be aware, the Securities and Exchange Board of India (SEBI) has allowed mutual fund houses to offer retirement plans as solution-oriented schemes. But retirement schemes must be offered as open-ended schemes with a lock-in period of five years or until retirement, whichever is earlier.
Hence not all Retirement Funds are worth your hard-earned money because if the scheme underperforms, you will be unable to switch to another worthy scheme.
PersonalFN is of the view that, instead of treating retirement funds as a special category, you should consider them on par with comparable schemes such as diversified equity funds, depending on their asset allocation.
Blindly investing in the so-called "best" retirement funds or pension plans will lead you nowhere, unless you have a plan in place.
The sooner you begin planning and making a serious effort to secure your retirement, the greater are your chances of achieving it. It is never too late to plan. Analysing your current financial situation and creating a plan is good at any stage of your life, but preparing for retirement gets more difficult the longer you wait to start saving.
Furthermore, you need to pay attention to your investment time horizon before you retire, so that liquidity is accessible when you actually need the money.
Hence, investing in a diversified equity mutual funds when you are young and having an investment time horizon of more than ten years before you hang up your 'work-boots', it is preferable to take on Systematic Investment Plans (SIPs), a mode of investing in mutual funds. This way you can deal with the market volatility better and equity performs well over a longer time frame.
[Read: Best SIPs To Invest in 2019]
And as you are nearing your golden years, it would be wise to shift to debt funds as your downside risk ability diminishes and you want to preserve capital.
To conclude:
You see, there are various parameters that you need to consider while planning your retirement as they can easily influence your retirement corpus and retirement. Moreover, most of us want to have a comfortable retirement for which adequate planning is necessary.
Hence, to make sure that you have enough money during your retirement, the golden years of life, start early and plan your retirement today! Procrastination will steal the benefit of compounding. Remember, the early bird gets a bigger worm.
Involving your family, particularly your spouse, is vital while you plan your retirement. Together, you can have better clarity on how you want to retire; how much will you spend and how much money you need for your retirement.
So, both of you can decide to reside in that beachfront property for a blissful retirement through retirement planning.
Editor's note: If you want a comfortable life post retirement, don't miss out on PersonalFN's Retire Rich service. This is a new and exclusive service with the sole intent of securing your retirement.
It is a DIY (Do It Yourself) retirement solution, where you can start planning for your retirement and potentially build a substantial corpus that could sustain you in the golden years of your life.

It is not merely a list of funds or a particular investment idea. It is a comprehensive solution to guide you with almost ALL the necessary essentials of retirement planning. Subscribe now!
Author: Aditi Murkute
This article first appeared on PersonalFN here
PersonalFN is a Mumbai based personal finance firm offering Financial Planning and Mutual Fund Research services.
Disclaimer:
The views mentioned above are of the author only. Data and charts, if used, in the article have been sourced from available information and have not been authenticated by any statutory authority. The author and Equitymaster do not claim it to be accurate nor accept any responsibility for the same. The views constitute only the opinions and do not constitute any guidelines or recommendation on any course of action to be followed by the reader. Please read the detailed Terms of Use of the web site.
More Views on News
Apr 19, 2021
This is how the Nifty can hit 16,000.
Apr 19, 2021
Why I believe the best days lie ahead for Equitymaster and for you.
Apr 16, 2021
A look at what India's top equity mutual funds bought and sold in March 2021.
Apr 16, 2021
PersonalFN's analysis on the features and performance of Kotak India EQ Contra Fund.
Apr 16, 2021
Those who don't learn from financial history are doomed to lose their money.
More Views on News
Most Popular
Apr 13, 2021
Ajit Dayal on how India's vaccine strategy will impact the markets.
Apr 6, 2021
Rather than predicting the market, successful investing is more about preparing well and placing your bets accordingly.
Apr 15, 2021
Narayana Murthy was one of the first unicorn founders to get the backing of this entity...
Apr 13, 2021
In this video, I'll you what I think is the real reason behind yesterday's market crash.
Apr 12, 2021
This ignored sector could deliver big short-term profits.
More