HSBC Large and Mid Cap Equity Fund - Should You Invest?
HSBC Large and Mid Cap Equity Fund - Should You Invest?
Mar 18, 2019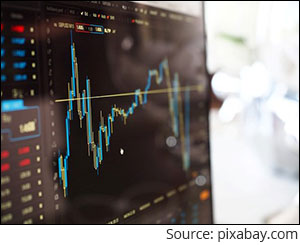 Up ahead of the Lok Sabha elections, HSBC Mutual Fund launches HSBC Large and Mid-Cap Equity Fund (HLMEF) an open-ended equity scheme that will invest predominantly in both large-cap and mid-cap stocks.
As per SEBI's categorisation norms, an equity-oriented mutual fund scheme is characterised as a large & mid-cap one only if it invests at least 35% of its total corpus each in equity & equity related instruments of large-cap stocks and simultaneously maintains minimum 35% allocation to mid-cap stocks (i.e. companies from 101st to 250th on full market capitalisation basis). The remaining portion is parked in debt & money market instrument.
HLMEF will follow the asset allocation limits to allocate its assets between 35% to 65% investment in equity & equity related instruments of large-cap and mid-cap companies each. The fund may also allocate utmost 30% of its assets to equities and equity-related securities of other than large cap and mid-cap companies with the remaining allocation to debt instruments and money market instruments.
--- Advertisement ---
3 Smallcap Stocks Set for a Massive Rebound

Since the beginning of 2018, smallcap stocks have been hammered hard.

The BSE Smallcap Index has fallen by about 50% since then.

And this has made a few excellent stocks available at dirt-cheap prices.

We've identified 3 such high-potential stocks. The returns they generate from these prices could be mind-blowing.

Potentially 200%, 400%, and even 900% in the coming years.

We're holding a special online event on 9th June where we'll reveal the details of these 3 stocks.

Please click here to sign-up for free
------------------------------
[Read:Why You Should Not Ignore Personalized Asset Allocation While Investing]
The fund house believes that the recent corrections in the large-cap space and mid-cap space provide a conducive opportunity to tap duality - stability of large-caps and high growth potential of mid-caps. Hence by launching HSBC Large and Mid Cap Equity Fund, HSBC mutual fund offers a right mix of Large Caps and Mid Caps to deliver higher growth with lesser volatility.
Graph 1: Risk return position of HLMEF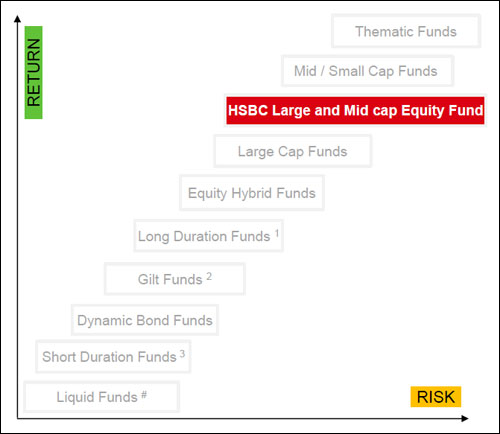 (Source: HSBC Large and Mid cap Equity Fund Presentation)
Being an equity scheme, HSBC Large and Mid Cap Equity fund has high risk. But it is placed below Mid, Small Cap and Thematic funds on the risk-return spectrum. Hence, it is considered to be the safest among equity funds after the large-cap funds.
[Read: Why Comparing Returns to Risk Is More Meaningful!]
--- Advertisement ---
How to Claim Bhambwani's 'Fast Profits' Book, Free

Today, we are going to show you how you can claim a hardbound copy of Vijay Bhambwani's Fast Profits book, virtually FREE.

This book is worth Rs 1,950.

But today you can claim it for virtually nothing.

How?

Just read the full details here...
------------------------------
Thus, when you plan for long-term goals, want the stability of large-caps along with the agility of mid-caps in the journey of wealth creation and accomplishing financial goals and if you have the stomach for moderately high risk, you may skew your equity portfolio to a Large & Mid-cap fund.
Table 1: NFO Details
Type
An open-ended equity scheme investing in both large-cap and mid-cap stocks.
Category
Large & Mid Cap Fund
Investment Objective
To seek long term capital growth through investments in both large cap and mid-cap stocks.

However, there is no assurance that the investment objective of the Scheme will be achieved.
Min. Investment
Rs 5,000 and in multiples of Re 1 thereafter
Face Value
Rs 10 per unit
Plans
Options

Growth*
Dividend (Pay-out and Reinvestment)

*Default option
Entry Load
Nil
Exit Load

Any redemption / switch-out of units within 1 year from the date of allotment shall be subject to 1% exit load.
No Exit Load will be charged if units are redeemed / switched-out after 1 year from the date of allotment.

Fund Manager
Neelotpal Sahai
Benchmark Index
NIFTY LargeMidcap 250 TRI
Issue Opens
March 11, 2019
Issue Closes
March 25, 2019
(Source: Scheme Information Document)
How will the scheme allocate its assets?
Under normal circumstances, it is anticipated that the asset allocation of HLMEF will be as follows:
Table 2: HLMEF 's Asset Allocation
Instruments
Indicative Allocation
(% of Total Assets)
Risk Profile
Minimum
Maximum
Equities & Equity related securities
Out of which:
a)Large Cap Companies
b)Mid Cap Companies
c)Other than Large Cap and Mid Cap Companies
80

35
35
0
100

65
65
30
Medium to High
Debt instruments & Money Market
instruments (including Cash & Cash equivalents)
0
20
Low to Medium
(Source: Scheme Information Document)
Further, it is stated in the offer document that, if the Scheme decides to invest in securitised debt, it is the intention of the Investment Manager that such investments will not normally exceed 20% of the corpus of the Scheme and if the Scheme decides to invest in ADRs / GDRs issued by Indian Companies and foreign securities in line with SEBI stipulation, it is the intention of the Investment Manager that such investments will not, normally exceed 30% of the assets of the Scheme.
The Scheme shall have derivative exposure as per the SEBI regulations issued from time to time. However, the Scheme does not intend to write call options under the covered call strategy. Further, derivatives exposure shall not exceed 50% of the net assets of the scheme.
--- Advertisement ---
Once-A-Decade-Opportunity: Five "Essential" Stocks to Buy Before the Lockdown Ends...

We're releasing an urgent telephone call transcript between our CEO Rahul Goel and research analyst Richa Agarwal.

Richa has identified five "essential" stocks that have the potential to unlock up to 3x gains over the next 4-5 years.

#1 "essential" stock could rise more than 4 times...

#2 "essential" stock has a potential upside of over 2.5 times...

#3 "essential" stock could potentially surge more than 3 times...

#4 "essential" stock has the potential to rise nearly 3 times....

#5 "essential" stock is well-placed to jump more than 3 times....

This is a rare, once-a-decade opportunity.

Each of these five "essential" stocks are perfectly placed to win the war against coronavirus.

Click Here to Read the Full Call Transcript and Get All Details of These Five "Essential" Stocks...
------------------------------
What will be the Investment Strategy?
The aim of HSBC Large and Mid Cap Equity Fund is to seek duality of growth and deliver above benchmark returns by providing long-term capital growth from an actively managed portfolio, comprising primarily of large cap and mid-cap stocks. The Scheme aims to be predominantly invested in equity and equity-related securities.
The Scheme will endeavour to achieve this by maintaining a minimum of 80% allocation to equity and equity-related securities out of which allocation of at least 35% each will be towards large cap stocks and mid-cap stocks. The Scheme will allocate the balance portion primarily towards all cap equity. The investment could also be made towards fixed income securities including money market instruments.
To construct the portfolio, a top down and bottom up approach will be used to invest in equity and equity related instruments. Investments will be based on the Investment Team's analysis of business cycles, regulatory reforms, competitive advantage etc.
The fund manager in selecting stocks will focus on:
The fundamentals of the business including profitability;
The industry structure;
The quality of management;
Sensitivity to economic factors;
The financial strength of the company;
Valuation and the key earnings drivers.
HLMEF will maintain a diversified portfolio spread across various industries/sectors in order to mitigate concentration risk.
As per the asset allocation pattern indicated above, for investment in debt securities and money market instruments, the Scheme may invest a part of its portfolio in various debt securities issued by corporates and/or state and central government. Such government securities may include securities which are supported by the ability to borrow from the treasury by or supported only by the sovereign guarantee or of the state government or supported by GOI/state government in some other way.
With the aim of controlling risks, rigorous in-depth credit evaluation of the instruments proposed to be invested in will be carried out by the Investment Team of the AMC. The credit evaluation includes
A study of the operating environment of the company;
The past track record as well as the future prospects of the issuer; and
The short as well as long-term financial health of the issuer.
The AMC will also be guided by the ratings of rating agencies such as CRISIL, CARE and ICRA or any other rating agency as approved by the regulators. The Scheme may invest in other Scheme(s) managed by the AMC or in the schemes of any other mutual fund, provided it is in conformity with the investment objectives of the Scheme and in terms of the prevailing Regulations. As per the Regulations, no investment management fees will be charged for such investments.
Since investing requires disciplined risk management, the AMC would incorporate adequate safeguards for controlling risks in the portfolio construction process. Risk will also be reduced through adequate diversification of the portfolio.
Who will manage HLMEF?
The HSBC will be managed by Mr Neelotpal Sahai.
Mr Neelotpal Sahai is the Senior Vice President & Fund Manager of Equities at HSBC Asset Management (India) Private Limited. He is associated with HSBC Asset Management from April 2013.
He holds a B. Tech degree from IIT Varanasi and PGDM from IIM Kolkata. He has work experience of over 24 years in Research and Fund management. He worked as an Equity Analyst for 2 years with UTI Securities Ltd, then joined SBC Warburg as an Analyst for a period of one year. Further, he joined Vickers Ballas Securities Ltd for a year as an Analyst to later join Infosys Ltd as a Senior Project Manager for 6 years. Thereafter, joined Motilal Oswal Securities Ltd as a Senior Research Analyst for a year, followed by an opportunity to work as a Director in IDFC Asset Management Company Ltd for 7 years before joining HSBC Asset Management.
Some of the other Equity schemes he manages are HSBC Large Cap Equity Fund, HSBC Multi-Cap Equity Fund, HSBC Small Cap Equity Fund and HSBC Equity Hybrid Fund.
Table 3: Performance of schemes managed by Mr Neelotpal Sahai
(Source: ACE MF, Data as on 14th March 2019)
As can be seen, the HSBC Multi-Cap Equity scheme is the only scheme that has outperformed the Benchmark and the remaining schemes are in line with their respective indices. Hence, his management style can at best be termed as modest and does not give much confidence to investors.
The outlook for HSBC Large and Mid Cap Fund
HSBC Large and Midcap fund is launched with the sole intent to capture the stability of Large Caps during volatility in markets and consistent growth of Large and mid-caps (future large caps) over a longer period.
Earnings now need to justify, valuations as they aren't cheap. The trail P/E of the S&P BSE Sensex and the large-cap index is currently at 28x and 26x. Likewise, even the mid-cap space, after some correction, the P/E multiple has again moved up to 33x.
Hence the fund house mentions in its product leaflet that in large-cap space there has been a concentration in performance and some of the large caps have corrected recently. Besides the midcap segment continues to be more bottom up and the sharp correction of few mid-caps have opened some investment opportunities at reasonable valuations.
Hence the performance of the HSBC Large and Mid-Cap Equity Fund relies on the construction of the portfolio. The fund manager will construct the portfolio using a blend of top down and bottom up approaches to investing in equities with the help of a proprietary "PBROE" stock selection and management model.
Graph 2: How will HLMEF construct the portfolio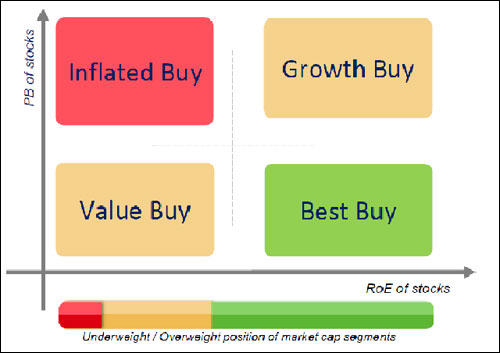 (Source: HSBC Large and Mid-cap Equity Fund Presentation)
However, amidst the extreme turbulence constructing the portfolio would not be easy and may inflict high-risk. Thus, investors need to invest cautiously without compromising on long-term growth. So, a Large and Mid-cap fund is suitable for the investors who are looking for stability and growth over the long term of more than 5 years can allocate some portion to HSBC Large and Mid-Cap scheme, provided if an investor is ready for moderately high risk.
[Read: Best SIPs To Invest in 2019]
Editor's note: If you too want to retire blissfully and rich, don't miss out on PersonalFN's Retire Rich service. This is a new and exclusive service with the sole intent of securing your retirement.
You will even gain the benefit of investing in Top 5 funds along with a DIY (Do It Yourself) retirement solution, where you can start planning for your retirement and potentially build a substantial corpus that could sustain you in the golden years of your life.

It is not merely a list of funds or a particular investment idea. It is a comprehensive solution to guide you with almost ALL the necessary essentials of retirement planning.
Author: Aditi Murkute
This article first appeared on PersonalFN here.
PersonalFN is a Mumbai based personal finance firm offering Financial Planning and Mutual Fund Research services.
Disclaimer:
The views mentioned above are of the author only. Data and charts, if used, in the article have been sourced from available information and have not been authenticated by any statutory authority. The author and Equitymaster do not claim it to be accurate nor accept any responsibility for the same. The views constitute only the opinions and do not constitute any guidelines or recommendation on any course of action to be followed by the reader. Please read the detailed Terms of Use of the web site.
More Views on News
Jun 5, 2020
What is the best time frame for trading? There is no single answer. Pick the best one which suits your trading. I'll show you how.
Jun 5, 2020
Screen stocks and mould your thought process to act on the best opportunities during such a rally.
Jun 5, 2020
Ratings agencies get more credibility than they deserve. You must focus on price action and ignore their noise.
Jun 4, 2020
With Interest rates near record lows, there is a safe investment which still pays a decent interest.
Jun 4, 2020
PersonalFN explains the reason behind SEBI's probe in wound-up schemes of Franklin Templeton.
More Views on News
Most Popular
May 26, 2020
Six charts showing how Indian financial markets have performed in 2020 so far...
May 28, 2020
Covid-19 has made it a survival of the fittest race for many companies. The ones that can adapt will thrive in a post crisis world.
Jun 4, 2020
With Interest rates near record lows, there is a safe investment which still pays a decent interest.
May 25, 2020
Will the mutlibagger blue chips of the past decade continue to rule the bourses?
More