Forget A Blissful Retirement If You Invest In Mid & Small Caps Now...
Forget A Blissful Retirement If You Invest In Mid & Small Caps Now...
Apr 7, 2017
"Buy in a panic, exit (or sell) in a euphoria", is the guru mantra of investing in equities.
But unfortunately, retail investors tend to do just the opposite. They buy during exuberant times, and sell when the market (S&P BSE Sensex or the CNX Nifty) is falling like nine pins. As a result, they often lose their hard-earned money.
Recently, a media report highlighted how retirees insist on investing in small and mid-cap schemes. Lured by the extraordinary returns projected, they ask their advisors to shift their investment from debt and balanced funds to mid and small-cap funds. But, this can turn into a financial disaster for retirees.
So, what's driving retired investors to these high-risk assets?
Firstly, the immensely low interest on variety of fixed income instrument: bank fixed deposit, NSC, KVP, and even PPF. Bond yields are around 6-7%. So, retired investors are clearly in search of higher returns.
Secondly, they are following the herd. A next-door neighbour or family member or friend invests in equity mutual funds-they hear them brag about bountiful gains made-and so they too crave to invest.
But the point they're missing is, while equities offer potentially higher returns, the risk is proportionately higher too, particularly in the mid-and-small space. A fact is: most retirees aren't equipped to deal with this level of risk.
If you're a retiree, psychological traps and misconceptions may turn a blissful retirement into a nightmare.
Some interesting findings...
DALBAR, a US-based financial services market research firm, over the past 20 years, has measured the effects of investor decisions to buy, sell, and switch in and out of US mutual funds over short and long-term timeframes.
They find that the average investor earns less - in many cases, much less than the market.
They state that over the past 20 years, equity mutual fund investors have seldom managed to stay invested for more than 4 years. This short-term retention does not adhere to a prudent, long-term strategy, and is likely the result of short-term thinking and market timing. And here's how the average equity-fund investors have fared vis-a-vis the S&P 500 as the benchmark...
Consistent Underperformance of Equity Fund Investors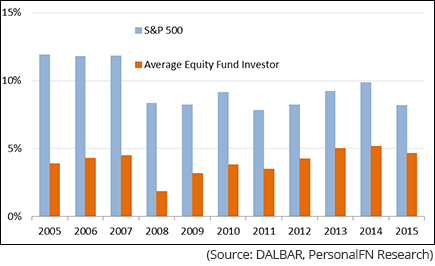 Their analysis throws up some interesting insights. They find that mutual fund flows coincided with the market direction. This means that when the market moved up, equity fund inflows increased and vice-versa. But the above chart proves that timing the market, especially while investing in mutual funds can be futile -and even hazardous to your wealth and health.
Now while the average investor-return data is not readily available for India, here's an interesting chart that throws light on investor behaviour...
Strong Inflows In Bull Markets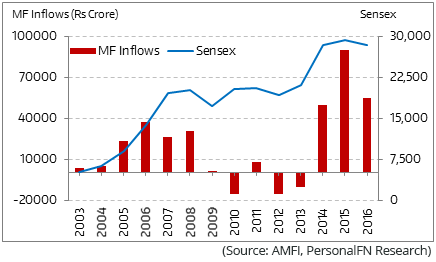 The chart above reveals, Indian investors have shown a tendency to rush in to invest in equity mutual funds when the market is on a bull run. This is clearly visible in the periods between 2003 and 2008, and then again post-2014.
However, the moment equity markets begin to struggle, as seen between 2009 and 2013, investors turn weary of investing in equity and begin to withdraw their investments.
So, will equity mutual funds suffer another exodus the moment markets correct? Well, only time will tell. However, based on the past trends of the market, it may be very likely.
Investors lack patience.
You see, it's harmful for your financial health to invest based on the whims and fancies of the market.
Low Average Holding Period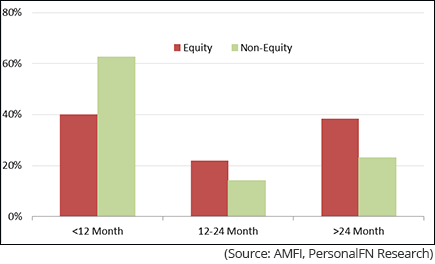 From the above chart, it can be concluded that on an average, only 38% of the equity assets are held for periods greater than two years. While the holding period is longer than that of non-equity funds, it is still less than the ideal holding period for equity assets. About 40% of the equity assets are held for less than a year.
Where is the Indian equity market headed?
PersonalFN believes an upswing in the market will pause, eventually. Valuations are looking expensive on a trail earning basis. There is a flush of liquidity from foreign investors, but markets would soon track routine events such as corporate earnings, industrial growth numbers, inflation data, RBI monetary policies, and so on. The market will support the high valuations only if corporate earnings and industrial growth are encouraging. Inflation and the RBI monetary policy should be conducive for this growth.
What should be your investment strategy?
PersonalFN is of the view that, before putting money in equities directly or through mutual funds, you should be sure that you don't need that money for the next five years. You should not to get carried away by the current market rally getting stronger by the day.
More than getting your timing right, PersonalFN recommends, concentrating on the right asset allocation. Invest with a financial plan in place - that can enable you to accomplish your financial goals. Avoid making ad hoc investments or it could turn out to be detrimental to your financial health.
There are several benefits of investing as per your risk profile and personalised asset allocation. This knowledge is essential for you to succeed in achieving all your financial goals. You don't need to go anywhere to gain this knowledge, you can get it right here sitting at your desk or in the comfort of your home.
Sign up for PersonalFN's comprehensive A to Z e-course to become your own financial planner. This video e-Course is geared to serve as a guide in your most serious decisions regarding money matters.
In Module #2, our video tutorials will explain how to set SMART goals. While in Module #4, we will talk about how to select winning mutual funds, along with the right asset allocation and its importance. The module will also outline strategies to build your optimum investment portfolio and much more.
We have put decades of our knowledge and experience in handling financial dilemma of a regular investor into this e-Course. Don't miss this opportunity. Subscribe to the e-course now!
PersonalFN is a Mumbai based personal finance firm offering Financial Planning and Mutual Fund Research services.
Disclaimer:
The views mentioned above are of the author only. Data and charts, if used, in the article have been sourced from available information and have not been authenticated by any statutory authority. The author and Equitymaster do not claim it to be accurate nor accept any responsibility for the same. The views constitute only the opinions and do not constitute any guidelines or recommendation on any course of action to be followed by the reader. Please read the detailed Terms of Use of the web site.
More Views on News
Mar 22, 2018
Certain blue chips hold the potential of delivering returns comparable to small-cap stocks. With these stocks, you can get the best of both worlds.
Nov 29, 2017
Stocks that could beat Sensex returns in the long term.
Jul 20, 2018
Bill Bonner talks in detail about US president been accused of treason, biggest debt default in China, the problem of growing inflation and the trade war.
Jul 20, 2018
Here's is a business in small cap space that is asset-light and yet profitable - A serious contender for the list of future blue chips.
Jul 20, 2018
While the attack on the bad corporate governance is an overhang in the near term...this can be a game-changer in the years to come.
More Views on News
Most Popular
Jul 12, 2018
Blindly following super investors is a dangerous game to play. Here's how you can avoid such mistakes.
Jul 10, 2018
If you're worried about the markets - you are on the wrong track. This is opportunity - put your wealth-building hat on, instead - Richa shows you how...
Jul 11, 2018
The price signals that MSP sends out, creates its own set of problems.
Jul 11, 2018
PersonalFN explains how ICICI Prudential Mutual Fund flouted the norms of related party transactions while subscribing to the IPO of ICICI Securities.
Jul 10, 2018
PersonalFN highlights the key points of distinction between PPF and mutual funds.
More