A 3-Step Guide to Building A Liquid And Secure Emergency Fund
A 3-Step Guide to Building A Liquid And Secure Emergency Fund
Apr 9, 2018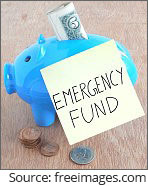 Emergency Fund, Contingency Fund, Rainy Day Fund, or even Uncertainty Fund, you may call it what you like, but the purpose of this savings goal remains the same.
You may have come across several blogs and websites citing why an emergency fund is necessary, however, real-life success stories where an emergency fund has saved the day are rare.
One of the reasons for this could be that not many people prepare for an emergency and end up digging into investments set aside for other financial goals or build up debt by taking a personal loan or swipe their credit card for non-budgeted expenses.
However, a quick search on Google, and you would come across stories where an emergency fund has been useful, be it in case of medical emergencies or job loss.
This Reddit user tells his story of how he needed ended up with expenses totalling Rs 6 lakh+ in just 5 months for a medical emergency and a car accident. Having the cash on hand for these emergency expenses was "priceless", he says.
In another recent success story, the writer was unemployed for nearly three months. Yet he managed to stay debt free without having to alter his lifestyle or worry about paying bills, because he had set funds aside for an emergency. Though he admits, his emergency fund was comparatively "small."
You can read more such stories on Reddit here.
Many a times we may have come across individuals who may not have enough money to pay medical bills or even be able to fund day-to-day expenses. Being in such situations is never for the faint-hearted.
Hence, having a safety net is necessary for you and your family. This means you should not delay in setting aside an emergency fund.
While you may have realised the importance of an emergency fund, we will take a quick look at why it is of utmost importance to save for a rainy day.
Keeps the stress level down



You may not realise it now, but when you are in an emergency situation, knowing that you have a financial backup in place is comforting to an extent. Being prepared with an emergency fund increases your confidence to tackle any unexpected events without adding money woes to your list.

Keeps frivolous spending at bay



Many say they do not set aside money for an emergency, because they have a sizable savings account balance. However, this may fail at its purpose as an emergency fund. When you have money in your savings account, you will always be tempted to spend it. This is why you need to keep your emergency savings separate. When it is out of sight, it will be out of mind, except in case of an emergency.

Keeps you out of debt



Given the ease of use of credit cards, many tend to use the freely available credit in times of emergencies. While it is not wrong to use your credit card for instant credit, you also need to have adequate savings in hand to pay off the debt in full without rolling over the credit. If you carry forward your credit card outstanding, you will incur huge interest costs. This may lead you into to further debt. An emergency fund will help you avoid such situations.
Now that you know the importance of an Emergency Fund, here are a few steps to help you build a big, healthy corpus for an emergency-
Step 1 - Decide the size of your emergency fund
Though big is better, you may not want to keep too much of savings lying in a savings account or low interest bearing investments. As a rule of thumb, you may set aside six months of expenses that includes bill payments including utility and credit card payments, EMI's for different loans, insurance premiums, on-going monthly investments (though you may pause certain investments depending on the situation), school or tuition fees, etc.
You need to make sure all expenses are accounted, and add a little 5%-10% extra for miscellaneous expenses. You may want to exclude expenses related to a medical emergency if you have a health insurance in place for you and your family members.
Do make sure to review the amount required once a year, thanks to inflation. You may also need to review the corpus required whenever there is a substantial change in your income and expenses. This will ensure your emergency fund will always be on track with your lifestyle.
As you achieve your target emergency fund over the next few months or year, you can even consider raising the amount depending on your situation. Ideally, you may set aside up to 24 months of expenses, especially if you have large debts such as a home loan.
Step 2 - Identify high liquid savings products
As mentioned earlier, it will not be prudent to keep your emergency cash in your primary savings bank account. You may consider opening a joint account with your spouse or another family member.
For immediate liquidity needs, a savings bank account remains unmatched. However, for parking money for a few month or more, you need to consider other avenues.
A liquid fund, an ultra-short term debt fund (liquid plus fund), and a short-term debt fund may turn out to be more tax-efficient than a savings account and can give you even more liquidity than a bank fixed deposits. These funds earn a higher return and have a low volatility. Under the instant redemption facility, available for certain liquid schemes, it takes under 30 minutes to transfer the redemption amount to your bank account. Thus, liquid funds can be as efficient as a bank savings account.
Let's look at these products in a bit more detail:
Savings Bank Account:
Well, this is an age-old and easiest way to park short-term needs, and even keep aside some money to manage contingencies. You earn around 3.5%-6% p.a. interest, depending on the bank you opt for to park your savings. But if you wish to battle inflation (which erodes the purchasing power of your hard earned money) while managing your short-term liquidity, you can't be parking too much surplus in a saving bank account. It will prove to be imprudent.
You may also consider other types of bank deposits such as a Fixed Deposit, a Sweep-in Account, or a Flexi/Recurring Deposit. The interest rates will be a few percentage points higher than the savings interest you earn.
Liquid or Money Market Funds
Ultra short-term debt funds invest in instruments with higher durations as compared to liquid funds. As the duration is slightly higher, the risk is slightly higher as well; but they have the potential to yield higher returns than those clocked by liquid funds.
While most of these funds do not carry an exit load, there are some ultra-short term debt funds that have an exit load period of 7 to 30 days. Hence, money that may not be required for 3 to 6 months can be kept in these funds.
Liquid Plus or Ultra Short Term Debt Funds
Ultra short-term debt funds invest in instruments with higher durations as compared to liquid funds. As the duration is slightly higher, the risk is slightly higher as well; but they have the potential to yield higher returns than those clocked by liquid funds. While most of these funds do not carry exit load, there are some ultra-short term debt funds that have an exit load period of 7 to 30 days. Hence, money that may not be required within 3 to 6 months can be kept in these funds.
Floating Rate Funds
They aim to generate returns in line with the prevailing interest rates and are suitable to hedge your corpus against interest rate risk. While these funds carry a lower interest rate risk, they are meant for investments with a time horizon of around 6 to 12 months.
Short Term Debt Funds
Your emergency corpus may lie idle for a period of 3 years or 5 years at a stretch. While this is definitely a good thing, you also need to also plan the allocation of your investment portfolio accordingly. Hence, you could consider Short Term Debt funds, which invest in instruments for a duration of around one to two years.
Note that many short-term debt funds may attract an exit load if redeemed within 6 to 12 months. So, ensure a small percentage of your fund is allocated to such funds.
Ideally, up to 50% of the emergency fund should remain highly-liquid by keeping it in a savings account or a mix of a savings account and liquid funds with an instant redemption facility. The remaining corpus can be invested over the other products. If you are unsure, do consult a fee-based financial planner.
Always remember, it is not the job of an emergency fund to earn a high return. The job of an emergency fund is to be there in an emergency. Hence, ignore suggestions of investing in hybrid mutual funds that have a marginal equity exposure such as monthly income plans (MIPs) or capital protection funds.
Step 3 - Create a financial plan to build your emergency fund
Not everyone will have savings readily available to set aside for an emergency fund. Hence, it is necessary to set aside a portion of your monthly income towards this goal. If you are low on savings, keep a target of 3-6 months of expenses for your emergency corpus. You can always build it up from there.
The best way to set aside money for a rainy day is to automate it. You may set up a Systematic Investment Plan (SIP) to invest in a liquid fund or alternative debt fund. A recurring deposit is another alternative.
If you could set aside Rs 10,000 every month for an emergency fund of Rs 3 lakh-that will take care of six months' expenses-you will need a SIP tenure of approximately 28 months, assuming a CAGR of 6%.
To conclude...
Setting up an emergency fund is the most neglected area in personal finance. People seem to understand its importance only when an untoward event happens. If you are the sole bread earner of your family or there are liabilities to be repaid, make sure you purchase an optimum life and health insurance plan.
Don't ignore health insurance, as it is the ideal way to deal with medical emergencies. From a health insurance perspective, purchase a policy with a minimum cover of Rs 5 lakh that covers all your family members and dependents.
Thus, an emergency fund complemented by a comprehensive health insurance policy will keep you financially healthy.
Before you know it, your life will be prepared for all kinds of emergencies - and you will sleep a lot better at night knowing that.
P.S. If you need research-backed recommendations to select the best debt mutual fund schemes for your portfolio, you can access 7 high-performing, time-tested readymade portfolios with a decade-long market-beating track record.
PersonalFN's model mutual fund portfolio service 'FundSelect Plus' has completed a decade and we are offering subscriptions at a massive 75% discount!
Apart from the four equity-oriented portfolios, you get access to three readymade debt mutual portfolios that have been formulated depending on your investment horizon - less than 3 months, 3-12 months, or more than 12 months, you can choose the portfolio of your choice. Subscribe now!
This article first appeared on PersonalFN here.
PersonalFN is a Mumbai based personal finance firm offering Financial Planning and Mutual Fund Research services.
Disclaimer:
The views mentioned above are of the author only. Data and charts, if used, in the article have been sourced from available information and have not been authenticated by any statutory authority. The author and Equitymaster do not claim it to be accurate nor accept any responsibility for the same. The views constitute only the opinions and do not constitute any guidelines or recommendation on any course of action to be followed by the reader. Please read the detailed Terms of Use of the web site.
More Views on News
Mar 22, 2018
Certain blue chips hold the potential of delivering returns comparable to small-cap stocks. With these stocks, you can get the best of both worlds.
Nov 29, 2017
Stocks that could beat Sensex returns in the long term.
Sep 21, 2018
PersonalFN explains if you should be investing in the NFO: Shriram Multicap Fund --will it multiply wealth for you.
Sep 21, 2018
Bill connects the dots between the power struggle in the US Supreme Court and the state of American politics.
Sep 21, 2018
The one factor that can make PSU stocks a compelling story...
More Views on News
Most Popular
Sep 12, 2018
Is the pharma sector poised for a comeback? Is the worst over? I believe so.
Sep 12, 2018
Richa has discovered the single most profitable opportunity in the market - read on to discover more...
Sep 12, 2018
PersonalFN elucidates if you should redeem from equity mutual fund now, and the approach to follow before you decide to sell mutual funds.
Sep 11, 2018
PersonalFN explains how blindly investing in equities can prove hazardous to your wealth and health.
Sep 14, 2018
Strong Well established Indian Brands have comfortably outperformed the index in the decade post the global financial crisis.
More