Mirae Asset Tax Saver Fund: Seizing Superior Growth Opportunities
Mirae Asset Tax Saver Fund: Seizing Superior Growth Opportunities
Apr 9, 2021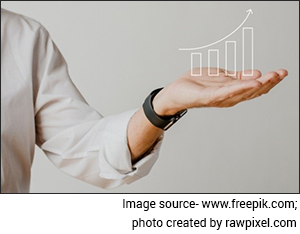 The beginning of the financial year is the best time to begin your tax planning exercise. Doing so allows you to explore various tax-saving avenues and pick the most suitable one that aligns with your investment objective, risk profile, time horizon.
Equity-linked Saving Scheme (ELSS), Public Provident Fund (PPF), Tax Saving Bank Deposit, Life insurance plans, National Saving Certificate (NSC), etc. are some of the popular investment options that qualify for deduction under Section 80C of the Income Tax Act. Of these, ELSS is a worthy avenue if you wish to achieve the dual benefit of long term capital growth and tax saving benefit.
ELSS are open-ended equity mutual funds that have a statutory lock-in period of 3 years, which is lesser than other tax-saving instruments. Selecting a worthy ELSS can help you accumulate wealth over the long term and also serve your tax planning purpose.
Mirae Asset Tax Saver Fund (MATSF) is one such ELSS that has distinctly outperformed the benchmark and many of its peers.
--- Advertisement ---
One stock to add to your portfolio asap

Our co-head of research, Tanushree Banerjee, has uncovered this one stock, which she believes is a must have in your portfolio.

Tanushree is very bullish on this stock.

It could potentially multiply invested money 12 to 13 times over the long term.

Tanushree will reveal details of this stock at her upcoming special event.

You can click here to sign-up. It's free.
------------------------------
Graph 1: Growth of Rs 10,000 if invested in Mirae Asset Tax Saver Fund 5 years ago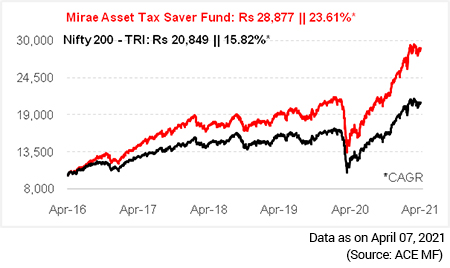 Launched in December 2015, MATSF is among the latest entrants in the tax saving funds category. The fund's strategy is to seek out high growth-oriented stocks across sectors and market cap segment that are available at fair and attractive valuation. To this effect, MATSF has managed to deliver brilliantly on the returns front, generating superior risk-adjusted returns for its investors. It has been relatively successful during both upside as well as downside market conditions. With a 5-year CAGR of 23.6%, MATSF has outperformed the benchmark Nifty 200 - TRI by a CAGR of close to 8 percentage points. An investment of Rs 10,000 in the fund five years back would have now appreciated to Rs 28,877, as against a valuation of Rs 20,849 for the simultaneous investment in the benchmark. The superior stock picking ability has driven the performance of the fund so far that has helped it stand strong in the ELSS category.
Table: Mirae Asset Tax Saver Fund's performance vis-a-vis category peers
Returns are point to point and in %, calculated using Direct Plan - Growth option. Those depicted over 1-Yr are compounded annualised.
Data as on April 07, 2021
(Source: ACE MF)
*Please note, this table only represents the best performing funds based solely on past returns and is NOT a recommendation. Mutual Fund investments are subject to market risks. Read all scheme related documents carefully. Past performance is not an indicator for future returns. The percentage returns shown are only for indicative purposes.
With its inception a little over five years ago, MATSF does not have an extensive performance track record to its credit. However, the robust performance numbers it has generated in this short span of time is sufficient to prove its high potential to generate adequate returns. The fund has stood strong against its popular peers and has managed to outperform its category average and the benchmark by a noticeable margin across time periods.
More importantly, the fund has achieved this feat at a reasonable risk, thus rewarding its investors with superior risk-adjusted returns. The fund's volatility is nearly in line with that of the category average and the benchmark Nifty 200 - TRI; while its risk-adjusted return denoted by Sharpe Ratio is among the highest in the category.
Revealing Tomorrow: The Great Indian Wealth Project
Investment strategy of Mirae Asset Tax Saver Fund
With an investment objective of generating long-term capital appreciation from a diversified portfolio of predominantly equity and equity related instruments, MATSF is mandated to hold at least 80% of its assets in equities. The fund has no bias towards any particular theme or investment style and holds a well-diversified portfolio of strong growth companies available at reasonable price.
The universe of stocks for the portfolio comprises majorly of companies that have robust business models, enjoy sustainable competitive advantage and have high return ratios. Following a blend of the top-down and bottom-up approach of investing, the fund manager broadly analyses the macro economy and invests in stocks of high-growth companies expected to benefit from macroeconomic, sectoral, and industry trends.
When picking companies, the fund manager tests business on various quantitative and qualitative parameters and gives importance to ROCE, growth, ROI, value and management. He looks for growth businesses and within that looks for value (buy at reasonable rate). The fund manager uses DCF (Discounted Cash Flow) mechanism to estimate the fair valuation level of stocks. The aim is to identify long-term investment opportunities in stocks of high quality businesses available at reasonable prices and follow the buy-and-hold investment strategy until its full potential is derived.
The fund usually holds predominant exposure to large caps (65-75% of its assets) along with substantial allocation in mid and small caps (25-30% of its assets).
Graph 2: Top portfolio holdings in Mirae Asset Tax Saver Fund

MATSF usually holds a well-diversified portfolio of stocks spread across market caps, but with a large-cap bias. As on February 28, 2021, MATSF held as many as 60 stocks in the portfolio. The top 10 stock holdings in the portfolio accounted for nearly 48.7% of the total assets. Large cap names like HDFC Bank, Infosys, ICICI Bank, Reliance Industries, and Axis Bank, among others appear in the list of its top holdings. Many of these stocks have been part of the fund's top holdings for over 2 years now.
--- Advertisement ---
How to Earn a Fortune in Gold, the Smart Way

Gold is on 'the verge of a decadal run' says Vijay Bhambwani, India's #1 Trader and Editor of Fast Profits Daily at Equitymaster.

He says gold has the potential to generate staggering gains in the coming years...And those who are betting on gold right now will hit the jackpot.

But wait.

While gold is an attractive investment destination, there's a very specific way to play this opportunity...

A way that ensures you rake in maximum profit and perhaps hit the jackpot...while minimizing potential pitfalls. Thankfully, Vijay - India's #1 Trader - can guide you step-by-step in the upcoming gold rush and help hit the jackpot just at the right time.

Sure, you don't want to be an average trader. That's not how you make a fortune.

Here's how you can get Vijay's guidance...
------------------------------
In the last one year, MATSF has benefited from its holding in companies large-cap and mid-cap names like Reliance Industries, HDFC Bank, Infosys, Prince Pipes & Fittings, Havells India, TCS, Voltas, Bharat Electronics, SBI, JK Cement, Max Financial Services, Tata Consumer Products, ICICI Bank etc. that have turned out to be major contributors to its returns.
MATSF's portfolio is majorly exposed to stocks in the Banking and Finance sector that currently form around 37.5% its assets. The fund also held substantial exposure in Infotech, Consumption, Petroleum Products, Pharma and Engineering with an allocation in the range of 5% to 12% of its assets. The top 10 sectors together occupied 86.6% of MATSF's portfolio.
Suitability
MATSF has built a commendable performance track record for itself in a short span of around 5 years and has dominated the ELSS space for quite some time. Its bet on fundamentally sound stocks picked at reasonable valuations has benefited the fund so far.
MATSF belongs to a process-driven fund house that follows prudent investment approach. It does not resort to taking aggressive calls for extraordinary returns, but maintains a diversified portfolio of quality stocks with a long term view. Its fund manager Mr Neelesh Surana, who has been managing the scheme since its inception, has done well to keep volatility at a reasonable level and thereby able to generate superior risk-adjusted returns.
This makes MATSF suitable for investors looking for a growth-oriented fund in the ELSS space with a long term view.
PS: Here's a high potential opportunity that can multiply wealth you. Get access to PersonalFN's high-return generating Alpha Funds Report 2021 that could potentially boost your portfolio returns significantly over the next few years.
PersonalFN's research team has developed a 'SMART Alpha Score' model that has additional parameters to select the top equity mutual funds.
With optimum weightage to each parameter, which we consider important in identifying fundamentally strong funds with the potential to generate alpha, this model helps zero in on quality names that have the ability to outperform the benchmark and generate alpha returns for its long term investors.
Subscribe to The Alpha Funds Report -2021 today!
Note: This write up is for information purpose and does not constitute any kind of investment advice or a recommendation to Buy / Hold / Sell a fund. Returns mentioned herein are in no way a guarantee or promise of future returns. As an investor, you need to pick the right fund to meet your financial goals. If you are not sure about your risk appetite, do consult your investment consultant/advisor. Mutual Fund Investments are subject to market risks, read all scheme related documents carefully.
Author: Divya Grover
This article first appeared on PersonalFN here.
Join Now: PersonalFN is now on Telegram. Join FREE Today to get 'Daily Wealth Letter' and Exclusive Updates on Mutual Funds
PersonalFN is a Mumbai based personal finance firm offering Financial Planning and Mutual Fund Research services.
Disclaimer:
The views mentioned above are of the author only. Data and charts, if used, in the article have been sourced from available information and have not been authenticated by any statutory authority. The author and Equitymaster do not claim it to be accurate nor accept any responsibility for the same. The views constitute only the opinions and do not constitute any guidelines or recommendation on any course of action to be followed by the reader. Please read the detailed Terms of Use of the web site.
More Views on News
May 12, 2021
So far in 2021, IPOs in India have raised nearly US$ 3 bn, the best start to the year since 2018.
Apr 20, 2021
Here's the rundown on the company's latest quarterly results.
May 14, 2021
PersonalFN analyses the features of Parag Parikh Conservative Hybrid Fund and explains the potential this fund has to offer to its investors.
May 14, 2021
A Hollywood style cyber-attack has caused shockwaves across financial markets.
May 14, 2021
The company's FY21 earnings performance turned out better than my estimates but...
More Views on News
Most Popular
May 13, 2021
Do you think you have what it takes to be an intraday trader? Find out in this video.
May 7, 2021
I've used this trading technique for many years with great success. I'm sharing it with you today.
May 6, 2021
Why are markets discounting the economic impact of Covid?
May 7, 2021
Stocks you must consider investing in before buying your first electric vehicle.
More