5 Reasons Why You Should Invest In Diversified Equity Funds
5 Reasons Why You Should Invest In Diversified Equity Funds
Apr 18, 2017
As on March 31, 2017, the S&P BSE Sensex delivered a compounded return of 12% over the past five years. Most equity mutual fund investors are sitting on returns exceeding 15% (CAGR) over this period; that too, tax-free. The few who prudently picked their funds, are celebrating their winnings >25%. Unfortunately, only a handful of Indians have benefitted from the market rally over the past few years.
The reason-Only 10% of Indians opt for mutual funds in their portfolio. Bank FDs are a clear favourite with 95% Indians choosing this as an option to save, highlighted a recent investor survey conducted by the Securities and Exchange Board of India (SEBI).
Investment Avenues Used By Indian Savers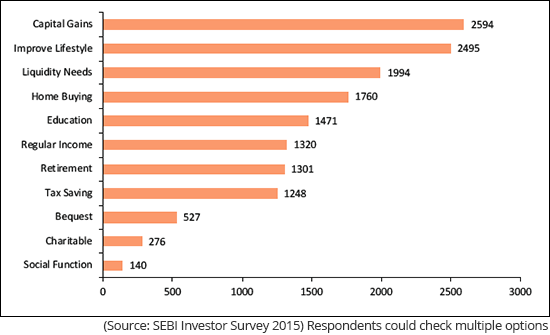 As seen in the chart above, life insurance, precious metals (gold & silver), post office savings schemes, and real estate are preferred options when compared to mutual funds. Clearly, the risk associated with mutual fund schemes is not a major deterrent; the lack of awareness is, as seen in the next chart.
Awareness Of Financial Products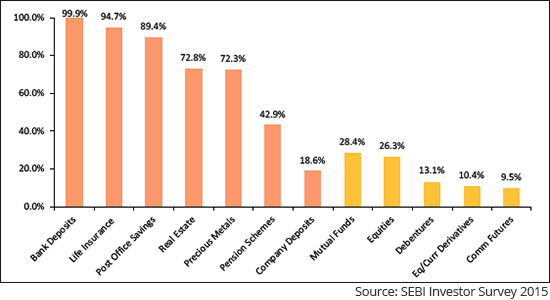 Unfortunately, many may be oblivious to the fact that their money, parked away under the guise of security, in bank fixed deposits, non-market linked life insurance, and post-office savings schemes is being eroded by inflation. These products may offer safety and stability in returns, but are not armed to beat inflation, the silent killer.
Take a look at the growth of a Rs-1-lakh investment in equity mutual funds v/s a bank fixed deposit (FD) earning 9% per annum (6.22% post-tax).
Bank FD v/s Mutual Funds: Value of Rs1 lakh Over 5 Years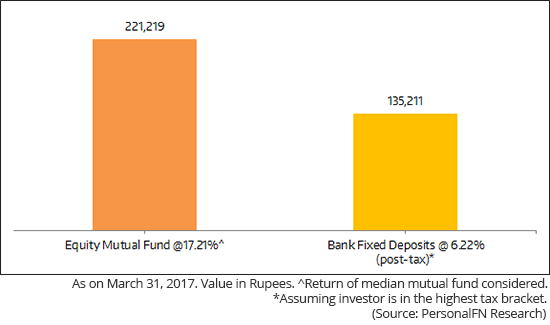 Equity fund investors more than doubled their investment to Rs 2.21 lakh over the past five years with a compounded return of 17.21% (median return of equity-diversified funds), while fixed deposit investors earned a paltry Rs 35,000 on Rs 1 lakh.
Of course, when investing in equity mutual funds, you cannot ignore the risk involved. The above returns are on a point-to-point basis. If you take a different period, equity mutual funds can even lead to a loss of capital over five years. But what you should remember, that over the long term, the market always finds a way to recover and move back up. Over longer periods, investing in equity can lead to a tax-free return of 12-14%.
If you are seeking long-term wealth creation, you do need to take a calculated amount of risk. There are ways you can deal with market volatility. All you need is a little patience and discipline when it comes to investing.
PersonalFN outlines the top five benefits of investing in equity mutual funds, below-
Diversification

Equity diversified funds, as the name suggests, diversify their assets across companies and sectors. While some funds, such as large-caps or mid-caps, focus on stocks from a specific market capitalisation, others such as multi-cap funds or value funds invest across market caps. Investing in several securities across sectors and market-caps enables you to overcome the unsystematic risk that arises from investing in limited stocks or sector-specific funds.

Sector funds focus on stocks of a specific sector. While their assets are diversified across stocks of that sector, the fund is still exposed to sector-specific risks. A sector will react to any change in micro or macro-economic variables, change in policy or regulatory changes. For example, when oil prices crashed, stocks of the energy sector crumbled or when the government announced higher infrastructure spending, infrastructure stocks rallied. However, if you have a high-risk appetite and understand the risks, you can invest up to 5%-10% of your portfolio in sector funds.

Professional management

Most fund managers hold years of experience in financial research and fund management. For an individual, managing a portfolio of stocks is an arduous endeavour, unless you are a full-time investor and understand financial markets extremely well

Fund managers, on the other hand, are backed by a team of research analysts who are constantly on the watch for changing trends in the market. The fund management team adheres to an investment process and applies risk management strategies that have been enhanced through the years. By paying a small fee (also known as expense ratio), that is deducted from your mutual fund net asset value (NAV), you can get access to a process-driven approach to investing.

At the same time, it is important to be aware, that the fund management quality may differ from one fund to the other. Hence, when selecting mutual funds, do pay heed to how well a fund is managed. When there is a change in fund management, you need to be cautious. You need to check whether the fund manager has an established track record of consistently outperforming the market.

Lower entry level

If you plan to create a diversified portfolio of over 50 stocks, you would need an investment amount of Rs 25,000 - above Rs 1 lakh, depending on the price of the individual stocks. For example, the stock price of Maruti Suzuki India is around Rs 6,000, while that of Eicher Motors alone is Rs 25,000. Therefore, if you plan to have these stocks in your portfolio, you will need much higher capital to create a well-diversified basket of stocks. You simply can't own one stock of Rs 25,000, this will account for 25% of the portfolio, for an investment of Rs 1 lakh.

The advantage you receive through mutual funds is that you can invest as little as Rs 500 and benefit from the diversification over 50 stocks or more; an approach that would have otherwise posed to be challenge. This is especially encouraging for investors who start small and at the same time get exposure to multiple securities.

Economies of scale

By investing in equity funds, you can save lakhs in transaction costs over the long run. Imagine if you plan to invest some amount in equity stocks every month. Assuming you own a basket of even 20 stocks, you will incur high transaction costs. Going ahead if you actively manage your portfolio by scrapping laggards or booking profits and moving to other high growth stocks, you will incur further transaction costs. If you sell a stock before a year, the gains will attract a short-term capital gain tax @15%.

Therefore, when investing in stocks directly, do not ignore the costs. If the costs work out to greater than 3% of your portfolio value and the returns are lower than the average equity funds, it's time you move to equity funds.

When you invest in mutual funds, the voluminous purchase or sale of securities by the fund house results in greater economies of scale, as against if you were to buy and sell a handful of securities yourself. In addition to this, the fund house does not incur short-term capital gain tax. This translates into better return on investments for you, while bearing a small expense ratio annually in your journey to wealth creation.

Innovative plans/services for investors

If you wish to invest directly with the fund house, direct plans are the way to go. These plans come with a lower expense ratio and you will save much more over the long term. The regular plans cost higher because they include distributor commissions. Hence, if you route your transactions through a distributor, you will get access only to the higher cost regular plans.

Besides, there are two modes of investing: Systematic Investment Plans (SIPs); and Systematic Transfer Plans (STPs). You can set up a monthly SIP, through which a predefined amount is deducted from your bank account and invested in the selected mutual fund. This will allow you to average out your investment cost and will develop a regular saving habit. Under STP you can set up a monthly transfer from a debt fund to an equity fund.

Further, some funds facilitate tactical asset allocation plans and trigger the facility to manage your portfolio from a financial planning perspective too. Also, if you wish to withdraw a certain amount at regular intervals, you have Systematic Withdrawal Plans (SWPs).

These features allow you to seamlessly enter/exit funds, or switch from one fund to another.
To conclude...
With all these benefits, you cannot ignore having equity mutual funds in your portfolio. Hop on the wealth creation bandwagon of equity funds. At the same time, you need to be prudent when selecting a fund. Don't approach a distributor or a bank relationship manager to identify the top mutual funds. They will most likely suggest funds that earn them a higher commission.
So there are hundreds of equity funds, how do you pick the right ones for your portfolio? You need access to unbiased research-backed guidance that helps you select the best equity mutual fund schemes.
Now's your chance to opt for PersonalFN's 'FundSelect' service. It is the simplest and potentially the best way to grow your portfolio value significantly! One of the most important characteristic of FundSelect service is that it helps you zero-in on the top-performing funds across varying market caps and investment styles - be it large cap, midcap, multi cap, value-based or balanced funds - along with highlighting the underperforming or average performing ones too.
With over 15 years' experience in fund research, PersonalFN has established a methodology to select funds that beat the market by a whopping 70%! Don't miss this opportunity- Subscribe now to avail of limited discounts.
PersonalFN is a Mumbai based personal finance firm offering Financial Planning and Mutual Fund Research services.
Disclaimer:
The views mentioned above are of the author only. Data and charts, if used, in the article have been sourced from available information and have not been authenticated by any statutory authority. The author and Equitymaster do not claim it to be accurate nor accept any responsibility for the same. The views constitute only the opinions and do not constitute any guidelines or recommendation on any course of action to be followed by the reader. Please read the detailed Terms of Use of the web site.
More Views on News
Mar 22, 2018
Certain blue chips hold the potential of delivering returns comparable to small-cap stocks. With these stocks, you can get the best of both worlds.
Nov 29, 2017
Stocks that could beat Sensex returns in the long term.
Jul 19, 2018
PersonalFN takes a look at Kotak Balanced Advantage Fund, a New Fund Offer (NFO) from Kotak Mahindra Mutual Fund.
Jul 19, 2018
Rajiv Talwar, the CEO of DLF, makes a few interesting points in a recent interview.
Jul 19, 2018
The start-up eco-system is disrupting each and every sector that we know of. How can Indian investors benefit from this?
More Views on News
Most Popular
Jul 12, 2018
Blindly following super investors is a dangerous game to play. Here's how you can avoid such mistakes.
Jul 10, 2018
If you're worried about the markets - you are on the wrong track. This is opportunity - put your wealth-building hat on, instead - Richa shows you how...
Jul 11, 2018
The price signals that MSP sends out, creates its own set of problems.
Jul 6, 2018
ICICI AMC launches an open -ended equity fund following Pharma, Healthcare, Diagnostic and allied theme.
Jul 6, 2018
Buy Companies that can fight all kinds of Pandas and Bears in the long run.
More