Are Multi-Asset Funds For You?
Are Multi-Asset Funds For You?
Apr 20, 2018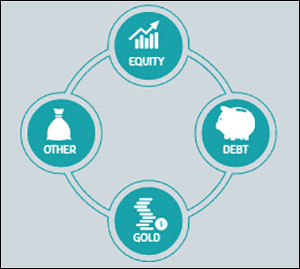 I remember the first time I failed was in the 6th grade. The subject was Mathematics. And I cried and berated myself for days.
My mother consoled me and after a few days asked me if I knew the reason for failing this subject.
After much thought, I realised my approach to studying the subject was ineffective.
Sure, History and Geography were my favourite subjects and so I had spent more time studying these, while I was over confident about Math.
Being a mother, she empathised with me: "It's ok! This is life and there will be ups and downs. You cannot hold on to this failure life-long. Learn from your mistakes and prepare well for the next semester."
This made complete sense to me. I worked harder the next semester. I planned my study schedule so that every subject got equal time. Eventually, I did clear the semester with a decent score.
I am sure you're aware that Balance is the key.
And the same rule applies to your investments. Each asset class (equity, gold and debt) has its own rollercoaster ride.
At times, when equities are at their peak, the debt class is way below your expectations.
Often investors concentrate on one asset class say equity. They either look at the asset's immediate past performance or assume the fancy returns it may create in near future.
But do you think it is an ideal way to invest?Of course not!
Balance is crucial for your portfolio too.
And, the easiest way to build a balanced portfolio is to opt for a multi asset fund. Let's look at what this type of fund can offer you.
What Is A Multi Asset Fund?
A Multi Asset Fund invests in different asset classes such as equity, debt, and gold at the same time. They invest in different asset classes/schemes following the predetermined limits of allocation to each of them.
Some multi asset funds directly invest in equity stocks, debt instruments, and gold units, while some funds invest indirectly in these asset classes.
Multi asset funds are at times also named as Fund of Fund Schemes.
For instance, Axis Triple Advantage Fund seeks to invest in diversified portfolio of Equity and Equity related instruments, Fixed Income Instruments, & Gold Exchange Traded Funds.
Quantum Multi Asset Fund, on the other hand, aims to invest in a combined portfolio of equity, debt/money markets, and Gold schemes of Quantum Mutual Fund itself.
--- Advertisement ---


Our Latest Special Report That Could Keep You Safe from This Market Crash

Have you claimed your virtually free copy of our latest Special Report: The Top 5 Safe Stocks in This Market Crash, yet?

This report talks about 5 stocks that have caught research analyst Tanushree Banerjee's eye…

And have the potential to not only keep you afloat…but also profit from this market crash!

So, if you haven't claimed your copy yet…

Don't waste another second.

Click here to grab a copy…
------------------------------
But the basic purpose of investing in such funds is to diversify investments in assets classes that share very low positive correlation. Lower positive correlation between two asset classes indicates that they are unlikely to move in the same direction.
It has been observed in the past that gold and equity share a low correlation with each other. And, hence, having these two asset classes in your portfolio can help diversify it better.
While debt is considered safer than equities; equities can generate superior returns. And including gold would improve the diversification of your portfolio.
Wondering if multi asset fund is for you, then read on...
Is Multi Asset Fund For You?
If you agree on at least 3 of the 4 reasons listed below, a multi asset fund is for you:
Aiming to build a diversified portfolio

If you are looking for portfolio diversification, then multi asset fund is the solution.

A Multi Asset Allocation Fund is a type of Hybrid Scheme where investments are made in different asset classes. Such funds can invest in asset classes like debt & money market instruments, equity & equity related instruments, and gold.

Exposure to different and least co-related securities offers the benefit of diversification and reduce the overall risk of the portfolio.

As you would know, debt instruments provide the safety and stability of regular income from coupon payments.

Equities are comparatively risky, but potentially can earn better inflation-adjusted returns (also known as real rate of returns) for you over longer time frames.

Gold as mentioned before has a low or negative correlation with most other asset classes. It acts as a safe haven during economic uncertainties and hedge against inflation.

Hence, the fund manager of multi asset fund has flexibility to change fund's asset allocation if needed.

Reduce risk

A well-diversified portfolio is exposed to lower investment risk. The growth prospects are no longer limited to one risky security.

Moreover, risk is distributed with the basket of both risky and non-risky securities (equity, debt, gold, and real estate).

Hence, if you are a conservative investor or at the moment do not wish to assume high risk, then multi asset funds will be apt for you.

You want ease of maintaining track record of all asset classes

You have the ease of looking at the performance of several assets in one statement, rather than looking at multiple statements.

If you invest in 10 mutual fund schemes, you need to keep a track of account statement all the 10 funds. Many investors abhor this out of fear of managing several investment documents.

And if you too wish to avoid maintaining too many records, opt for a multi asset fund.

This makes tracking of the portfolio's performance easy.

Wish to re-balance your portfolio

Consider timing a single asset class's market. Investors who try to actively time the equity markets can testify to its volatility. Timing the market to create alpha can prove hazardous to your wealth and health.

Now imagine timing the performance and market movement across the asset classes. Investing without stress is not hard to achieve, if you eliminate timing the market, or markets, and implement a disciplined strategy. More than 'timing', the 'time in the market' is often of great consequence.

Multi asset funds rebalance the portfolio at regular intervals based on the performance and the outlook of each underlying assets. This, in turn, gives investors freedom from monitoring markets.

You no longer have to re-balance your portfolio. Professional fund managers would do the re-balancing act on your behalf.

Before you zero down your investments, understand the past performance of some of the funds as highlighted below.
How have multi-asset funds fared?
Performance as on April 11, 2018
(Source: PersonalFN Research, ACE MF)
Multi asset funds have delivered satisfactory returns for its investors. Most of the funds have outperformed the benchmark index CRISIL Balanced Fund - Aggressive Index over the 1, 2 and 3 years' time frame.
But before you decide onto the multi asset funds, we would like to highlight a striking comparison between multi asset funds and balanced funds.
[Avail for PersonalFN's Mutual Fund Portfolio Service here].
Comparison Between Multi Asset And Aggressive Hybrid Funds
If your aim is diversification and ready to take risk with equities, then the Aggressive Hybrid Fund category can also be a good option for you to invest.
They aim to build a portfolio of different asset classes with a skewed allocation to equities (in the range of 65-80% of total assets), which can be worthwhile for a longer investment horizon.
As per SEBI's new scheme categorisation rule, balanced funds will be termed as Aggressive Hybrid Funds/ Balanced Hybrid under Hybrid category.
Below is the comparison of fund performance over a period:
Multi Asset Funds vs. Aggressive Hybrid Funds
| Particulars | 1 Year (%) | 2 Years (%) | 3 Years (%) | Since Inception (%) |
| --- | --- | --- | --- | --- |
| Average Returns - Multi Asset Funds | 0.90 | 15.62 | 11.10 | 27.17 |
| Average Returns - Hybrid Equity | 1.34 | 23.95 | 18.98 | 35.13 |
| CRISIL Balanced Fund - Aggressive Index | 1.41 | 17.98 | 11.50 | 17.23 |
Performance as on April 11, 2018
(Source: PersonalFN Research, ACE MF)
Clearly the Aggressive Hybrid Funds have managed to clock better returns for investors. Moreover, Aggressive Hybrid Funds enjoys comparatively favourable tax status (being classified as equity-oriented).
P.S: Read PersonalFN's guide on scheme name change here.
To Conclude:
Multi asset funds are best suited for investors looking for diversification and or to re-balance their portfolio.
However, PersonalFN is of the view that from a taxation angle, the debt-oriented classification is a bit restraining.
Nonetheless multi asset funds come with benefits as enunciated above.
Going back to my mom's lesson, the art of balancing is all you need to have in every area of your life - whether it is work-life balance or balance in your financial portfolios.
The choice is yours.
Happy Investing!
This article first appeared on PersonalFN here.
PersonalFN is a Mumbai based personal finance firm offering Financial Planning and Mutual Fund Research services.
Disclaimer:
The views mentioned above are of the author only. Data and charts, if used, in the article have been sourced from available information and have not been authenticated by any statutory authority. The author and Equitymaster do not claim it to be accurate nor accept any responsibility for the same. The views constitute only the opinions and do not constitute any guidelines or recommendation on any course of action to be followed by the reader. Please read the detailed Terms of Use of the web site.
More Views on News
Apr 16, 2021
A look at what India's top equity mutual funds bought and sold in March 2021.
Apr 16, 2021
PersonalFN's analysis on the features and performance of Kotak India EQ Contra Fund.
Apr 16, 2021
Those who don't learn from financial history are doomed to lose their money.
Apr 16, 2021
There is no stopping this 11-bagger stock from significant upside.
Apr 15, 2021
Rahul Shah on whether another big crash is likely and the ideal strategy to counter it.
More Views on News
Most Popular
Apr 13, 2021
Ajit Dayal on how India's vaccine strategy will impact the markets.
Apr 6, 2021
Rather than predicting the market, successful investing is more about preparing well and placing your bets accordingly.
Apr 9, 2021
This could take India to the position of 3rd largest economy.
Apr 13, 2021
In this video, I'll you what I think is the real reason behind yesterday's market crash.
Apr 12, 2021
This ignored sector could deliver big short-term profits.
More