Four Types of Mutual Fund For Aggressive Investors
Four Types of Mutual Fund For Aggressive Investors
Apr 22, 2019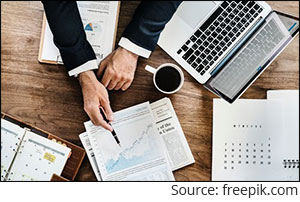 When it comes to mutual fund investing, there is no 'one size fits all'. Every investor has different requirement based on his/her risk appetite, investment objectives, financial goals, and the time horizon before the envisioned financial goals realise. Be sure to choose mutual fund schemes accordingly.
Investors who are willing to take risks in expectations of higher returns are termed as 'Aggressive investors'. The investment strategy for such aggressive investors aims to maximize returns by investing in relatively high-risk assets. Accordingly, the allocation towards equity is high and that towards debt and cash is low.
Aggressive investor (high to very-high-risk taker) should ideally hold actively managed funds that have the capability to generate alpha in the endeavour of wealth creation. Moreover, the portfolio needs to be closely monitored to weed out the underperformers.
--- Advertisement ---
[Alert] Sell These 3 Stocks Immediately

These 3 stocks are ticking time bombs in your portfolio.

It is very likely that you could be owning these 3 overvalued... fundamentally weak... ready to crash stocks... in your portfolio today.

Because many stock brokers have painted rosy pictures of these stocks.

But the reality is starkly different.

If the market crashes, then these stocks could wipe out your wealth.

You should get rid of these stocks as soon as possible.

We are going to reveal details of these 3 landmines at our upcoming special event.

You can click here to sign-up in 1-click. It's free.
------------------------------
So, who should hold an aggressive mutual fund portfolio?
An aggressive portfolio is generally recommended:
If you are young;
Income is high;
Own a decent amount of assets;
Do not have too many liabilities to shoulder;
Looking for capital appreciation over the long-term;
Have a wider investment time horizon before financial goals befall
The above traits enable one to take high to very-high-risk.
If you can relate any of the above traits to yourself and wish to take high to very-high-risk, here are four types of fund you can consider for investments:
Small-cap Funds
In order to attain uniformity across fund houses and schemes, the Securities and Exchange Board of India (SEBI) has clearly defined what is meant by large-cap, mid-cap, and small-caps.
The top 100 companies in terms of market capitalisation are termed as large-cap. Companies from the rank 101 to 250 will be considered as mid-cap, while companies with rank 251 onwards will be termed as small caps.
India's Revival: A Once-in-a-Generation Wealth Making Opportunity
Small-cap funds invest by selecting majority stocks with the market capitalisation rank of 251 onwards. As defined by the regulator, a small-cap fund needs to allocate a minimum of 65% of its total assets in equity and equity-related instruments of small-cap companies.
There are various risks associated with small-cap companies. These companies have small operations and their access to various resources is limited. Also, at times, if resources are constrained, they may face survival risk in case of economic downturn.
Further, there is liquidity risk associated with them as the limited number of shares makes it difficult for investors to buy and sell as per their wish. That said, a strong business helmed by a well-built management team along with the availability of stock at a reasonable price can make it a very attractive investment.
So, small-cap funds are a very high-risk-high-return investment proposition as the stocks of such companies are highly volatile. This means small-cap funds have the tendency to go from thrilling highs to dangerous lows.
When you invest in small-cap funds, make sure you have an investment time horizon of at least 8-10 years, while you endeavour to maximise returns.
[Read: Want To Invest In The Best Small-Cap Funds In 2019? Read This!]
--- Advertisement ---
[Watch Now] 3 Little-known Stocks We are Super Bullish On




Click Here to Watch Now
------------------------------
Mid-cap Funds
Mid-cap funds invest in companies in the rank 101 to 250 in terms of market capitalisation. Mid-cap funds invest a minimum of 65% of total assets in equity and equity related stocks instruments of mid-cap companies.
Mid-cap companies have better access to capital and various resources when compared to small-caps, but fewer opportunities as compared to large-caps. Their management team is also stronger than that of small-caps and they adapt to new trends with better ease. They hold the potential to become large-caps of tomorrow.
Like small-cap stocks, mid-cap stocks are also highly volatile, although the risk involved is slightly lower and the growth opportunities are better. During bull phases, mid-cap funds tend to outperform their pure large-caps and even their large & mid-cap peers by a significant margin. Conversely, in the bear periods, they also have a tendency to plunge lower.
Mid-cap funds offer you the potential to generate significant wealth. However, do note that the risk is substantially magnified. Invest in a mid-cap fund only if you have an investment time horizon of 5-7 years.
[Read: The Best Mid-Cap Funds For 2019]
Multi-cap Funds
Multi-cap funds invest in equity stocks across large-cap, mid-cap, and small-caps in varying proportions. They are mandated by the regulator to invest at least 65% of total assets in equity and equity related instruments of such companies.
Though they are considered risky, multi-caps allow you to tap the high return potential of small and mid-caps and also offer the stability of large-caps. The fund managers of multi-cap funds have the flexibility to choose stocks across capitalisation as per their perspective and market movement. But usually, multi-cap funds mainly invest in large-cap and mid-cap stocks, while they hold a lesser proportion of small-cap stocks.
When there is a slowdown, it is the large-caps that give better returns, while small & mid-cap outperform during a market rally.
[Read: Best Multi-Cap Funds That Could Prove To Be Wealth Multipliers In 2019!]
Large-cap Funds
Large-cap funds consist of top 100 stocks in terms of market capitalisation. As per the regulatory guidelines, a large-cap fund is required to invest a minimum of 80% in equity & equity related instruments of large-cap stocks.
Compared to mid and small-cap counterparts, large-caps offer stability. That's because large-cap companies have tried-and-tested business models, stable business operations, an ace management team, large customer base, better access to capital, strong balance sheets, and various other resources. They can survive an economic slowdown without too much difficulty. These factors make it attractive for investors. That said, a large-cap fund does expose you to a certain level of risk.
If you are looking at growth and stability with exposure to blue-chips and predominantly larger companies while you seek capital appreciation, this sub-category of equity fund can be apt. When the equity markets turn turbulent, a pure large cap fund can arrest the downside risk better compared to their pure mid-cap counterparts and small-caps. Having said that, your investment time horizon should be at least five years.
[Read: Looking for the Best Large Cap Funds 2019? Find Out Here]
Chart: How should an aggressive investor allocate to equity funds?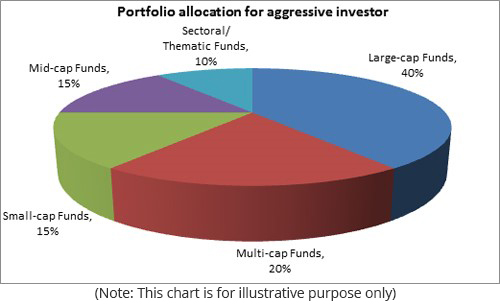 As an investor, your portfolio must be well-diversified --it's the basic tenet of investing. However, keep in mind to not over diversify.
By diversifying your investments, you can minimize the risk and maximize the return.
There are certain things that you need to consider before picking a fund. To know that, watch this video:
Investing wisely and with the right insights will help you to make the right investment decision. Download PersonalFN's Money Simplified Guide: 10 Steps to Select Winning Mutual Funds, which can help you, select winning mutual funds and building a solid portfolio.
Further, be disciplined be disciplined when investing and do not make impulsive, ad hoc financial decisions. Avoid acting on the suggestions friends and relatives give for your investments.
Happy Investing!
Editor's note: If you are looking for funds that carry a Potential to Beat the market by as much as 70%! Subscribe to PersonalFN's 'FundSelect' service.
It is a credible mutual fund research service with a track record of more than 15 years.
Once you subscribe to FundSelect, you will get instant access to potentially the best equity and debt mutual fund to invest and even recommendations on the ones to 'Hold' and 'Sell'.

Author: Divya Grover
This article first appeared on PersonalFN here.
PersonalFN is a Mumbai based personal finance firm offering Financial Planning and Mutual Fund Research services.
Disclaimer:
The views mentioned above are of the author only. Data and charts, if used, in the article have been sourced from available information and have not been authenticated by any statutory authority. The author and Equitymaster do not claim it to be accurate nor accept any responsibility for the same. The views constitute only the opinions and do not constitute any guidelines or recommendation on any course of action to be followed by the reader. Please read the detailed Terms of Use of the web site.
More Views on News
Apr 13, 2021
PersonalFN explains the outlook for Banking & PSU Debt funds and the best Banking & PSU Debt funds that can be considered for investment in 2021.
Apr 13, 2021
Ajit Dayal on how India's vaccine strategy will impact the markets.
Apr 13, 2021
In this video, I'll you what I think is the real reason behind yesterday's market crash.
Apr 13, 2021
Price is the only due diligence one might require to buy this business.
Apr 12, 2021
PersonalFN explains whether the second wave of COVID-19 infections impact your mutual fund investments.
More Views on News
Most Popular
Mar 31, 2021
A tiny chemical company, started in the Licence Raj era, is a great example of a new wealth creating opportunity.
Mar 31, 2021
In this video I'll show you exactly how I go about picking stocks for trading.
Apr 6, 2021
Rather than predicting the market, successful investing is more about preparing well and placing your bets accordingly.
Apr 1, 2021
What should you do if the market falls? In this video, I'll tell you what I will do.
Apr 13, 2021
Ajit Dayal on how India's vaccine strategy will impact the markets.
More