Should You Buy Gold This Akshaya Tritiya? Find Out Here...
Should You Buy Gold This Akshaya Tritiya? Find Out Here...
Apr 27, 2017
What did you do on May 9, 2016?
You might think it's a bizarre question.
But it is not.
Most of you who believe in buying gold only on auspicious days might have bought the precious yellow metal on May 9, 2016-on the propitious day of Akshaya Tritiya.
Has it been a profitable investment for you?
The numbers suggest, NO...
Last Akshaya Tritiya gold was quoting at Rs 29,750 per 10 grams, and as on April 17, 2017, the precious yellow metal traded at 29,388 per 10 grams.
Tough time for the precious yellow metal...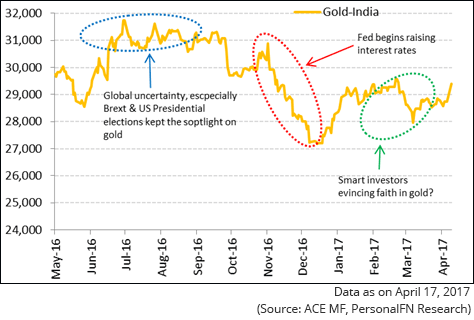 As you can see in the graph above, gold had a tough time in the second-half of 2016, for a variety of reasons. During this period, gold prices fell lower than where it was on the day of Akshaya Tritiya.
There is nothing wrong with buying gold on Akshaya Tritiya. However, that's to be symbolic in nature. You can't make serious investments which will have long-term implications, just based on your faith and beliefs. Follow an agnostic's approach with your investments instead.
So before you invest in gold this Akshaya Tritiya, let's understand the factors that drive gold prices up or down.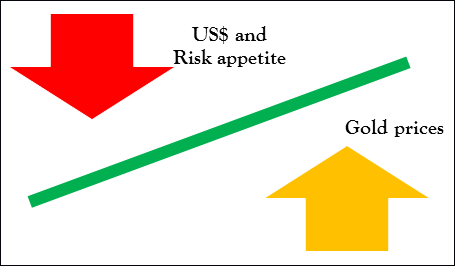 Since gold is priced in US$, it shares an inverse correlation with the movement of the greenback. To be more precise, interest rates on the U.S. Treasuries and those on the other major sovereign bonds are low, gold prices climb.
Are you wondering why?
That's because, gold does not generate cash flow, unlike real estate that earns you rent, or a stock that earns you dividends. Therefore, its value depends on the value of other cash-flow generating assets. Which is precisely why it's known as one of the best-performing assets in the times of uncertainties, or a safe haven. Risk appetite and uncertainties share an inverse correlation.
For Indian investors (or for that matter any investor outside the U.S.), attractiveness of gold depends on primarily two factors:
Prices of US$ denominated gold

Value of the domestic currency vis-a-vis value of US$
Consequently, the second factor plays a crucial role for investors buying gold in local currencies. For example, if the US$-denominated gold falls, say 2% in the international market but the local currency of a nation falls 5% against US$, it's unlikely that gold purchased in the local currency will make a loss that's on par with the international market. Don't be surprised if gold registers gain in the domestic markets, under such circumstances. However, it's noteworthy that, duty structure adopted by the country also influences the prices of gold.
After reading this, you must have realised investing in gold is not as straightforward and as you might have thought. It's farfetched to believe that losses do not occur with your investments in gold. Of course, it can. But if you hold it for a very long term, gold can be an effective portfolio diversifier. If we go by the past 20 year+ trend, gold has exhibited sheen. So, it can act as store of value in times of economic uncertainty if invested sensibly with a long-term view. Remember, not all days are the same -nice, bright, hunky-dory ...and that's when gold can come to your rescue.
Therefore, invest in gold not to make quick gains, but to provide adequate diversification to your portfolio. Usually, we buy assets that do well when the economy, in general, is doing well. So, in a way, they move more or less in the same direction. Gold offers you an excellent avenue to de-risk your portfolio.
PersonalFN recommends:
Buy gold only for a long term, say, for 10-15 years.

Don't speculate on the price movement.

Don't buy only on auspicious days.

The precious yellow metal should have 10%-15% weightage in your portfolio.

Ideally, you should buy gold in the paper form-Sovereign Gold Bonds and Gold Exchange Traded Funds (ETFs) are the best avenues to buying gold in paper form.
Do you still want to buy gold this Akshaya Tritiya?
PersonalFN is a Mumbai based personal finance firm offering Financial Planning and Mutual Fund Research services.
Disclaimer:
The views mentioned above are of the author only. Data and charts, if used, in the article have been sourced from available information and have not been authenticated by any statutory authority. The author and Equitymaster do not claim it to be accurate nor accept any responsibility for the same. The views constitute only the opinions and do not constitute any guidelines or recommendation on any course of action to be followed by the reader. Please read the detailed Terms of Use of the web site.
More Views on News
Jul 18, 2018 | Updated on Jul 18, 2018
Markets all time high analysis : The bse sensex at all time high; ONGC among top gainers. Find the latest update, special reports and news on all time high gainers of BSE Sensex at equitymaster.com.
Jul 18, 2018 | Updated on Jul 18, 2018
The BSE Sensex has hit an all-time high at 36,748 (up 0.5%) with ONGC among the top gainers.
Mar 22, 2018
Certain blue chips hold the potential of delivering returns comparable to small-cap stocks. With these stocks, you can get the best of both worlds.
Jul 18, 2018
PersonalFN explains why a mutual fund portfolio review is necessary, particularly after the regulator's mutual fund categorisation norms.
Jul 18, 2018
...
More Views on News
Most Popular
Jul 12, 2018
Blindly following super investors is a dangerous game to play. Here's how you can avoid such mistakes.
Jul 10, 2018
If you're worried about the markets - you are on the wrong track. This is opportunity - put your wealth-building hat on, instead - Richa shows you how...
Jul 11, 2018
The price signals that MSP sends out, creates its own set of problems.
Jul 6, 2018
ICICI AMC launches an open -ended equity fund following Pharma, Healthcare, Diagnostic and allied theme.
Jul 6, 2018
Buy Companies that can fight all kinds of Pandas and Bears in the long run.
More