HDFC Prudence Fund Now HDFC Balanced Advantage Fund - Time To Sell?
HDFC Prudence Fund Now HDFC Balanced Advantage Fund - Time To Sell?
May 9, 2018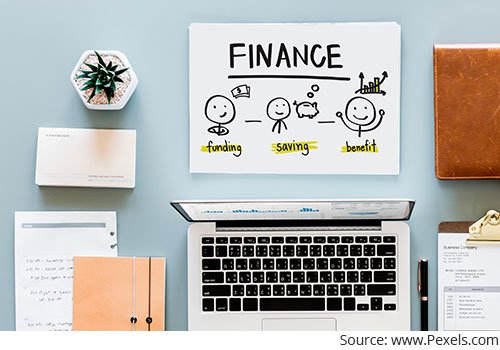 HDFC Mutual Fund manages two equity-oriented hybrid funds (better known as balanced funds) in the form of HDFC Balanced Fund and HDFC Prudence Fund. While they both branch out from the same category, each of them adopts a unique investment style. However, the fund house faced a dilemma when SEBI dictated the different categories for mutual funds, allowing them only one scheme under each category.
HDFC Mutual Fund had to decide whether to merge the schemes or categorise them differently. Given that HDFC Balanced Fund has an AUM of Rs 20,000 crore and HDFC Prudence Fund a corpus of Rs 36,000 crore, a merger was ruled out. It chose the latter.
As per SEBI's nomenclature, balanced funds (this was a misnomer in the first place) are now termed as Aggressive Hybrid Funds or better known as Hybrid Equity Funds. HDFC MF proposes to categorise HDFC Balanced Fund under this category, after merging it with HDFC Premier Multi-Cap Fund. The new scheme will be known as HDFC Hybrid Equity Fund.
HDFC MF took the opportunity to categorise HDFC Prudence Fund as a Balanced Advantage Fund. The Fund will merge with HDFC Growth Fund and will be renamed HDFC Balanced Advantage Fund. This categorisation gives the fund house to dynamically manage the asset allocation of the fund to Equity and Debt securities. The effective date for these changes is June 1, 2018.
While the asset allocation set out is as per SEBI's guidelines, the Investment Strategy of HDFC Balanced Advantage Fund is largely similar to HDFC Prudence Fund. The fund managers of HDFC Prudence Fund - Mr Prashant Jain and Mr Rakesh Vyas (Overseas) - have also been retained.
Post the merger, the fund house's asset size will be close to Rs 40,000 crore. However, it is unlikely to make drastic changes to the way the scheme is being currently managed. If it does so, it may lead to an outflow of assets. Hence, the changes are most likely superficial. Yet, under the new scheme, the fund manager will have added flexibility, which he may use to take advantage of volatile market conditions.
Investors of HDFC Prudence Fund will need to watch closely how the scheme is managed post the merger. If there is a drastic change in asset allocation, which leads the fund to underperform or lose its tax status as an equity fund, investors may need to look for other alternatives.
Based on its past performance, HDFC Prudence Fund is good fund that has delivered decent returns in the past. Investors will need to keep an eye to see if the fund is able to keep up this performance given the change in asset allocation and its huge fund size.
In this brief analysis, we take a close look at the features and performance of HDFC Prudence Fund.
--- Advertisement ---


This Piece of Paper in Your Wallet Could Potentially Make You a Fortune...

You may have a few of these lying around in your wallet...

Or not...

Either way, you need to know this.

This secret has changed lives forever - and it could change yours.

Click here for the full story.
------------------------------
Investment Objective of HDFC Prudence Fund (HDFC Balanced Advantage Fund)
HDFC Prudence Fund has an investment objective to "provide periodic returns and capital appreciation over a long period of time, from a judicious mix of equity and debt investments, with the aim to prevent/ minimise any capital erosion."
The new fund, HDFC Balanced Advantage Fund will have an investment objective to "provide long term capital appreciation / income from a dynamic mix of equity and debt investments."
HDFC Prudence Fund Details
Fund Facts
| | | | |
| --- | --- | --- | --- |
| Category | Balanced Funds | Style | Blend |
| Type | Open ended | Market Cap Bias | Multi-cap |
| Launch Date | 1-Feb-94 | SI Return (CAGR) | 19.05% |
| Corpus (Cr) | Rs 36,594 | Min./Add. Inv. | Rs 5,000 / Rs 1,000 |
| Expense Ratio (Dir/Reg) | 1.1% / 2.26% | Exit Load | 1% |
Portfolio Data as on March 31, 2018.
SI Return as on May 2, 2018.
(Source: ACE MF)
Under normal circumstances, HDFC Prudence Fund allocates...
40% - 75% to equity and equity related securities
25%-60% to debt and money market instruments
The above asset allocation will be effective till June 1, 2018. Post the merger date, the new scheme HDFC Balanced Advantage Fund will allocate -
Upto 100% to equity and equity related securities
Upto 100% to debt and money market instruments
0%-10% to REITs and InvITs
0%-10% to non-convertible preference shares
Growth Of Rs 10,000, If Invested In HDFC Prudence Fund 5 Years Ago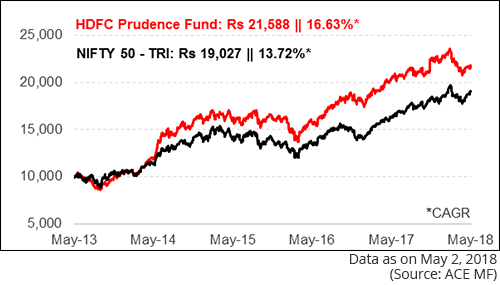 Had you invested Rs 10,000 in HDFC Prudence Fund, five years back on May 2, 2013, it would have grown to Rs 21,588 as on May 2, 2018. This translates in to a compounded annualised growth rate of 16.63%. In comparison, a simultaneous investment of Rs 10,000 in its current benchmark - Nifty 50 - TRI would now be worth Rs 19,027 (a CAGR of 13.72%). In the past five years, HDFC Prudence Fund took a lead over its more aggressive benchmark when the market rallied post-May 2014. Through the years, it has managed to widen the gap over the benchmark, leading to a decent alpha at the end of the 5-year period. However, the recent market correction shaved off some gains of the fund.
HDFC Prudence Fund: Year-on-Year Performance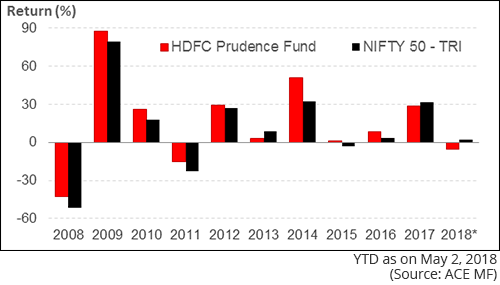 HDFC Prudence Fund has a track record of over two decades. The year-on-year performance of the fund vis-a-vis its current benchmark - Nifty 50 - TRI has been quite strong. In most periods, it has outperformed the benchmark by a good margin of around seven percentage points. In volatile market periods, the returns have fallen short of the benchmark as seen in 2013 and 2017. It has not disappointed when the market has rallied in the past, delivering a significant alpha over the benchmark. Bulk of its outperformance in the past few years has come in the market rally of 2014-15, as it outscored the benchmark by nearly 18 percentage points. In the past 2-3 years, the performance has been lacklustre, trailing the Nifty 50 - TRI by about 3-7 percentage points. This may have disappointed some investors.
HDFC Prudence Fund: Performance Vis-à-vis Category Peers
Rolling Period Returns
| Scheme Name | Corpus (Rs Cr) | 1 Year (%) | 2 Year (%) | 3 Year (%) | 5 Year (%) | Std Dev | Sharpe |
| --- | --- | --- | --- | --- | --- | --- | --- |
| Principal Balanced Fund | 1,094 | 26.68 | 20.59 | 14.90 | 17.92 | 11.83 | 0.18 |
| L&T India Prudence Fund | 9,820 | 19.66 | 15.07 | 14.31 | 19.16 | 9.98 | 0.11 |
| DSPBR Equity & Bond Fund | 6,822 | 17.29 | 15.56 | 14.00 | 16.26 | 11.83 | 0.09 |
| HDFC Balanced Fund | 20,401 | 20.10 | 16.71 | 13.93 | 19.05 | 9.92 | 0.12 |
| ICICI Pru Equity & Debt Fund | 27,602 | 19.19 | 17.25 | 13.75 | 18.96 | 9.84 | 0.12 |
| Reliance Equity Hybrid Fund | 12,566 | 20.66 | 15.88 | 13.53 | 17.47 | 10.48 | 0.11 |
| Aditya Birla SL Balanced '95 Fund | 13,917 | 17.19 | 15.58 | 13.34 | 17.87 | 10.19 | 0.09 |
| SBI Magnum Balanced Fund | 21,802 | 16.86 | 13.13 | 12.62 | 18.32 | 9.29 | 0.07 |
| Canara Rob Balance Scheme | 1,519 | 17.48 | 13.81 | 12.27 | 16.41 | 11.68 | 0.06 |
| Franklin India Balanced Fund | 2,022 | 13.23 | 11.94 | 12.15 | 16.84 | 8.58 | 0.05 |
| HDFC Prudence Fund | 36,594 | 20.05 | 16.88 | 11.87 | 17.36 | 13.20 | 0.06 |
| Aditya Birla SL Balanced Advt. Fund | 3,344 | 14.16 | 16.16 | 11.86 | 14.02 | 9.02 | 0.11 |
| UTI Balanced Fund | 5,661 | 17.97 | 15.35 | 11.48 | 15.07 | 10.23 | 0.08 |
| Kotak Balance | 2,167 | 15.39 | 14.72 | 11.17 | 13.70 | 10.35 | 0.05 |
| Tata Balanced Fund | 5,371 | 12.17 | 10.69 | 11.12 | 17.15 | 10.12 | 0.00 |
| ICICI Pru Balanced Advantage Fund | 26,050 | 13.71 | 12.36 | 10.99 | 15.13 | 7.55 | 0.09 |
| Baroda Pioneer Balance Fund | 649 | 18.41 | 14.28 | 10.60 | 14.00 | 11.00 | 0.05 |
| Escorts Balanced Fund | 3 | 15.10 | 13.11 | 10.60 | 16.63 | 9.31 | 0.04 |
| Escorts Opportunities Fund | 13 | 17.35 | 9.44 | 10.25 | 12.37 | 8.38 | 0.00 |
| Sundaram Balanced Fund | 909 | 15.38 | 14.13 | 9.16 | 11.38 | 9.37 | 0.06 |
| Shriram Equity & Debt Opp Fund | 43 | 14.59 | 10.44 | 8.24 | 0.00 | 10.23 | 0.00 |
| DHFL Pramerica Hybrid Equity Fund | 234 | 12.21 | 9.04 | 7.65 | 13.78 | 10.54 | -0.05 |
| JM Balanced Fund | 3,761 | 12.83 | 9.40 | 6.72 | 13.89 | 9.17 | -0.05 |
| LIC MF Balanced Fund | 331 | 11.41 | 9.31 | 5.71 | 10.96 | 12.44 | -0.08 |
| Nifty 50 - TRI | | 20.43 | 14.56 | 9.12 | 14.16 | 12.96 | 0.10 |
Returns are on a rolling basis and those depicted over 1-Yr are compounded annualised.
Data as on May 2, 2018
(Source: ACE MF)
*Please note, this table only represents the best performing funds based solely on past returns and is NOT a recommendation. Mutual Fund investments are subject to market risks. Read all scheme related documents carefully. Past performance is not an indicator for future returns. The percentage returns shown are only for indicative purposes.
HDFC Prudence Fund has been a strong performer across market periods. Despite being a hybrid fund with about 25% of its assets in cash & debt, the fund has delivered returns in line with an equity-diversified scheme. In the 1-year rolling periods, the returns have been subdued. The scheme has marginally trailed the benchmark. However, in the remaining periods, it has not disappointed investors, by delivering a good alpha over the benchmark.
The strong returns have come at higher levels of risk. The volatility of the scheme is higher than the benchmark and most other hybrid peers. Due to the higher risk, the fund scores a lower risk-adjusted return.
The top five equity-oriented hybrid funds in the 3-year rolling period performance include-Principal Balanced Fund, L&T India Prudence Fund, DSPBR Equity & Bond Fund, HDFC Balanced Fund, and ICICI Prudential Equity & Debt Fund.
Investment Strategy of HDFC Prudence Fund (HDFC Balanced Advantage Fund)
The new scheme HDFC Balanced Advantage Fund has an investment objective to provide long-term capital appreciation and income from a mix of equity and debt investments. The fund would invest in Government securities, money market instruments, securitised debt, corporate debentures and bonds, preference shares, quasi Government bonds or any other debt instruments, equity and equity related instruments etc. as permitted by Regulations.
Different asset classes exhibit different risk-return profile and relatively low correlation to each other as compared to investments within the same asset class. The fund manager will determine asset allocation between equity and debt depending on prevailing market and economic conditions. The debt-equity mix at any point of time will be a function of interest rates, equity valuations, medium to long term outlook of the asset classes and risk management etc.
The aim of equity strategy will be to build a portfolio of companies diversified across major industries, economic sectors and market capitalization that offer an acceptable risk-reward balance. The scheme retains the flexibility to invest in the entire range of debt securities (including securitised debt) and money market instruments. Investment in debt securities will be guided by credit quality, liquidity, interest rates and their outlook. The Scheme may also invest in the hybrid securities viz. units of REITs and InvITs for diversification and subject to necessary stipulations by SEBI from time to time.
HDFC Prudence Fund - Portfolio Allocation and Market Capitalisation Trends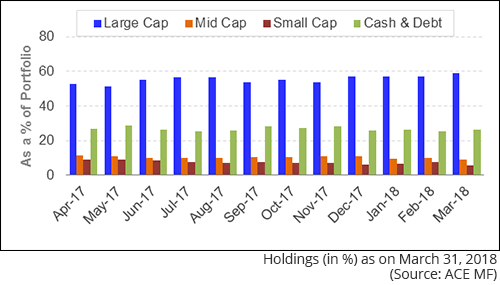 Over the past year, HDFC Prudence Fund has maintained an equity exposure between 50%-60% of the portfolio. The cash & debt exposure has been around 25%-28% while small-cap exposure has been between 5%-10% of the portfolio. The fund also maintains a decent exposure to mid-caps, which has ranged between 8%-11% of the assets. The total exposure to mid-and small-caps has dropped from 20% a year ago to about 15% currently. As per its latest disclosure, the Large-cap exposure stands at around 59%, mid- and small-caps at 15% and cash & debt at 26%.
HDFC Prudence Fund - Top Portfolio Holdings
Top 10 Stocks
| Stocks | % of Assets |
| --- | --- |
| Infosys | 7.13 |
| ICICI Bank | 7.08 |
| State Bank Of India | 7.01 |
| Larsen & Toubro | 6.80 |
| NTPC | 3.74 |
| Power Grid Corporation | 3.58 |
| GAIL (India) | 2.43 |
| Tata Consultancy Services | 1.91 |
| Tata Steel | 1.85 |
Top 5 Sectors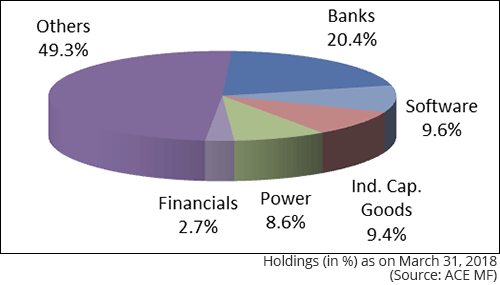 As on March 31, 2018, HDFC Prudence Fund maintained a top-weighted portfolio of 79 stocks. Despite the large number of stocks, the assets are skewed to the top holdings. The top 10 stocks account for nearly 43% of the total assets. The top four stocks command an exposure of around 7% each and include Infosys, ICICI Bank, State Bank of India and Larsen & Toubro. The remaining stocks in the top 10 holdings range between 1.5%-4%.
Among the sector allocations, Banks lead with an exposure of 20%. Next in line are Software stocks with an exposure of 10%. Power and Industrial Capital Good stocks follow closely behind with an aggregate of 8%-9% respectively. Financial stocks trail behind with an exposure of 2.7%.
Top Gainers in HDFC Prudence Fund's portfolio
Out of the 79 stocks, 53 stocks have been held for over a year. The fund sticks to its bets, and does not churn the portfolio very often. Among the top performers, the one stock that stood out is Avenue Supermarts, which delivered a total return of 108% over the past year. The other top stocks with a substantial weightage were L&T, Tata Steel and Reliance Industries. These stocks were up by 25%-35% over the past year. Solar Industries is another stock that delivered 38%.
There were a few laggards as well. State Bank of India fell by 15% over the year. Punjab National Bank too, present in the portfolio, declined by 37%. Aurobindo Pharma and Bank of Baroda fell by 17%-18% each. Clearly, these stocks did not work on favour of the scheme.
Suitability of HDFC Prudence Fund (HDFC Balanced Advantage Fund)
Balanced Advantage Funds are a new breed of hybrid funds that offer fund managers to dynamically manage the assets by broadly adopting a balanced asset allocation. Though it is not mandated, such funds will strive to keep an exposure above 65% to equity at all times, in order to qualify as an equity scheme. If needed, the fund may seek arbitrage opportunities to limit risk by reducing exposure to unhedged equity positions. This helps the fund to remain dynamic and tax-efficient at the same time.
HDFC Prudence Fund is largest equity oriented scheme in existence. Clearly, the fund managers did something right to attract investors and garner such a huge asset base. Managed by ace fund manager Mr Prashant Jain, HDFC Prudence Fund has been a top performer in the balanced fund category and in some periods, it has even outperformed a majority of equity-diversified schemes.
But a large asset size can work against the fund and hamper its agility. Notably, some of its peers with a relatively smaller and manageable corpus did replace the fund from the top ranks in the recent periods. Nonetheless, the fund has put up a decent show, and has a top fund manager at the helm.
HDFC being a process driven fund house, the fund manager selects stocks from the investment universe under its coverage. The fund largely follows bottom up approach to select stocks with superior fundamentals and strong balance sheets. Moreover, the fund manager sticks to his conviction and follows buy and hold strategy to derive full potential of the stocks in the portfolio.
Though the category of the fund is changed, the fund remains in good hands. But as mentioned at the beginning of the research note, you need to wait and watch for any noticeable changes in asset allocation and performance.
If you plan to invest in Balanced Advantage Funds or Aggressive Hybrid Funds (erstwhile balance funds), do ensure that the investments is in line with your financial goals. If you are not sure about how to align these schemes with your tax planning or financial goals, do consult your financial planner or investment advisor.
Note: This write up is for information purpose and not a recommendation to buy or sell the mutual fund scheme. As an investor, you need to pick the right fund to meet your financial goals. If you are not sure about your risk appetite, do consult your investment consultant/advisor.
Editor's Note:
PersonalFN has a long track record of offering unbiased mutual fund research services. It analyses thousands of data points to shortlist schemes and also applies a whole host of qualitative parameters to select only a handful schemes for your portfolio.
Want to try PersonalFN's Premium Mutual Fund Research service 'FundSelect'?
Every month, our FundSelect service will provide you with an insightful and practical guidance on which mutual fund schemes to buy, hold or sell, which will assist in creating the ultimate portfolio that has the potential to beat the market.
And there's more great news!
FundSelect is turning FIFTEEN.
And on this auspicious 15th anniversary of FundSelect, we intend to make it "ultra-special" for you.
How?
Well, how about getting 1 Year of access to FundSelect virtually Free?
And if you wish, perhaps even MORE...
Check out the exciting offers that can be availed on subscriptions to FundSelect here.
Go ahead and subscribe to PersonalFN's FundSelect NOW!
This article first appeared on PersonalFN here.
PersonalFN is a Mumbai based personal finance firm offering Financial Planning and Mutual Fund Research services.
Disclaimer:
The views mentioned above are of the author only. Data and charts, if used, in the article have been sourced from available information and have not been authenticated by any statutory authority. The author and Equitymaster do not claim it to be accurate nor accept any responsibility for the same. The views constitute only the opinions and do not constitute any guidelines or recommendation on any course of action to be followed by the reader. Please read the detailed Terms of Use of the web site.
More Views on News
Mar 22, 2018
Certain blue chips hold the potential of delivering returns comparable to small-cap stocks. With these stocks, you can get the best of both worlds.
Nov 29, 2017
Stocks that could beat Sensex returns in the long term.
Oct 16, 2018
Make sure you make the most of the fear in today's markets. And to get you started - the one stock I'm betting on.
Oct 16, 2018
The big money in stock markets is not in the buying or selling, but in the waiting. To those with time frames that extend for years instead of quarters, the small cap space is offering some great wealth building opportunities.
Oct 15, 2018
Richa Agarwal, editor of Hidden Treasure, shares her views on market timing and a lot more...
More Views on News
Most Popular
Oct 5, 2018
Find companies with long term durable moats, which are correcting with the current broader market sell-off.
Oct 4, 2018
Smallcaps have corrected over 30% since the beginning of the year. Find out why Richa Agarwal views this as an opportunity rather than a threat.
Oct 5, 2018
Ajit Dayal on the crisis in the market and in the mutual fund industry.
Oct 3, 2018
A small cap fund that aims to capitalise on emerging businesses and catch them young. However, its failure in keeping volatility under check is making its investors anxious.
Oct 3, 2018
Infibeam plunged over 70% last week. This was the second biggest single-day fall. But Infibeam witnessed such sharp falls earlier.
More