ICICI Prudential Dynamic Plan Will Now Be A Multi-Asset Fund - All You Need To Know
ICICI Prudential Dynamic Plan Will Now Be A Multi-Asset Fund - All You Need To Know
May 16, 2018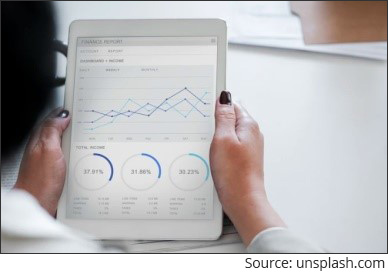 ICICI Prudential Dynamic Plan, a well-known dynamically managed fund from ICICI Prudential Mutual Fund will soon be transformed in to a multi-asset fund. This comes after SEBI's diktat on the Categorization and Rationalization of Mutual Fund Schemes. The circular dictates that fund houses can have only one scheme per category (except for sector/themed funds).
The market regulator defined one category as 'Dynamic Asset Allocation or Balanced Advantage', which allows the scheme to manage the equity and debt assets dynamically. This is where ICICI Prudential Mutual Fund faced a dilemma, as it manages two similar funds - ICICI Prudential Balanced Advantage Fund and ICICI Prudential Dynamic Plan. It had an option to merge the funds or categorize one differently.
Both funds were performing well with two different fund management styles and commanded assets in excess of Rs 25,000 crore and Rs 10,000 crore respectively. Hence, merging the two schemes would have resulted in huge corpus, reducing the flexibility of the resultant fund.
So, ICICI Prudential Mutual Fund decided to categorise ICICI Prudential Dynamic Plan as a multi-asset fund and renaming it as ICICI Prudential Multi-Asset Fund. A multi-asset fund, based on SEBI's definition, needs to invest a minimum of 10% in at least three different asset classes. Thus, apart from equity and debt, the new scheme will now invest a minimum of 10% in Gold/Gold ETF/Units of REITs & INVITs or any other asset as permitted by SEBI.
A dynamic fund, as the name suggests, has the flexibility to vary its equity exposure between 0%-100%. Therefore, if the fund manager's research finds the market overvalued, he can move from equity to debt assets, thus cushioning the portfolio from volatility or a potential fall in value. ICICI Prudential Dynamic Plan, however, kept an allocation around 75% to equity at most times.
--- Advertisement ---


Discover the Profits Hidden In Lesser-Known Small Companies

Believe it or not, unusual and lesser-known small companies are capable of generating BIG profits.

But just any small company will not do. You need to invest in the 'right' small companies in order to make BIG returns.

To know how you could do that, just click here…
------------------------------
For existing investors, the flexibility of the fund, in terms of asset allocation, will remain the same. However, the fund will need to invest a minimum 10% in assets such as Gold or REITs. This may influence the returns of the fund and its volatility going ahead. Thus, you will need to cross-check if the asset allocation pattern, suits your risk profile. If not, take the help of an investment adviser.
In terms of performance, the soon to be multi-asset fund was a top performer amongst its peers, delivering market-beating returns. When speaking of a dynamic ability to manage assets, one expects the fund manager to aggressively move in and out of equity. The fund manager of ICICI Pru Dynamic Plan, refrains from trying to take advantage or short-term market movements and keeps a long-term focus.
In this brief analysis, we take a close look at the features and performance of ICICI Prudential Dynamic Plan, and what will change under the new positioning of the fund.
Investment Objective of ICICI Prudential Dynamic Plan (ICICI Prudential Multi-Asset Fund)
ICICI Prudential Dynamic Plan has an investment objective to "generate capital appreciation by actively investing in equity and equity related securities. For defensive considerations, the Scheme may invest in debt, money market instruments and derivatives. The investment manager will have the discretion to take aggressive asset calls i.e. by staying 100% invested in equity at a given point of time and 0% at another, in which case, the fund may be invested in debt related instruments."
The new fund, ICICI Prudential Multi-Asset Fund will have an investment objective to "generate capital appreciation and income for investors by investing across asset classes."
ICICI Prudential Dynamic Plan Details
Fund Facts
| | | | |
| --- | --- | --- | --- |
| Category | Dynamic | Style | Blend |
| Type | Open ended | Market Cap Bias | Multi-cap |
| Launch Date | 12-Nov-02 | SI Return (CAGR) | 23.30% |
| Corpus (Cr) | Rs 11,729 | Min./Add. Inv. | Rs 5,000 / Rs 1,000 |
| Expense Ratio (Dir/Reg) | 0.98% / 2.28% | Exit Load | 1% |
Portfolio Data as on April 30, 2018.
SI Return as on May 10, 2018.
(Source: ACE MF)
Under normal circumstances, ICICI Prudential Dynamic Plan allocates...
0% - 100% to equity and equity related securities
0% - 100% to debt and money market instruments
0% - 10% to units issued by REITs and InvITs
From May 28, 2018, the new scheme ICICI Prudential Multi-Asset Fund will allocate -
10% - 80% to equity and equity related securities
10% - 80% to debt and money market instruments
10% - 80% to Gold/Gold ETF/Units of REITs and InvITs
Growth Of Rs 10,000, If Invested In ICICI Prudential Dynamic Plan 5 Years Ago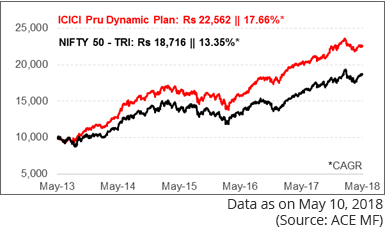 Had you invested Rs 10,000 ICICI Prudential Dynamic Plan, five years back on May 10, 2013, it would have grown to Rs 22,560 as on May 10, 2018. This translates in to a compounded annualised growth rate of 17.66%. In comparison, a simultaneous investment of Rs 10,000 in its current benchmark - Nifty 50 - TRI would now be worth Rs 18,716 (a CAGR of 13.35%). In the past five years, ICICI Prudential Dynamic Plan has consistently been able to maintain a good margin over the benchmark. Over the years, it has managed to increase the margin of outperformance, especially in 2016-17.
ICICI Prudential Dynamic Plan: Year-on-Year Performance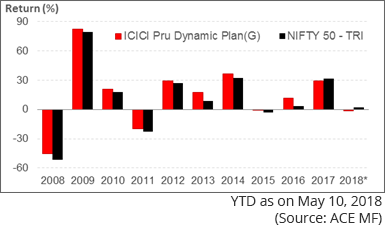 ICICI Pru Dynamic Plan has a track record of over 16 years. The year-on-year performance of the fund vis-a-vis its current benchmark - Nifty 50 - TRI has been quite good. In most periods, it has outperformed the benchmark by a decent margin of two percentage points. In periods when the market has marched up, the outperformance has expanded to as much as 6-8 percentage points. In CY2016, the fund returned 12% in comparison to a 4% return of the benchmark. However, in 2017 it underperformed the benchmark for the first time. However, investors won't be complaining as they still earned a decent return of 29% in comparison to the benchmark's 32%. The volatile market of 2018, has led to added pressure on the fund's performance.
ICICI Prudential Dynamic Plan: Performance Vis-a-vis Category Peers
Rolling Period Returns
| Scheme Name | Corpus (Rs Cr) | 1 Year (%) | 2 Year (%) | 3 Year (%) | 5 Year (%) | Std Dev | Sharpe |
| --- | --- | --- | --- | --- | --- | --- | --- |
| ICICI Pru Dynamic Plan | 11,729 | 20.40 | 18.20 | 11.57 | 17.79 | 11.35 | 0.10 |
| Invesco India Dynamic Equity Fund | 1,008 | 20.55 | 14.55 | 11.56 | 16.48 | 11.26 | 0.08 |
| HDFC Dynamic PE Ratio FOF | 23 | 16.67 | 15.10 | 10.72 | 10.64 | 11.49 | 0.05 |
| Franklin India Dynamic PE Ratio FOFs | 882 | 11.91 | 10.86 | 9.64 | 11.74 | 5.68 | 0.05 |
| Edelweiss Multi - Asset Allocation Fund | 8 | 14.93 | 10.97 | 9.43 | 13.51 | 11.23 | 0.02 |
| HSBC Dynamic Asset Allocation Fund | 45 | 17.21 | 13.28 | 9.08 | 11.43 | 10.95 | 0.06 |
| SBI Dynamic Asset Allocation Fund | 162 | 13.48 | 10.90 | 9.04 | - | 7.64 | 0.07 |
| Quantum Multi Asset Fund-Direct Plan | 15 | 9.43 | 10.76 | 8.53 | 10.01 | 4.71 | 0.07 |
| DSPBR Dynamic Asset Allocation Fund | 845 | 9.51 | 10.25 | 8.46 | - | 5.72 | 0.00 |
| Principal Smart Equity Fund | 176 | 9.60 | 8.65 | 7.19 | 12.75 | 5.71 | -0.05 |
| L&T Dynamic Equity Fund | 487 | 8.88 | 6.35 | 7.12 | 14.90 | 7.10 | -0.09 |
| IDFC Dynamic Equity Fund | 765 | 11.81 | 8.48 | 6.35 | - | 5.60 | -0.02 |
| UTI Multi Asset Fund | 996 | 11.30 | 10.09 | 5.93 | 8.17 | 8.43 | -0.04 |
| Franklin India Multi-Asset Solution Fund | 40 | 7.55 | 8.11 | 5.93 | - | 4.77 | -0.09 |
| Sundaram Multi Asset Fund | 39 | 11.25 | 8.90 | 5.16 | 7.32 | 8.90 | -0.03 |
| Motilal Oswal Dynamic Fund | 1,745 | 17.03 | - | - | - | 7.15 | 0.23 |
| Nifty 50 - TRI | | 20.31 | 14.77 | 9.02 | 14.13 | 12.96 | 0.10 |
Returns are on a rolling basis and those depicted over 1-Yr are compounded annualised.
Data as on May 10, 2018
(Source: ACE MF)
*Please note, this table only represents the best performing funds based solely on past returns and is NOT a recommendation. Mutual Fund investments are subject to market risks. Read all scheme related documents carefully. Past performance is not an indicator for future returns. The percentage returns shown are only for indicative purposes.
ICICI Prudential Dynamic Plan has been a strong performer across market periods. It has outscored the benchmark by a decent margin across all periods, though the margin of outperformance was subdued in the recent 1-year rolling periods. Compared to other dynamic funds and multi-asset fund, ICICI Prudential Dynamic Plan ranks on the top in all the periods considered.
Being a dynamic fund, one would expect a lower volatility, given its dynamic capability to negotiate market cycles. As ICICI Prudential Dynamic Plan consistently maintains a high equity allocation, the volatility of the fund is higher than most other schemes, yet it's marginally lower than the benchmark. Nonetheless, ICICI Prudential Dynamic Plan scores well in terms of risk-adjusted returns.
Apart from ICICI Pru Dynamic Plan, the top five dynamic funds in the 3-year rolling period performance include-Invesco India Dynamic Equity Fund, HDFC Dynamic PE Ratio FOF, Franklin India Dynamic PE Ratio FOFs, Edelweiss Multi - Asset Allocation Fund, and HSBC Dynamic Asset Allocation Fund.
Investment Strategy of ICICI Prudential Dynamic Plan (ICICI Prudential Multi-Asset Fund)
The new scheme will allocate the assets between Equity, Debt, Gold/Gold ETF/commodities and units of REITs & InvITs. The actual percentage of investment in the asset class will be decided after considering the prevailing market conditions, the macroeconomic environment (including interest rates and inflation), the performance of the corporate sector, the equity markets and general liquidity and other considerations in the economy and markets.
The fund management may choose to continuously churn the portfolio of the multi-asset fund in order to achieve the investment objective. Thus, the portfolio turnover ratio could be very high and AMC may change the full portfolio, commensurate with the investment objectives of the Scheme.
The fund will aim to take long-term call on stocks, which in an opinion of the Fund Manager, offers better return over a long period. In stocks selection process, the AMC proposes to consider stocks with long-term growth prospects but currently trading at modest relative valuations. The Scheme proposes to concentrate on business and economic fundamentals driven by in-depth research techniques, employing strong stock selection.
Stock-picking process proposed to be adopted is generally a "bottom-up" approach, seeking to identify companies with above-average profitability supported by sustainable competitive advantages and also to use a "top-down" discipline for risk control by ensuring representation of companies from various industries.
In addition, the investment team of the AMC will study the macro economic conditions, including the political, economic environment and factors affecting liquidity and interest rates. The AMC would use this analysis to attempt to predict the likely direction of interest rates and position the portfolio appropriately to take advantage of the same.
ICICI Prudential Dynamic Plan - Portfolio Allocation and Market Capitalisation Trends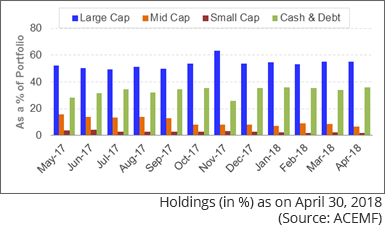 Over the past year, the total equity exposure has ranged between 65%-75%. Of this, the large-cap allocation has ranged between 50%-63%, while the weightage to mid-caps has dropped from 16% last year, to 7% currently. There is also a marginal small-cap exposure, which has ranged between 2%-4% of the total assets. The exposure to cash & debt is currently high, and has ranged between 25%-35% over the past one year.
ICICI Prudential Dynamic Plan - Top Portfolio Holdings
Top 10 Stocks
| Stocks | % of Assets |
| --- | --- |
| ICICI Bank Ltd. | 4.41 |
| NTPC Ltd. | 4.32 |
| Infosys Ltd. | 4.06 |
| ITC Ltd. | 3.90 |
| PGCIL | 3.50 |
| State Bank Of India | 2.94 |
| Hindalco Industries Ltd. | 2.54 |
| Bharti Airtel Ltd. | 2.53 |
| Oil & Natural Gas Corporation Ltd. | 2.46 |
| Cipla Ltd. | 2.25 |
Top 5 Sectors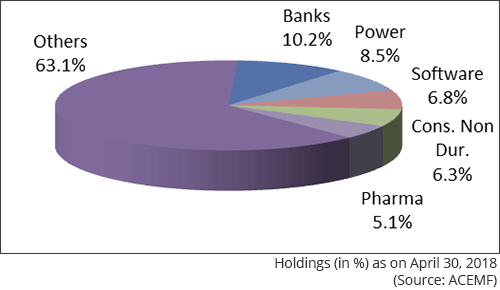 As on April 30, 2018, ICICI Prudential Dynamic Plan maintained a well-diversified portfolio across stocks and sectors. Not a single stock in the portfolio has an exposure above 5% and the assets are not skewed to the top holdings. The weightage to the top 10 holdings is held in a narrow range of 2%-4%. ICICI Bank, NTPC, Infosys, ITC and PGCIL lead the list of top stocks.
Among the sector allocations, Banks lead the list with an exposure of 10%. Unlike other schemes, there is no dominant exposure to banks and financial services. Power stocks follow closely behind with an 8.5% exposure. Software and Consumer Non-durable stocks, command an allocation of around 6% each. Pharma stocks gain an allocation of 5% in the portfolio.
Top Gainers in ICICI Prudential Dynamic Plan's portfolio
Out of the 61 stocks, about 30 stocks have been held for over a year. Among the top performers, were stocks such as Infosys, HCL Technologies, L&T. These stocks generated returns of 30%, 29% and 20% respectively.
There were a few laggards as well. State Bank of India with an average holding of 3% fell by 15% over the year. Similarly, stocks such as Sun Pharmaceuticals and The Great Eastern Shipping added to the pressure in the portfolio, by falling 17%-18% each.
Suitability of ICICI Prudential Dynamic Plan (ICICI Prudential Multi-Asset Fund)
A Multi Asset Fund invests in different asset classes such as equity, debt, and gold at the same time. They invest in different asset classes/schemes following the predetermined limits of allocation to each of them.
Some multi asset funds directly invest in equity stocks, debt instruments, and gold units, while some funds invest indirectly in these asset classes. Multi asset funds are at times also named as Fund of Fund Schemes.
But the basic purpose of investing in multi-asset funds is to diversify investments in assets classes that share very low positive correlation. Lower positive correlation between two asset classes indicates that they are unlikely to move in the same direction. It has been observed in the past that gold and equity share a low correlation with each other. And, hence, having these two asset classes in your portfolio can help diversify it better. While debt is considered safer than equities; equities can generate superior returns. And Including gold would improve the diversification of your portfolio.
Multi asset funds are best suited for investors looking for diversification as well as dynamic fund management.
ICICI Prudential Dynamic Plan has been a top fund of its class. With an additional exposure to a third asset class will improve the diversification of the fund. However, returns going ahead will differ from what was delivered in the past, due to an additional 10% exposure to a new asset calss.
Though the category of the fund is changed, the fund remains in good hands. But as mentioned at the beginning of the research note, you need to wait and watch for any noticeable changes in asset allocation and performance.
If you plan to invest in multi-asset funds, do ensure that the investments is in line with your financial goals. If you are not sure about how to align these schemes with your tax planning or financial goals, do consult your financial planner or investment advisor.
Note: This write up is for information purpose and not a recommendation to buy or sell the mutual fund scheme. As an investor, you need to pick the right fund to meet your financial goals. If you are not sure about your risk appetite, do consult your investment consultant/advisor.
Editor's Note:
PersonalFN has a long track record of offering unbiased mutual fund research services. It analyses thousands of data points to shortlist schemes and also applies a whole host of qualitative parameters to select only a handful schemes for your portfolio.
Want to try PersonalFN's Premium Mutual Fund Research service 'FundSelect'?
Every month, our FundSelect service will provide you with an insightful and practical guidance on which mutual fund schemes to buy, hold or sell, which will assist in creating the ultimate portfolio that has the potential to beat the market.
And there's more great news!
FundSelect is turning FIFTEEN.
And on this auspicious 15th anniversary of FundSelect, we intend to make it "ultra-special" for you.
How?
Well, how about getting 1 Year of access to FundSelect virtually Free?
And if you wish, perhaps even MORE...
Check out the exciting offers that can be availed on subscriptions to FundSelect here.
Go ahead and subscribe to PersonalFN's FundSelect NOW!
This article first appeared on PersonalFN here.
PersonalFN is a Mumbai based personal finance firm offering Financial Planning and Mutual Fund Research services.
Disclaimer:
The views mentioned above are of the author only. Data and charts, if used, in the article have been sourced from available information and have not been authenticated by any statutory authority. The author and Equitymaster do not claim it to be accurate nor accept any responsibility for the same. The views constitute only the opinions and do not constitute any guidelines or recommendation on any course of action to be followed by the reader. Please read the detailed Terms of Use of the web site.
More Views on News
Mar 22, 2018
Certain blue chips hold the potential of delivering returns comparable to small-cap stocks. With these stocks, you can get the best of both worlds.
Nov 29, 2017
Stocks that could beat Sensex returns in the long term.
Jun 10, 2017
Forty Indian investing gurus, as worthy of imitation as the legendary Peter Lynch, can help you get rich in the stock market.
May 25, 2018
Who's bad and who's good? Bill takes a look at the "Bad Guy" Theory and answers where do Americans stand on the good vs bad debate in today's issue.
May 25, 2018
PersonalFN explains how one can invest in direct plans of mutual funds using a smart robo-advisory platform.
More Views on News
Most Popular
May 16, 2018
The markets seem confused. They're neither going up nor down. What should investors do? Consider Safe Stocks. Here's the top 5 Safe Stocks in the market today.
May 17, 2018
A mutual fund regulation could cause small cap prices to tank - If you haven't been paying attention to your small caps - now is the time to catch the opportunities that start pouring in.
May 17, 2018
Home loans continue to grow, despite falling sales. What explains this phenomenon?
May 22, 2018
2017 was a great year for the market. You were rewarded for taking excessive risk. But Ajit Dayal believes 2018 will be different. You will be rewarded for doing the opposite. Read on to know more...
May 17, 2018
The stock of Vakrangee helps us understand why it's a bad idea to chase high-flying stocks.
More