3 Easy Steps To Link Your Aadhaar With PAN Card
3 Easy Steps To Link Your Aadhaar With PAN Card
May 20, 2017
In another push for the use of Aadhaar, the Government through an amendment in the Finance Bill has made it compulsory for taxpayers to link their PAN with Aadhaar.
What's the objective?
The Government believes this move will help curb fraudulent practices. You can even use your Aadhaar credentials to e-verify your returns without having to send the physical IT form for processing.
Frantic citizens who flocked to the Income Tax website to enable the linkage between PAN and Aadhaar faced a major hurdle, as for most, their name was updated differently in both the identification documents. For example, if the name on your PAN card read as Neeraj Rastogi and on your Aadhaar card it goes with a middle name as Neeraj Ramesh Rastogi, the request for linking the documents would just not go through. Even if it read as Neeraj R Rastogi, the linkage would be rejected.
The Income Tax Department acknowledged this issue and introduced a simplified process. They would allow linkages to go through if there is such a mismatch in both systems because of initials, prefixes, etc. Therefore, for cases where names are with initials in one and expanded name in another, it would now be accepted even if there is a "minor mismatch." Well, that is what the IT department is saying, and we hope all will be smooth from now onwards.
To ease the process, the department created a separate portal to enable the linkages. So now, you do not need to log in or register on the e-Filing website. All you need to do is:
Step 1: Visit the Income Tax website,
Step 2: Enter your PAN and Aadhaar details, and
Step 3: Complete the authentication process.
It's as simple as that.
But before you start, your mobile number needs to be registered with Aadhaar, if it isn't already done. In addition, your date of birth and gender should match both records. This acts as an additional level for authentication. If there is a mistake, it needs to be corrected.
Once you have both your documents in place, you can link them effortlessly. PersonalFN outlines the step-by-step process to link your Aadhaar number with PAN below:
Step 1: Visit https://www.incometaxindiaefiling.gov.in/
Once you visit the homepage of the Income Tax e-filing portal, the option to link your Aadhaar card can be seen on the left-hand side.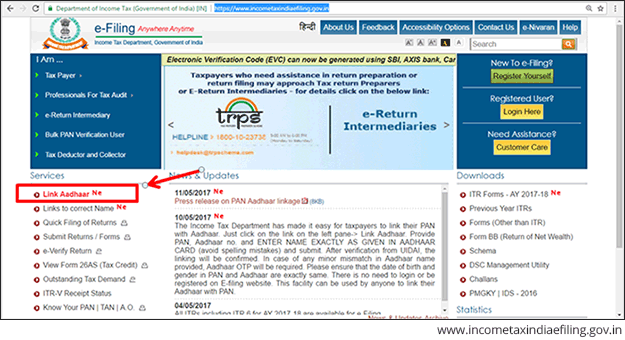 Click on the link to visit the page to update your details.
Alternatively, you can visit - https://www.incometaxindiaefiling.gov.in/e-Filing/Services/LinkAadhaarHome.html directly.
Step 2: Enter your details
All you need to do now is fill up a simple form with your PAN number, 12-digit Aadhaar number and name as per Aadhaar. Here you need to ensure that you enter your name EXACTLY as mentioned on the Aadhaar card. Once you confirm all the details are correct, enter the Captcha Code (to verify you are human), and click 'Link Aadhaar'.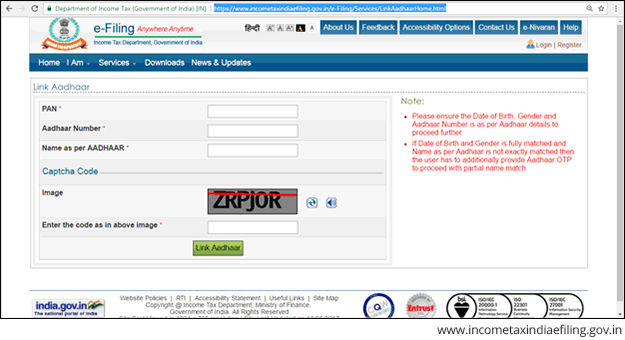 Step 3: Complete authentication, if required
If there is no mismatch in your name in both records, you will get a message-"Aadhaar-PAN linking is completed successfully." There is nothing more to be done. Sit back and relax.

However, if you get a message stating that the records do not match, you will need to proceed with an additional step to verify your identity. You will need to generate a One Time Password (OTP) that is sent to your Aadhaar registered mobile number.

Choose 'Option2' from the pop-up to generate your Aadhaar OTP.
Once you receive the OTP, choose 'Option1' to complete the process.
If there is a minor mismatch, Aadhaar-PAN linking will be successful. In rare cases, where the name on the Aadhaar is completely different from that in PAN, then the linking will fail and you will be prompted to change the name in either Aadhaar or in PAN database.
To update your PAN details, you may choose to do it online here - https://www.onlineservices.nsdl.com/paam/endUserRegisterContact.html - Under application type choose "Changes or Correction in existing PAN data"
Your Aadhaar details can be updated online here - https://ssup.uidai.gov.in/web/guest/update
The facility for Aadhaar-PAN linking is also available after logging in to your Income Tax e-Filing account. Go to Profile settings and choose Aadhaar linking. The details as per PAN are pre-populated. Enter the Aadhaar number and the name EXACTLY as given in Aadhaar card (avoid spelling mistakes) and submit. The process here is the same as the one explained above.
Taxpayers can use this simplified 3-step process to complete the linking of Aadhaar with PAN. Apart from complying with the regulations, this will be useful for e-Verification of Income Tax returns using an OTP sent to your mobile registered with Aadhaar.
PersonalFN is a Mumbai based personal finance firm offering Financial Planning and Mutual Fund Research services.
Disclaimer:
The views mentioned above are of the author only. Data and charts, if used, in the article have been sourced from available information and have not been authenticated by any statutory authority. The author and Equitymaster do not claim it to be accurate nor accept any responsibility for the same. The views constitute only the opinions and do not constitute any guidelines or recommendation on any course of action to be followed by the reader. Please read the detailed Terms of Use of the web site.
More Views on News
Nov 29, 2017
Stocks that could beat Sensex returns in the long term.
Jun 10, 2017
Forty Indian investing gurus, as worthy of imitation as the legendary Peter Lynch, can help you get rich in the stock market.
Feb 23, 2018
Have you been wondering what the hoopla about Ethereum is? It commands the second highest value among virtual currencies and its popularity is rivalled only by bitcoin. Let's break it down.
Feb 23, 2018
If you want to receive the best ideas in the Indian stick markets...you need to heed this important announcement.
Feb 23, 2018
This IT Company can be a huge wealth Creator for Smart Money Secret's Subscribers.
More Views on News
Most Popular
Feb 17, 2018
Top three reasons for Tanushree's presentation at Equitymaster Conference to be centered around a possible 30% correction.
Feb 15, 2018
That's the loss, the government owned public sector enterprises are expected to make this year.
Feb 15, 2018
Once you accept the fact that elections are round the corner and that this budget is geared to reach a 40% target, everything makes sense.
Feb 12, 2018
Will Microcap Millionaires be able to replicate its past performance of beating the index by 2x?
Feb 15, 2018
The RBI overhauls bad loan framework. Banks may come under additional pressure due to rising NPAs and increased provisioning.
More