Which Avenger Character Does Your Mutual Fund Portfolio Represent?
Which Avenger Character Does Your Mutual Fund Portfolio Represent?
May 20, 2019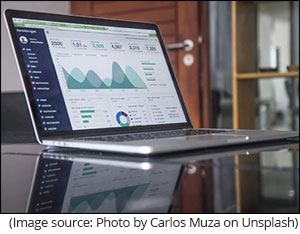 Avengers Endgame, the most anticipated blockbuster, released last month worldwide. If you are a Marvel fan and have been following the series, you probably remember how each character evolved from within the masses to be worthy of their superpowers or superhuman traits to make a mark in the team.
The prequel drew the curtains on the disappearance of half the population with Thanos' finger snap, Avengers Endgame opens with the aftermath effect three weeks later. The movie progresses with the core team members of the Avengers embarking on a mission, with the help of Antman to undo Thanos' finger snap.
After I watched the movie, I experienced mixed feelings --- happiness with a hint of sadness. And I ended up drawing parallels between the superheroes and investor types -Aggressive, Moderate Aggressive, Moderate, Moderately Conservative, and Conservative. Specifically, the mutual fund portfolios and character traits each one exhibits.
Here's my take...
Tony Stark/Iron Man-Aggressive Investor

A billionaire, who is unafraid to take risks, manages to perform over the years, and has access to advance technology, which helped him build the electromechanical suit that makes him Iron Man. On several instances, his unreliability did cost a lot, in terms of destruction.

Likewise, the aggressive investor's portfolio consists of a combination of various funds that can help reach financial goals faster. They tend to invest heavily in small caps and mid-cap funds and will experience many road bumps because they are open to taking risks.

Chart 1: Portfolio allocation of Tony Stark

(Note: This chart is for illustrative purpose only)



Bruce Banner/Hulk-Moderately Aggressive Investor

A brilliant scientist exposed to gamma radiation that gave him super strength and the alter-ego Hulk. Bruce struggles with the two sides of his character; and treads cautiously to keep his anger under control. Eventually, Hulk manages to combine his aggression and Bruce's intelligence for the greater good.

Similarly, moderately aggressive investors are comfortable taking a small amount of risk with their investment. In the endeavour to grow wealth, they will not mind allocating some portion of the portfolio to small-cap funds and keeping a check on it.

Chart 2: Portfolio allocation of Bruce Banner

(Note: This chart is for illustrative purpose only)



Thor/ The God of Thunder-Moderate Investor

He's the King of Asgard. Based on the Norse mythology, he is the son of Odin, a deity who wields the Mjolnir the hammer to channel lightning. Despite his credentials and entitlement, emotions drive him to take what is rightfully his and achieve certain things.

Thor "has the best character arc" which resembles a moderate investor, who needs to be reminded to take some investment risk if they want to grow wealth and can afford to take it.

Majority of the people, like Thor, are swayed by their emotions when it comes to investments. Such an investor's portfolio is well diversified across all categories of equity funds except small-cap funds. They need to understand that investments grow with some risk of loss. Hence, they should take that chance whenever they can.

Chart 3: Portfolio allocation of The God of Thunder

(Note: This chart is for illustrative purpose only)



Black Widow /Natasha Romanova-Moderately Conservative

A Russian agent trained as a spy, mixed martial artist, sniper, and outfitted with an arsenal of high-tech weaponry, including a pair of wrist-mounted energy weapons is working for S.H.I.E.L.D. She is a skilled warrior with no superpowers. She is known for her agility, swiftness and acrobatic skills to fight fiercely.

She is well aware of her limitations and hence is analogous to a Moderately Conservative investor who takes a low level of investment risk. The portfolio of this investor type holds equity funds because these provide better returns in the long run but will avoid investing in small-cap funds and mid-cap funds.

Chart 4: Portfolio allocation of Natasha Romanova

(Note: This chart is for illustrative purpose only)



Steve Rogers /Captain America-Conservative
Frozen for 70 years, Rogers is a World War II veteran has heightened senses due to the injection of an experimental super serum. He comes from a time when trusting people was easy and there were no deep threats.
Now in modern times, Captain America finds this is difficult as the effects of the actions you take to protect people from threats could compromise liberties and privacy. But he stands tall and comes off as a leader because of his morality and ensures everyone is working as a team.
Similarly, a conservative investor is a perfect example of someone who tries to cope with the new investment options to earn returns. Such investors are aware of their mortality that is seek capital preservation. Hence, they take a minimum risk on their investments and will likely have a relatively stable, well-diversified portfolio.
Chart 5: Portfolio allocation of Steve Rogers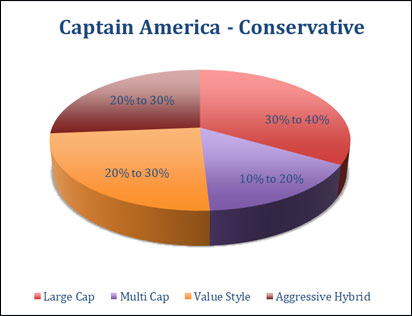 (Note: This chart is for illustrative purpose only)
As Investors...
We might possess similar traits, with our portfolios and in our approach to investments, like the Avenger superheroes. But I'd like to point out that we are our own superhero when it comes to taking investment decisions. Remember it is an individualistic exercise that must take into account one's income, financial goals, investment horizon, and risk profile.
So which Avenger are you?
Editor's note: Want to start building your financial future today itself?
Subscribe to PersonalFN's premium mutual fund research service - FundSelect Plus!
It focuses on new-age investment strategies, instead of mere portfolios. Whether you are looking for fast investment gains or looking for a long-term retirement plan, these Investment Strategies is probably what you need.
Whatever your financial need or goal is, these highly optimized investment strategies, provide you with an all-in-one Fully Readymade Wealth Solution to fulfil your financial goals and build wealth over time.

Click here to get it instantly as a FundSelect Plus subscriber!
Author: Aditi Murkute
This article first appeared on PersonalFN here.
PersonalFN is a Mumbai based personal finance firm offering Financial Planning and Mutual Fund Research services.
Disclaimer:
The views mentioned above are of the author only. Data and charts, if used, in the article have been sourced from available information and have not been authenticated by any statutory authority. The author and Equitymaster do not claim it to be accurate nor accept any responsibility for the same. The views constitute only the opinions and do not constitute any guidelines or recommendation on any course of action to be followed by the reader. Please read the detailed Terms of Use of the web site.
More Views on News
Apr 12, 2021
This ignored sector could deliver big short-term profits.
Apr 12, 2021
A tiny chemical company, started in the Licence Raj era, is a great example of a new wealth creating opportunity.
Apr 9, 2021
PersonalFN's analysis on the features and performance of Mirae Asset Tax Saver Fund.
Apr 9, 2021
The Indian government recently announced cut backs on crude oil imports from Saudi Arabia. Does this change our crude oil trading blueprint. Find out...
Apr 9, 2021
This could take India to the position of 3rd largest economy.
More Views on News
Most Popular
Mar 30, 2021
In this video, I'll tell you why I am recommending caution in the market at this time.
Mar 31, 2021
A tiny chemical company, started in the Licence Raj era, is a great example of a new wealth creating opportunity.
Mar 31, 2021
In this video I'll show you exactly how I go about picking stocks for trading.
Mar 30, 2021
100 baggers of the last decade share this common trait. Here's how to use it to nail future multibaggers.
More