Why Direct-Plan Investors Don't Stay Invested for the Long-term
Why Direct-Plan Investors Don't Stay Invested for the Long-term
May 21, 2019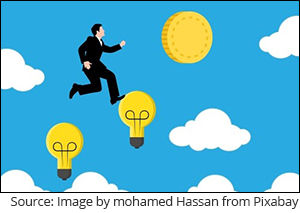 Mutual fund houses offer their investors the option of investing vide a Direct plan or Regular plan for the same scheme. Basically, in the case of a regular plan the investment is done through a broker, an agent, or distributor; while in the case of a direct plan, investors can invest on their own.
When investors opt for the direct route, they earn higher returns because the AMC doesn't have to pay any commission to an intermediary, which reduces the overall expense ratio of the scheme.
The difference in expense ratio of direct plan and regular plan can be in the range of 50 to 100 basis points and it does make a significant difference in wealth creation in the long-term.
Mutual fund experts have always advised investors on the benefits of staying invested for the long-term. This allows your wealth to grow through the power of compounding and enables you to achieve your financial goals.
However, some segments of investors have shown an inclination towards direct plan of mutual funds. Data by Association of Mutual Funds in India (AMFI) revealed that direct-plan investors discontinue their investments within a span of five years.
[Read: Will Mutual Fund Houses Now Begin To Abolish Exit Load On Switches To A Direct Plan?]
While investing in the right mutual fund scheme is no cake walk, let's look at the reasons why direct-plan investors discontinue their investments...
--- Advertisement ---


The 7 Most Promising Stocks to Buy as Modi Rises to Power Again

And it looks like a Modi victory again this time around...a resounding one, at that!

This could be good news for the markets...

More importantly, we believe 7 stocks could be amongst the biggest gainers, as the Modi-led government implements their various ideas and initiatives.

Read more about these 7 stocks here...
------------------------------
Reasons for shorter holding period
According to a AMFI report from couple of months ago, of the total direct plan Systematic Investment Plan (SIP) asset under management (AUM) of Rs 23545 crore, around 8.8% or Rs 2069 crore stay invested for over five years and the remaining redeem their investment within five years.
Over 80% of the redemptions came within just one year of holding, as per the report. It must be noted that direct plan constitutes around 10% of the total SIP AUM.
Though people opt for a direct plan in anticipation of higher returns due to the lower expense ratio (as compared to a regular plan), not everyone is capable to manage investments on their own. It requires extensive knowledge, research, and time to select the right mutual fund.
Most investors decide on a mutual fund scheme based on the star-ratings it receives. But star-ratings are not indicative of future performance and when the schemes under-perform, the ratings are downgraded and panic strikes among investors.
It's best to select a fund based on quantitative and qualitative parameters, such as rolling returns for 1-year, 3-year and 5-year time period, risk-reward ratios, quality of fund manager, the fund house which adheres to proper processes and systems, and so on.
As direct-plan investors manage their investments on their own, there is a lack of handholding and guidance. Due to this, investors tend to redeem their investments or switch to another plan whenever markets are turbulent. What they don't realise is that selecting the right fund and staying invested for long-term is crucial for wealth-building. Imprudent buying or selling could also negate the benefit you get from the lower expense ratio.
The AMFI data also highlighted that a majority of direct-plan investors prefer to invest in Exchange Traded Funds (ETFs) and Fund of Funds (FoFs). ETFs are not actively managed, whereas FoFs may or may not be actively managed. Around 76% of the investments in ETFs & FoFs by individual investors were direct. Whereas in case of equity-oriented schemes 12% were direct and the rest were through distributors (data as on April 2019).
Image: Individual Investors - Scheme Level Composition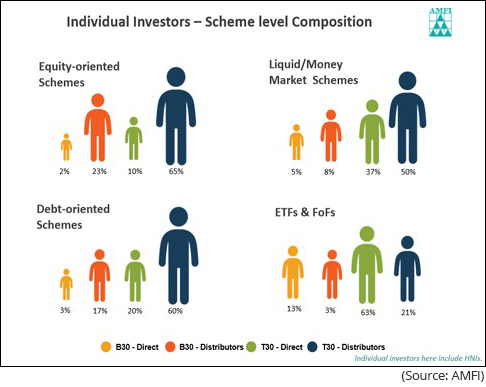 On the other hand, investors in a regular plan are likely to follow a disciplined approach when markets are volatile; heed to the advice of their intermediary to stay invested longer; and reap the resultant benefits.
Close to 18% investors in regular plan stay invested for more than five years and the redemptions within one year of holding is around 31%.
Who should opt for direct plans?
Ideally, opt for direct plan if you have the time, proficient knowledge about schemes, and the inclination to do research on your own.
As a direct-plan investor, you should be able to do the following:
Select the right fund backed by research,
Monitor the performance and
Understand when to make the required changes in the portfolio
Be aware about the risk involved
Devise investment plan accordingly
Be equipped to perform the application and other processes without the help of an intermediary
If for any reason you are unable to perform the above-mentioned functions or if you are a novice or inexperienced investor, you would be better off seeking expert advice of a distributor or a financial adviser.
Reasons for not opting for regular plan
Many reasons can be attributed to why investors do not seek intermediary's help. Primarily, there is a sense of distrust with intermediaries as investors fear their money may not be safe in their hands. Instances of mis-selling and mis-guiding by an intermediary are rampant, which often deters investors from approaching them.
Unfortunately, these instances are more commonplace since the market regulator scrapped upfront commissions. Consequently, intermediaries are focusing on trail commissions for their survival and are likely to mis-sell products for the extra income.
Investors may also feel that the fee charged by intermediaries is not worth the returns they expect. Additionally, given the growing number of advisers, it has become a difficult task to find the right one. Thus, they could resort to investing in a direct plan.
[Read: Are You Asking The Right Questions To Your Mutual Fund Adviser?]
To sum up
Opt for a direct plan only if you have the time and knowledge to select and invest in the right funds. Ensure the selected funds are congruent to your financial goals and stay invested till the time horizon. Remember to review the performance of the fund periodically and make changes only if necessary. Lastly, you could seek assistance from a personal investment adviser for a fee.
Editor's note: Get the benefits of super investing, wealth building and tax saving and become a smart investor. PersonalFN is offering three of its premium reports at the price of one.

These research reports will guide you to select worthy mutual fund schemes for SIP, the ones that have the potential to provide BIG gains, and the ones for your tax planning this year. Click here for PersonalFN's recommendation and subscribe now.
Author: Divya Grover
This article first appeared on PersonalFN here.
PersonalFN is a Mumbai based personal finance firm offering Financial Planning and Mutual Fund Research services.
Disclaimer:
The views mentioned above are of the author only. Data and charts, if used, in the article have been sourced from available information and have not been authenticated by any statutory authority. The author and Equitymaster do not claim it to be accurate nor accept any responsibility for the same. The views constitute only the opinions and do not constitute any guidelines or recommendation on any course of action to be followed by the reader. Please read the detailed Terms of Use of the web site.
More Views on News
Jun 26, 2019
The NITI Aayog has proposed to ban all petrol and diesel vehicles after 2030. The EV threat is very real.
Jun 26, 2019
We are recommending this MNC pharma company in Smart Money Secrets.
Jun 26, 2019
The US Presidential Cycle is a global trading mega event.
Jun 25, 2019
PersonalFN explains how you can lead blissful retired life by investing in SIPs.
Jun 25, 2019
PersonalFN outlines its views about ESG theme of investment and its outlook after analysing the Quantum India ESG Equity Fund.
More Views on News
Most Popular
Jun 13, 2019
We are living in an era of disruption. Are your stocks well equipped to adapt to changes that disruption will bring along?
Jun 14, 2019
Smallcaps have gone nowhere even as the Sensex makes new all-time highs. Find out why Richa believes this a good opportunity to invest in smallcaps.
Jun 21, 2019
Andrade gives his take on agriculture, an industry from which we have already recommended two stocks.
Jun 20, 2019
The next big opportunity that has the potential to make you both rich and healthy.
Jun 19, 2019
This month's Smart Money Secrets recommendation is from global super investor - Aberdeen Standard Investments.
More