Don't Just Read About Mutual Funds. Make A Profit With That Learning
Don't Just Read About Mutual Funds. Make A Profit With That Learning
May 22, 2018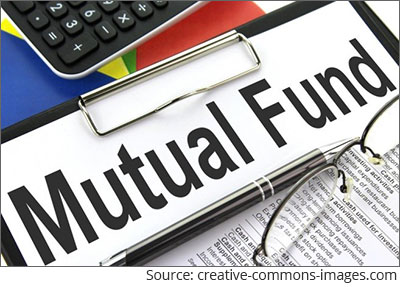 Since you are reading this post, we assume you either invested in mutual funds or you would soon want to start investing.
If you already invest in mutual funds, you are perhaps looking to accelerate your returns and understand mutual funds in a better way.
Naive investors may not be even sure about their starting point.
It's secondary whether you invest in lump sum or through a Systematic Investment Plan (SIP); what's more important is to know the nitty-gritty of the mutual fund and shortlist your options carefully.
Investigative approach is important to make right decisions and progress in life.
Would it have been possible for man to make any progress in sciences without having an investigative approach?
Remember this
Having doubts, raising questions, and seeking information are extremely crucial.
But that's not enough.
What's the use of this entire exercise if you can't draw meaningful conclusions?
Reading about success stories of legendary investors is good.
But it's even more critical is to understand the central message of the story and draw tangible benefits.
--- Advertisement ---


Something Like This May Never Happen Again!

Imagine an opportunity where multiple high-quality small caps become affordable at the same time.

Yes! An unexpected and sudden ruling by the market regulatory body is likely to open up an unexpected chance to potentially profit BIG from solid small caps for regular investors.

But this opportunity could last for a very short time only. So hurry!

Click here for full details on this time-sensitive opportunity
------------------------------
For example, legendary investor Warren Buffet says, "Our favourite holding period is forever."
Hence, if you are reading about the success stories of Warren Buffet and agree with his views, it's still a futile exercise unless you actually invest in mutual fund schemes that hold stocks for a long term.
What you achieved by being investigative?
Are you making more money by being investigative?
Well, Warren Buffet is an exceptional person and I can't be like him. I just read about him to understand, does he say anything that I can quickly pick and make HUGE money on his advice.
While this approach is highly debatable, let's accept this argument for the sake of it.
If exceptional people make exceptionally massive wealth with their knowledge and skills, can't you try to make at least sizable wealth?
PersonalFN has done it for its investors!
Why can't you do it to yourself?
I have time constraints; I can't do everything on my own.
If this was your excuse for being unable to benefit from your learning, you at least need to find a better reason.
Because PersonalFN is offering you a unique opportunity not only to educate yourself on mutual funds, but also to make a fortune on them.
PersonalFN has extensive experience of 15 years in the mutual fund research.
It has a subscribers' base of over 1.65 lakh.
In its envious execution record, the company has not only facilitated more than 2 lakh transactions, but has also helped over 10 thousand investors mobilize more than Rs 140 crore in mutual funds.
Do you know what has made it possible?
Using its decades of experience, PersonalFN created a winning formula for identifying rewarding mutual funds.
#Learning 1
Worthwhile mutual funds consistently outperform and also expose investors to lower risk.
#Action 1
PersonalFN conducts a comparative analysis of mutual fund schemes using quantitative parameters such as 1-Year Rolling Returns, 3-Year Rolling CAGR, 5-Year Y-o-Y Rolling Average Returns. It also takes into account various ratios such as Sharpe Ratio and Sortino Ratio to gauge the risk-reward potential of a mutual fund scheme. It is based on these parameters that PersonalFN assigns scores.
Moreover, to measure the consistency in returns, PersonalFN evaluates the performance of mutual fund schemes across market cycles-bull phases and bear phases. Underperformance earns them a low score and vice-a-versa. This gives us a fair idea about how a mutual fund scheme can be an all-weather scheme.
These are quantitative parameters.
#Learning 2
Winning mutual funds follow a disciplined approach to portfolio management and avoid extremes.
# Action 2
PersonalFN gives higher scores to mutual fund schemes that adequately diversify and churn less. In case of debt funds and balanced funds, those compromising on the credit quality-on the ability of the borrower to repay-get low scores.
#Learning 3
Mutual Funds that perform consistently and generate a lot of wealth consistently come from fund houses that don't play the dirty game of AUM and continue to manage only a handful of schemes effectively, hold the potential to do well in the long run.
#Action 3
On the scoring model of PersonalFN, mutual fund houses with a high number of similar schemes, those launching New Fund Offers (NFOs) consistently without any significant difference, earn low scores. Moreover, higher the scheme-to-fund manager ratio, lower the scores a fund house earns and vice-a-versa.
#Learning 4
Rewarding mutual funds often come from mutual fund houses following effective investment processes and employing experienced fund managers. Importantly, successful fund houses have most of the schemes under their management performing.
#Action 4
PersonalFN assigns scores based on the efficiency of the mutual fund house in performing consistently. And also take into consideration the overall experience of the fund managers.
So, what's your learning from this piece?
You should invest in mutual fund schemes coming from experienced fund houses that have a proven track-record of consistent performance. Fund houses and schemes that generate returns for you, without compromising on the risk profile, shall be given a higher weight. Similarly, you need to check the scheme-specific attributes as well.
What should be your action plan?
Do some research on your own and find out which fund houses and schemes qualify the criteria discussed above.
Alternatively,
Subscribe to PersonalFN's unbiased mutual fund research services. PersonalFN not only covers information on mutual fund schemes to create awareness, but also offers mutual fund research services with the aim of helping its readers to make money as well.
Currently, the premium mutual fund research service, 'FundSelect' is celebrating 15 years of wealth creation. If you subscribe now you can avail this premium mutual fund research service for just Rs 2,950 and get 1-year additional access (worth Rs 5,000)... virtually free!
It will provide buying, holding and selling recommendations... intended at solidifying your mutual fund portfolio and make it free from any bias.
PersonalFN's Mutual Fund Research service 'FundSelect' Vs. S&P BSE 200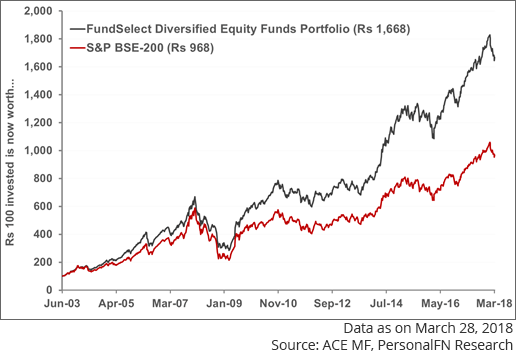 Out of every four funds recommended in the FundSelect-a premium mutual fund research service, three have always outperformed BSE 200 index. That's the success rate of PersonalFN.
Click here to know more and subscribe to 'FundSelect' today!
What's more?
You will get FREE access to our premium report, 'Top-5 Funds For 2020
So, hurry and subscribe to PersonalFN's FundSelect NOW!
This article first appeared on PersonalFN here.
PersonalFN is a Mumbai based personal finance firm offering Financial Planning and Mutual Fund Research services.
Disclaimer:
The views mentioned above are of the author only. Data and charts, if used, in the article have been sourced from available information and have not been authenticated by any statutory authority. The author and Equitymaster do not claim it to be accurate nor accept any responsibility for the same. The views constitute only the opinions and do not constitute any guidelines or recommendation on any course of action to be followed by the reader. Please read the detailed Terms of Use of the web site.
More Views on News
Mar 22, 2018
Certain blue chips hold the potential of delivering returns comparable to small-cap stocks. With these stocks, you can get the best of both worlds.
Jan 22, 2019
China simply has too much unproductive debt and is reinforcing a giant property Ponzi scheme.
Jan 22, 2019
Will hybrid funds help you tackle volatile and tough market conditions? The answer depends on how you approach them and what do you expect from them.
Jan 22, 2019
Vivek takes yet another walk down the memory lane.
Jan 22, 2019
You may not want to regret missing out on this, if you were to take the #10YearChallenge a decade later.
More Views on News
Most Popular
Jan 9, 2019
For the first time, we have recommended a bluechip stock in Smart Money Secrets.
Jan 11, 2019
The reasons that make these six stocks in Sumeet Nagar's portfolio so compelling
Jan 15, 2019
Unlike his habit of pouring out stock wisdom in his annual letters to shareholders, Buffett spoke of this trend only once every few decades.
Jan 10, 2019
My first trading recommendation for 2019 is a bluechip auto stock. Find out everything about it right away.
Jan 14, 2019
With a strong debt free balance sheet in its favour, attractive dividends and trading at almost lifetime lows, this investing idea is almost a no brainer.
More